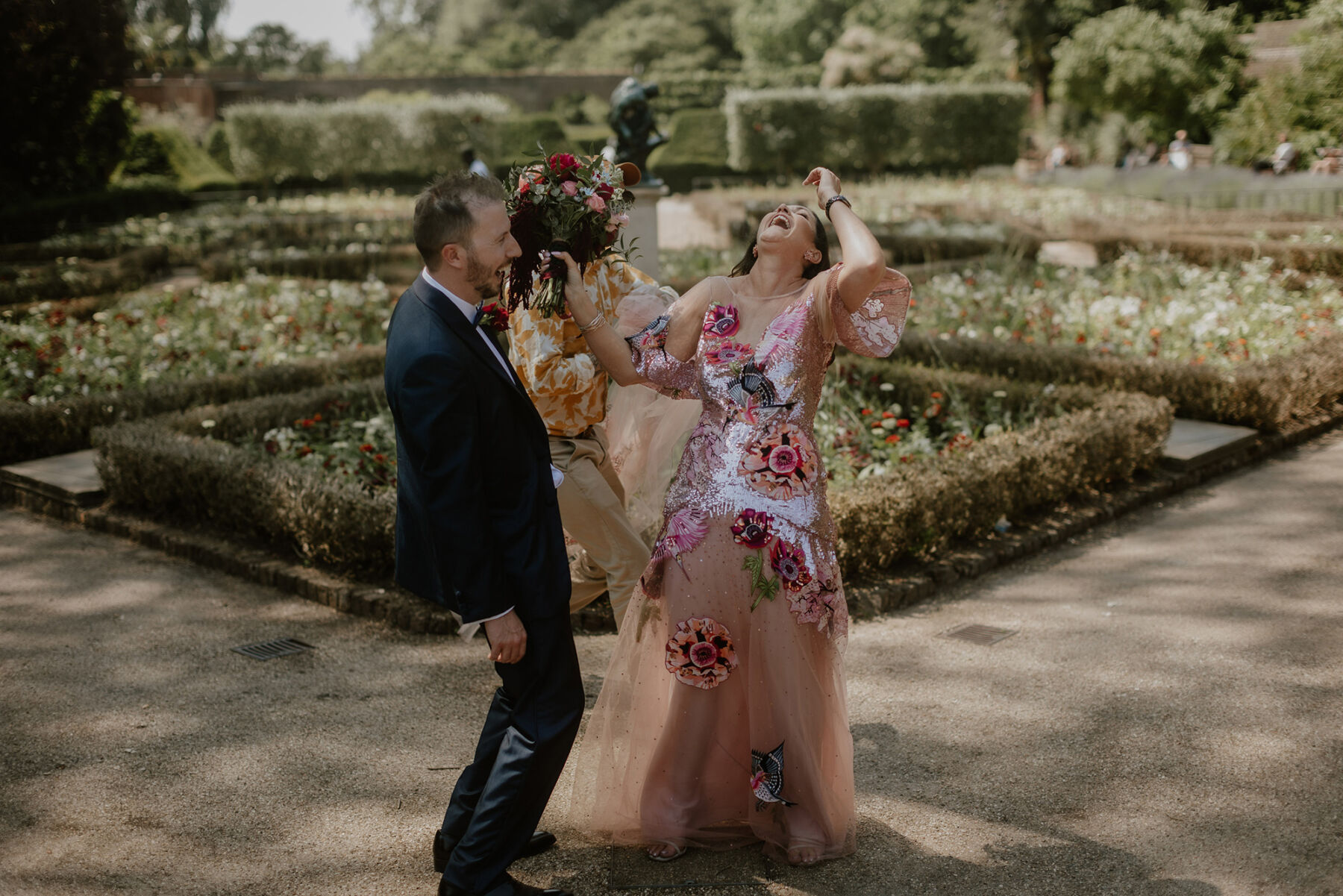 Claire and Lee's exquisite London wedding took place on 10th June 2023.
The couple very much wanted a fun and informal event, so following their ceremony at The Orangery, Holland Park, the wedding party took a vintage open top bus ride to Irish Pub, Waxy's Little Sister, to enjoy some 'good old Irish craic' and Guinness – in honour of the bride's heritage, before travelling on to the Croc Bowling Alley at Ham Yard Hotel.
These beautiful images were captured by The Kensington Photographer. We adore and hope you do too.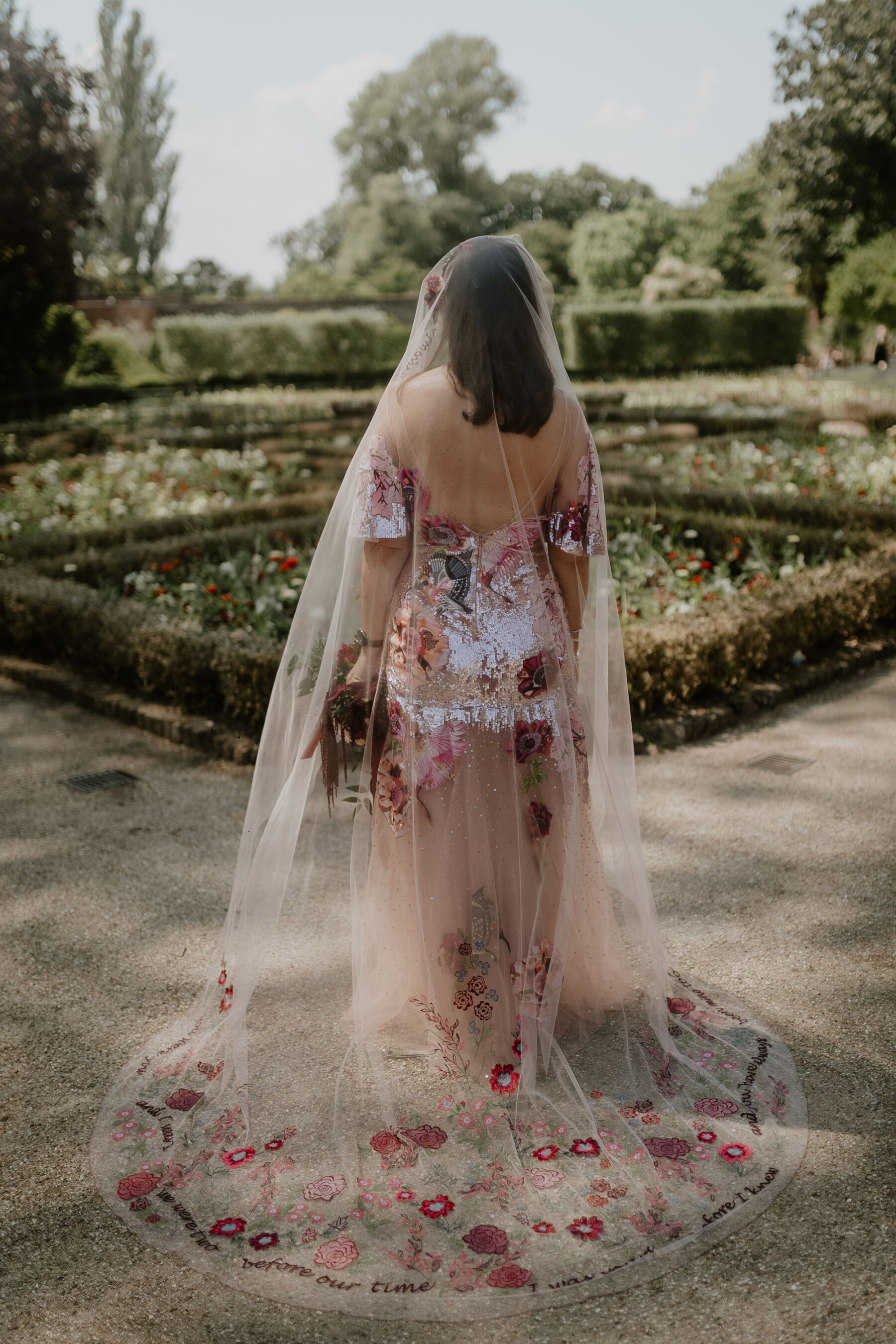 I love flowers and colour. I love 70's vintage clothes and can be rather eccentric at times so when I saw the Petal Gown by Temperley London, I knew this was the perfect wedding dress for me. With its delicate colourful sequins, glorious silk tapestry, it conveyed a modern-day gypsy goddess.
The Dress
My dress was part of the Spring 2019 Temperley Collection although now sits in her Heritage Collection. I managed to secure the Dress from Harrods as it had sold out incredibly fast online.
I did have an appointment at Temperley Bridal when she was based in London to try on the Bibi dress and others but my heart was stuck on the Petal Gown.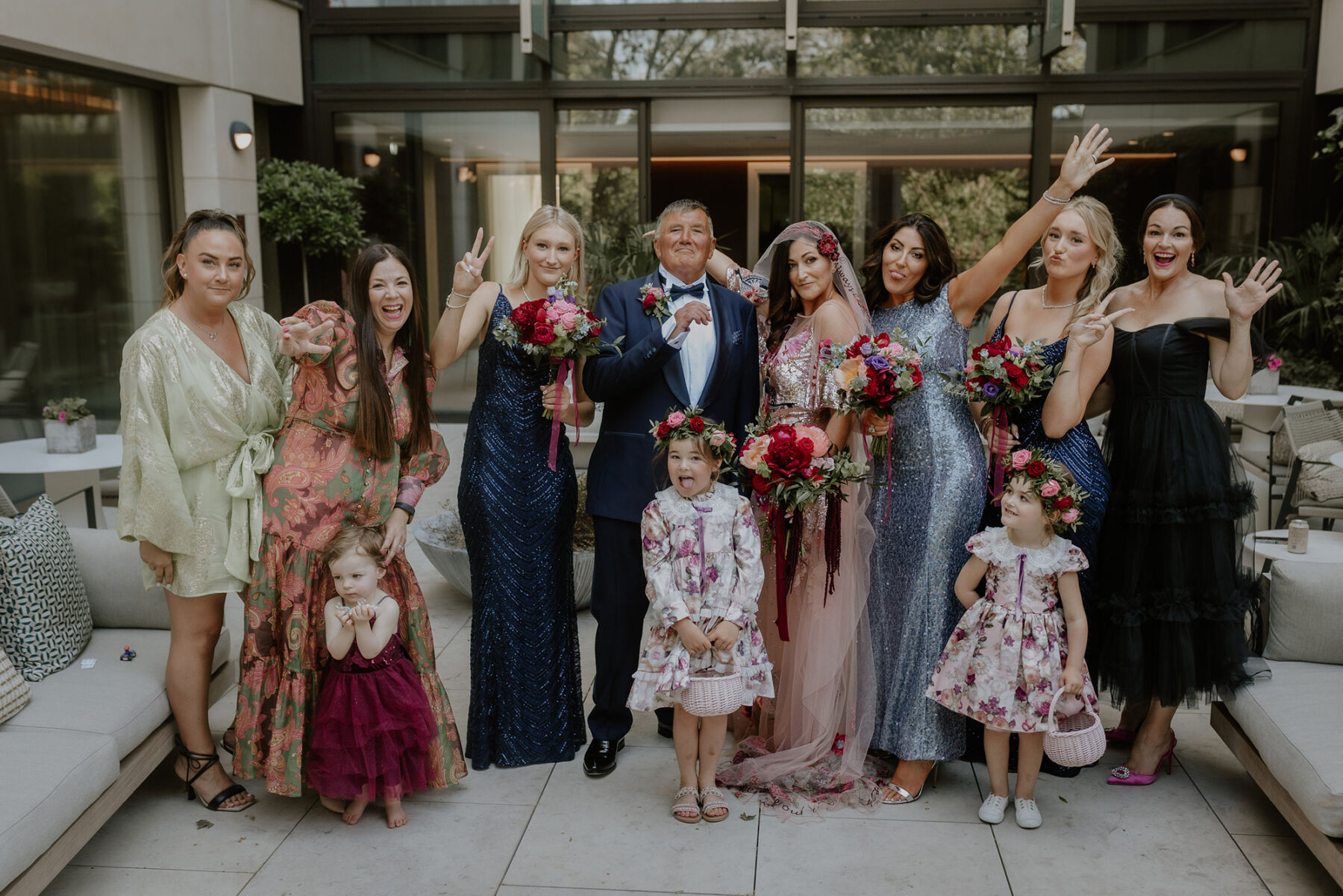 I have always worn Temperley London for special occasions – I have several pieces I have brought new, from vintage shops, eBay and even stolen from my sister! I love the brand's creativity, passion for supporting artistic local talents and bold prints. I knew I would wear a Temperley dress for my wedding it was just a case of which one.
When I saw the Petal gown, like many others, I was blown away. It reminded me of a Klimt painting from his golden phase. Having analysed different artists view of 'The Kiss', as part of my A level art exam, many moons' ages, I fell in love with The Kiss, a glorious blend of Art Noveau and Byzantium gold artwork.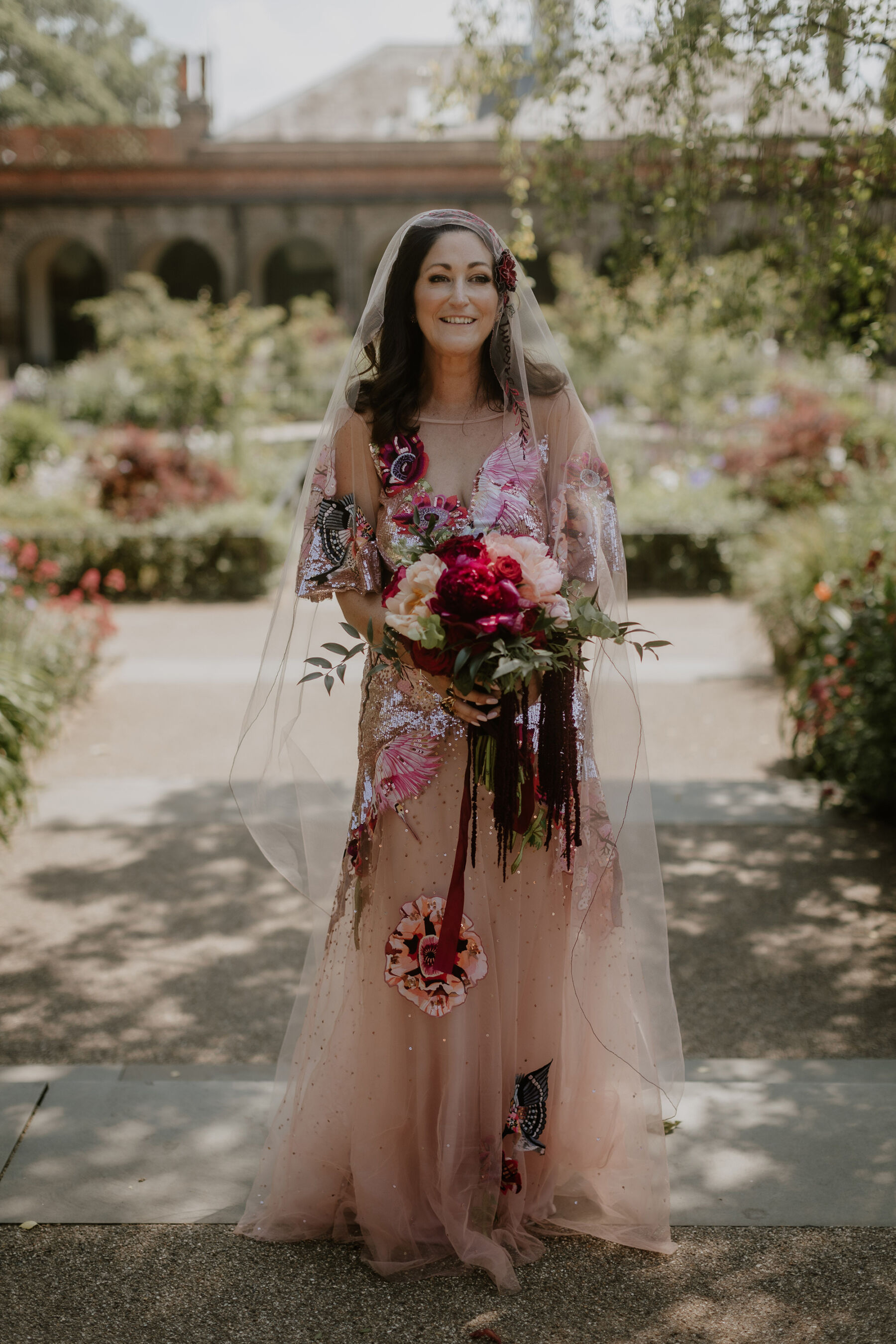 My daughters were horrified to learn I was wearing pink – it's amazing how even today there is a stereotype for how a bride should look or act. I sense that's beginning to change and females feel more liberated to dress the way they want. Certainly, a greater selection now of colourful wedding dresses than there was five years ago and Temperley is leading the way in this.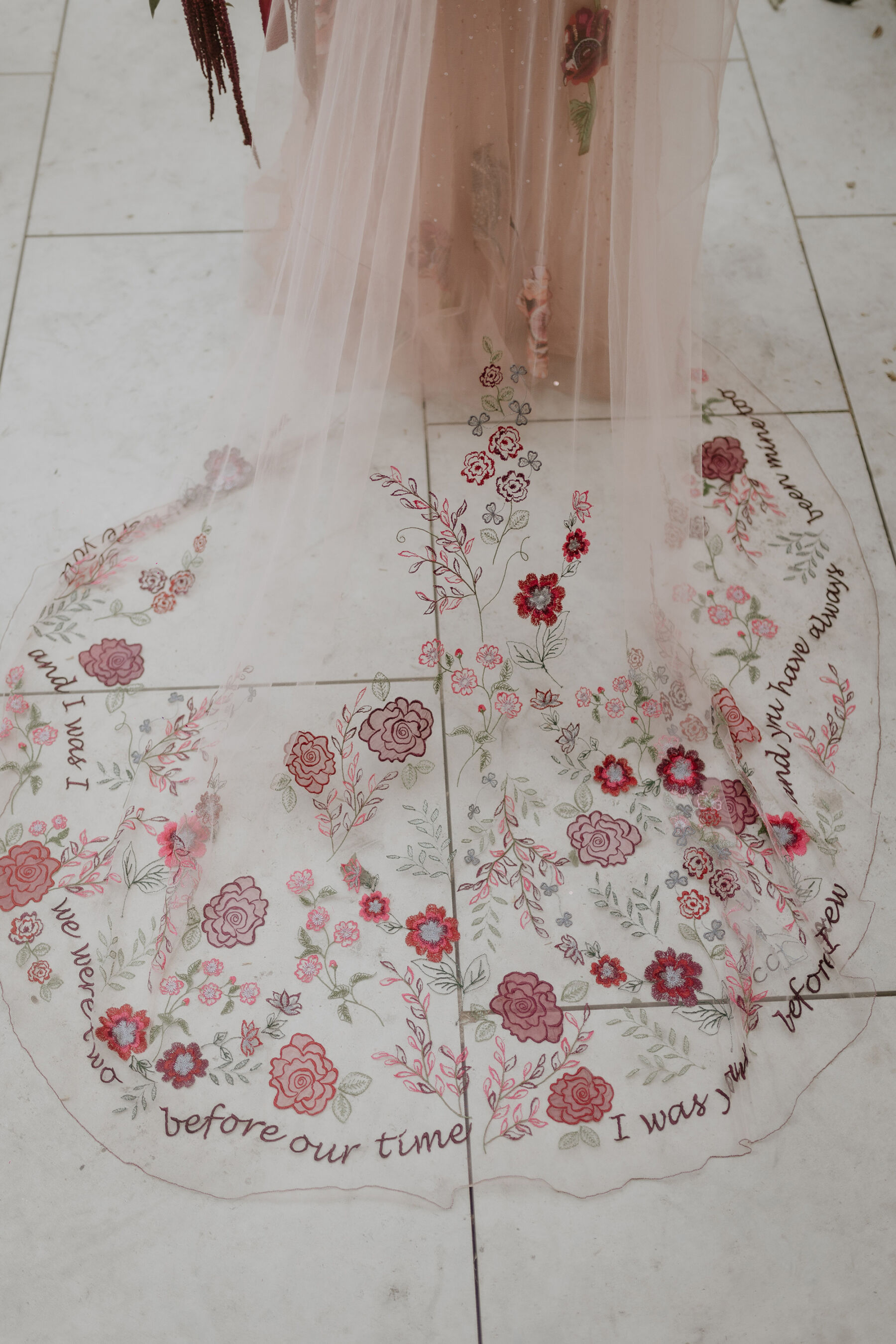 My perfume was Jo Malone's Velvet Rose & Oud Cologne together with pure Oud Oil from Jordan where I went on my Hen Doo.   
My earrings were from Swarovski. I also wore a large ring from Rome we brought on a holiday a few years ago which had a large purple semi-precious stone with enamel flowers and a Bee.
My hair stylist was my own hairdresser from Jersey who is also a friend.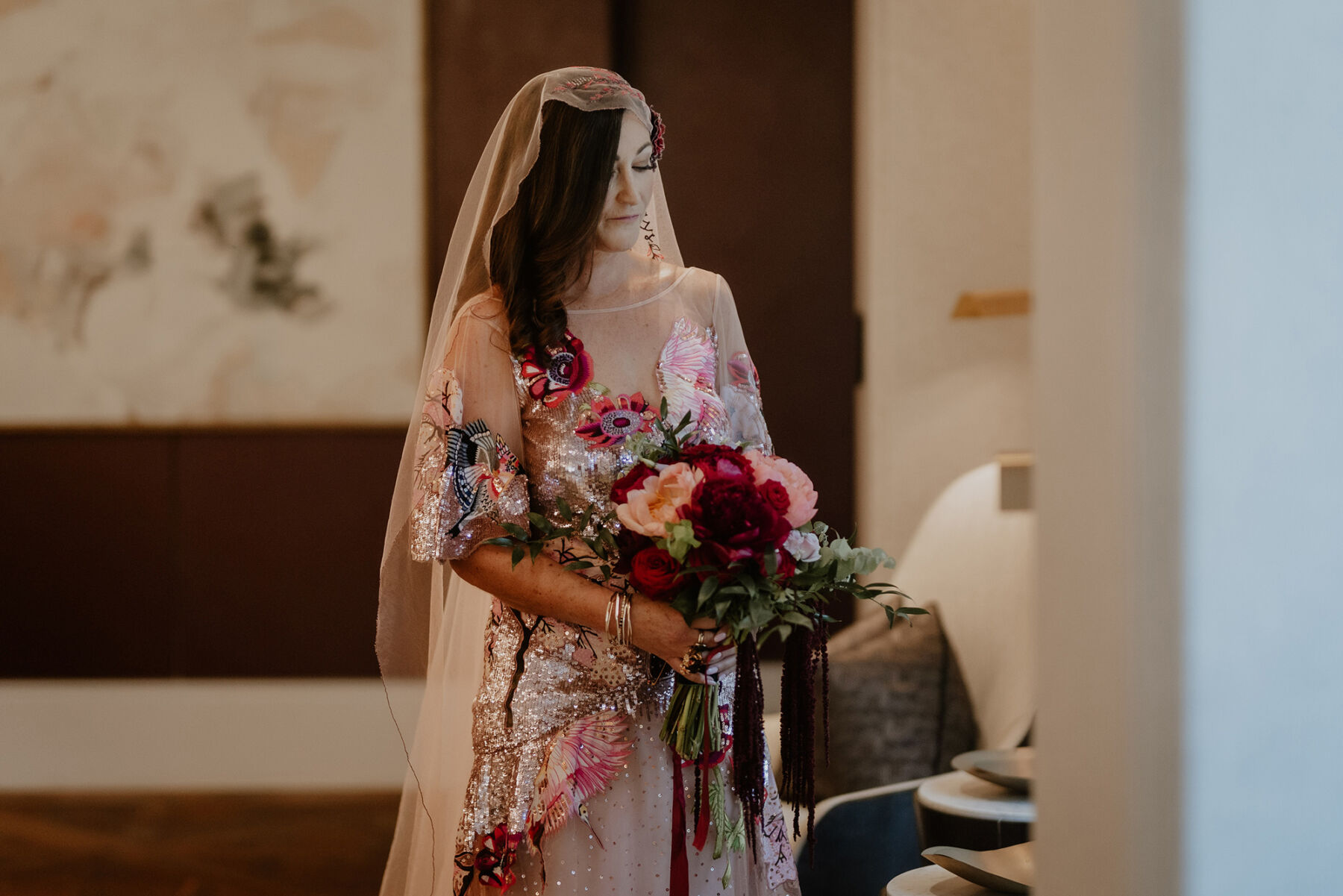 Bridesmaids
My two daughters wore Lipsy and my sister wore one of her own dresses by Galvan as she's a huge fan of this label.
My flower girl wore Junona, from Children's Salon. I brought these dresses very quickly after getting Petal Gown as I loved the rich colours on them. Music is also very important to both of us, so my flower girl dresses had little guitars on them.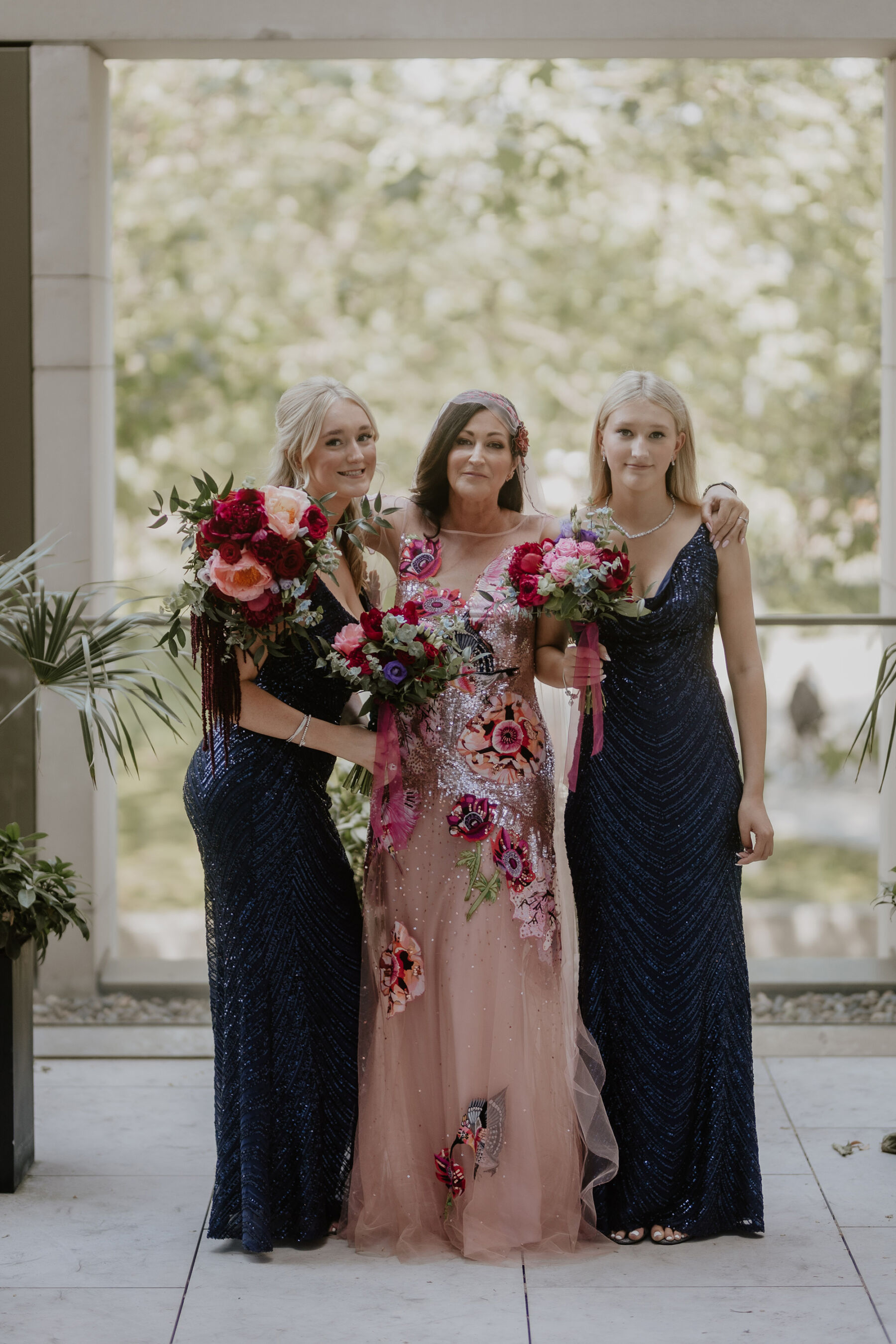 The Ceremony
Our ceremony took place at The Orangery, Holland Park. We love the tranquility of the park, the resident peacock, the history of the buildings attached to the Orangery (the belltower is incredible) as well as the stunning Rose Garden.
My dad walked me down the aisle, although at my age I could easily enough have walked myself down but I guess there is still an expectation around tradition. I walked down to 'Songbird', by Fleetwood Mac and we walked back to 'Songbird', by Oasis. We are woken every morning by the songbirds at home so these songs are special and also reflective of our individual love for other another.
I am a huge fan of The Prophet by Kahlil Gibran so we had a friend read the passage on Marriage. It reinforces the importance of loving yourself and keeping your individually after marriage. I did surprise my husband by making him read the poem I had embroidered on my veil by Lang Leav called 'Always', which he thought someone else was reading.
Our rings are from Rivoli Jewellers in Jersey. I wanted a traditional band with black diamonds so we have this especially signed. My husband went for a band with a navy enamel inset
We legally got married at the registry office in Jersey a few days before our London Wedding. It was small with just our parents, my sister and my husband's godmother.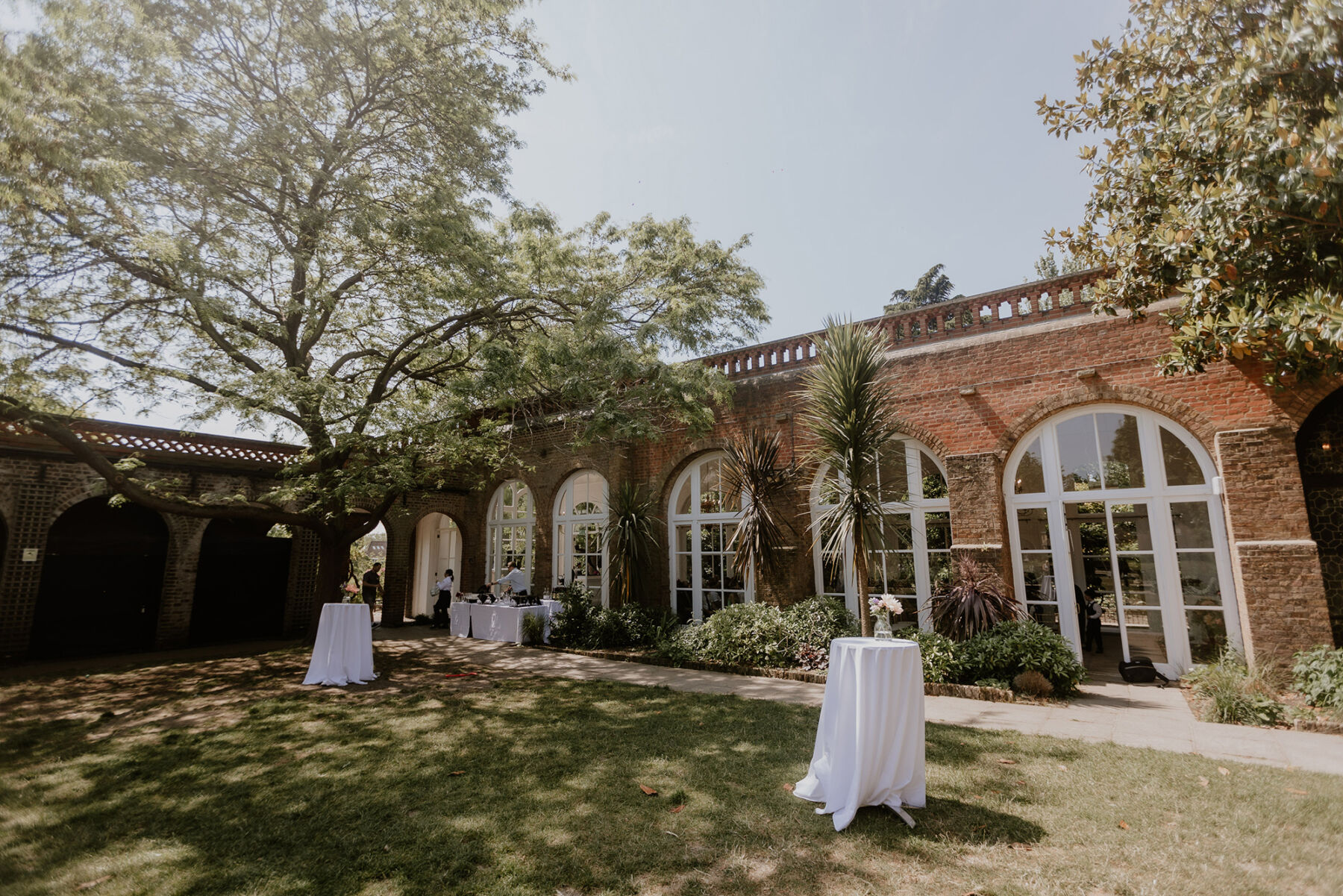 Photography
We hired The Kensington Photographer and loved their ability to mix informal and formal pictures together with capturing mood of the setting. Given the number of locations and extreme lighting on day from the sun, it wasn't an easy task getting good photos and to coordinate people in the heat, but the photographer did really well.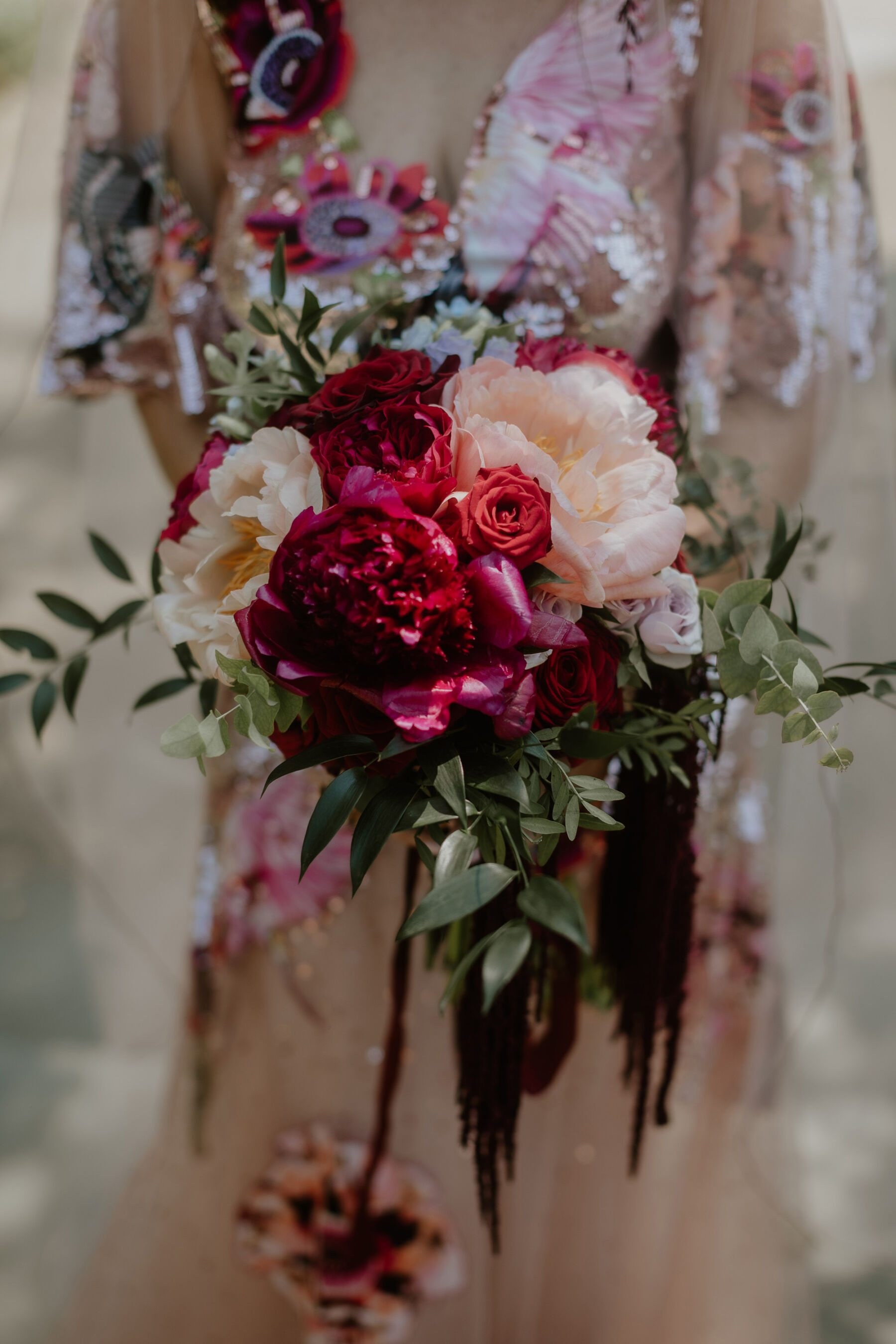 We often stay at my sister's apartment opposite Jubilee Gardens, so I instantly knew I had to have pictures on the carousel.
Neither Lee nor I wanted a huge number of posed pictures – it was more important to us for the ambience to be captured.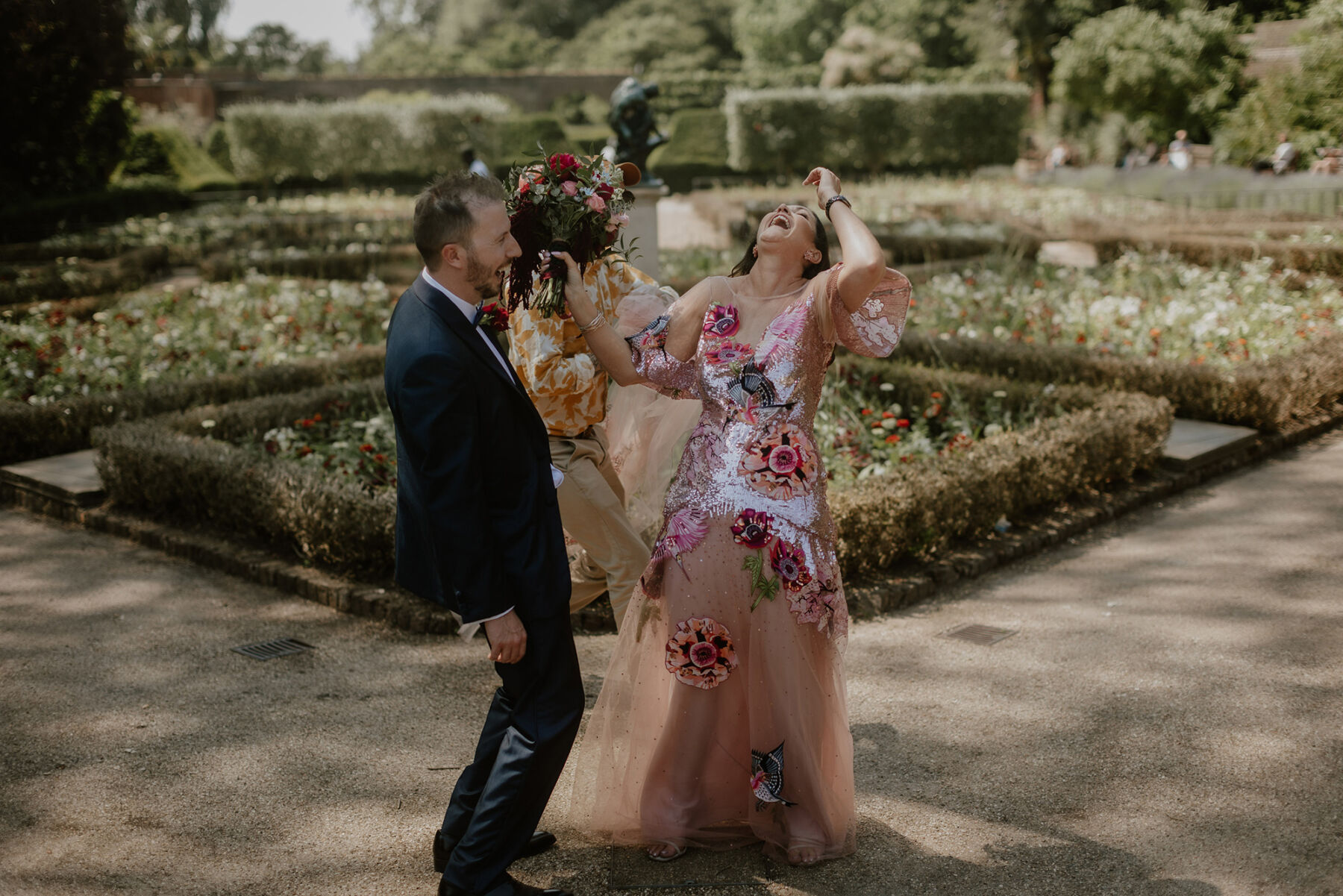 How They Met
We met at work, were friends for a long time before we realized there was a stronger attraction.
Lee proposed to me in London in December 2018 at The Zetter Townhouse Marylebone. Having carried the ring around with him for two days trying to find the perfect moment to propose, he realised that our glorious Union Jack Room was the right spot (either that or the stress was too much for him!).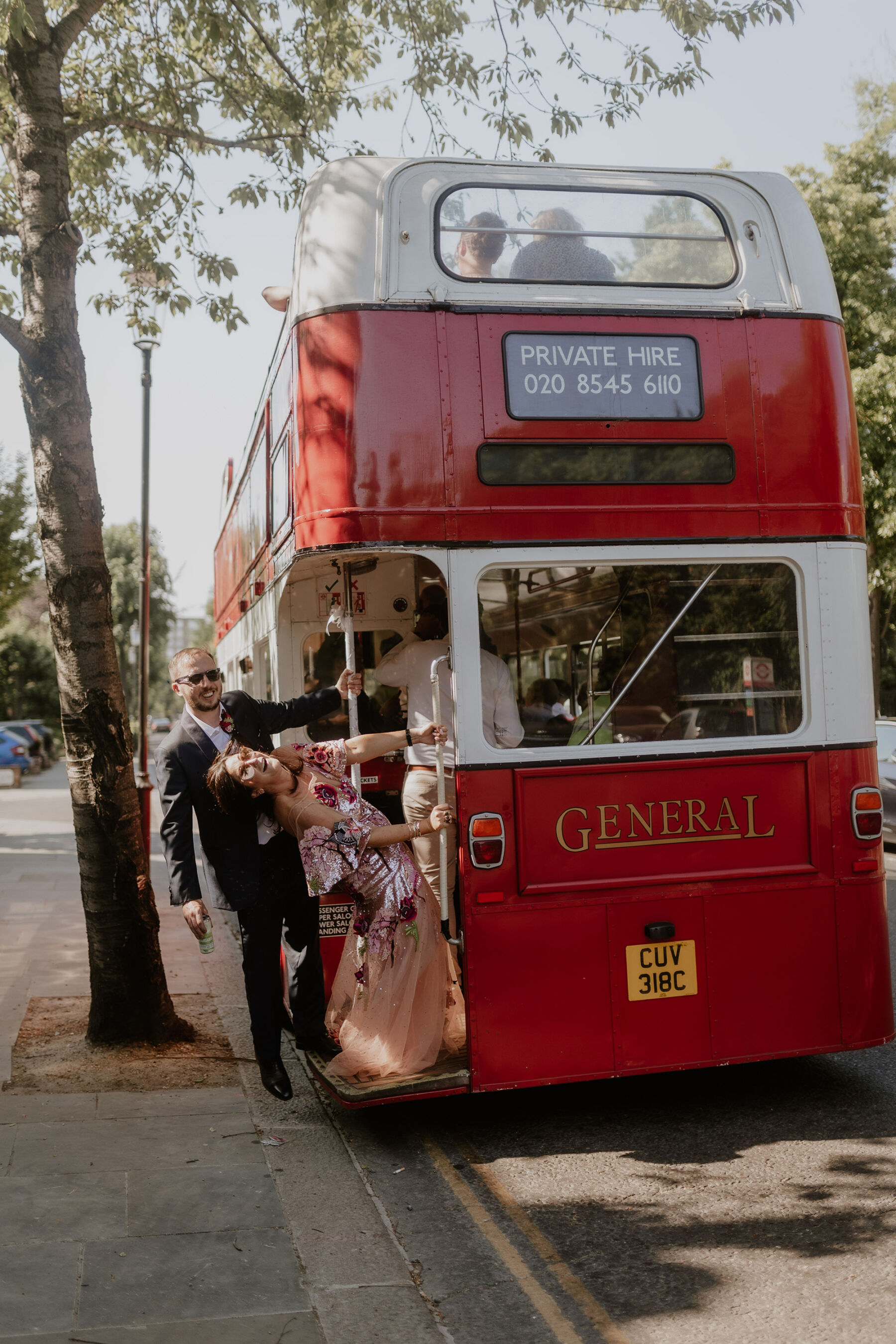 We celebrated by having dinner at Yauatcha Soho over one of their delightful grape cocktails! London is one of our favorite cities and probably why we chose to get married there as we live in Jersey.
Lee wore an Armani Navy Tuxedo (vintage, and sourced a few years ago from a shop closing for my sister's wedding in Ravello). He also wore a pair of cufflinks that I had engraved for him when we first met.
My favourite memory from the day was probably the vintage open top bus ride to Soho for the party– we weren't planning on having anyone sing so it was spontaneous coupled with the Nude Bike Ride and passing through Westminster – it was one memorable experience!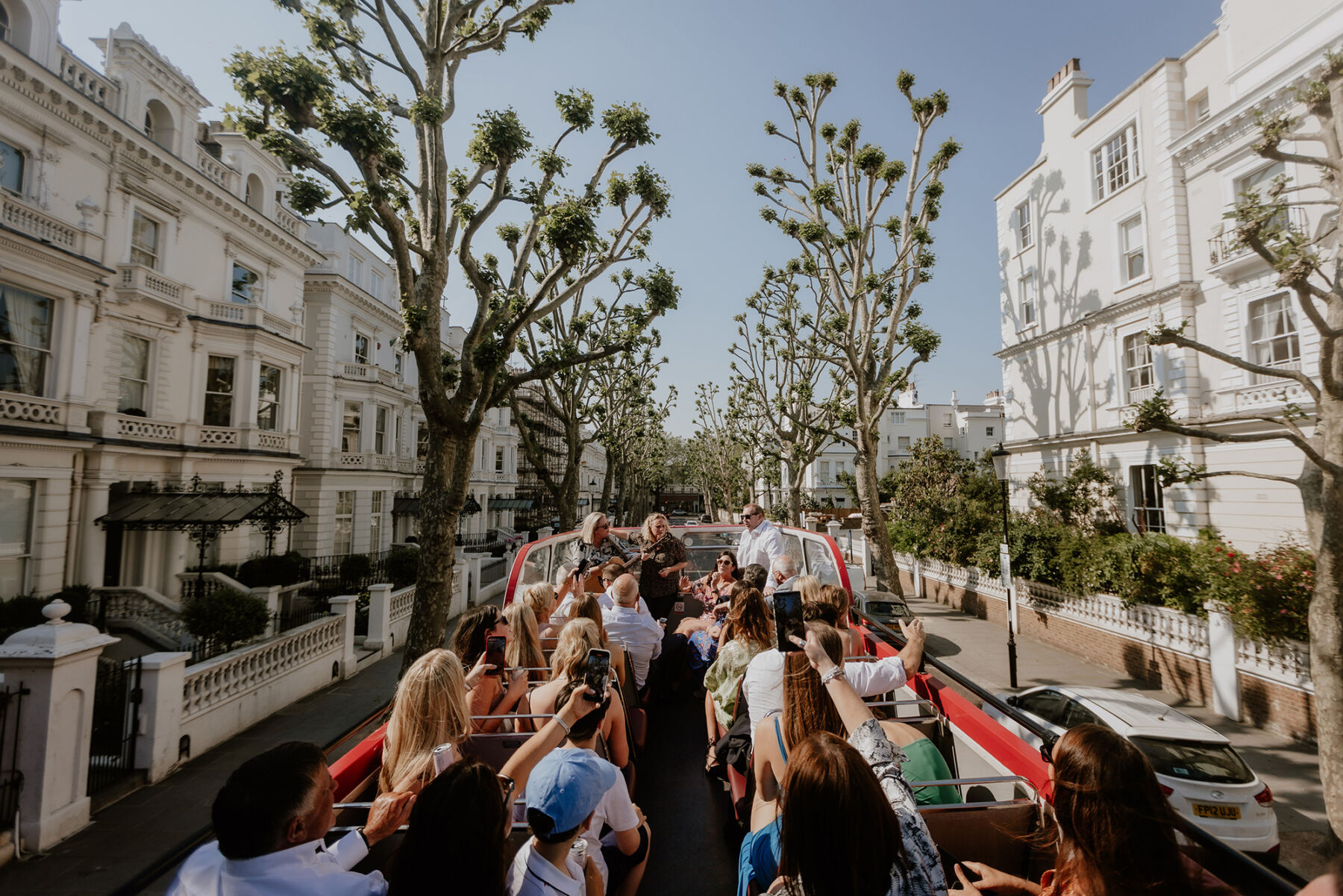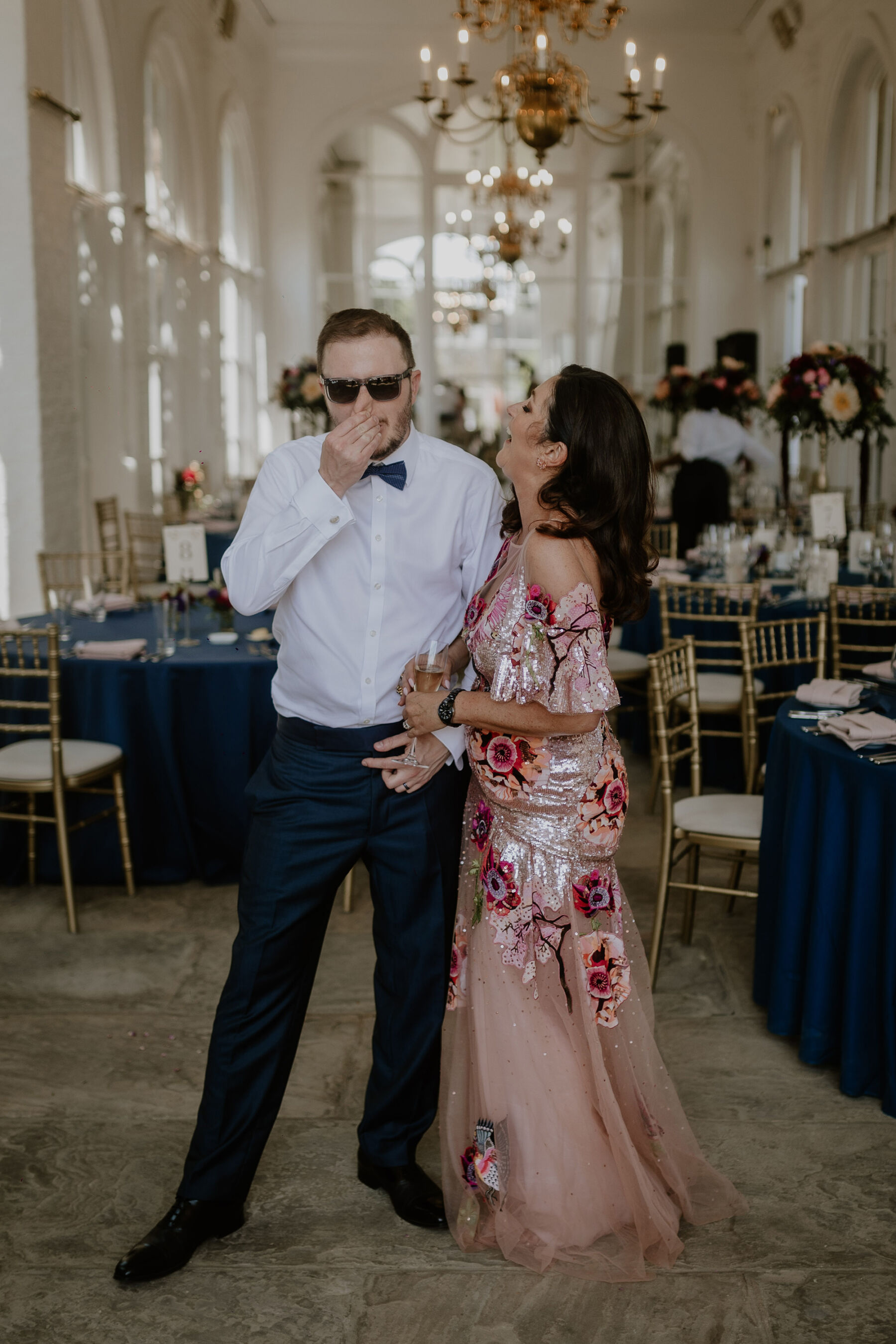 Most of my family thought we were joking when we said it was Karaoke and Bowling in the evening! My Husband loves Magic, so we hired a Magician to keep guests entertained in between Karaoke and bowling – it was like an Adults' Playground!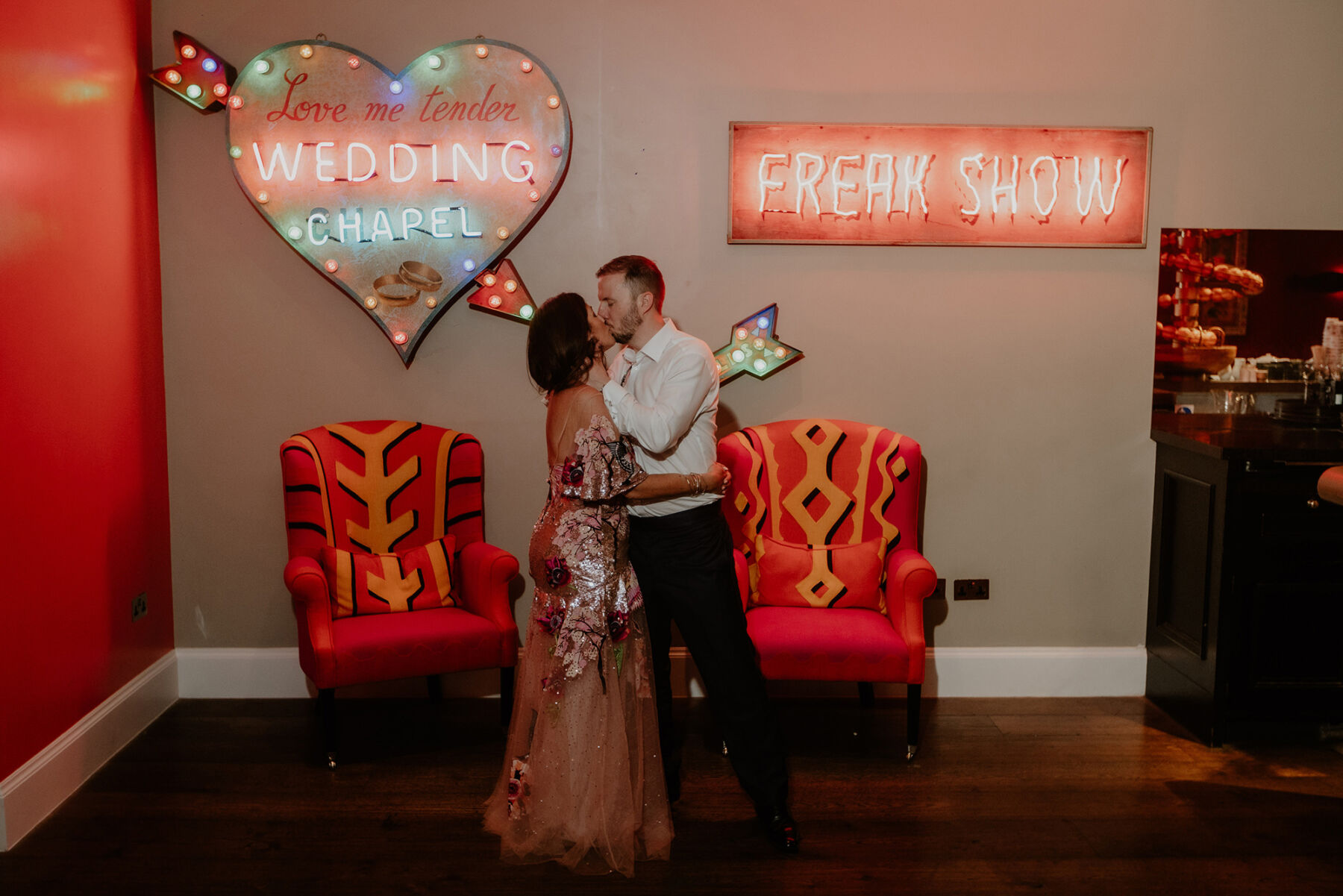 Evening, Dancing & Favourite Moments
For the evening, I borrowed my sister's vintage D&G lace dress with rose and sacred heart matched with my red love heart YSL glasses and YSL envelope bag. I wore my hair back as I wanted a Spanish senorita look.
Our first dance was to Luther Vandross's 'Never too much'. It's a great upbeat song which kind of symbolises the start of our relationship and how it has developed.
We hired the singers Pretty Vegas, and our DJ was Bobby Bucys.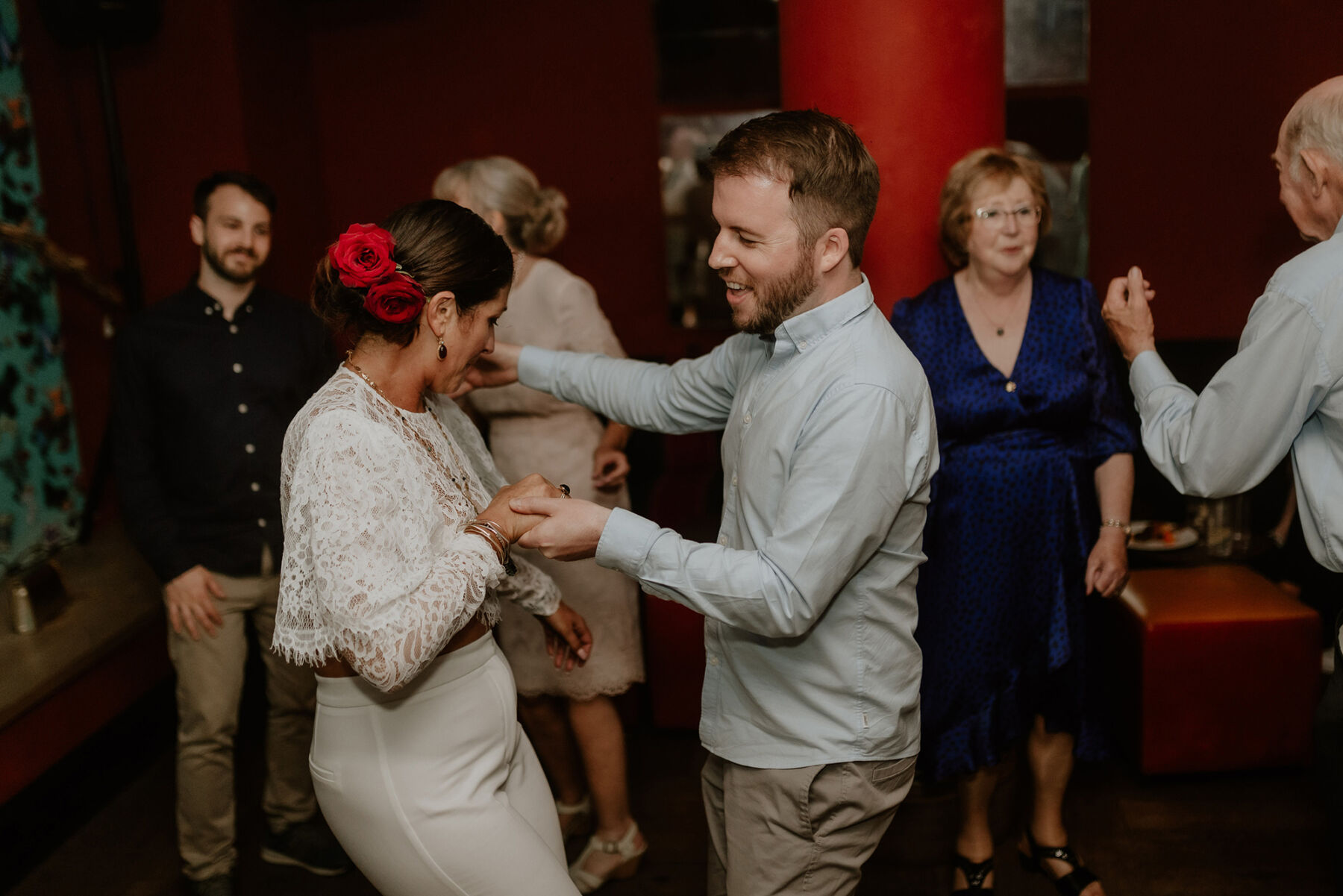 Words of Wedded Wisdom
Remember it's your day – it's about doing what makes you both feel special and is reflective of your personalities. Don't be afraid to make it all about you as a couple, even if that means shying away from the norm. Don't look back and regret decisions because that was expected or pleased others.
Comfort & Reality – It's a long day, so make sure your outfit is fit for purpose. I changed into a white trouser suit from Zara with a white lace Rasario crop top. In hindsight after a day of eating and drinking this wasn't the most comfortable or flattering outfits! The look is great on an empty stomach but not at 11pm and my wild dancing meant my crop top was more of a bralette! 
Timings – I was a bit too relaxed about timings and hadn't fully appreciate how long the make-up would take. I also don't usually wear false eyelashes and it took me a while to get comfortable with them.
I completely forgot to bring flat shoes and 12 hours later my feet were a mess from the heat and dancing. The day was so hot and given the number of venues, I didn't take enough time to have a break away from everyone. In hindsight we should have booked a room at Ham Yard to have an hour out from the festivities to ourselves to recharge and refresh – and drank more water!