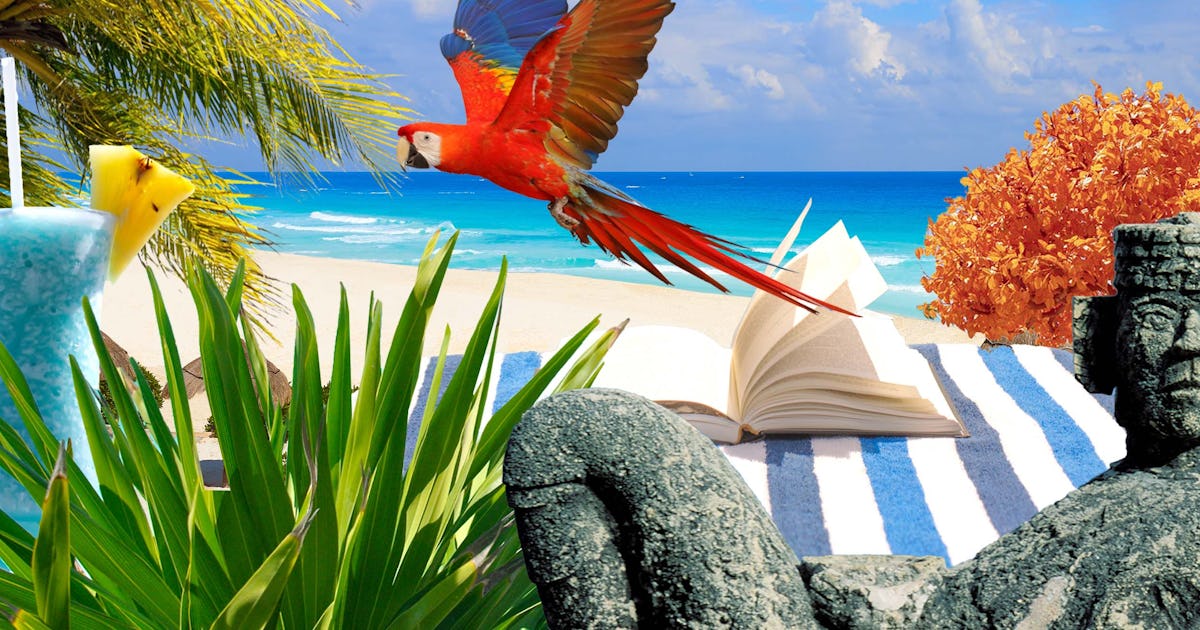 "Wellness retreat" and "Cancún" aren't typically used in the same sentence. Things like "spring break" and "tequila shots" are perhaps more often associated with a trip to Mexico — in fact, around 30,000 spring breakers hit up the country every year. Of course, tourists visit Mexico for its climate, cuisine, and art scene, but its beachy parts are well-known as prime partying locations. Believe it or not, though, Cancún, Mexico, has more to offer than just the wild reputation it often gets.
When I was given the opportunity in July to visit Cancún for the first time, I was hoping it would give me a break from my monotonous daily routine. Summer makes me feel particularly groggy, so I wanted to focus on mindfulness, positive self-talk, and good sleep while on vacation. Before I left, I set the intention to make it my very own "wellness retreat" despite not knowing what to expect. I wanted to live in the moment and wake up early to maximize my vitamin D intake, so I could return home feeling less burnt out (and hopefully a little bit tanner). If you're also looking to plan a chilled-out trip to Mexico, read on for tips to help turn a tropical vacation into a self-care getaway.
Find A Resort Made For Your Demographic
I stayed at an all-inclusive resort called Garza Blanca, which is a bit off the beaten path of Cancún. It's not on the stretch of Playa Mujeres, which is full of beach resorts you might have considered back in college. Instead, Garza Blanca focuses on relaxation and wellness by offering a variety of luxury suites and an extensive spa menu. Some rooms come with dedicated butlers who can help draw you a bath, stock your room with any food or drinks you might need, or make reservations so you can truly feel unplugged and hands-off. Spa Imagine, the resort's on-site self-care hub, offers classic facials, hot stone services, additional services meant to stimulate specific chakras, and more. While there are family-friendly pools and a day care on-site, there were noticeably fewer children walking around than I've seen at hotels in other big vacation destinations. There was even an adult-only rooftop pool that quickly became my go-to spot. The resort features eight different places to dine that can easily accommodate any dietary needs, including gluten-free and dairy-free options, such as an omakase experience and steak house on-site.
Consider A Spa Splurge
Without a doubt, a highlight of my trip was a hydrotherapy session at the hotel's spa. Hydrotherapy is the practice of using water as treatment — it could be as simple as taking a bath at home or doing a full-on circuit of different temperatures and pressures — and is meant to help reduce pain and stiffness, two symptoms one might feel after taking an early morning flight or having a particularly stressful month. I was guided through a circuit-like rotation of different saunas, steam rooms, and a variety of temperature-controlled pools.
If you've been on TikTok in the past few months, you know cold plunges are most definitely A Thing™, so I was excited to give it a try during this spa session. To start, I spent about 10 minutes in a sauna — which might seem brief, but it only takes about seven minutes to reap its benefits. After that, I cold-plunged for just a few seconds before getting into the steam room and starting the process again from the top. An hour or so later, I left the spa with a clear mind, a spring in my step, and a vow to myself to try cold-plunging again. (A month later, I booked a hydrotherapy experience at a bathhouse in New York City since I loved it so much during my trip.)
Hydrate Safely, Then Hydrate Some More
As someone who isn't a certified Warm Weather Person (the UV index was 9 when I arrived) and who takes a little too much pride in how well-hydrated I stay on a daily basis, this was key to staying cool and comfortable during my stay. With every drink I ordered, I got a water bottle on the side. In Mexico, stick to bottled water, and always double-check if the tap water is safe to drink when traveling to a new place.
Ultimately, I returned back to my muggy New York apartment four days later feeling much more relaxed than I assumed I'd feel if I went to Cancún, say, as a junior in college. It felt like a once-in-a-lifetime trip that allowed me to step back from my daily life and come back to it with a renewed appreciation — I sort of missed the familiar hum of my janky AC unit that lulls me to sleep. Still, I'll remember this trip as a legitimate wellness retreat: The vacation where I braved a 50-degree cold plunge and didn't even think about touching the book I brought to read. I even got surprisingly great sleep. It was the vacation that actually really felt like a break, and thankfully, not the "spring break" kind.