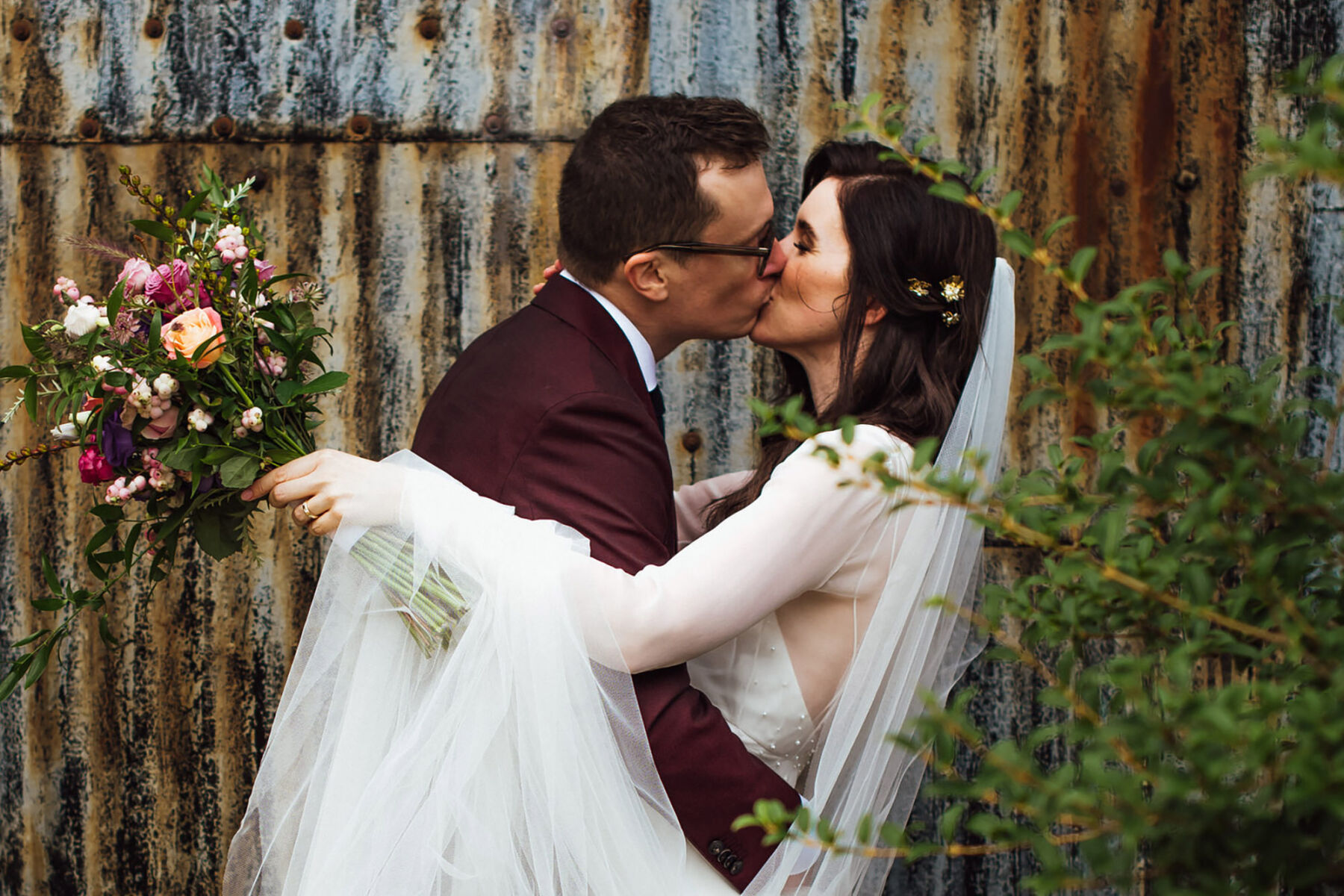 We recently shared the beautiful wedding of British bridal fashion designer, and friend of Love My Dress, Andrea Hawkes Bridal. If you love modern, minimalist bridal style, you'll love Andrea and Dan's wedding.
Today, we happen to be sharing the wedding of Andrea's brother Neil and his beautiful wife Ruth, who of course, wore an Andrea Hawkes dress. Ruth and Neil, tied the knot on 9th September this year at Stone Barn in The Cotswolds, part of the Cripps & Co. Wedding Venues group.
Bookmark this link to enjoy other weddings featuring brides wearing Andrea Hawkes.
Stone Barn Wedding Venue, The Cotswolds
We don't have any connection with the Cotswolds but it's a beautiful part of the country and somewhere we thought our guests would enjoy a weekend, particularly those travelling from outside the UK.
We visited a few venues but once we saw Stone Barn, we knew. There's quite a list of things that we loved – delicious high-quality food, great drinks and distinct little bar, an open kitchen which is such a vibe, warm and cosy but cool, industrial but modern, a secluded setting, lots of spaces to explore but somehow intimate, a professional team.
The Groom
Neil wore a custom burgundy suit from Suit Supply. He worked with Dominic, one of the team's advisers in their Westfield White City branch. Admittedly it was a leap of faith to go from a little burgundy swatch to a full suit, but Neil looked so handsome on the day, and he felt like a boss! The experience was exciting and unique. It's not often you can invest in designing a suit from the jacket type through to the thread and buttons.
A pair of Grenson Derby shoes in a delicious shade of espresso!
Beauty, Shoes, Veil & Accessories
There was no doubt I wanted to wear a veil. It's a once in lifetime opportunity so I went for long but simple raw edged tulle.
A wore a pair of ivory Russell & Bromley platform heels which I know I'll get loads more wear out of.
My hair was styled by Abigail Constanza. Abi is one cool, quietly confident, got it altogether hair stylist. I loved my glamorous waves and nod to a quiff! And her team are so organized, flexible and lovely.
Make-up was by Andrea from Pamela and Andrea Makeup. 'Enhancing natural beauty', that's how the team describe their approach and Andrea got it just right for every woman she worked on. She's such a lovely spirit, kind-hearted, chatty, and put us all at ease. She also came through with the best 90's girlband playlist on the morning when no one had downloaded any music and the wifi wasn't working.
An Andrea Hawkes Wedding Dress
My experience at Andrea Hawkes Bridal was effortless, always positive and thoroughly enjoyable. It felt like working with very talented friends – easy but expert. The shop is beautiful, and I think you take great confidence from the fact that the studio, and therefore the whole team, is on site too. Designed and made in London.
It was an easy and special choice for me because Andrea is now my sister-in-law. When you've got such talent in the family, and an aesthetic totally in keeping with your own, why would you go anywhere else!
I loved the whole process. Neil works with his sister a lot, so I've always had a sneak peak at the latest collections. I kept an eye on what I liked in the run up to our engagement and as soon as the ring was on the finger, I was messaging Andrea to book in an appointment.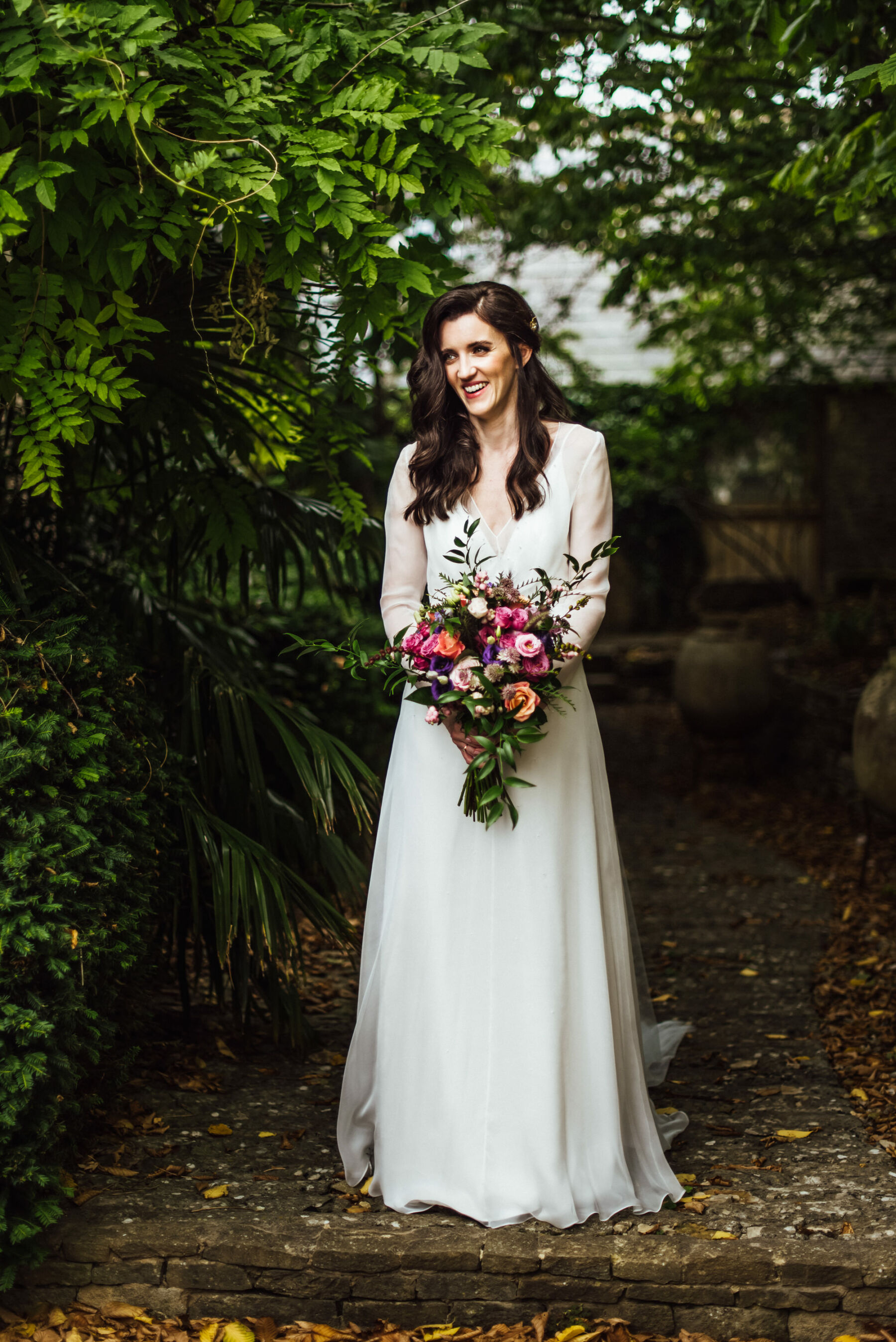 I tried on a variety of different dresses (and a jumpsuit!) but for me it was always going to be Clarice – particularly the opportunity to have two outfits in one. I didn't even change my mind after a global pandemic and a pregnancy. With the chiffon I had something delicate and feminine for the day, and then the sexier slip dress for an evening of dancing.
As the dress was made to measure, I was able to choose everything from a neckline I was comfortable with to some additional pearl and glass bead detailing on the overdress.
Bridesmaids
My bridesmaids dresses were by TwoBirds New York and purchased from the team at Confetti Bridesmaid in London. They included a dress and a jumpsuit in a gorgeous olive-green velvet. The colour really suited the girls and I loved that they could make the outfits their own.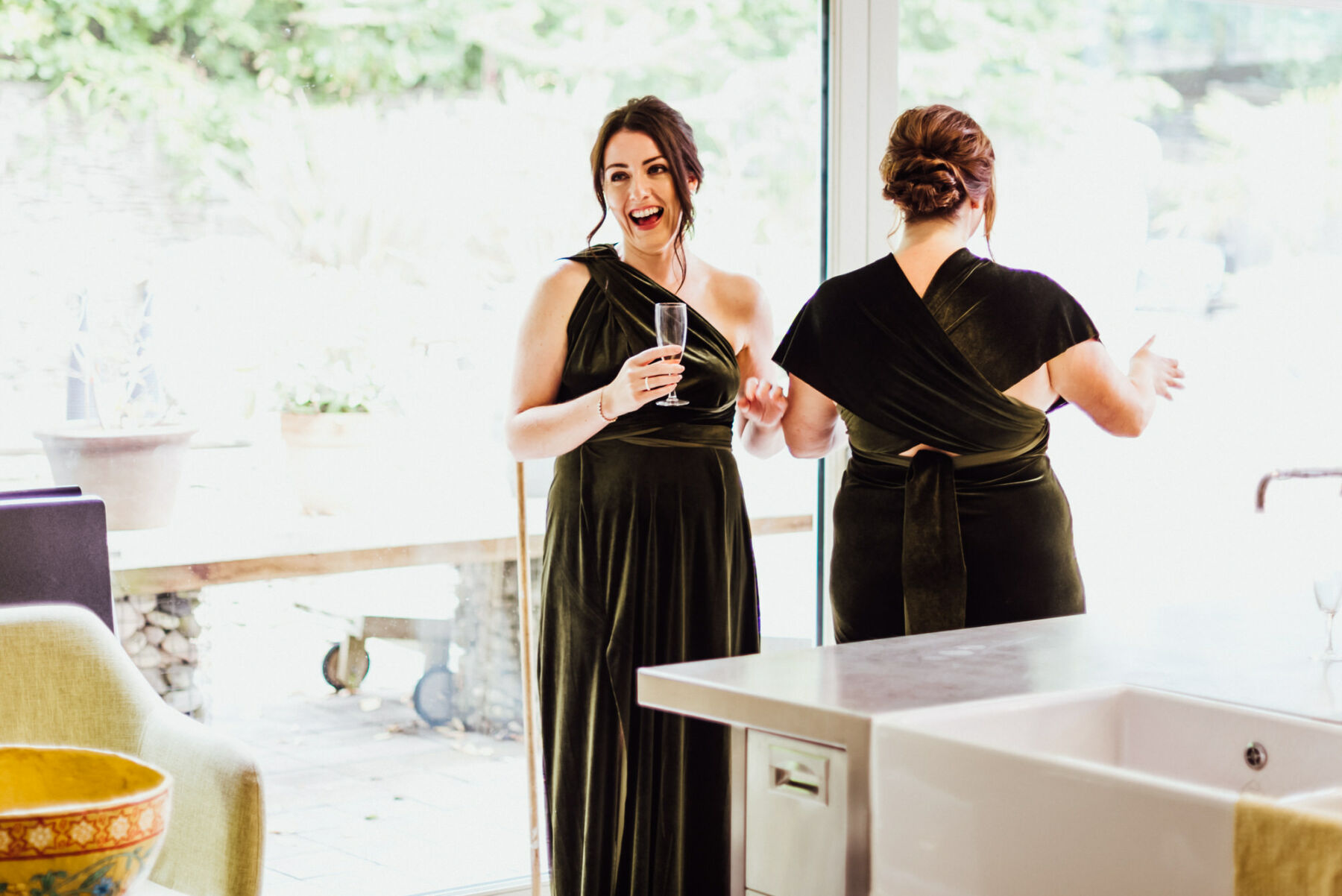 Flowers
Go Wild Flowers are the go to florist for Stone Barn brides, and one of the only teams trusted to work with the large hoop in the ceremony barn. Our flowers were the one thing that did change from original to postponed date.
In 2020, I wanted something ethereal, lots of gypsophila and pastels. By 2022, inspired by the diversity of weddings now more prominently featured on blogs like Love My Dress, I went for something bolder; bright to deep pinks, with pops of purple and coral. All seasonal, late summer cottage garden flowers and foliage.
Ceremony
My dad walked me down the aisle. This was unexpectedly the most emotional part of the day for me. You're suddenly in the eye of the storm and the big day is really finally here. Once the music started, I found myself totally glassy eyed. A true blur.
We entered the ceremony to the sound of Gregory Porter's 'Real Good Hands'. Neil and I love Gregory Porter and having made the decision to be walked down the aisle, the lyrics were so poignant;
Mama don't you worry 'bout your daughter
'Cause you're leaving her in real good hands
I'm a real good man
Now the picture of this man is slowly coming into view
Papa don't you fret and don't forget that one day you was in my shoes
Somehow you paid your dues
Now you're the picture of a man that I someday wanna be
I know it's hard, watching the changes in our lives
But I want to make your daughter my wife
We used Gloucestershire Registry Office. We had no influence over the choice of registrar but the team on the day, but they were lovely.
Photography
Our photographer was Michelle Wood Photography. We just loved Michelle's work – before, during and after our wedding. Her authentic documentarian approach to photography was exactly the style we were after.
Michelle is a preferred supplier at Stone Barn and while that wasn't something that mattered to us particularly at the outset, it came in super useful on the day. A total professional, Michelle guided us through the motions and did an epic job of getting our families to line up when and where they were supposed to. That left us with plenty of time to enjoy our guests and everything we'd worked so hard on.
The images she captured really make us smile and transport you back to all the colour and joy of the day. She nailed it!
Videography
Chris from Toast Films was such a find. He's a top-notch guy but more than that he's a talented film maker and practically invisible on the day. Anyone who did manage to catch a few mins with him at the wedding had nothing but good things to say.
We purposely chose a different style of film to photography. More understated than our still images, atmospheric, subtle – a look at the day from the outside in. Chris supported us, making recommendations throughout the process, but always acknowledged that we had our own vision. That showed through when we were able to dive into the music library and suggest some backing tracks that we liked, and Chris shifted his approach to accommodate us.
How They Met
We met in 2015, working together at a creative communications agency in Shoreditch. Our eyes met over an employee engagement brief – but not for long, as I  moved to Ireland just a few weeks after we started seeing each other.
I was back within a year though, we moved in together, and then bought a house outside London. We got engaged around Christmas time 2019, in Dublin. I always wanted a short engagement, so we started wedding planning immediately and come January had all the big things booked for September 2020. And then Covid hit! So, our engagement lasted exactly 1,001 days.
Barn Wedding Decor
We tried not to be too prescriptive in styling our day. We knew what was important to us – food, music, guest experience – and that's what we invested our time and effort in.
Our wedding Pinterest board was titled minimalism meets maximalism. Neil loves typography so our stationary used a bold and modern font, and we kept everything black and white. That black minimalism carried through to our black wired card box, table number holders, guest book, and frames. The colour came from our flowers, Neil's suit and the bridesmaids' outfits. We went for lush jewel tones which suited our own complexions but also the time of year.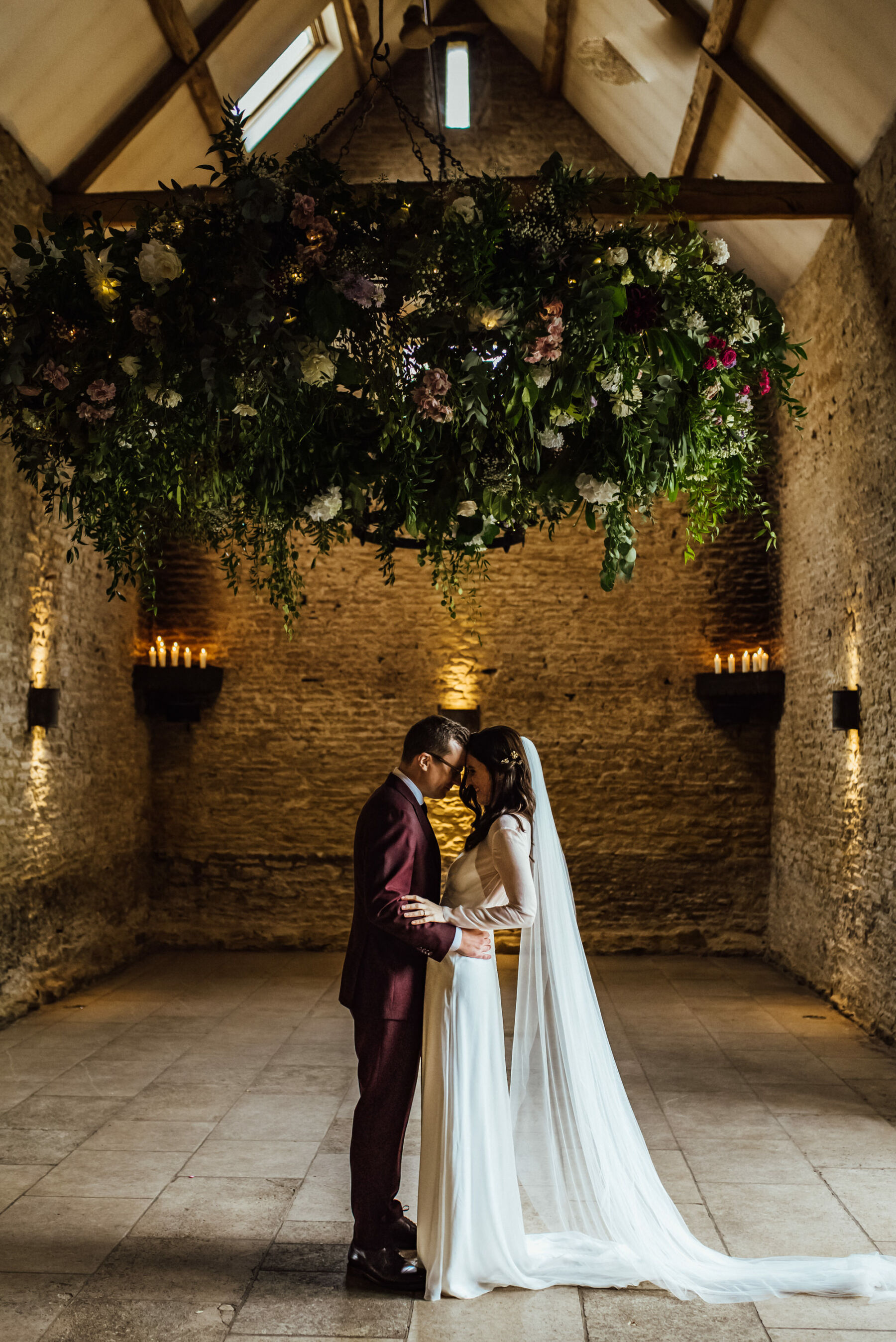 Evening & Dancing
Our first dance was to Never Too Much, by Luther Vandross. We don't have a 'song' and we aren't a hugely sentimental couple so we wanted something soulful but fun, that we could have a little groove to and then promptly get everyone else up on the floor.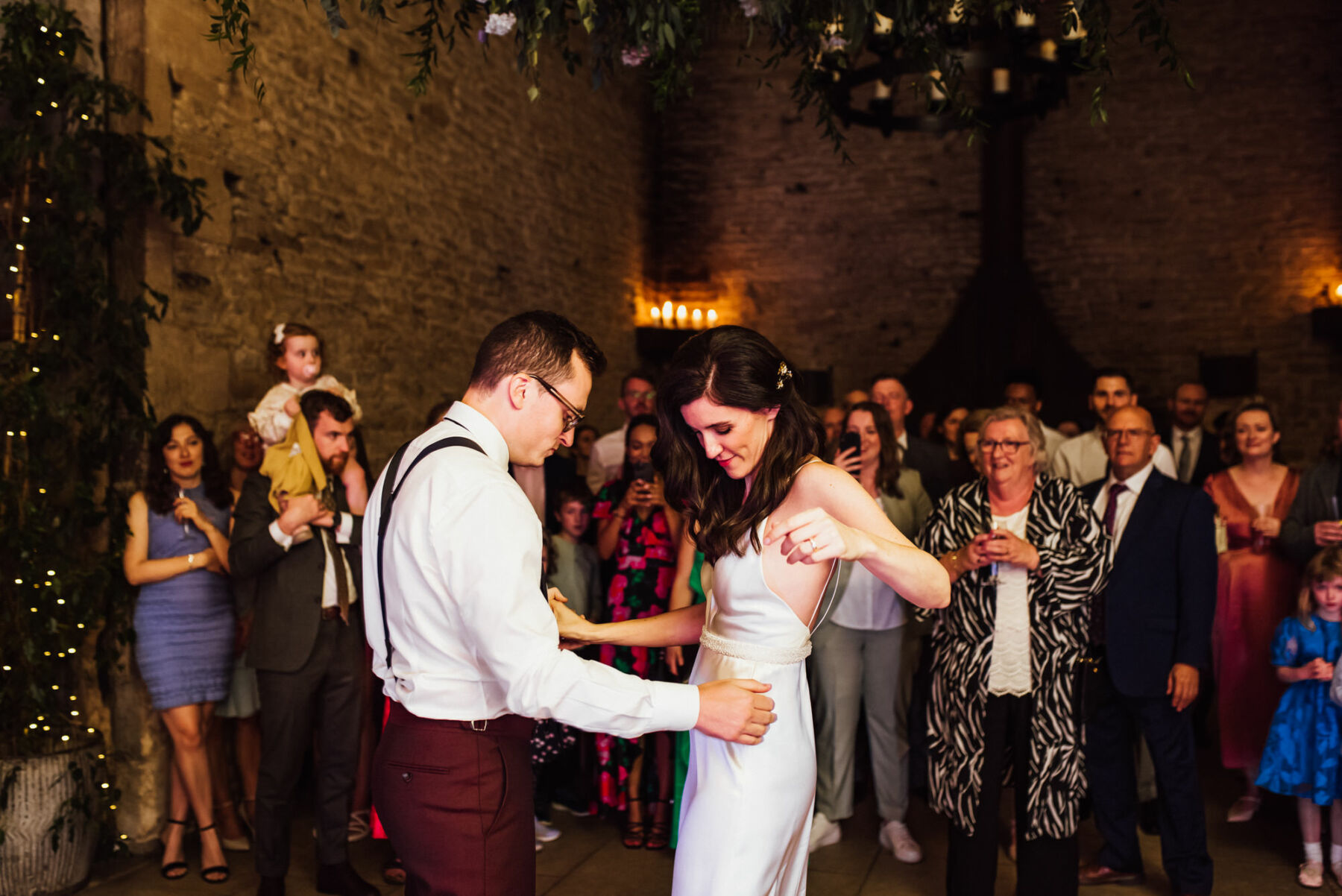 Letting loose on the dancefloor to the Velvet Notes. It was celebration of the work we'd done, the day we'd had, with all our friends and family around us, my little niece up on shoulders doing fist pumps, seeing all the people we love mixing, laughing, getting low… elation. There's a lot of freedom in knowing you did good, and you can retire the to do list.
Words of Wedded Wisdom
'Trust your gut. If it feels right, it will come together.'
This piece of advice really helped us if we were worrying about colours, styles, traditions or just getting distracted by the variety of wedding stuff you see on social media. Our mantra was always feed well, entertain well, and then anything more than that had to really make a difference or be important to us, or it wasn't worth stressing over.