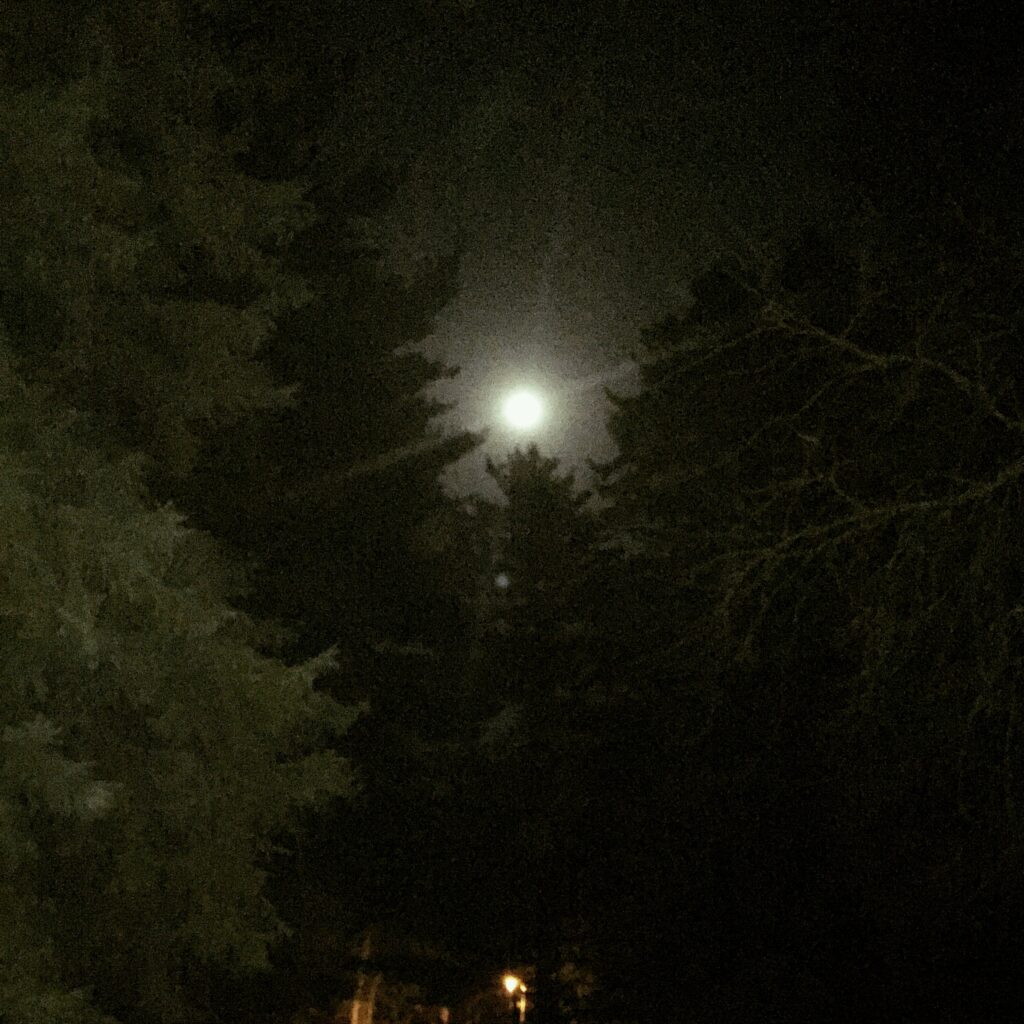 Well, here we are in the second Covid Halloween. It's a little different than 2020, but vaccines aren't yet available for the youngest ghouls and goblins, so it's time to take care even while you have some trick-or-treating fun. According to research by the National Confectioners Association, more than 80 percent of Americans plan to engage in some form of trick-or-treating this year.
The best news is that there are lots of ways to celebrate that can keep kids and families safe while delivering a lot of sweet and scary fun. You'll want to pay attention to safety guidelines from the CDC and our feeling is that, like so many things in life, if you pay attention, use common sense, and are proactive in taking care of yourself and your kids, the opportunities for a lot of play and a lot of fun are terrifying huge.
Set the Stage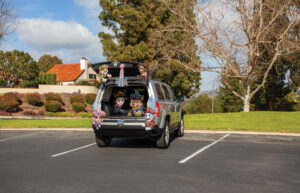 One of the biggest trends for this Halloween lets kids have a lot of fun–while social distancing. It's called, "trunk or treat," and the idea is that you deck out the back of your car so it's like a rolling party, place candy and treats inside, and then let the little ghouls grab and go. You get the fun of watching, but everyone stays at a save distance. In 2020, this was a pretty informal thing, but now a lot of companies have gotten into the act. You can find some great sets with Paw Patrol, Transformers and more here.
Dress the Part
Costumes are a natural part of dressing up for Halloween, and they have been for hundreds of years. While there are many legends as to why and how people started to dress up, one of the most widely accepted stories is that the ancient Celts dressed up in costumes to scare away ghosts on the night before their new year began…our November 1.
Over the centuries, traditions got mixed and muddled. The Romans invaded the Celtic lands in about 43 AD and incorporated that tradition into their traditions. Later Pope Gregory established November 1 as All Saints Day, with the night before becoming All Hallows Eve.
What all these celebrations had in common was that they were intended to ward off ghosts and evil spirits and start the new month (or new year) afresh, in many ways similar to the way in which Mardi Gras leads up to the season of Lent, in the Christian tradition.
Today, costumes are more fun, and as a culture we're less superstitious about ghosts and goblins and clearing out the bad energy for a new beginning. For contemporary cultures, dressing up means relaxing and having fun in the guise of another personality. The roots of the celebration are still there as Halloween is, for many, one last big party before the cold weather arrives and we prepare for the winter.
For contemporary kids (and their parents) costumes are often based on popular entertainment figures. Today's designs, too, are a long way from the jumpsuit and lightweight masks that were popular for the Baby Boomers. Sophisticated costumes, including inflatables and much more, are all designed to make a dramatic presentation, be easy to wear and comfortable.
Forward-looking companies like Disguise are also creating costumes for differently abled revelers, so everyone can get in on the fun.
Here are some of the costumes we found for the season: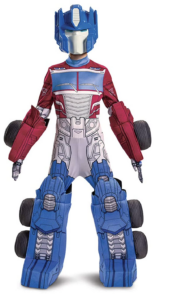 Optimus Prime Converting Costume from Disguise
Kid Sizes $79.99; Adult Sizes $149.99
Where to Buy
We love this converting costume. You look exactly like the famous Autobot commander when you're standing up. Then, crouch down and you convert into a truck. The costume is easy to wear and lightweight with a full jumpsuit that's easy to put on. It comes in kids and adult versions.Add the Autobot gloves, and no one will know who's inside.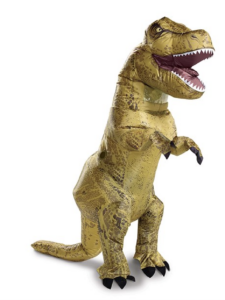 Jurassic World Inflatable Costumes from Disguise
Kid Sizes $59.99; Adult Sizes $79.99 (At Walmart only. Prices higher online.)
Where to Buy
These larger-than-life costumes are hilarious. Slip them on, and turn on the battery-operated fan. In just a few moments, you'll be a rampaging T-Rex, or a reasonable facsimile. The lightweight costume makes a big statement. You'll want to have plenty of room around you indoors, however.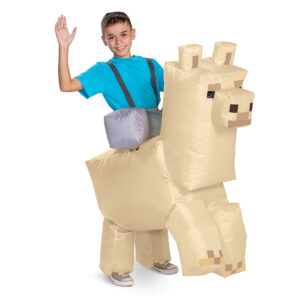 Minecraft Llama Ride-On Inflatable Costume from Disguise
Kid Sizes $34.99
Where to Buy: In Walmart Stores Only
Minecraft continues to be one of the hottest properties out there for kids, and this ingenious costume lets kids be just like Steve in the game and look like they're riding a llama. It's easy to put on, inflatable with the built-in fan, and it fits like a pair of overalls. You supply the shirt and strap on the suspenders. You're sure to wow any Minecraft fans with this dramatic giddy-up get-up.
Note: This is such a popular costume, that there are re-sellers trying to get as much as $99.99 for this online. Our advice is not to pay that kind of a premium.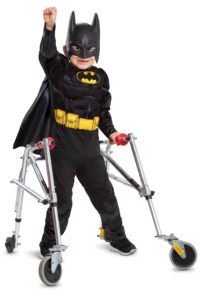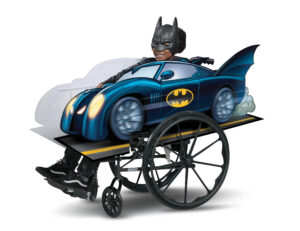 Batman Adaptive Costume from Disguise
For ages 3-8 and adults.
Kids sizes $44.99; Adult sizes $49.99
Where to Buy
Everyone should have a chance to celebrate, and that's why Disguise has create Batman-themed adaptive costumes for
differently abled kids and adults. Costumes look great, but they're easy to put on, have accessible design, even accommodating a feeding tube, and detachable capes. Disguise also makes an adaptive wheelchair cover to complete the look in a dramatic bat-fashion.
Accessories Make the Look
Every dress up artist knows that the accessories can make a costume. And if you're not feeling too inspired, sometimes just the accessory can convey a sense of fun a drama. Here are a couple we've found that are completely on-trend.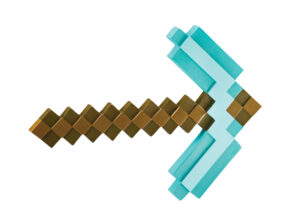 Minecraft PickAxe from Disguise
For ages 4 and up.
$14.99
Where to Buy
This is the iconic diamond-hunting accessory from the Minecraft game. No Minecraft costume would be complete without it. And, okay, it's not made of diamonds, but it looks just like it does in the game, and you can definitely amp up your Minecraft look with this.
Note: We've found this on sale in various places, so you may be able to score a deal.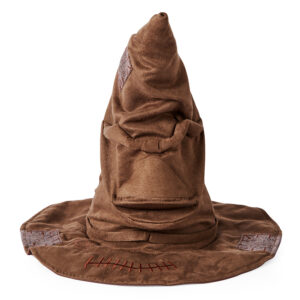 Wizarding World Sorting Hat from Spin Master
For Ages 6 and up.
$39.99
Where to Buy
This is totally cool. Just like in the books and movies, the replica Sorting Hat has 15 phrases, full facial expressions, and lets you recreate the sorting ceremony in your celebrations. The Wizarding World is one of the hottest properties out there, and it's as popular with adults as it is with kids. The hat is adjustable so it will fit heads of nearly all sizes. This is part of a whole new line of role play toys and accessories based on the world of Harry Potter.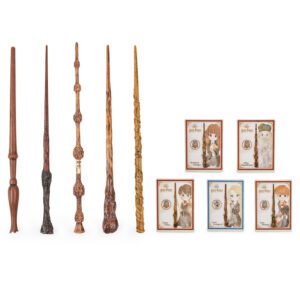 Spellbinding Wands from Spin Master
For Ages 6 and up.
$14.99
Where to Buy
Speaking of magical make-believe, these replica wands are value-priced but very realistic. The weighted handles feel great in the hand so whether in a wizarding duel or just your everyday "wingardium leviosa," they're perfect. Best of all, you don't have to go to Diagon Alley to score one of these lovely accessories.
The Game's Afoot
Halloween celebrations are more than just trick-or-treating. The National Confectioners Association has lots of cool ideas for at-home fun—and making the spooky season last all month. You can find them here.
In addition to these ideas, family time with spooky-themed games can be a lot of fun. Here are a couple we've enjoyed playing: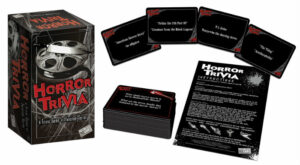 Horror Trivia from Endless Games
For Ages 13 and up.
$9.99
Where to Buy
Do you watch horror movies without covering your eyes? Then you'll probably do well with this game. With more than 300 questions about the all-time classic horror movies, this game is a scream…of laughter. Teams or individual players compete to answer questions and collect weapons. This is for horror fans who remember all the ghastly gory details of their favorite flicks.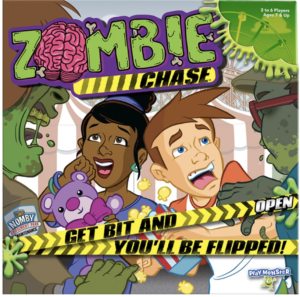 Zombie Chase from PlayMonster
For Ages 7 and up.
$19.99
Where to Buy
You're trapped in an amusement park, and you need to escape the zombies…or end up as one of them. This is a basic chase game with a twist. If you get turned into a zombie, you're on a new team, and the rules change. We love the back-and-forth and the suspense of this game. Plus, it's cleverly designed, too.
We'll keep updating this page as we review more toys, so be sure to bookmark this page and check back often.
DISCLOSURE: PURCHASE LINKS ARE TO PLACES THAT HAD IN-STOCK AVAILABILITY AT THE TIME OF PUBLICATION. THE TOY GUY DOES NOT RECEIVE ANY COMMISSION OR FEES IF YOU PURCHASE THROUGH THOSE LINKS. PRICES LISTED HERE ARE MANUFACTURER'S SUGGESTED RETAIL PRICES. IN SOME CASES, PRICES MAY VARY