The Satechi Dual Dock Stand is a modestly named docking station that pulls triple duty as a docking station, ergonomic laptop stand, and external SSD enclosure. Be still my beating heart. 
I'm a massive advocate for accessories or peripherals that can serve multiple roles, and Satechi's offering covers so much ground it's easy to get a little swept up by its on-paper claims.
However, while I love the idea of multi-function accessories, I know all too well that this can cause some products to stretch themselves a little thin. Does Satechi's USB-C Dual Dock Stand have what it takes to be one of the best docking stations on the market? Let's find out. 
Satechi Dual Dock Stand price and availability
The Satechi Dual Dock Stand is available for $149.99 from Satechi's official site.
For USB-C docking stations within a similar scope to Satechi's device, we have Baseus' $89.99 EliteJoy Gen 2 USB-C Hub to compare with. Baseus' hub also doubles as a laptop stand but offers more ports by way of SD and MicroSD card readers and a 3.5mm audio out jack.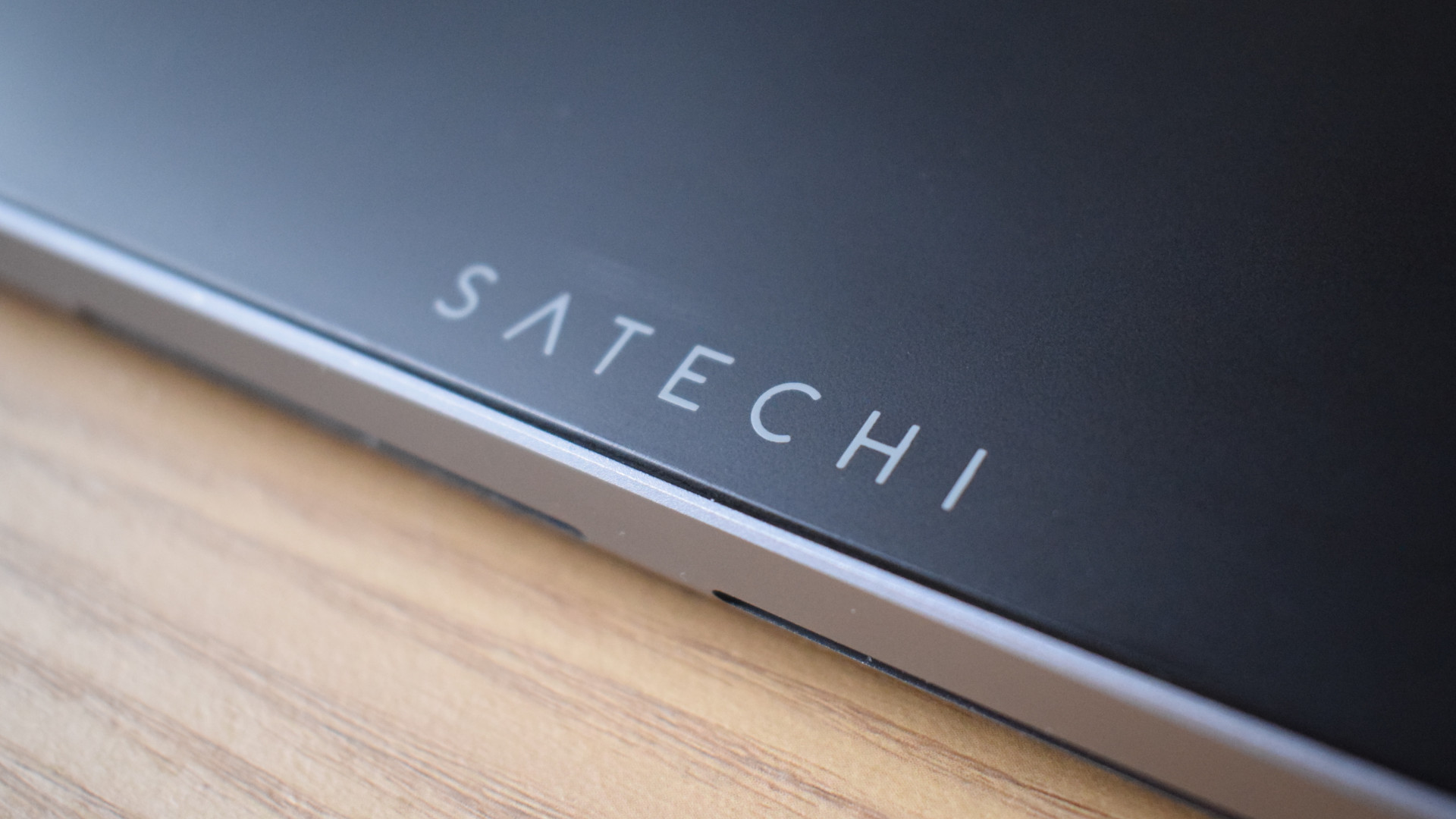 However, the EliteJoy Gen 2's design features next to no ventilation, which causes serious heat and performance issues over time. Baseus' hub also features slower ports and lacks the SSD enclosure of the Satechi dock.
For its price, Satechi's Dual Dock Stand has a lot to offer, much of it to a high standard. Not only that, but it manages to condense your workspace with its multi-functionality and makes hot-swapping your machine while staying in control of your setup an absolute breeze.
Satechi Dual Dock Stand design
Everybody has that one tech hangup they can't quite shake. Some people still cling to the notion that the Ouya was something special, and I know of one person who refuses to disavow the Zune.
My hangup, for whatever reason, is the laptop stand/docking station combo. There's just something about that zero-footprint design, effortless cable management, and souped-up ergonomic posture that I can't turn my back on — no matter how many times I've been stung by various manufacturer's past attempts.
But much like a west-coast college student egregiously espousing the politics of the Eastern Bloc, I cling to my convictions. Yes, past iterations of devices like this are more George Foreman grill than anything else, but that's because REAL laptop stand/docking station combos haven't been tried yet — until the Satechi Dual Dock Stand, that is.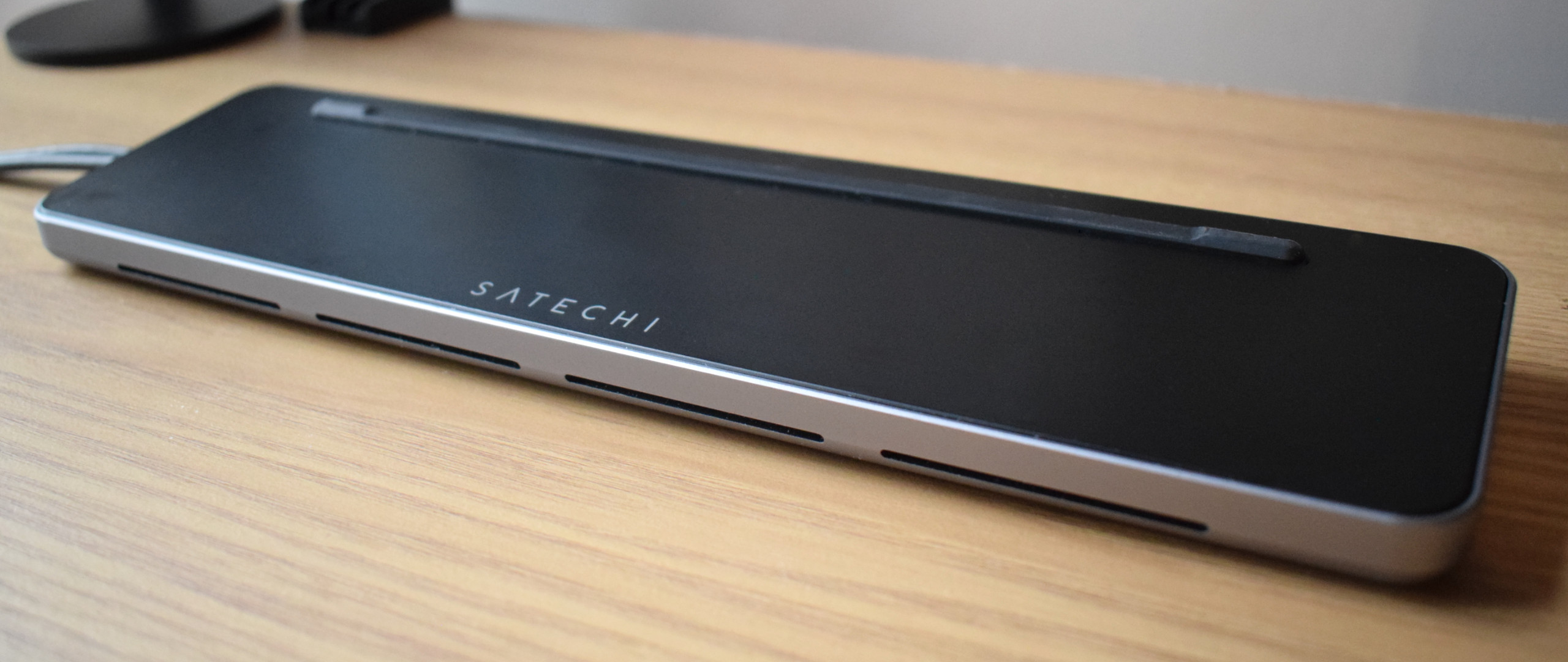 If you're a bit of a neat freak when it comes to keeping your workspace spick and span, this is the docking station you need to calm your lingering OCD tendencies. Satechi's dock sits underneath the rear of your laptop, offering nine rear-facing ports, an ergonomic lift, and even an SSD enclosure.
This means that if you already own an external SSD enclosure, Satechi's Dual Dock Stand isn't just a zero-footprint device. It's effectively a negative-footprint device, which frees up space at your workstation.
Satechi's dock measures 12.2 x 3.14 x 0.94 inches in size and can comfortably house most 14-inch and 15-inch laptops. Thanks to 7.5-inch twin host cables you can house larger and smaller laptop sizes too if you don't mind some overhang or exposed edges.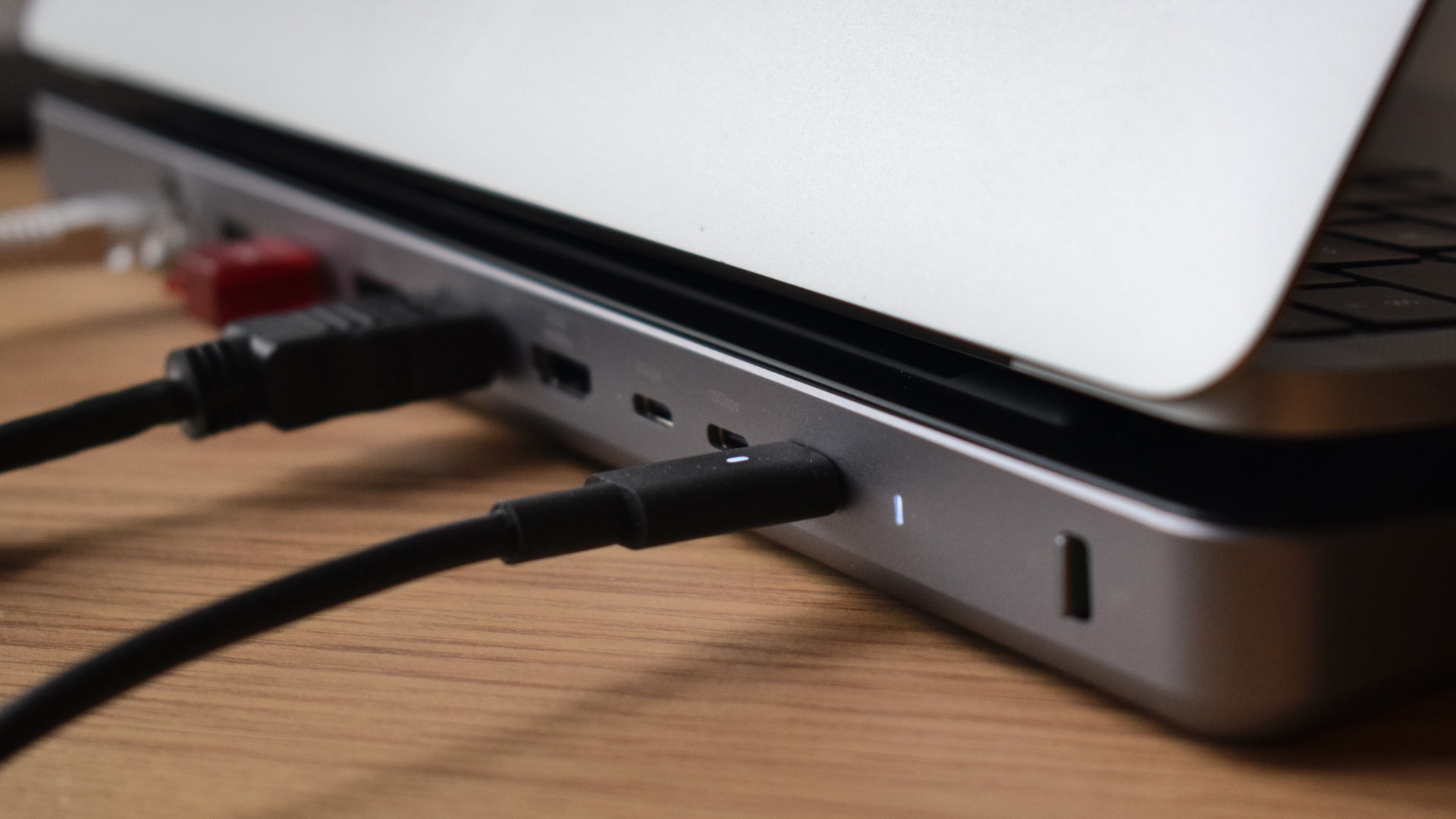 Eight vents around the base of the device help manage any thermal build-up, and rubber grips along the surface and base of the dock help to reduce any unwanted travel. Plus, the dock's adoption of Apple's Space Grey aluminum body makes it an ideal companion to MacBook devices, effortlessly fitting in with the device's overall aesthetic.
That Apple-centric design carries through to the twin host cables, which are framed by an aluminum divider perfectly spacing out the two to fit most post-2019 releases. However, if you don't own a MacBook you will need to slide this connection down to free up the cables, which generally ruins the compact and sleek look of Satechi's dock.
Satechi Dual Dock Stand ports and connectivity
If you're planning on making use of the Dual Dock Stand, you will need a laptop with two side-by-side USB Type-C ports on the left of your device.
This setup is typically more common with MacBooks, though you will find similar layouts on Windows devices such as the Dell XPS 15, Microsoft Surface Pro 9/Laptop Studio, Samsung Galaxy Book 3 Ultra, and the Lenovo Yoga 6/7i.
Once connected, you'll have access to the dock's 9-in-1 port expansion (down to eight ports after your USB-C charging cable is connected to the back of the dock).
All of the ports are housed at the rear of the device for easy cable management, including: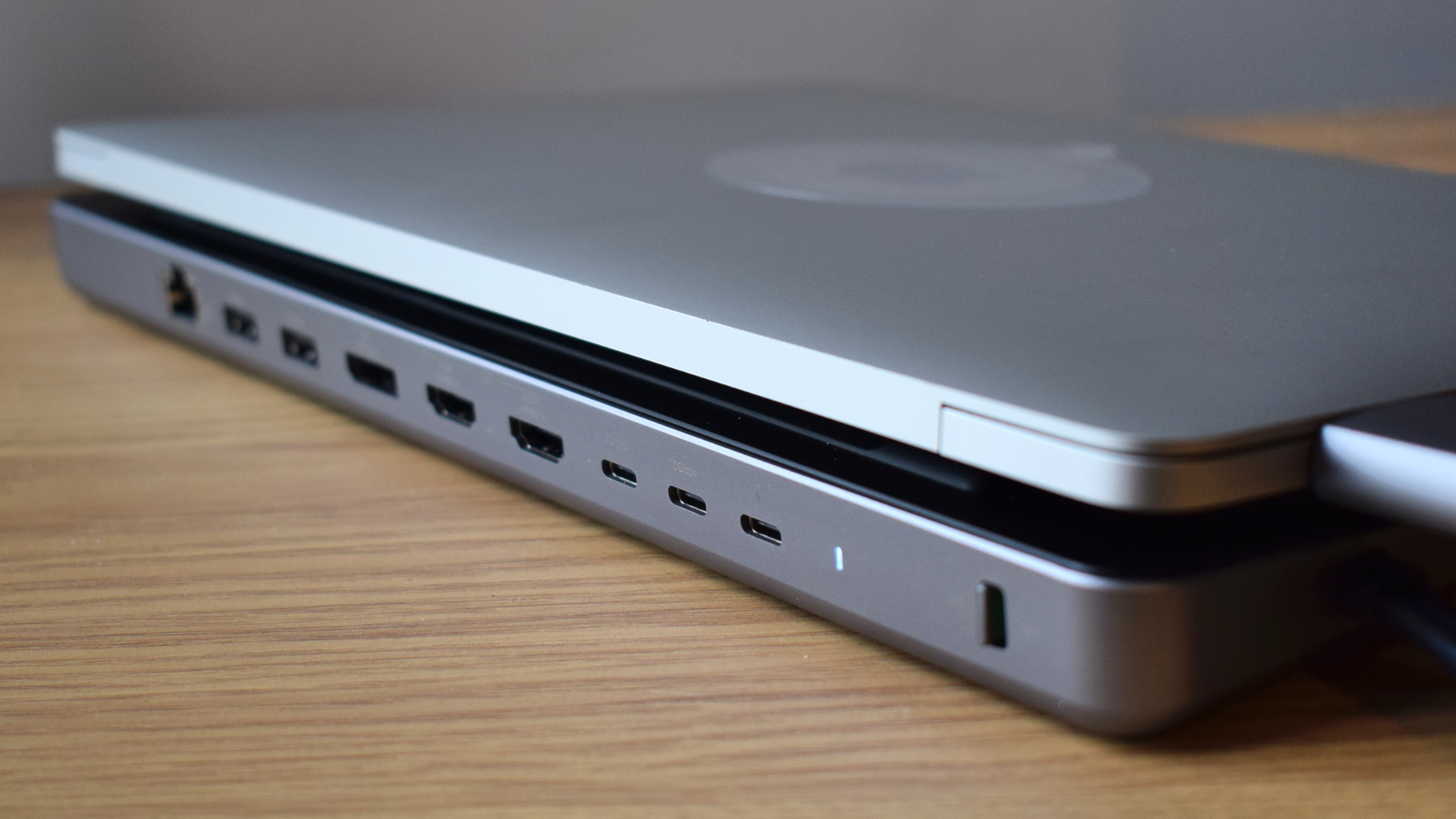 (Host, wired) 2 x Type-C USB 3.2 Gen 2 (10Gbps, 75W of Power Delivery)
(Power) 1 x Type-C (20V, 5A)
1 x Type-C USB 3.2 Gen 2 (10Gbps)
1 x Type-C USB 3.1 Gen 1 (5Gbps)
1 x Type-A USB 3.2 Gen 2 (10Gbps)
1 x Type-A USB 3.2 Gen 1 (5Gbps)
2 x HDMI 2.0 (Supports displays up to 4K @ 60Hz)
1 x DisplayPort 1.4 (Supports displays up to 4K @ 60Hz)
1 x Gigabit Ethernet (RJ45)
On the underside of the dock is a compartment you can open up to install a single SATA or NVMe M.2 SSD.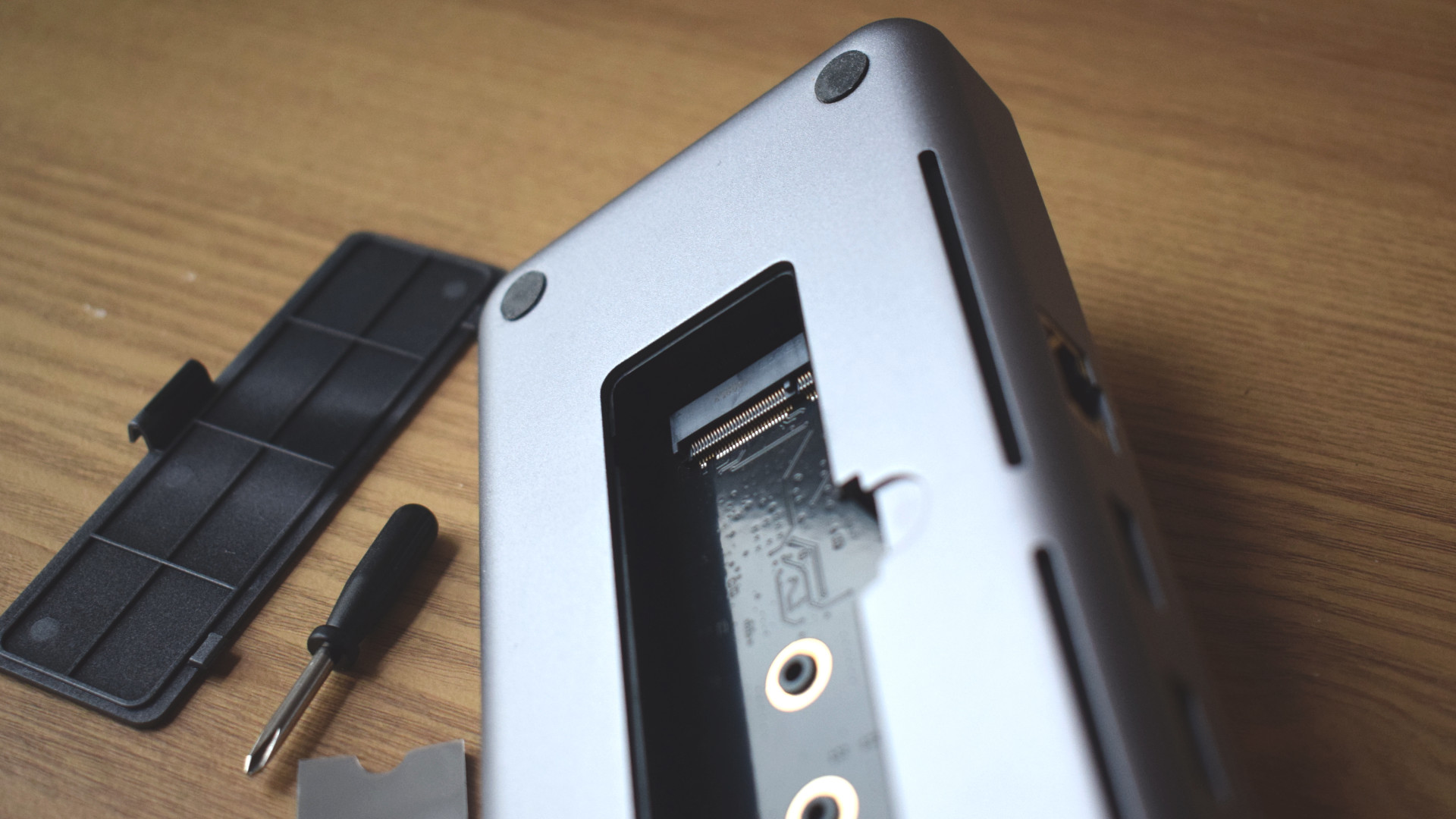 Overall the selection is pretty impressive — lacking only when it comes to SD/Micro SD card readers and a 3.5mm audio combo jack. However, with a design that leans heavily into attracting those in the Apple ecosystem, it's unlikely this will be a deal breaker for most.
That being said, there's still plenty of use for an SD/Micro SD card reader and it seems like a puzzling omission. More puzzling could be the docking station's three display outputs — especially when this dock only supports one external display on M1/M2 MacBook Air and MacBook Pros. For a docking station so heavily marketed to MacBook users, it's strange to see it make a big thing of triple display support when its key audience can't take advantage of it.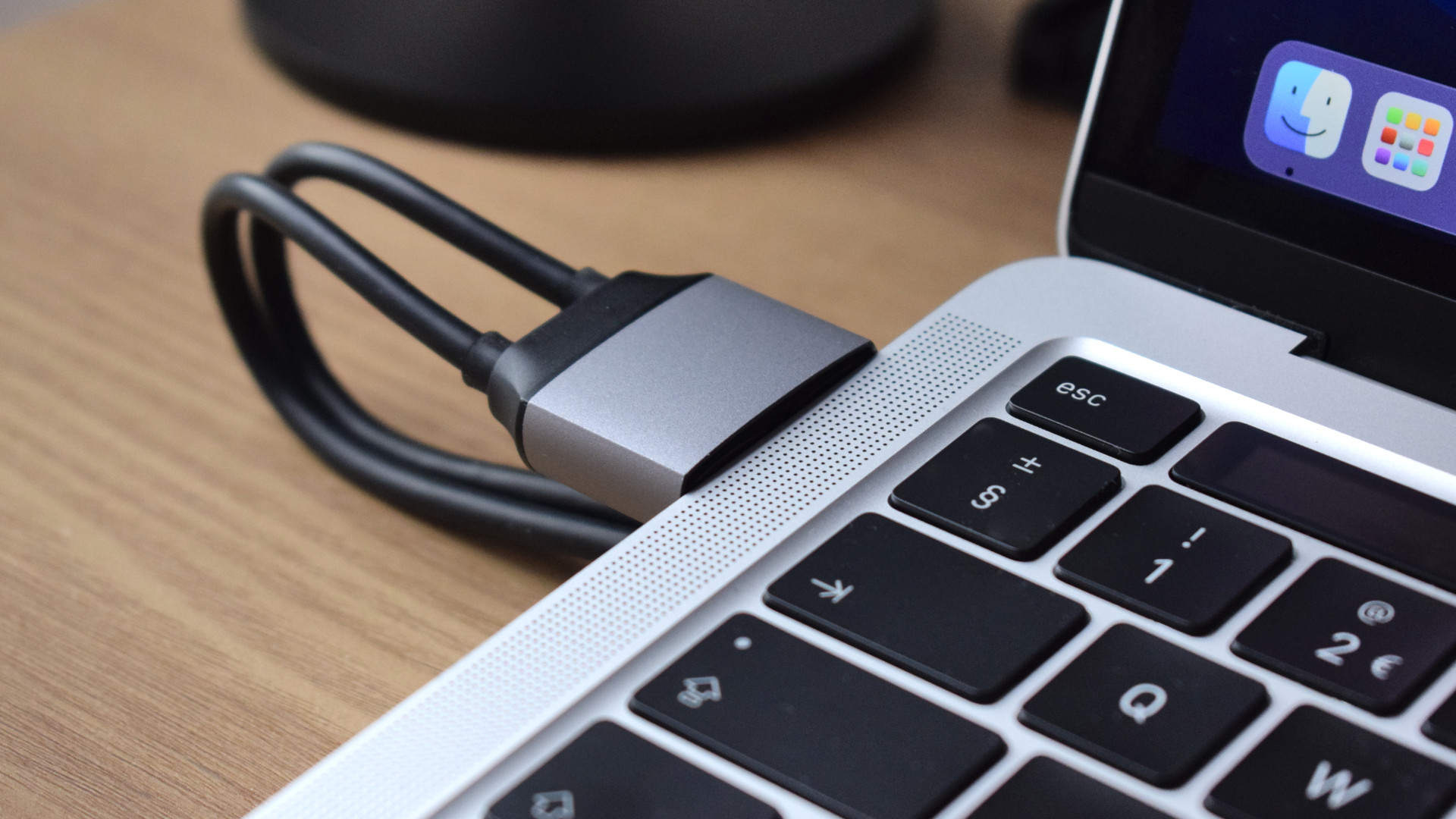 Satechi's Dual Dock Stand has a decent selection of modern and legacy ports with a good mix of speeds. There's genuine potential for this dock to transform your MacBook into a fully-fledged workstation or creative suite, and it could find a name as the ultimate MacBook accessory for many.
Satechi Dual Dock Stand performance
Nothing much of what's been said so far matters if Satechi's dock falls short when it comes to performance. Having squandered plenty of my time trying to find a laptop stand docking station combination that works, I can tell you that this is usually the point at which the wheels fall off similar products.
Because of that, I'd spent much of my time waiting for the dock to arrive thinking up amusing things to say about the thermostatic nature of the Dual Dock Stand. However, much to my annoyance (and surprise), Satechi has done the impossible and designed its device to perform impeccably without reaching temperature levels tantamount to the heat death of the universe.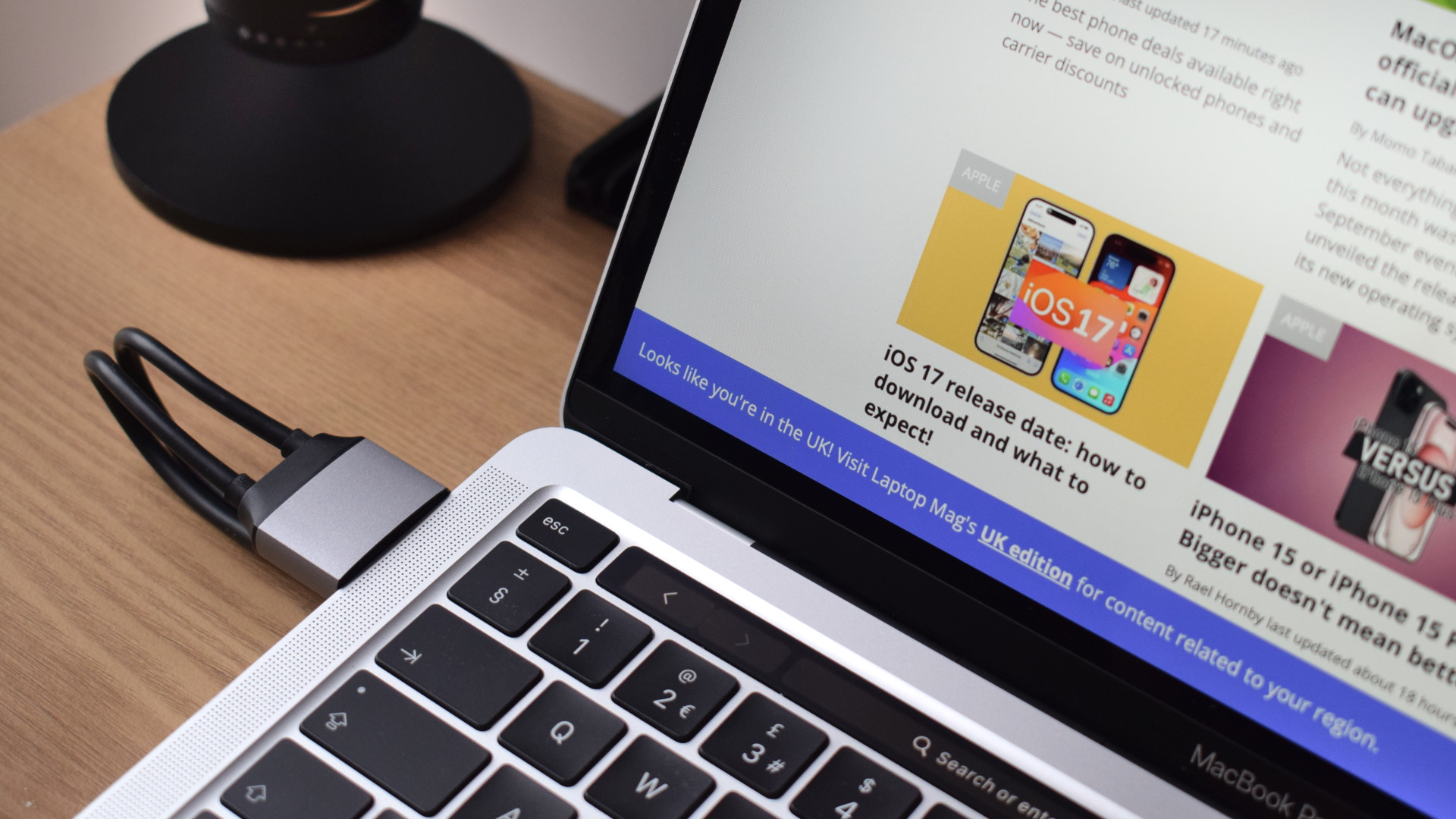 What a difference those eight vents seemed to make, as I had dramatically fewer issues with heat than I did with the Baseus EliteJoy Gen 2 just a few weeks prior. However, that's not to say there isn't a build-up of heat. It's still there, but nowhere near enough for me to rebrand Satechi's 3-in-1 dock as a 4-in-1 due to its air-frying potential.
There are more than enough ports to juggle a typical setup, especially when you take into account you'll likely be using your laptop's keyboard above that of an external clavier. The Dual Dock Stand ran my external monitor without a hitch, maintaining a solid performance without lag or stuttering, even while things began to get toasty. As for the dock's 75W of Power Delivery, my laptop maintained a solid charge throughout my entire day.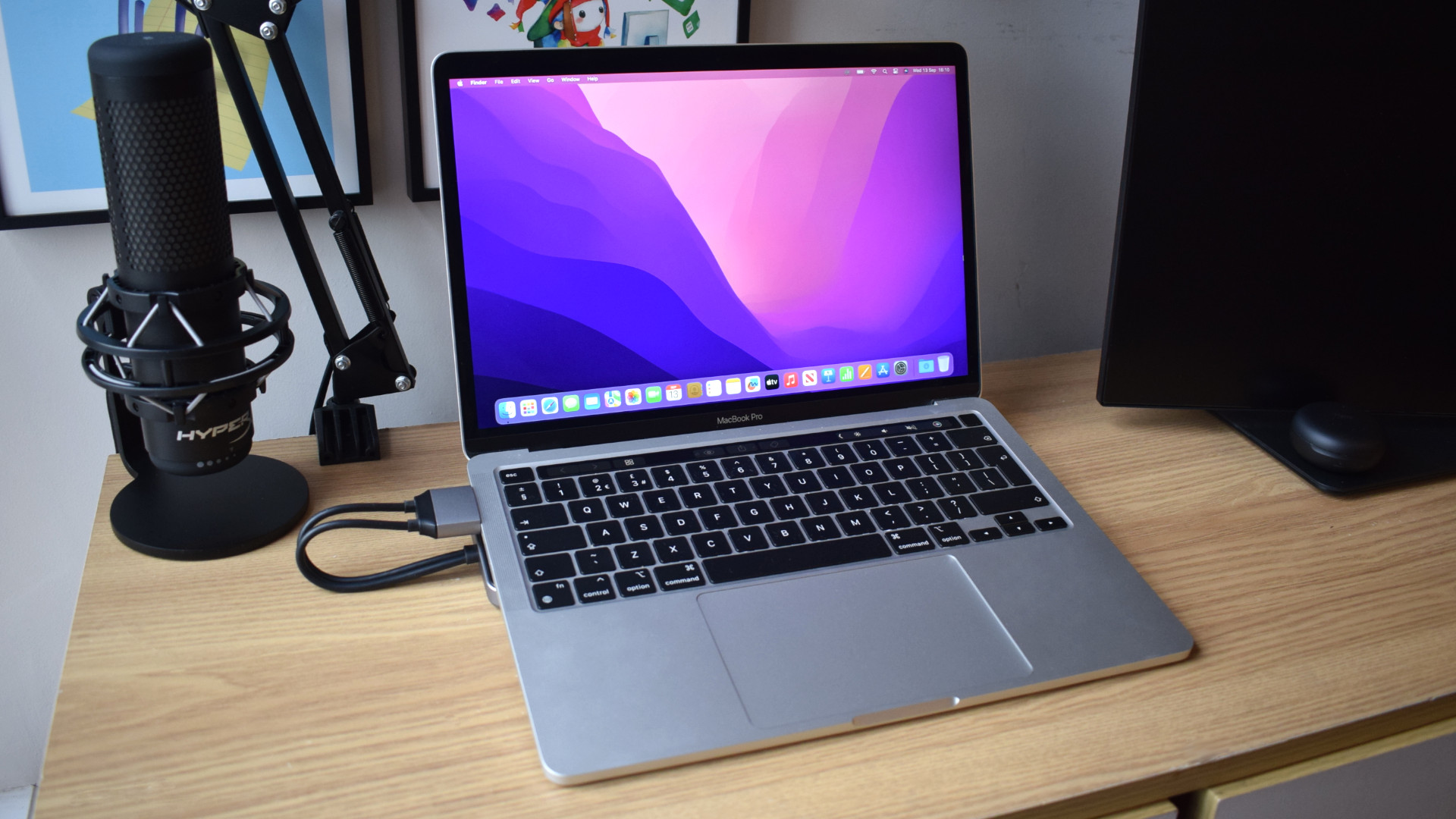 My biggest concern was the heat affecting the performance of the SSD enclosure, especially as the slot isn't compatible with SSDs featuring preinstalled heat sinks. However, as it would turn out, I never had much to complain about. Yes, there was a slight knock to the performance after a long day's work with my setup potentially approaching critical mass. But these issues were barely noticeable, if at all, for much of the day.
Of course, a lot of the dock's potential comes down to which laptop you own and how hard you push it. The venting goes some way to dispersing the heat, but if you're putting your laptop through its paces for hours on end, the dock is going to struggle to stay cool. Creating a vicious circle of the dock, and your device spewing heat back and forth at one another like two bickering dragons.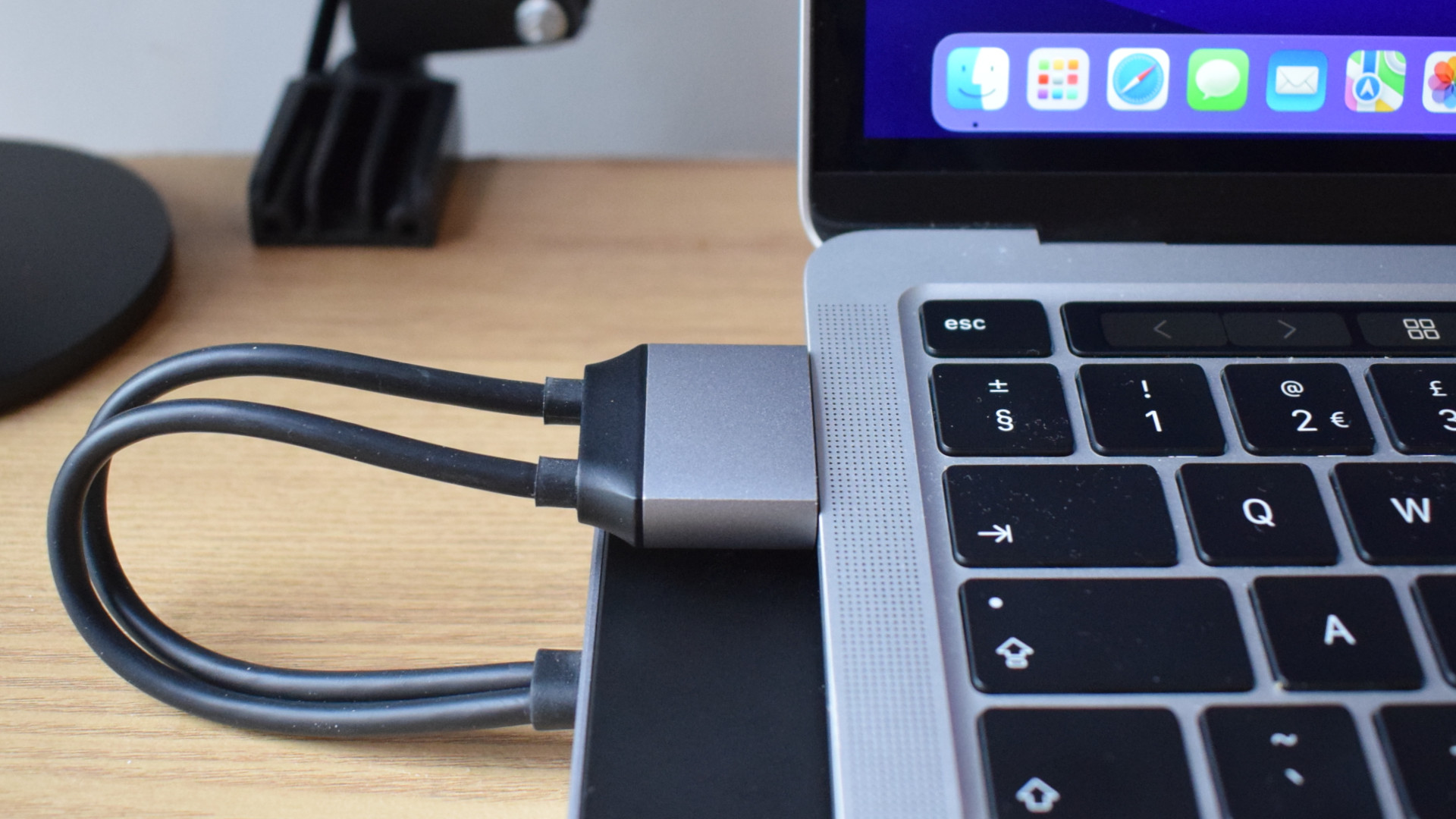 You'll also need to ensure that the dock doesn't block any ports on the base of your device, and if you have a gaming laptop, don't even bother with it. A dock like this is much better suited to a casual workload with maybe the occasional burst of intensity. I would highly advise against prolonged use with a lot of thermal output, such as gaming.
Bottom line
Satechi's Dual Dock Stand is a pretty good docking station. It's also a helpful ergonomic laptop stand. On top of that, it's also a decent SSD enclosure. For the three things that Satechi's dock sets out to achieve, it does so with good effect. However, there are still some hiccups around thermals and design that hold it back from being great in any one of those categories.
If you're a casual MacBook user, let me be straight — if you want the increased ports of a docking station, a better typing experience, and the option of expanding your storage, you've found the one. The same can be said for Windows users too, but just make sure that you have two left-hand USB-C slots ready and available to connect to.
However, if you're much more of a power user or gamer you're going to start to struggle with those thermals and it can and will have a noticeable impact on performance.
All that aside, Satechi has delivered a fantastic product. It's premium built, fast, durable, and reliable. Its zero-footprint design frees up space at your desk, and its rear-facing ports are cable management heaven. It has power and ports in abundance, and can improve on the comfort of your daily grind and the storage of your laptop. All of this for a relatively fair pricing of just $149.99, which is a steal for what you get in return.
Every product has its shortcomings, but few have this many strengths. The Satechi Dual Dock Stand is a 9-in-1, 3-in-1, that's oh-so close to being a hole-in-one. Well worth its price tag, and an incredible asset for your workspace.