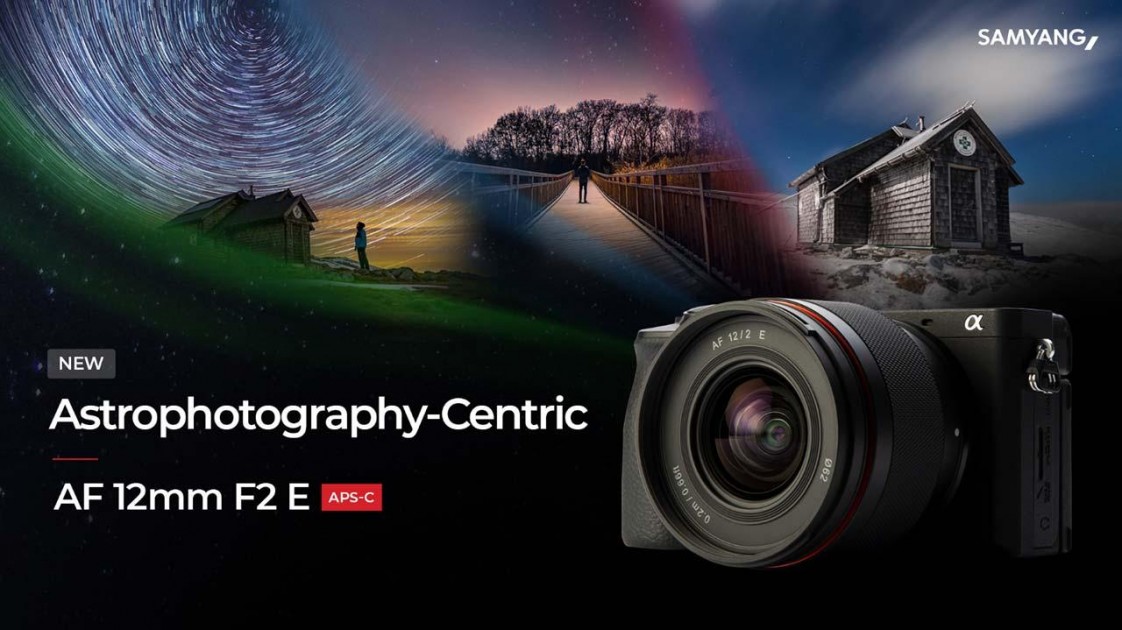 The AF 12mm F2 E is a new autofocus, super-wide-angle prime lens for Sony APS-C sized sensors mirrorless cameras from Korean manufacturer Samyang (also known as Rokinon).
This compact and lightweight lens has a short minimum focusing distance, weather sealing and a quiet, smooth AF system for stills and video.
The new Samyang AF 12mm F2 E lens will be available in the UK from early May 2021 priced at £359.99 (including VAT).
Samyang Press Release
Samyang Launches its First Autofocus Wide-Angle Prime Lens for APS-C Mirrorless Camera Users: The AF 12mm F2 E
April 23rd 2021, Seoul, South Korea – Korean optical manufacturer Samyang Optics today announced its first autofocus, super-wide-angle prime lens: The AF 12mm F2 E. This new autofocus, prime lens is specially designed for APS-C sized sensors and has an angle-of-view equivalent to an 18mm lens on 35mm full-frame format.
The AF 12mm F2 E offers a bright F2.0 aperture, which enables faster shutter speeds while capturing astrophotography and interior shots. It features 12 elements in 10 groups, with 5 special lenses (1 H-ASP, 1 ASP, and 3 ED). The three Extra-low Dispersion elements and the two Aspherical (H-ASP & ASP) elements have been incorporated into the optical design to minimise chromatic aberration and distortion, in order to deliver pin- sharp images. Additionally, improved Ultra Multi Coating (UMC) has been applied to the lens elements in order to reduce surface reflection and prevent lens flare and ghosting for improved light transmission and more contrast-rich imagery
APS-C Super-Wide-Angle AF Prime Lens, Prefect for Astrophotography
The existing Samyang manual focus 12mm F2 is a benchmark lens that has been loved by astrophotography enthusiasts for years. The new AF 12mm F2 E adopts the Autofocus system and a new modern design that goes beyond the frame of the existing manual focus model; it is even more optimised for astrophotography, adding convenience and functionality.
AF 12mm F2 E Main Features
Exceptional Resolution
AF 12mm F2.0 delivers outstanding image quality; you can capture the starry night with stunning clarity and far better than with a smartphone. Incorporating 5 special elements (1 H-ASP, 1 ASP, and 3 ED) plus Ultra Multi-Coating, it achieves exceptional image resolution from the centre to the edges of the frame, even at its F2.0 maximum aperture. With the advanced optical design, Minimum Focusing Distance is just 19cm, so you can easily capture close-ups and indoor images with reduced backlight haze.
Bright F2.0 Aperture with Impressive Shallow Depth of Field and Bokeh
The AF 12mm F2 E lens offers a bright F2.0 aperture which guarantees faster shutter speeds in low light conditions and helps improve astrophotography. Furthermore, during the daytime, the F2 aperture adds depth to your wide-angle images by blurring the background. The subject and background are effectively separated, creating an impressive sense of depth. The large, round bokeh presents calm background blurring and high contrast, to achieve the optimal balance.
Fast and Quiet Auto Focus System
Autofocus is now expected to capture images accurately and quickly, but it also needs to be quiet and smooth. Thanks to the newly researched and developed STM (Stepping Motor), a larger focus-lens group can be controlled more quietly and precisely, providing superb image quality in both photo and video use.
Compact Size & Lightweight with New Design
Weighing in at just 213g and measuring only 59.2mm in length, this new 12mm strikes the perfect balance of portability and outstanding performance. It is the lightest and smallest AF 12mm lens currently in the market. This lens includes useful new design features such as a durable, all-metal housing, an ergonomically designed grip with a micro pattern rubber ring and a new modern design with a 'hidden' red ring. The AF 12mm F2 E features weather-sealing and rear glass protection, to prevent dust, light rain, and snow from penetrating. This allows you to capture stunning images in less than perfect conditions.
Pricing
The new Samyang AF 12mm F2 E lens will be available in the UK and Ireland from early May 2021, with a suggested retail price of £359.99 (including VAT).
Image Gallery
Click on a thumbnail to see the full version.
Your Comments