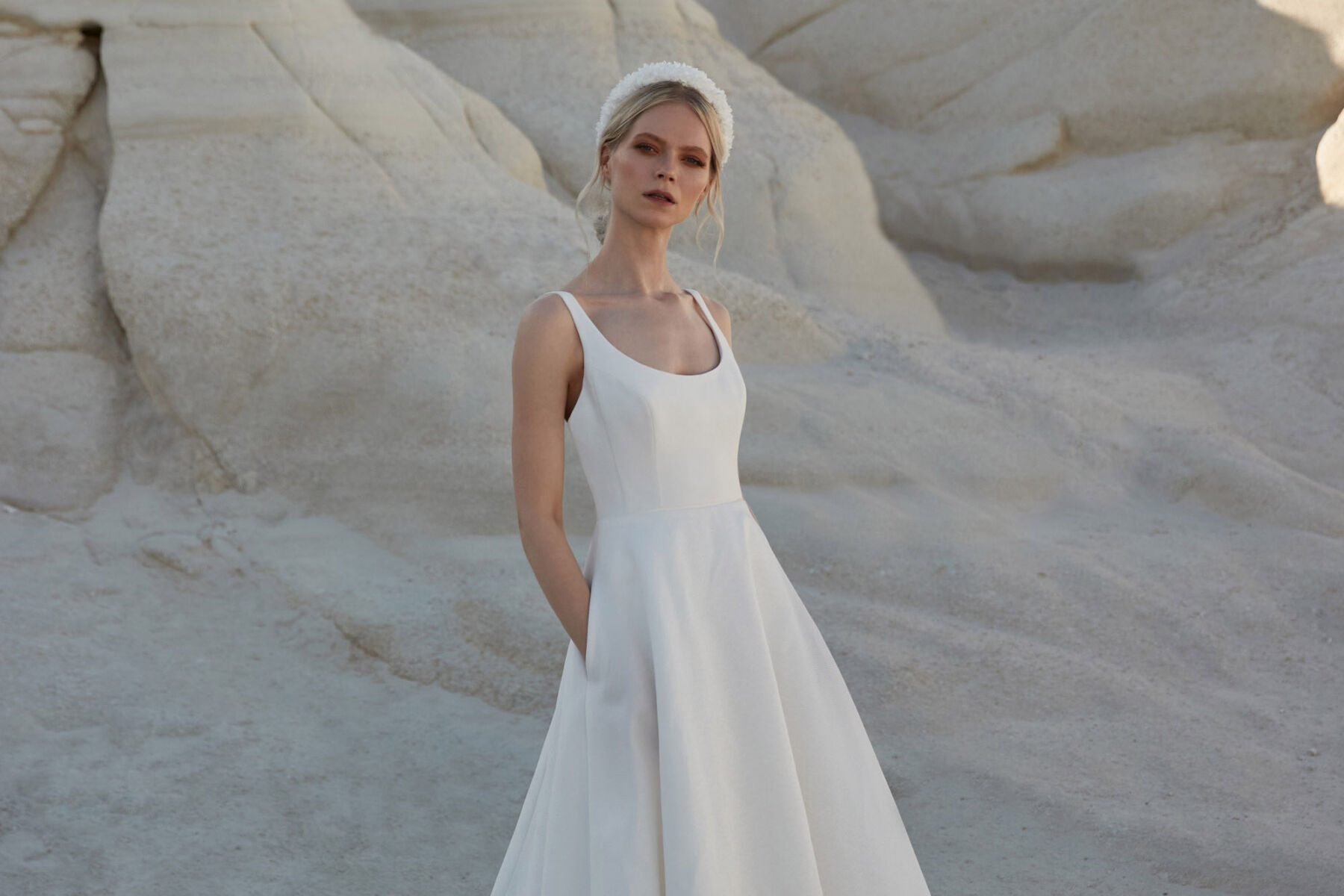 If you are looking for a sustainable wedding dress, and eco friendly bridal fashion brand, then one of the best brands I can recommend to you is British designer Sassi Holford.
Sassi Holford is a wedding industry Queen, a designer who has been leading the field for 40+ years now with her elegant, romantic and modern bridal designs. As an established, sought after and highly regarded designer, who is well stocked at some of the best bridal boutiques across the UK, Sassi is already an expert at creating beautiful wedding dresses that both lead and transcend bridal trends, but over the past few years, she has truly elevated her brand in sustainability terms and is now creating some of the most beautiful, environmentally responsible wedding dresses. 
Sustainability in Bridal Fashion
We all talk about sustainability in bridal fashion but how many of us stop to actually think, where is my dress made? How was my dress made? Were the woman who sewed the delicate stitches and detail in to my dress paid fairly for their talent and skill?
Was the fabric produced responsibly and were efforts made to keep waste to a bare minimum when creating my gown? We simply can't afford not to take our precious environment into consideration in 2023, when making an investment as important as a wedding dress. Truly, everything we purchase as consumers should be considered in this context.
We talked with Sassi Holford to ask her what she's like to share with newly engaged brides as they set out on their hunt for a sustainable wedding dress.  Here's what she had to say…
Responsible Wedding Dresses & Bridal Fashion
Now more than ever, my love of creating bridal gowns and ready-to-wear has to be balanced with being mindful of the environment. We all have a responsibility to ensure we are doing our best to reduce waste and minimise our impact on the plant but it is especially true for the fashion industry.
For us, it's not a trend, it's a way of life, which flows through every aspect.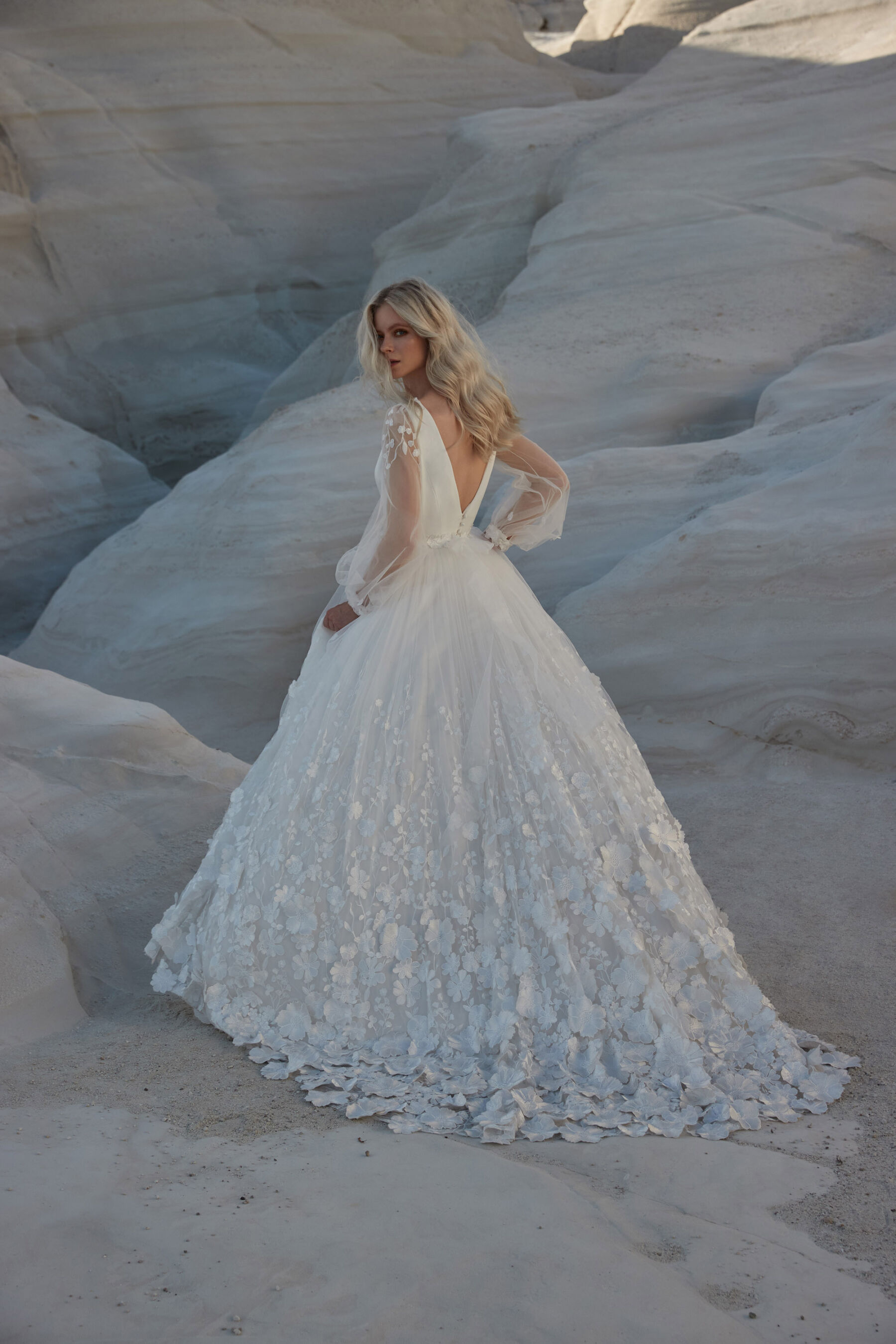 Recycling waste wedding dress fabric
We knew we wanted to contribute as little waste as possible to the vast amount of textile waste that is already created by the fashion industry each year.
To help us achieve this, we've teamed up with like-minded designers, businesses, fashion schools and charities who have come up with innovative ways of making sure any spare material is given a new lease of life.
We also want to support the future generation of fashion designers, and send waste textiles to fashion colleges and our cardboard tubes and smaller offcuts to local primary schools, helping to instil the values of responsibility to our planet, right at the start of their journey.
I am a passionate advocate of British manufacturing, promoting the creative and technical skills of our world renowned fashion industry.
As well as being continually mindful of where our fabrics come from, we are very aware of our packaging materials; continuously sourcing environmentally friendly alternatives as they become commercially viable and working with a small supply chain of partners we know and trust are on the same page.
As well as our 2030 goal, over the next three years we aim to reduce plastic use by 50% and ensure we recycle 80% of our waste.
Wedding Dresses Handmade in England
Our garments are handmade in England by my talented team of cutters and seamstresses, ensuring we keep our carbon footprint down throughout the production process. The majority of our fabrics come from Europe and we continually ask ourselves if we can source a fabric closer to home.
As a business we have committed to The Climate Pledge to become a carbon neutral by 2030, and although we have a way to go, we are very well on our way.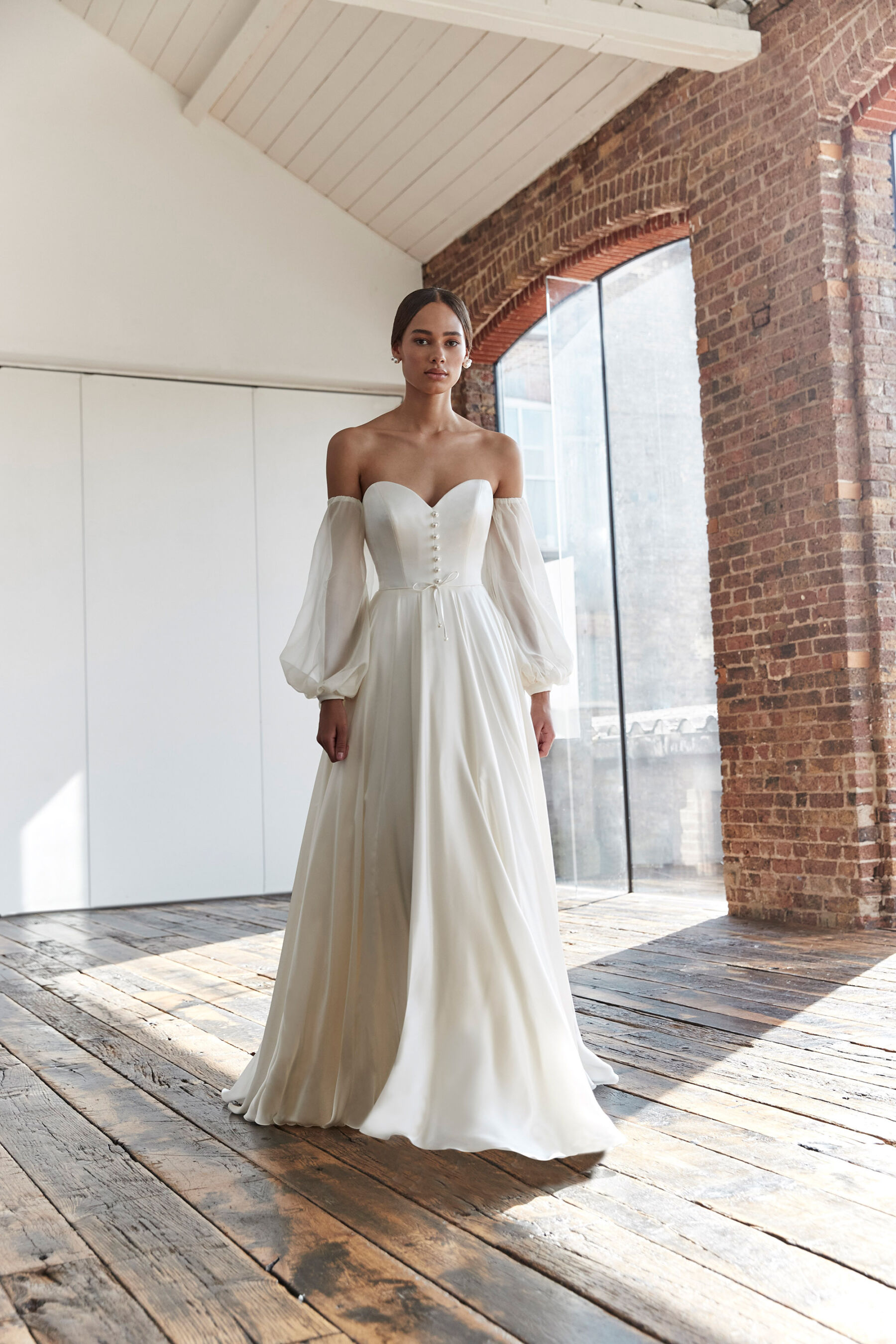 How does your focus on sustainability benefit you and your clients? Are there tangible benefits for clients?
You can be safe in the knowledge that when you choose a garment from Sassi Holford, whether that's your dream wedding dress, or the perfect suit, you have chosen a brand committed to being a responsible part of the wedding industry. We really do care very much about this.
What have you learned/discovered as you've become more sustainable?
Just how many brides consider sustainability when they are buying their wedding dress.
We find that more and more of our brides each year  are interested to learn more about what we are doing to be sustainable, and love the fact that the gown has been made in England.
We're incredibly proud to be able to produce everything in-house.
Where can brides try on Sustainable Sassi Holford Wedding Dresses?
Our main flagship boutique is in London at 82 Fulham Road, South Kensington, London, SW3 6HR.
We also have a studio in Taunton at 6 The Bridge, Taunton, Somerset, TA1 1UG.
And we are stocked at multiple top bridal boutiques throughout the UK – you can find all Sassi Holford stockists here.