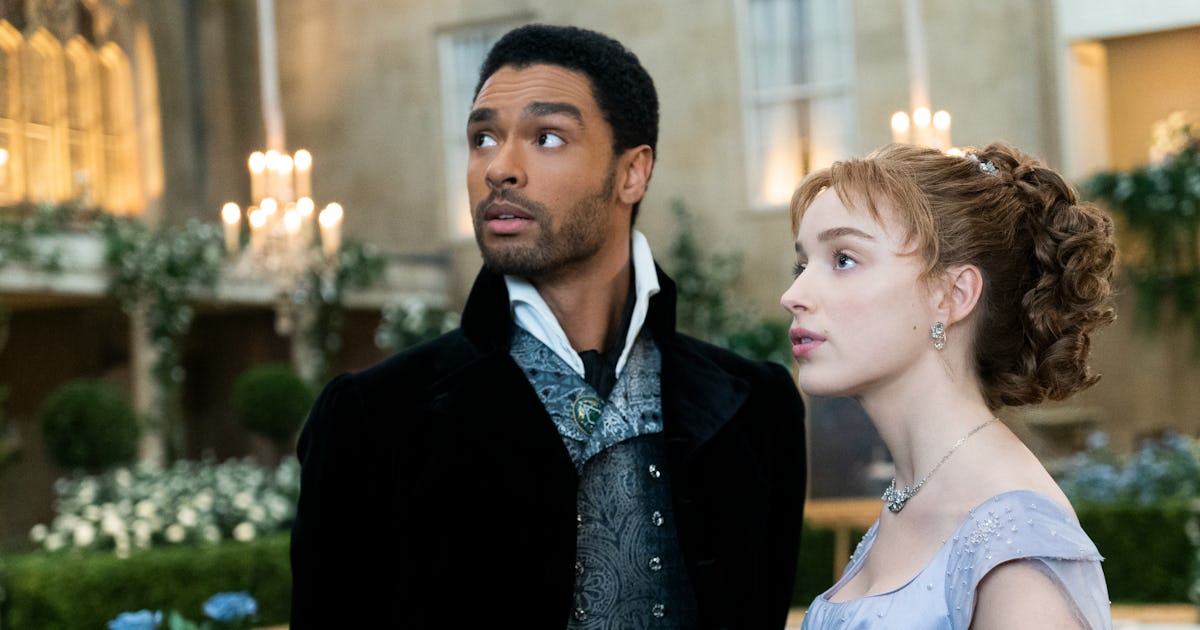 Regency-era romance drama Bridgerton was Netflix's breakout hit of 2020 thanks to its perfect blend of steamy sex scenes, period setting, and dramatic storylines. The show quickly crushed viewership records for the streaming service, with 82 million households around the world watching in its first four weeks. Almost immediately, it made Regé-Jean Page a household name and turned the words "I burn for you" into a catchphrase.
Based on a bestselling Julia Quinn romance novel series, the first season of Bridgerton follows the debut matchmaking season of Daphne (Phoebe Dynevor), the eldest daughter of the wealthy Bridgerton family. As she tries to lure eligible suitors to find a good husband, her elder brother Anthony (Jonathan Bailey), now the man of the house after their father's death, gets in her way with his overbearing overprotectiveness. Enter Anthony's old friend Simon Basset (Page), the Duke of Hastings. He's vowed never to marry, so of course Daphne and Simon strike up a deal to be in a fake relationship. And of course they fall in love. It's all an addictive little steamy, sexy, frilly good time.
But will there be more where this season came from? Here's everything we know about Bridgerton Season 2.
Is Bridgerton Season 2 Officially A Go?
Yes! Production Weekly, a trade publication that follows film and TV shoots, first reported in November that Bridgerton Season 2 was slated to begin filming in March 2021. On Jan. 21, 2021, Netflix made the official announcement that Season 2 is coming, though its release date has still not been made public.
Has Production Begun On Season 2 Yet?
On March 14, Luke Newton, who plays Colin Bridgerton, posted a series of photos from the set to his Instagram page. "The boys are back in town," he wrote in his caption, seemingly revealing that the cast has begun filming Season 2 and who the prominent characters will be (more on that below). The post included a photo of him riding horses with Jonathan Bailey, who plays his character's older brother Anthony in the series, and a photo of Bailey relaxing on set with actor Luke Thompson, who portrays another brother, Benedict.
How Has COVID-19 Impacted Season 2 Production?
The series might be set in the early 1800s, but it isn't immune to the problems of 2021. With the COVID-19 pandemic ongoing, the filming of Season 2 has been interrupted multiple times. In fact, Deadline reported on July 17 that production was put on hold for the second time in just a week due to a positive COVID test. (Production had resumed on July 16, per Variety.) While the earlier suspension lasted for 24 hours, Deadline's sources indicated the length of the more recent one had yet to be determined. Netflix did not provide specifics on the situation, and it also remains unclear what effect the hiatus may have on the second season's release schedule.
What Will Bridgerton Season 2 Be About?
With Daphne and Simon finding their happily ever after, what will the series follow from now on? Well, theirs isn't the only love story. There are eight Bridgerton children, after all, and Quinn has written a book about each one of them finding love. She's also written The Bridgertons: Happily Ever After, a novel that offers up second epilogues to each of the books, diving deeper into every Bridgerton sibling. So there is a ton of source material to draw from.
Actor Jonathan Bailey, who plays Anthony Bridgerton, the eldest sibling, said, "There's so many cliffhangers," hinting at new storylines to come in an interview with Entertainment Tonight in December 2020. "Eloise will be having her first season, I'm sure. There's head over heart with Benedict and his love of art. And there's a lot to really explore with Violet and Colin and Penelope. There's so much … This is only the beginning."
Bailey also confirmed to ET in January that Season 2 will continue the trajectory laid out in Quinn's books. "I think [Bridgerton creator] Chris Van Dusen has got this amazing ability to take Julia Quinn's extraordinary books and her amazing worlds that she delicately filled with excitement and sexiness. And he takes it to a whole other level," dished Bailey. "So the fact that we're following Anthony's pursuit for love shows that you know there's definitely going to be some similarities [to the book]."
It's expected then that Bridgerton Season 2 will draw heavily from the second book in Quinn's series. The Viscount Who Loved Me follows Anthony's relationship with two sisters, Edwina and Kate. As the book's official synopsis details:
Anthony Bridgerton hasn't just decided to marry — he's even chosen a wife! The only obstacle is his intended's older sister, Kate Sheffield —the most meddlesome woman ever to grace a London ballroom. The spirited schemer is driving Anthony mad with her determination to stop the betrothal, but when he closes his eyes at night, Kate is the woman haunting his increasingly erotic dreams… Kate is determined to protect her sister — but she fears her own heart is vulnerable. And when Anthony's lips touch hers, she's suddenly afraid she might not be able to resist the reprehensible rake herself…
Saucy!
In a February 2020 interview with British Vogue, Bailey revealed that Season 2 will have "loads" of Easter eggs pulled from the book series. "I feel like the campy, plush spectacle of the Bridgerton world is only going to get more pronounced in the best way possible," he said. "It's mad, and it's brilliant. There are also going to be a lot of brilliant characters introduced in this series — and it's not just Anthony that we're going to delve into."
As Marie Claire pointed out, "Those familiar with Quinn's series know that the bee shown in extreme close-up at the end of the season finale was likely a reference to Anthony's extreme fear of sudden death by bee sting, which is also what killed his father." Bailey teased an elaboration on his character's phobia, telling British Vogue, "I'll say this: watch out for the bees."
Is The Entire Season 1 Cast Set To Return?
According to Newton, Bailey, and Thompson's on-set photos posted to Instagram, the actors behind Bridgerton family members Colin, Anthony, and Benedict are all slated to return for Season 2. On April 2, however, Netflix announced — through a letter written by Lady Whistledown — that Page will not return to the role of Simon, Duke of Hastings. The letter reiterated that Season 2 will focus on Anthony's quest to find a wife and noted that Page will exit the series.
"We'll miss Simon's presence onscreen, but he will always be a part of the Bridgerton family," read the statement. "Daphne will remain a devoted wife and sister, helping her brother navigate the upcoming social season and what it has to offer — more intrigue and romance than my readers may be able to bear."
In response to the announcement, Page wrote that his time on the show was "an absolute pleasure and a privilege." He continued, "Joining this family — the connection on and off screen, with our cast, our crew, all the incredible fans, has been like nothing I could have ever imagined. The love is real and will just keep growing."
According to an interview with Variety, Page's commitment to Bridgerton was always planned to end after Season 1. "I have nothing but excitement for Bridgerton continuing to steam train off and conquer the globe," he said. "But there is also value in completing these arcs and sticking the landing."
‌However, fans of the show will be glad to hear that Page's departure doesn't mean the end of Simon and Daphne's romance. Speaking to The Wrap, Dynevor shared how Page's character will still be kept alive on screen, despite the actor no longer appearing in the series. "I think he'll definitely be referred to a lot. I think we'll see the baby," she said. "And we'll just focus more on her relationship with the Bridgerton family."
Following the news of Page's exit, Coughlan hinted on Twitter that she will return to play Penelope once again for Season 2. "Season One was just the tip of the Bridgerton iceberg, just you wait to see what we have in store," she wrote. "And you can trust me, I would know after all."
In a January 2021 interview with Deadline, Dynevor spoke about her desire to return to the character of Daphne for Season 2, noting that her main worry is safely navigating the coronavirus pandemic. "I can't imagine how it would be possible to film under these circumstances," said the actress. "There are so many extras and so many crew members, and it's a very intimate show. It just baffles me how we would film it under Covid rules unless there was a vaccine beforehand."
Will New Characters Join The Series?
Yes! On Feb. 16, Netflix announced that Sex Education's Simone Ashley had joined the cast of Bridgerton for Season 2. Ashley will be playing Kate Sharma, Anthony's love interest based on the Kate Sheffield character from The Viscount Who Loved Me.
The streaming platform teased more details about the character in a tweet about the announcement, writing, "Get ready to fall in love with Simone Ashley, who will play Kate in Season 2 of Bridgerton. Kate is a smart, headstrong young woman who suffers no fools — Anthony Bridgerton very much included."
According to an April 5 tweet from Netflix, actor Shelley Conn (Charlie and the Chocolate Factory) will play Mary Sharma, Kate's mother, and Charitra Chandran (Alex Rider) will play Edwina Sharma, Kate's little sister who is described as "the perfect debutante" determined to find her true love. Calam Lynch (Derry Girls) was also included in the announcement, as he will play a printer's assistant and activist named Theo Sharpe. And for the final casting update, Rupert Young (Dear Evan Hansen) will play Jack, a character unique to the TV series and with a connection to one of the most prominent families in town. Viewers will want to pay special attention to this character, as Deadline reported his storyline ties into a Bridgerton mystery.
So There Will Be 8 Seasons In Total?
Maybe! One can only hope that Netflix allows the creator and showrunner Chris Van Dusen to continue the Bridgertons' story, and he's totally up for it, too. As he told Collider, "The first season was primarily about Daphne and her love story with Simon. But, this being a family of eight children and there being eight books, I would love to be able to focus and really tell stories and love stories for all the Bridgerton siblings. For each character, for sure. … I would love that. In success, I would love that." And many of the cast members are eager to reprise their roles.
After Anthony's sequel comes Benedict's book, then Colin's story, the aptly titled Romancing Mr. Bridgerton, which follows Penelope Featherington's (Coughlan) deep-seated love for Colin, evident even now in the first season of the show. Coughlan recently told the Radio Times that she's also up for it. "I'd love to go on that journey with her, to see how she's changed," she said. "I'd really love to come back because I feel like we've just scratched the surface. And because there's such a huge cast in this show, there's so much more of all the characters. I feel like we've established this big world so I'd love to explore more of it."
Even fan favorite feminist Eloise (Claudia Jessie) gets her own shot at love in the book To Sir Phillip, With Love. But all of this laser focus on individual books and characters doesn't necessarily mean that other characters will disappear. Their roles might be smaller in subsequent seasons, but Dynevor doesn't mind. "I love that [Daphne's] story ends really nicely; it's all tied up at the end," she told Town & Country. "Now, I have a feeling that she's going to have to get involved with Anthony's love life, since it's his turn next. I'm a hopeless romantic, so I'm all for the happily-ever-after ending."
This article was originally published on