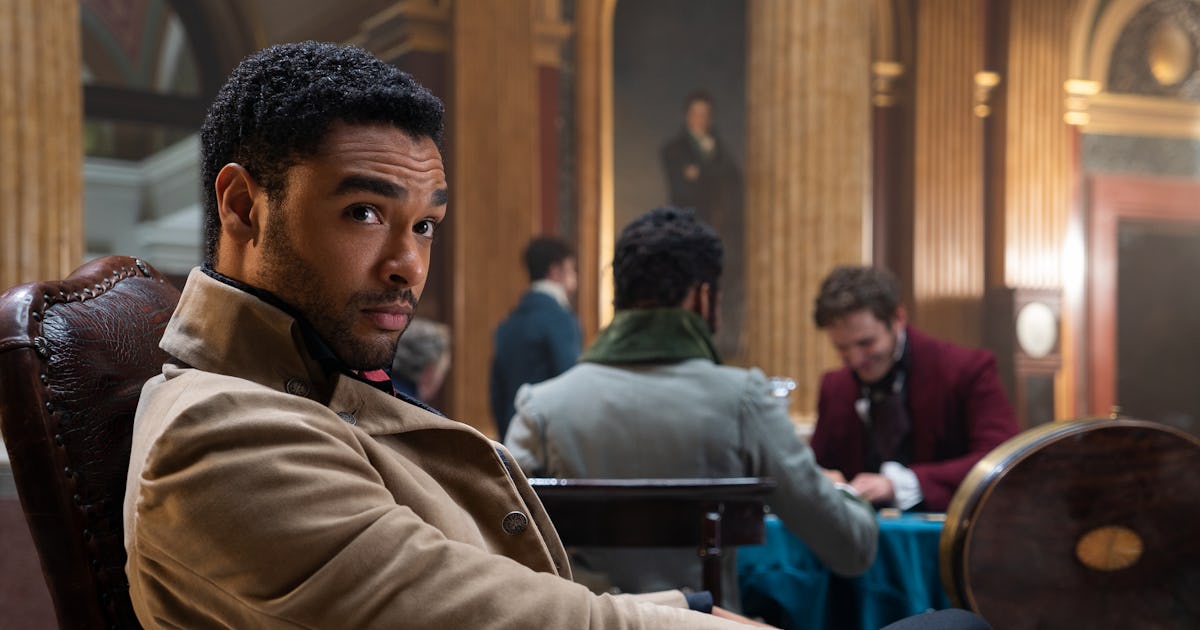 It's no secret that one of the biggest draws of Netflix's hit period piece Bridgerton was the torrid, all-encompassing relationship between its two regal leads Simon Basset and Daphne Bridgerton. Played by Regé-Jean Page and Phoebe Dynevor, the duo's fiery chemistry took center stage throughout the show's first season, enticing audiences around the globe, including a few fellow celebrities like Kim Kardashian and Leslie Jones. Bustle even once ranked Bridgerton's sex scenes based on "how much we see of Regé-Jean Page's butt."
One subset of fans, however, found his steamier scenes opposite Dynevor a bit overwhelming: his family. In a roundtable discussion with John Boyega, Chris Rock, Jonathan Majors, and Josh O'Connor for The Hollywood Reporter, Page explained that, despite his warnings, his family wasn't exactly ready for what they saw on screen. "No one was sufficiently prepared; I wasn't sufficiently prepared and I was there," he said, jokingly. "My family doesn't want to be overwhelmed by my backside, specifically, too often, but they'll take it on this occasion because everyone seems to be terribly happy."
The 31-year-old actor said that his main goal in Bridgerton was to find opportunities for Black characters "to be splendid and spectacular and joyous and romantic" in a show set during a period where most media focuses heavily on their suffering. "Sylvie's Love came out at the same time, and it was exactly the same conversations: Where's our old-school Hollywood love story? Where's our folks just falling in love?" he asked.
He described the conversations that took place during the creation of the show in order to ensure it included "opportunities to spotlight Black joy" during the Regency era. "[On Bridgerton,] it's about how do we go into the past and look at the images we already have and spotlight joy within that," he said. "Where are our opportunities to spotlight Black joy, because otherwise you go into the past and you think that it's Black folks' job to suffer for a while, carry a moral for the white folks, and then we all move on."
When the discussion shifted to the writing of Black characters and the difficulty that audiences and executives have in seeing themselves in them, Page noted that while he believes acting is a "frivolous career," when done correctly it can help audiences garner a greater sense of empathy for the world and people around them. "A lot of the time the people you meet are through culture, through books, through TV shows — you put yourself in people's shoes by living vicariously through the people here a lot of the time," he said. "So, the key to that is building up more and more leads from groups that are not normally seen as the protagonist, because you put yourself in the protagonist's shoes."
In addition to finding moments of joy, Bridgerton also helped Page complete a "personal circle" in his career and give back to his family too. He highlighted a particular scene from Roots that his brother still refuses to watch due to its heartbreaking subject material, and what the experience was like revisiting the time period with a happier spin in Bridgerton.
"The scene in particular that my brother can't watch [from Roots that has me] dragged away from my family in this carriage and sold into bondage in the U.K," he said. "I never thought that I'd do many parts in the 19th century, and then I'm back in the 19th century on Bridgerton. There's a moment on set where I'm rolling down the street in this lord's carriage and I'm like, oh shit, I own this now. That's what I felt I owed my family at the other end of that circle."
He also highlighted the type of roles he looks forward to in the future, while simultaneously shutting down rumors of being cast as the next James Bond. "I always try to avoid anything that I can already imagine," he revealed. "I want the thing that I don't even know exists."