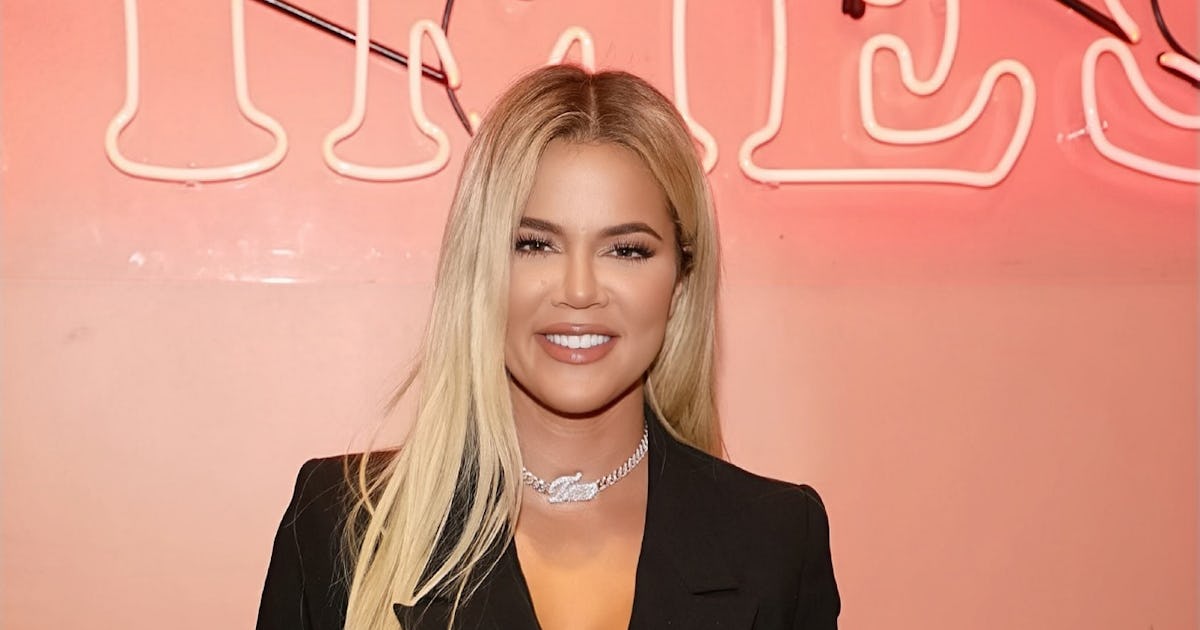 Nobody does celebrations or public displays of affection like the Kardashians. To mark Khloé Kardashian's 37th birthday, her famous family is swarming Instagram with tributes, showing the Keeping Up With the Kardashians star all the love. Everyone from matriarch Kris Jenner to Khloé's 3-year-old daughter, True, got in on it, making it a very sweet display.
Khloé's older sister Kim Kardashian posted a carousel of memories to the social media site, including shots of the two by the pool, at the beach, and even as kids. She captioned the adorable photos, "OMG Happy Birthday! You seriously are the most amazing magical person I know!" She then went on to add more exclamation points and tender words for her sister, showing just how much Khloé means to her.
"You have the biggest heart and you take care of everyone around you!" she wrote. "You are the best mom and friend to the small circle you keep! You are such a light in my life and everyone around you! I can't even put into words how blessed I feel that you are my sister! No one I'd rather have by my side in this life time thank you!!! I love you!"
Oldest sister Kourtney Kardashian opted to celebrate Khloé in her Instagram stories instead of on her grid, but she didn't skimp, either. Starting a day early, she posted photos and clips from their Kourtney and Khloé Take Miami days before moving on to other memories, including a pillow fight, a "NOT OK" dance, and so much sparkle.
Meanwhile, True, Khloé's daughter with Tristan Thompson, joined the celebration, gifting her mom an adorable handmade birthday card in honor of the big day. The Good American founder shared a video clip of her daughter handing the gift to her while saying, "Happy birthday, Mommy!" She captioned the adorable moment, "My baby!!!!"
Momager Kris also got in on the fun, taking to Instagram to post photos of the two embracing more recently as well as baby photos of Khloé. She captioned her post, "Happy Birthday to my Angel Bunny. You are one of the most remarkable human beings I've ever known and I'm so proud to be your mommy!!" Kris then took a moment to praise her for how patient she is, before adding that she's an amazing daughter, mommy, sister, and auntie, and sharing, "You are everyone's ride or die and you love so hard."
Kylie's tribute to her older sister featured a photo of both of them wearing matching hats. The Kylie Cosmetics mogul captioned the throwback moment, "My sister, my soulmate, my best friend! I will find you in every lifetime! To know you is to love you. Happy birthday to the most special soul!! I'm so blessed to have you by my side. Words can't describe how much you mean to me. You deserve the world and more."
Kendall Jenner, on the other hand, kept her bday message short and sweet. She posted a black-and-white photo of the pair with the words "happy birthday to my angel, sister, and second mommy."
The outpouring of support for Khloé and her loving personality couldn't come at a better time. Last week, a source told People that the reality TV star had once again called it quits with longtime beau Thompson, telling the magazine, "They are not together right now," before adding, "The ups and downs with Tristan were always very frustrating for Khloé. She has worked so hard to trust Tristan." Another source shared that the pair is still on good terms and focused on doing "what's best for True." For her part, Khloé doesn't seem to be dwelling on heartbreak.
When she wasn't reposting stories of the tributes her family and friends were sending her way, she also gave followers behind-the-scenes shots of what looked to be quite the birthday celebration. In multiple photos, she showed big pink birthday balloons that spelled out, "Happy Birthday Koko," bouquets of blush flowers, and even a few birthday cards with sweet notes in her honor, including one that read, "Thank you for sharing your light positivity and beauty with all of us."