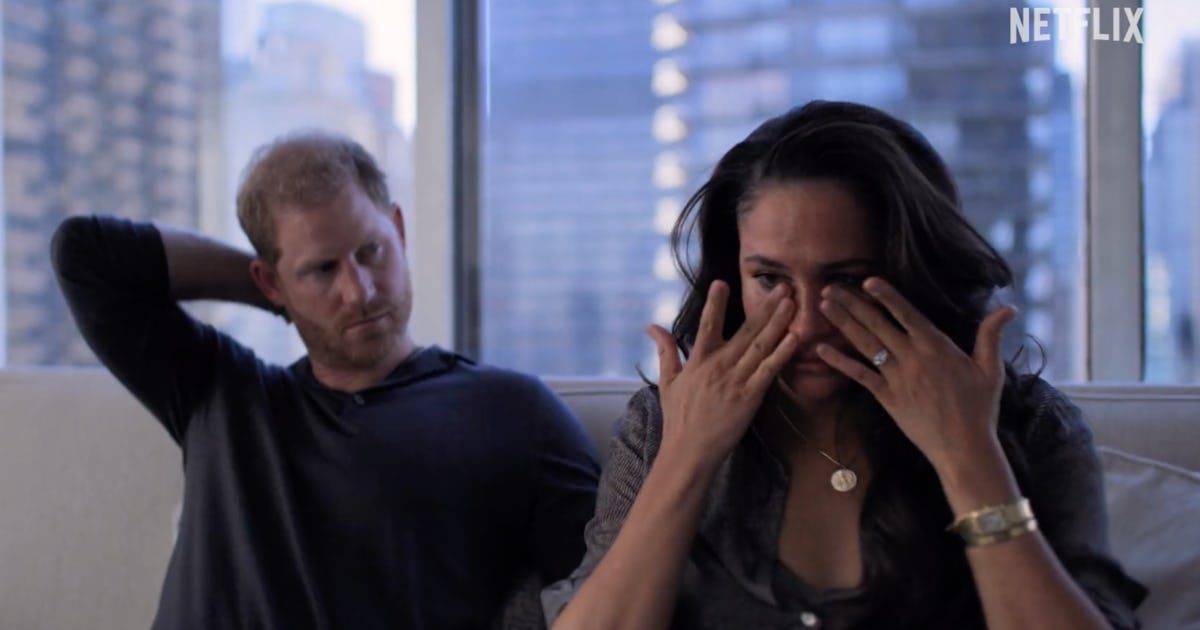 The Duke and Duchess of Sussex signed an unprecedented $100 million deal with Netflix in 2020, agreeing to develop exclusive content for the platform under their Archewell Productions banner. Although Prince Harry and Meghan Markle have kept relatively quiet about their Netflix plans, the couple has been working on a docuseries about their life away from the royal family in Montecito, California, and the first-look trailer confirmed the series would be making its debut sooner than expected.
Titled Harry & Meghan and billed as a "Netflix Global Event," the streaming giant unveiled the doc's first teaser trailer on Dec 1. Featuring snaps of the Duke and Duchess of Sussex from their childhoods to married life, the 60-second teaser ended with Markle asking the question: "When the stakes are this high, doesn't it make more sense to hear our story from us?"
And now confirming People's earlier reports that the docuseries is slated to premiere in December, a second trailer has revealed the exact release dates for Harry & Meghan, which will arrive in two instalments. Volume I is due to land on Netflix on Dec. 8, while Volume II will follow on Dec. 15.
A new minute-long preview, meanwhile, teases brand new quotes from the royal couple. "There's a hierarchy of the family," claims Prince Harry in the second trailer. "You know, there's leaking, but there's also planting of [media] stories" he says, elsewhere calling it a "dirty game." Bustle has contacted Buckingham Palace for comment.
Harry also admits to being "terrified" that history would "repeat itself," as clips of his late mother Princess Diana play on screen. The Princess of Wales was killed in a car crash in 1997 as her car fled from paparazzi.
Deadline reported on Oct. 17 that Netflix had delayed Markle and Harry's planned docuseries after the streaming service came under fire for a plotline on the new season of The Crown. Former UK Prime Minister John Major criticized the series on Oct. 16 for depicting a 1991 Prince Charles talking to Major about having to wait to take over the throne in the first episode of Season 5. Major insists that no such conversation took place in real life. "They're rattled at Netflix, and they blinked first and decided to postpone the documentary," a source told Deadline. But it seems like Netflix didn't postpone it for long.
Previously, in an interview with The Cut published on Aug. 29, Meghan skirted questions about the long-rumored project, with writer Allison P. Davis reporting that their publicists answer those inquiries with similar vagueness. "Questions about rumored projects — for example, an At Home With Meghan and Harry–type docuseries that reportedly has an attached director, Liz Garbus, and footage shot by teams of cameramen, who have been spotted following the couple around — are met with half-answers shrouded in winks, codes, and redirection," she wrote.
Meghan hinted that an upcoming project would focus on their relationship. "The piece of my life I haven't been able to share, that people haven't been able to see, is our love story," she said, before using a quote from her wedding speech about "knowing that, above all, love wins." She concluded, "I hope that is the sentiment that people feel when they see any of the content or the projects that we are working on." But when asked if she's filming a documentary about their love story, she was hesitant to reveal information that Netflix hasn't announced. "What's so funny is I'm not trying to be cagey," she said. "I don't read any press. So I don't know what's confirmed."
However, she did give a hint that the docuseries would become a reality. "I will tell you Liz Garbus is incredible," she said, adding that the docuseries director also worked on Pearl, a now-scrapped animated series that Meghan was producing, which saw a 12-year-old girl travel back in time to meet important women in history. "There's not much you can do when a company and a division changes their slate," she said about Netflix's decision to cancel the show. "And there's also not much you can do when, even if they think the project is great, the media will report it as though it was only my project."
While fans are still waiting for the couple's first Netflix foray, she recently launched the first project under their $20 million deal with Spotify. Meghan is hosting her first podcast, Archetypes, in which she aims to "investigate, dissect, and subvert the labels that try to hold women back" with friends who have been stamped with these stereotypes. The first episode, which features her good friend Serena Williams, debuted at No. 1 on Spotify. "It's so real," she told The Cut about the podcast. "I feel different. I feel clearer. It's like I'm finding — not finding my voice, I've had my voice for a long time, but being able to use it."
This article was originally published on