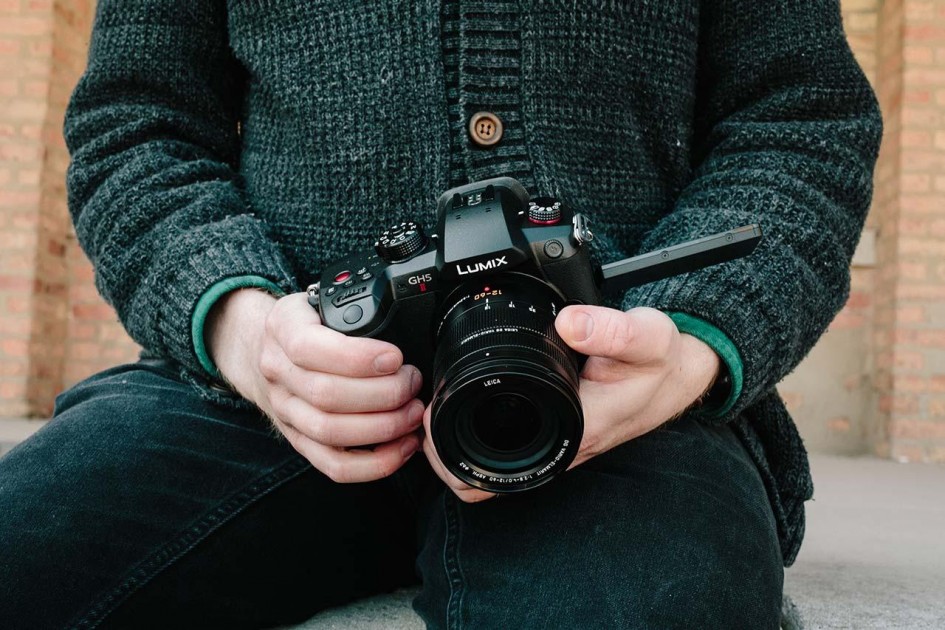 Panasonic have just unveiled the GH5M2, a new Micro Four Thirds mirrorless camera that builds on the success of the very popular GH5 model.
The GH5II offers internal recording up to 4K 60p and 4:2:2 10-bit 30p or 4K/6K Anamorphic modes,and V-Log L is pre-installed in the camera.
The GH5 Mark II's main new feature addition is wireless live streaming in 1080/60p using the Lumix Sync app or by connecting directly to a Wi-Fi router, and wired streaming via a PC using the Lumix Webcam software.
It also uses a new image sensor that features an AR (Anti-Reflective) coating, the latest high-speed and high-performance Venus Engine processor, and offers improved in-body stabilisation which provides up to 6.5 stops of compensation.
The Panasonic GH5M2 will be available from the end of June 2021 priced at £1,499 for body only, £1,699 for the GH5M2 M Kit (with the 12-60mm Lumix lens), and £1,999 for the GH5M2 L Kit (with the Leica 12-60mm lens).
Panasonic UK Press Release
25th May 2021 – Panasonic is proud to introduce the LUMIX GH5M2, a new Micro Four Thirds mirrorless camera that boasts outstanding video performance evolved from the renowned GH5.
The LUMIX GH5M2 achieves C4K*1/4K 60p 4:2:0 10-bit unlimited*2 video recording and can simultaneously output 4K 4:2:2 10-bit over HDMI.
The LUMIX GH5M2 is capable of wireless live streaming in FHD/60p via the simple-to-use LUMIX Sync smartphone app, or by connecting directly to a Wi-Fi router. In addition, it will receive a future firmware update to add RTP/RTSP wired IP streaming*3.
The 20.3-megapixel Digital Live MOS Sensor with AR (Anti-Reflective) coating captures details cleanly and drives excellent lens performance. The image processor has also been updated to use the latest high-speed and high-performance Venus Engine.
To achieve stable handheld shooting, the Body I.S. (Image Stabiliser) in the LUMIX GH5M2 is now even more advanced, making it possible to use a 6.5-stop slower shutter speed*4. With the adoption of the latest algorithm developed for the S1H, video recording is smooth and stable even when the camera is in motion.
A 3.0-inch free-angle LCD with a 3:2 aspect ratio and high resolution of 1840K dots provides touch control. Compared to the GH5, the LCD features higher luminosity and superior colour reproduction to ensure high visibility outdoors.
The LUMIX GH5M2 will be available from the end June at £1,499 RRP for body only, £1,699 RRP for GH5M2 M Kit (with 12-60 LUMIX lens), and £1,999 RRP for GH5M2 L Kit (with LEICA 12-60mm lens).
*1 Corresponding to 4K (4096×2160) as defined by Digital Cinema Initiatives (DCI).
*2 On condition that the camera is under the environment where the operation is guaranteed and is running on the battery. Recording time depends on the capacity of the battery and the SD Memory Card. Recording may stop in C4K/4K 60p 10-bit and Anamorphic mode automatically to protect the camera.
*3 16Mbps cannot be selected when the RTMPS URL is set.
*4 Based on the CIPA standard [Yaw/Pitch direction: focusing distance f=60mm (35mm camera equivalent f=120mm) when H-ES12060 is used.
Wireless live streaming with minimal equipment
High-quality live streaming is possible both indoors and outdoors with minimal equipment: just the LUMIX GH5M2 and a smartphone with the LUMIX Sync app. In compliance with the RTMP/RTMPS protocol using the H.264 codec, a maximum resolution/framerate of FHD/60p at 16Mbps*1 is supported.
For wired live streaming, the dedicated LUMIX Webcam Software is available for free download.
Live streaming to the platforms that comply with RTMP/RTMPS is basically possible (Compatibility with all the platforms is not guaranteed.) There may be the cases where the live streaming is not possible when the service of the platform changes. For more information, please refer to the terms and conditions of the platform.
*1 16Mbps cannot be selected when the RTMPS URL is set.
High quality video performance
The LUMIX GH Series features outstanding video performance for professional videography and the LUMIX GH5M2 is no exception, capable of unlimited video recording in a variety of settings. When shooting video, the GH5M2's entire sensor area is used, enabling the user to record uncropped video from the original viewing angle of the lens. Video recording options are vast, offering internal recording up to 4K 60p and 4:2:2 10-bit 30p, or 4K/6K Anamorphic modes.
To deliver high dynamic range and a broad colour spectrum, V-Log L is pre-installed in the camera, making it easy to match the colour tone with footage recorded in the S1H/S1's V-Log and the GH5/GH5S's V-Log L. V-Log L renders a very flat image while retaining all its colour information, which is a great benefit in post-production processing. For users who prefer to have a starting point for post-processing, there are 35 compatible conversion LUTs for VariCam cinema cameras available for free download. Practical tools like a Waveform Monitor and V-Log View Assist are also part of the GH5M2's on-board video toolkit.
Like the S1H video flagship camera of the S Series, the LUMIX GH5M2 provides two types of Cinelike gamma presets in the Photo Style menu. These modes create impressive looks with warm skin tones or delicate nuances of light and shadow even without colour grading over V-Log footage. The Cinelike D2 preset gives priority to dynamic range, while Cinelike V2 prioritizes contrast. L.Monochrome S and L.Classic Neo have also been added. All these presets are also available in Anamorphic mode.
In VFR (Variable Frame Rate) recording, C4K/4K 60fps, Anamorphic 50fps and FHD 180fps are available. AF can be set before starting VFR recording.
A reliable tool for professionals
Tough enough to withstand heavy field use, the LUMIX GH5M2's full die-cast front/rear frame is composed of a magnesium alloy and the body is splash, dust, and freeze resistant* down to -10 degrees Celsius. The shutter unit is also durable for approximately 200,000 cycles.
To further support use outdoors, the camera boasts a new high-capacity 2200mAh battery (DMW-BLK22) that complies with USB PD (Power Delivery) and can be recharged via AC or USB. The LUMIX GH5M2 is equipped with a double SD memory card slot compatible with V90-classified, high-speed, high-capacity UHS-II cards for Relay, Backup and Allocation Recording.
With the advanced free-angle touch LCD, users can utilise the frame marker function to check the composition during recording in various common aspect ratios such as 16:9, 4:3, 1:1, 4:5, 5:4 and 9:16. The red recording frame indicator on the screen and in the EVF clearly signals whether the camera is recording, while a new blue indicator shows when the camera is streaming.
*Splash Resistant is a term used to describe an extra level of protection this camera offers against exposure to a minimal amount of moisture, water or dust. Splash Resistant does not guarantee that damage will not occur if this camera is subjected to direct contact with water.
Future firmware updates
Firmware update for GH5M2
The LUMIX GH5M2 will continue to evolve with a future firmware update scheduled by the end of 2021. The new firmware will include:
• RTP/RTSP wired IP streaming
• Live View Composite
• USB Tethering (linked to a smartphone via 4G/5G), Compatible Streaming Distribution
• Even more stable smartphone connection
Firmware update for LUMIX G / LEICA DG lenses
An upcoming firmware for LUMIX G / LEICA DG lenses will make their use with the GH5M2 more convenient, enabling users to choose a non-linear or linear setting for the focus ring. In the non-linear setting, the focus shifts variably according to the rotation speed of the focus ring. In the linear setting, the focus shifts at fixed intervals according to how far the lens is turned, mimicking a manual lens. The sensitivity in the linear setting can be set between 90 and 360 degrees at 30-degree intervals.
Compatible lenses: H-E08018, H-X1025, H-ES12060, H-ES50200, H-RS100400, H-XA025, H-ES200, H-HSA12035, H-FS12060, H-HSA35100, H-FSA45200 and H-FSA100300.
The firmware programs will be available at the LUMIX Global Customer Support website on 8th June 2021. 
Broad range of features and compatible accessories
• Bluetooth 4.2 and Wi-Fi 5GHz (IEEE802.11ac) / 2.4GHz (IEEE802.11b/g/n)
The LUMIX GH5M2 integrates Bluetooth and Wi-Fi® connectivity to offer a more flexible shooting experience and enable instant image sharing. Once the camera is connected to a smartphone/tablet with Panasonic's LUMIX Sync for iOS/Android, users can shoot, browse and share photos and videos remotely. Compatibility with Bluetooth 4.2 (BLE, Bluetooth Low Energy) keeps the camera connected to a smartphone with minimal power consumption. The settings on a LUMIX GH5M2 camera can also be copied and applied to other GH5M2 cameras using either the wireless LUMIX Sync or the SD card.
The dual-band Wi-Fi provides a secure and stable connection either to a device using the 2.4 GHz band or devices, which utilise the 5GHz-band (where available). This way, the GH5M2 provides connections not only to a smartphone but also to routers or other network devices on location.
• XLR Microphone Adaptor (DMW-XLR1)
The Microphone Adaptor DMW-XLR1 is a plug-in adaptor for XLR microphones for recording high-resolution 96kHz/24bit stereo sound and is ideal for lip-sync recording. Dedicated switches provide quick and direct access to the controls. MIC, LINE and Condenser/Phantom Power are switchable.
• PC Software LUMIX Tether
With LUMIX Tether, users can control the camera on a PC via USB. The software lets both the user and other viewers see images on a PC screen while shooting is in progress, assisting in commercial photoshoots of portraits, products, etc. The software supports 6K and 4K photos*, can be used to start and stop video recording, and allows the user to choose the save folder.
*6K PHOTO' is a high speed burst shooting function that cuts a still image out of a 4:3 or 3:2 video footage with approx.18-megapixel (approx. 6000 x 3000 effective pixel count) that the 6K image manages. 
Image Gallery
Click on a thumbnail to see the full version.
Your Comments