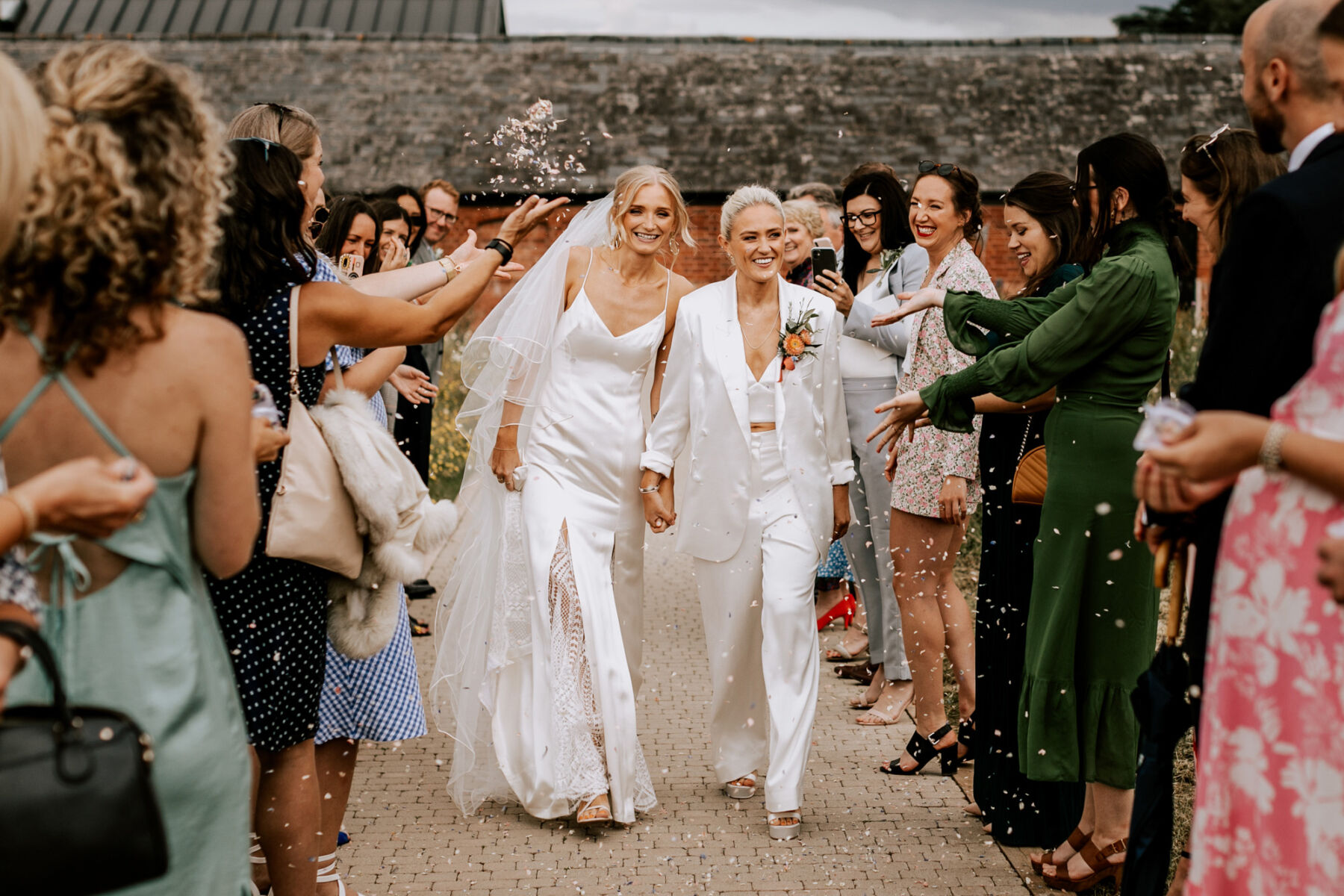 We're whisking you away to a most magical woodland wedding setting today for the truly spectacular nuptials of two beautiful women.
Sophie, a merchandiser at ASOS, wed her love Katie, a buyer for Urban Outfitters, on 10 July 2021 in the utterly magical surroundings of Crumplebury near Whitbourne in Worcestershire, a venue that combines beautiful woodland with a modern, light-filled event space.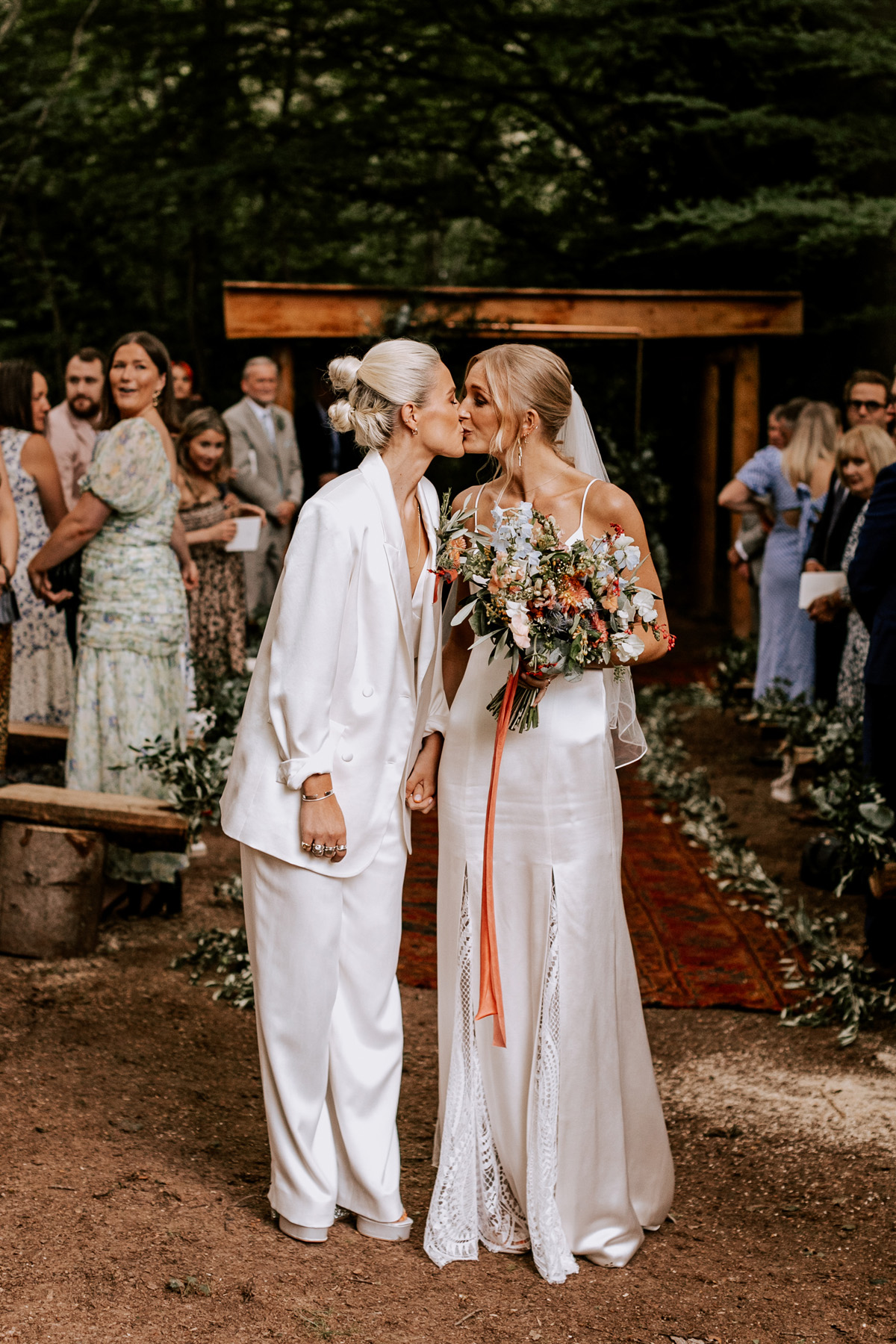 The couple grew up in the area and knew of the on-site restaurant already, enjoying taking inspiration from beautiful weddings they saw online to create their own chic and modern celebration, complete with lots of greenery and pops of burnt orange and coral.
We thank the wonderfully talented Emma Kenny for sharing these images with us. Enjoy soaking in every detail and moment of this gorgeous wedding.
The Look
We both chose outfits that matched our everyday style loved that we felt relaxed on the day in what we chose.
Katie: I wore Galvan London and a made-to-order veil from Britten Weddings. It was two tier, cathedral-length with lace trims. The company have a great understanding of brides needing to be able to try multiple styles before landing on their final choice and have processes in place to accommodate this. I also wore a pair of Topshop Boutique heels.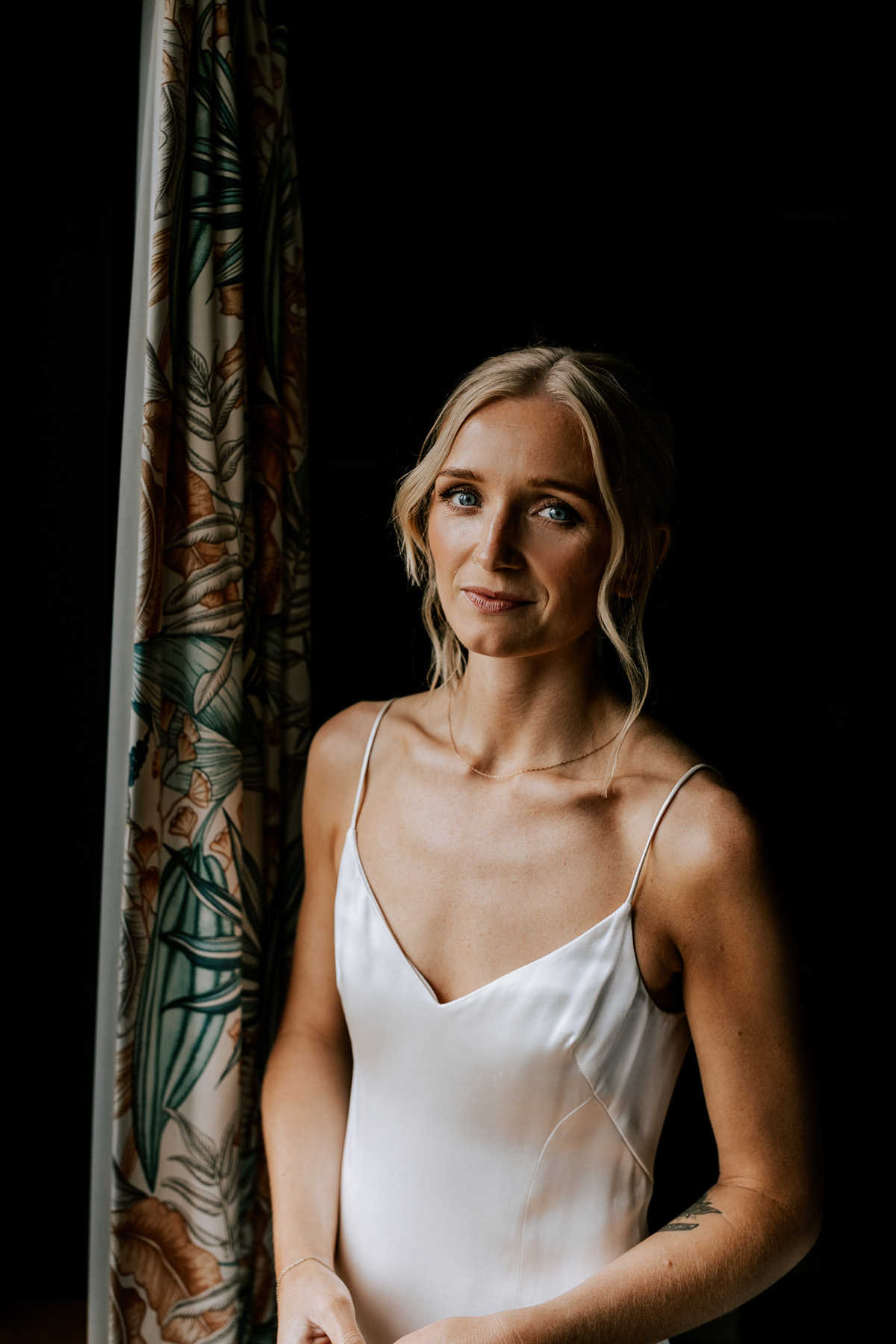 Sophie: I wore a three-piece, bespoke tailored suit, created by Nikeen Asar. My journey with Nikeen was great from the start – personal, intimate and relaxed. We knew of Nikeen through work colleagues and whilst he hadn't done bespoke tailoring before, he wanted to pursue this adventure and did so for me.
We both wore pieces of jewellery lent to us by my mum. Each of us had a different style of ring featuring sapphires and diamonds that had previously belonged to my great-grandmother. I also wore a gold watch that my mum had been given by my dad on the morning of their wedding back in 1979. I wore shoes sourced from ASOS.
The Engagement
We went to school together when we were younger but although knowing each other's names, couldn't claim to have a friendship. Several years later, around our mid-20s, we matched on Tinder whilst living in London.
Sophie: One of Katie's best friends lives in Amsterdam so we try to visit often. In late 2019, we were going out to celebrate her birthday but, with permission, I decided to hijack the trip and ask Katie to marry me (having had the ring hidden in the house since around July!). We spent the night in the Pulitzer Suite at the Pulitzer Hotel where we had a private cocktail lesson followed by the big question, which took Katie completely by surprise. It went as planned and we had an incredible weekend with all the celebrations.
We were due to get married in April 2021 so would have been engaged for just under one and a half years but it ended up being just over when our wedding moved to July.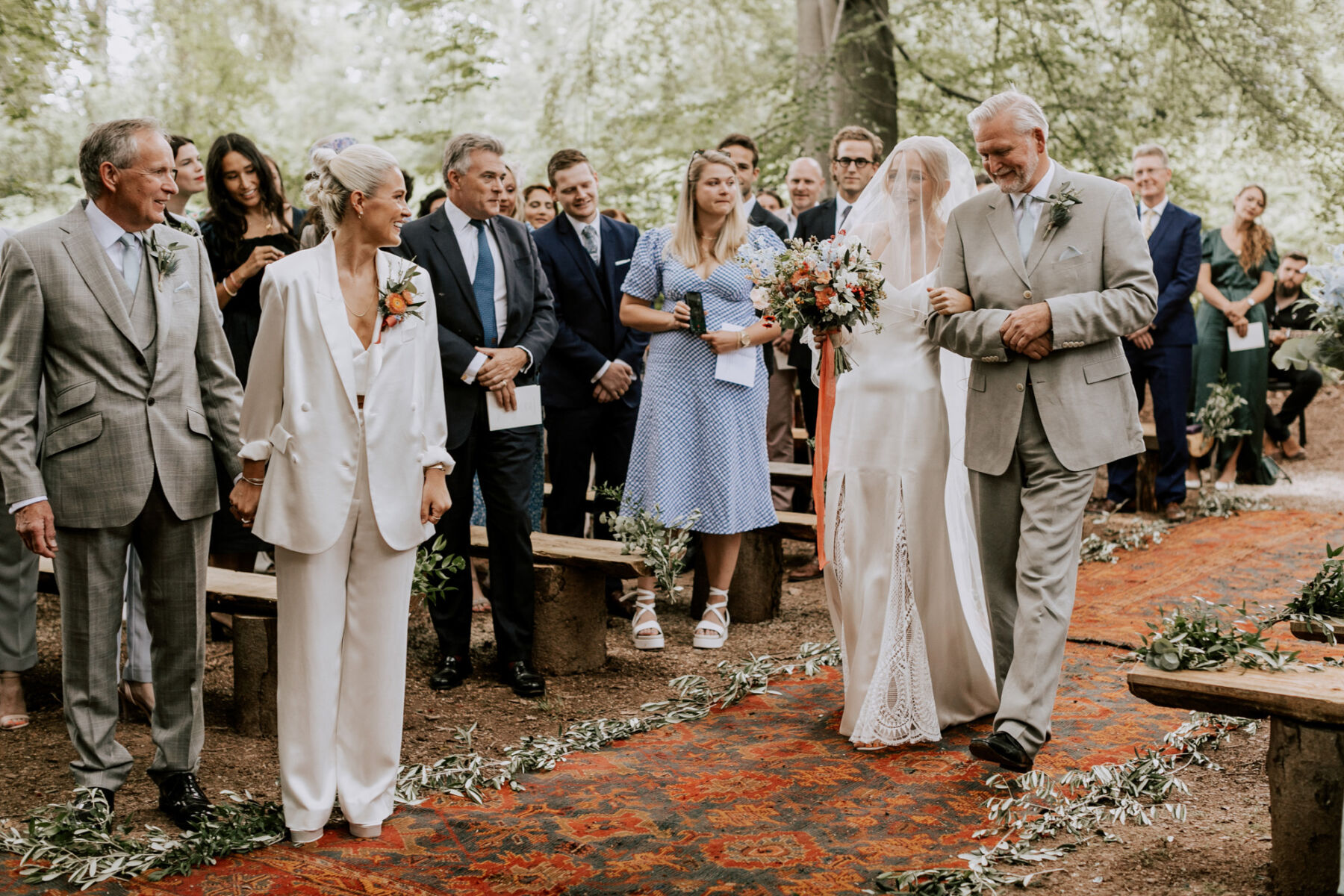 Our engagement and wedding rings were from Michelle Oh.
Sophie: I found Michelle Oh online and after an initial consultation, decided she'd be the perfect fit to make vintage-style engagement rings for Katie. I wanted to create a stacking look with Katie's rings to match her style, so we worked together to create a diamond-studded chevron ring that I used to propose.
After this, Michelle, Katie and I all worked together to create the main engagement ring, which features a yellow sapphire nestled between diamonds.
Our wedding bands are all simple designs, with me having two. One is a very classic, 3mm band and the other is much thinner, with a flat-edge finish and matt polish to contrast with the bigger ring.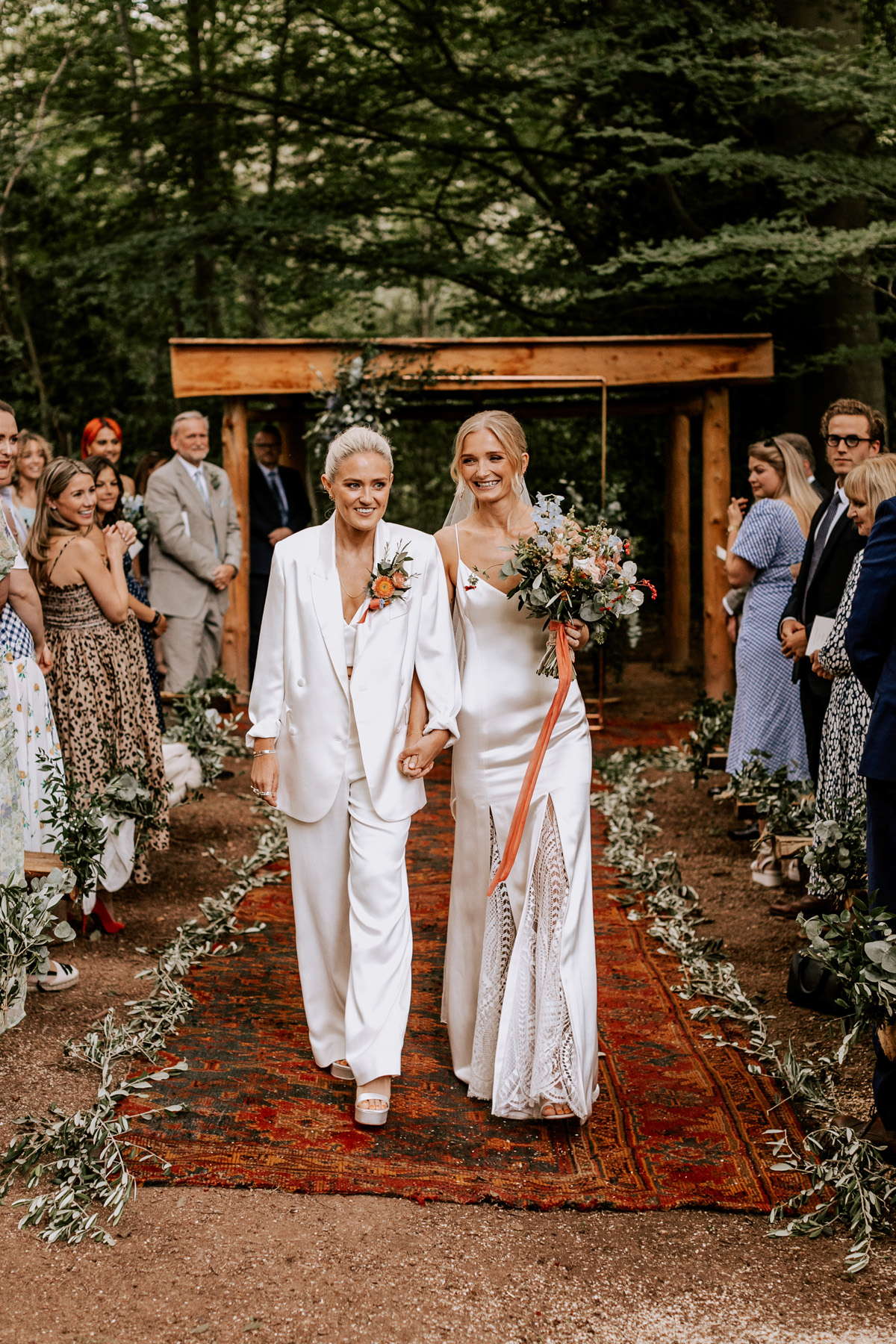 Photography
Our photographer was Emma Kenny Weddings. Fate bought Emma to us as we had originally booked a different photographer for our April wedding date. When we decided to move the wedding, our first thought was whether all our suppliers would be able to move with us.
Unfortunately, we had just one that couldn't – our photographer. Whilst this was a difficult decision for us to make, we felt we had to give ourselves the best chance of having all our guests with us on the day and so went ahead with the move.
We reached out to Emma having fallen in love with her work. She was free on our new date, only because she had also had a wedding move due to the constraints of Covid. We would highly recommend Emma to everyone. She was passionate, fun and on the day, made us feel instantly relaxed.
Emma felt like one of our close guests and we believe that's why she was able to give us truly amazing photos.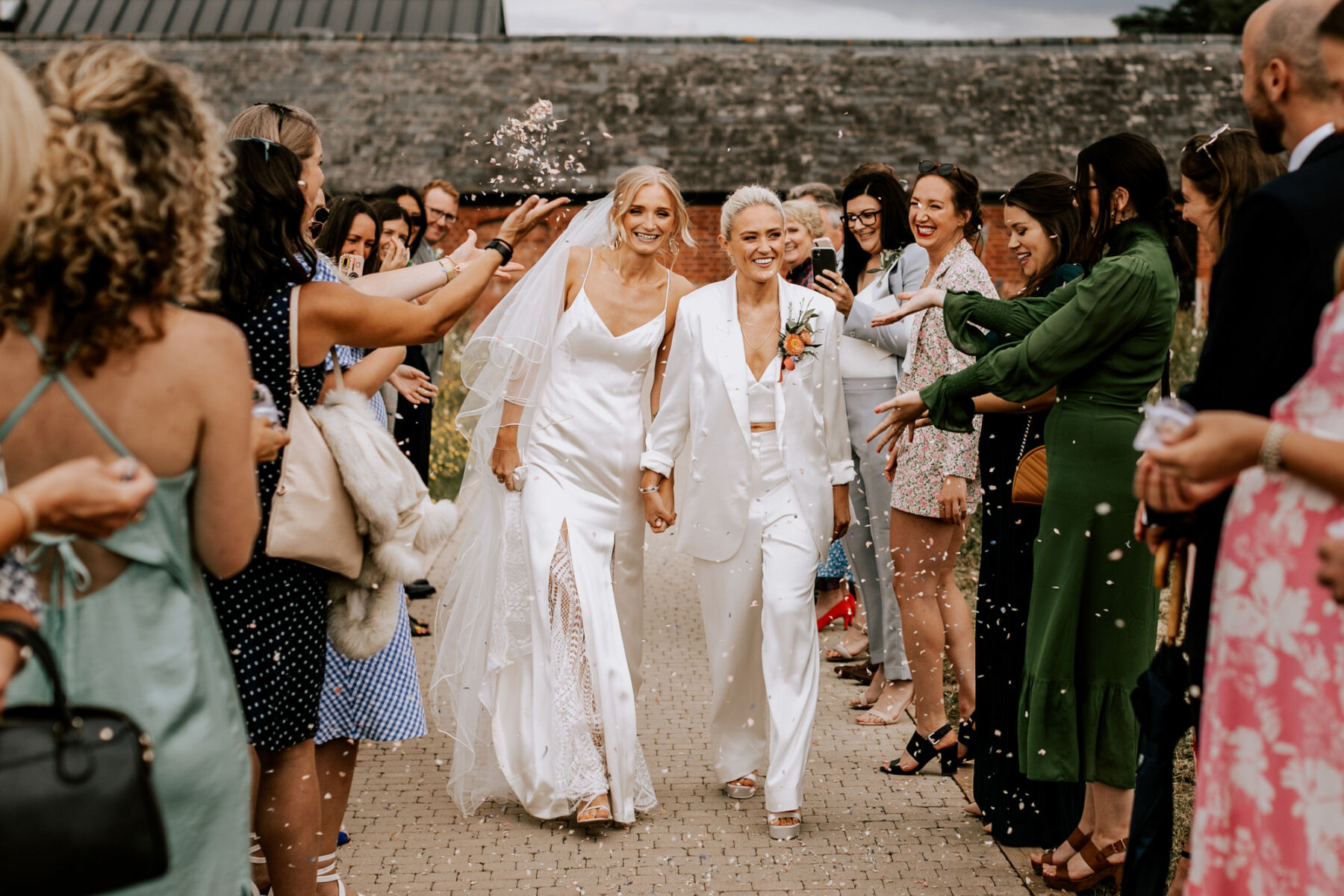 The Venue
We grew up in Worcestershire, which is where our parents are still based. Katie's family had previously held an event at Green Cow Kitchens so we knew there would be great care taken by all at Crumplebury to bring our dream wedding to reality.
We fell in love with the architecture of Crumplebury; the dark cladding, the huge glass windows, the surrounding nature, and the number of different spaces we would be able to utilise across our wedding weekend.
For stationery, we used a combination of suppliers. Some of our stationery (invitations, table plan) came from Papier who were really accommodating with our requests to make changes and tailor designs. The rest, we printed ourselves using Printed.com as we have a very talented friend working in graphic design who did a lot of bespoke designing for us.
Wedding Planning & Inspiration
No single thing inspired us; we just had lots of inspiration from beautiful weddings we had seen on Instagram and Pinterest. We loved putting our own twist on this inspiration and letting ideas evolve over multiple months.
We were originally due to get married on 24 April 2021 but towards the end of 2020, it became clear that this date might still be heavily affected by Covid restrictions. Our venue was incredible throughout this uncertain period of our wedding planning. They gave us alternative dates and suggested various options for flexibility around how our day could look.
Despite moving our wedding to the start of July, it was just before all restrictions on weddings lifted. We had to make some last-minute changes to our day but we were so happy with the results, and owe so much to our venue for supporting us through it all.
We decided last-minute to get married outside to avoid our guests wearing masks but now we wouldn't have changed that for the world.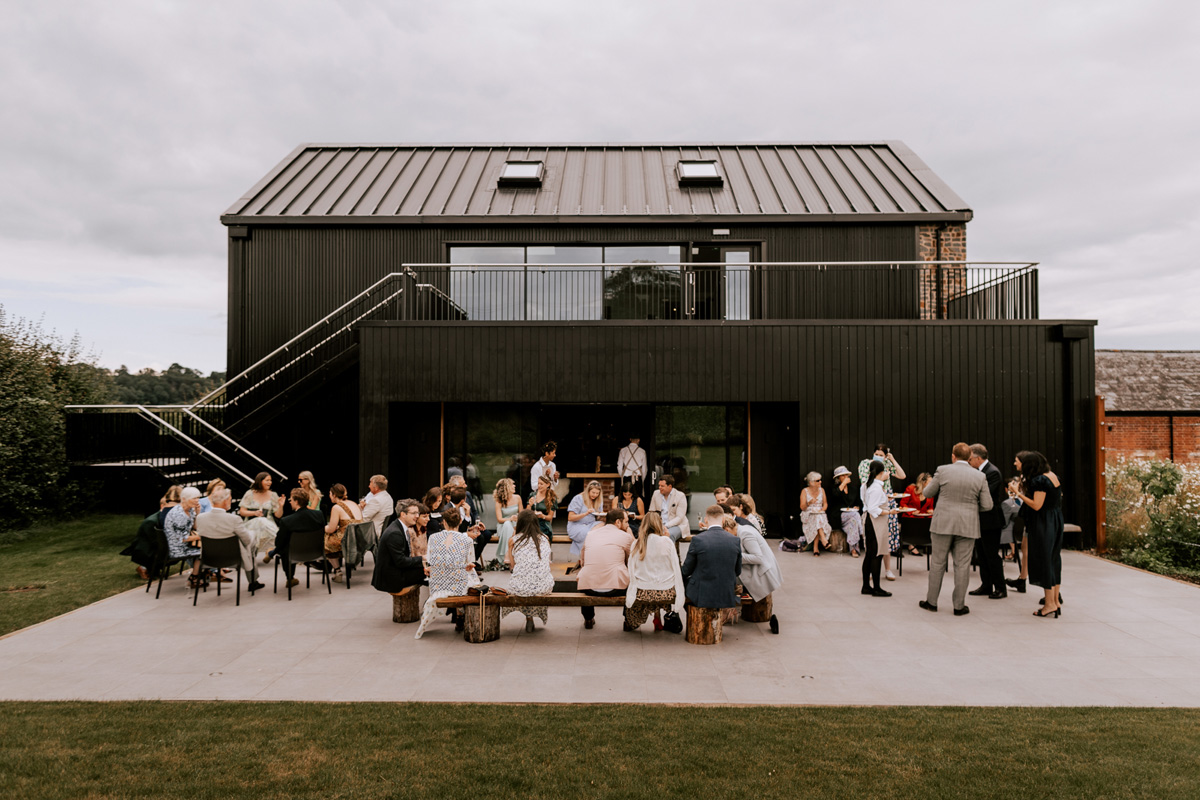 We had some incredible help from friends to find the carpet we used to line the forest floor in the weeks leading up to the wedding in case this happened! In addition, all food and drinks had to be served to seated guests and we couldn't have a dance-floor. Again, our venue out-performed all expectations we had to keep everyone well fed and watered. Largely, we all agreed that having your own plate of canapés was actually the best way to do a drinks reception.
The main Instagram mecca we had during planning was the amazing What About Weddings. The team behind the account were amazing at campaigning for couples' rights during the pandemic and bringing the latest information to an easily-accessible platform in a simplified form. It made us feel very much in control, knowing what we could and couldn't achieve.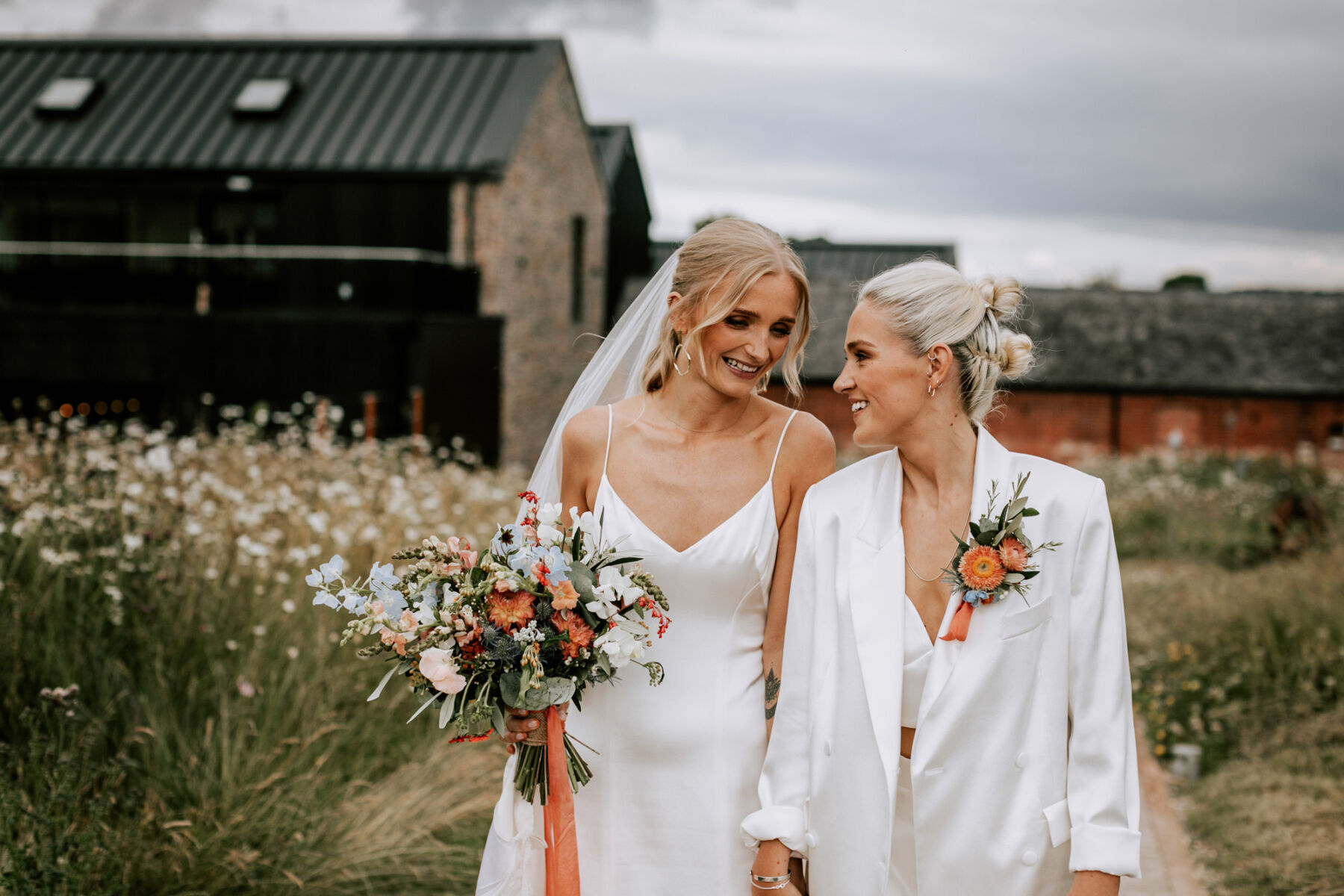 Our hair and make-up were done by Sophie Higginson. Sophie was incredible. She instantly understood the style we wanted and it very much matched the aesthetic she is used to creating. On the morning of our wedding, Sophie worked so hard to achieve both of our looks in a tight time frame and in different areas of the venue. Sophie also did both of our hair as we wanted very relaxed styles, which suited her work.
We both wore favourite scents from our everyday collection. Katie's was Chanel and Sophie's was Creed Fragrances.
The Bridal Party
For the bridesmaids, we found slip dresses in a colour we loved on ASOS. The flowergirl's outfit was from John Lewis.
Sophie: My female ushers wore suits from Reiss whilst my brother and dad wore light grey, Prince of Wales check suits that they had made for the occasion.
Evening & Dancing
We used Entertainment Nation to book our wedding band – they were great at helping us with our Covid date changes. The band we chose was The Selection – they were fantastic at communication and organisation before the day. Their manager Dave, who we mostly dealt with, was tip-top and hugely flexible to help us work around the Covid restrictions.
We didn't get to use the band to their full potential as we couldn't have a dance floor. We did things a little differently after dinner – our amazing friend and MC James hosted a pub quiz with the band helping do a live music round.
We didn't have a traditional first dance as, although this was allowed within the restrictions, we wanted to share our first dance with everyone. As we couldn't do this, we played our first dance song and everyone danced at their seats. Our song was Hall and Oates' 'You Make My Dreams Come True'.
Words of Wedded Wisdom
Do not sweat the small stuff. It will feel so important in the lead-up to your big day and will be the hardest thing for you to resist but there are so many details that you will not even notice aren't there come your wedding day, and your guests will have no clue.
An example for us was the chairs our venue had; they wouldn't have been our first choice and we worried that they might change the aesthetic we wanted to create. But, when all the other elements came together, it looked perfect and we were so glad we hadn't spent additional money on hiring different ones.