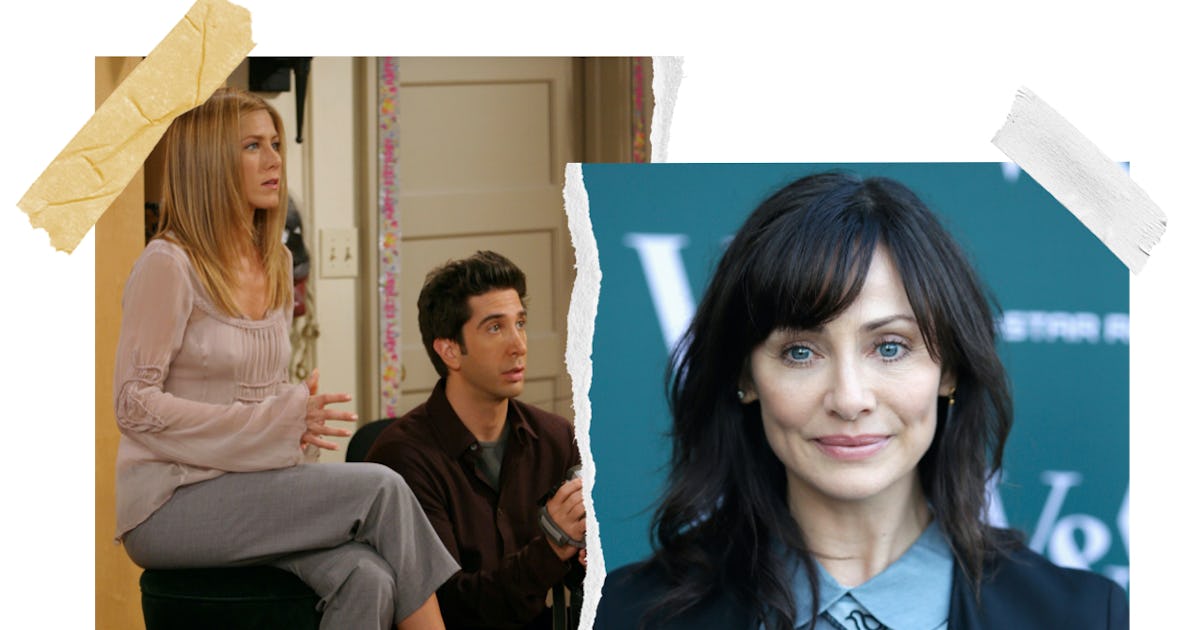 Singer-songwriter Natalie Imbruglia has some thoughts on the Friends reunion, but let's be real: Don't we all? According to the Daily Mail, The "Torn" musician — who previously dated David Schwimmer in 1996 — gave some honest feedback about the special during a recent interview on the Kyle and Jackie O Show. During the conversation, Imbruglia addressed how she really felt about the most revelatory moment from the two-hour reunion, when Schwimmer and Jennifer Aniston revealed that they were majorly crushing on each other while filming the show.
As die-hard Friends fans remember (and will likely never forget), the former co-stars spoke openly about their feelings for each other during the reunion when host James Corden asked if any of the stars engaged in some behind-the-scenes "hanky panky." It was then that Schwimmer revealed that he had a massive crush on Aniston, who confirmed that the feelings were "reciprocated." Schwimmer went on to explain that they were "crushing hard" at one point, but that nothing ever happened out of respect for their other relationships at that time.
It seems, in hindsight, that Imbruglia may have been dating Schwimmer while he was harboring some intense feelings for Aniston. When asked during her Kyle and Jackie O interview if she ever wondered whether or not there was a "crossover" between his feelings for her and his feelings for the Morning Show star, she made light of it. "I thought that too," she said. "No, I'm joking." The singer went on to explain that their relationship was well over two decades ago, so really, it's all water under the bridge now anyway.
"It was such a long time ago, I don't remember," she answered honestly. And although she doesn't quite recall the dynamic that existed between Schwimmer and Aniston at the time, she has only fond memories of visiting the set. "I do remember being on the set and I remember everybody being lovely and really, really nice," she continued. "I wasn't paying attention to whether they were giving each other 'little looks' over my shoulder. I don't know if that was happening. I'm OK with whatever happened back then. It was a long time ago."
It's a good thing Imbruglia wasn't paying attention because it sounds like the Friends co-stars had undeniable chemistry. "I just remember saying one time to David, 'It's going to be such a bummer if the first time you and I actually kiss is going to be on national television,'" Aniston admitted. "Sure enough, first time we kissed was in that coffee shop. So, we just channeled all of our love and adoration for each other into Ross and Rachel." Turns out, the timing wasn't in their favor anyway. "It was like two ships passing because one of us was always in a relationship and we never crossed that boundary," Schwimmer said. "We respected that."
Despite never crossing that line, the co-stars definitely toed it. After acknowledging their feelings for each other during the special, Schwimmer said he was surprised that no one else caught on, especially since he and Aniston would cuddle up during their breaks. "We knew for sure," Matt LeBlanc responded. Even Courteney Cox couldn't believe their connection. "That scene in the coffee house, their first kiss, I was watching it the other day and I was weeping at the end of it," she said. "The tension, it was just palpable, it was just perfect." Sorry, Natalie, but it's Ross and Rachel forever.