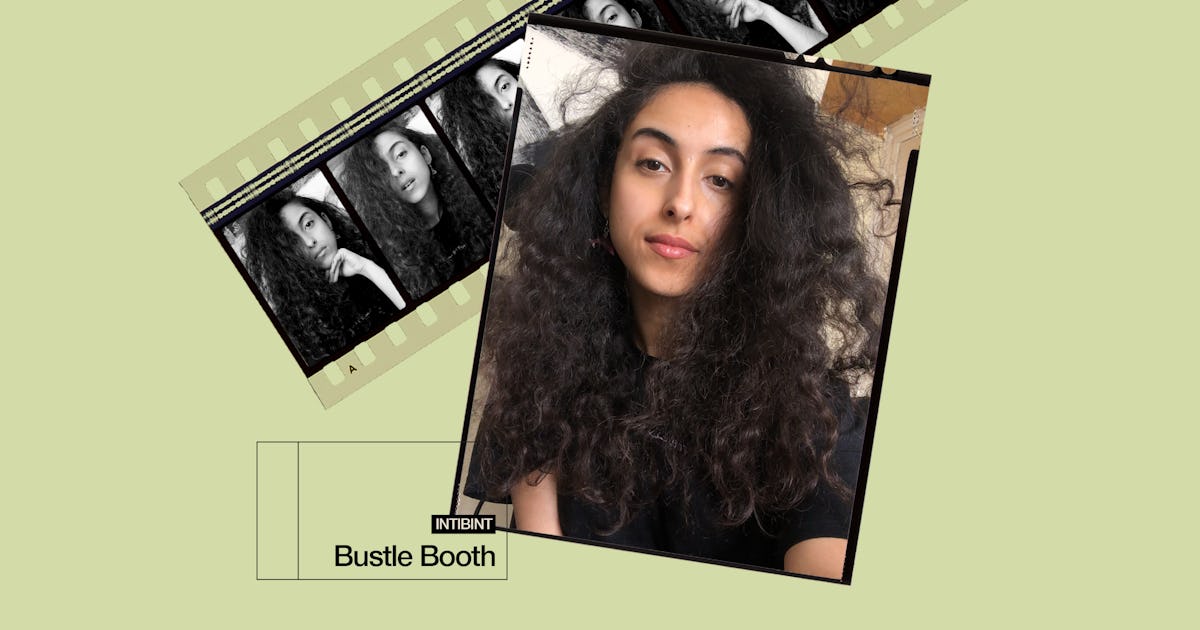 While studying for her masters in Migration and Development Studies and applying for jobs in the humanitarian field, Yemeni-British singer songwriter Intibint came to the realisation that the career path she wanted to follow was in music — an unconventional decision that went against the grain of familial expectations.
"I really care about social justice issues," she tells Bustle. "But I've also always loved music and performing. I realised that if I graduated and got a job at the UN that would mean my family would be proud of me, whereas if I pursued music that wouldn't be the case, yet I knew that music is still what I wanted to do."
Her new song "Control" is a candid and soulful track exploring issues around dating, love, and relationships. It draws on her unique experiences of navigating these issues as a Muslim and Yemeni British woman, caught between her dual identity, the fears of disappointing family, or giving up personal dreams and aspirations in love and life.
"You can't live your life trying to control yourself for other people and eventually you have to be like okay I have to live my life for myself and not everyone is going to be okay with your decisions," she told Bustle.
Commenting on how her identity has shaped her music she says "I think my cultural background has made me want to sing about moments that are very specific to people like me. In "Control" I'm singing about the moment where I realised that I really like a man who I knew my parents would never accept but then thinking, you know what? F*** it."
"Some of us have to have secret relationships, maybe some of us don't want to have sex before marriage, or feel like we have to compromise our faith in relationships because we don't want to seem backwards. There's all these things we go through and it's very specific to my culture and religion and I want to bring these into my songs."
Intibint is a pseudonym and stage name translating from Arabic into English as "You're a girl," and is a phrase used typically in the context of undermining women and limiting them.
"My mum says it all the time about so many things like for example wearing a skirt that's too short, she would say 'inti bint, you're a girl, you're not allowed to do that because you're a girl' you can't wear too much makeup, you can't talk to a guy, you can't be in pictures on the internet, all of these things," she goes on to say.
Through her courageous openness in her music, as well as her activist work uplifting the voices of other Yemeni women on Al Yamainiah, the digital platform she founded, Intibint is subverting the expression's traditional meaning to one of empowerment.
Listen to Intibint's new song "Control" now.
In The Bustle Booth
What's your coffee order?
Coconut latte because I like to pretend I'm healthy by using coconut milk but I also actually like coconut milk the most with coffee.
What are the saved weather locations on your phone?
I basically never delete them after I've been somewhere. So here it goes: London, Brighton, Sana'a, Palma de Mallorca, Warsaw, Amsterdam, Berlin, Dubrovnik, Prague, Athens, Paphos, Barcelona, Venice, Rijeka, Vienna, New York, Edinburgh… I don't know why Amsterdam and New York are there. I've never even been. Potentially was planning to go and was just observing the weather to help me decide.
What's your sign?
I'm a Leo.
Favourite overused movie quote?
"Just keep swimming" from Finding Nemo… I can't even swim though.
What was your favourite cartoon as a kid?
Tom & Jerry when I was in Yemen, Tweenies when I was in the U.K.
What's one movie or TV show you're currently obsessed with?
My Octopus Teacher, it's a documentary but that counts as a movie right? I watched it the other day and I'm obsessed. I want to watch it again, and also really want a pet Octopus.
Who is your celeb idol?
I have a lot of celeb idols because I truly admire people who stay true to themselves and spread some form of message or create a space for people through their art, not every celeb does that but there are some who do and you can't help but love them, and their authenticity. At the moment, my celeb idol is Ru Paul, I've just finished watching the entire 13 seasons of drag race US and I genuinely feel like their constant focus on self love, and self empowerment has had such a positive effect on me. Ru Paul has and is effectively changing how the world sees drag queens and it takes some serious UNIQUENESS NERVE AND TALENT to change public perception like that. (If you watch drag race you'll know why I used capitals). I also felt like I could relate to the drag queens when they were talking about hiding part of their lives from people because they didn't feel comfortable telling loved ones about their drag selves. It resonated with me because for the longest time I was too uncomfortable to talk openly with my family about wanting to do music, since it's just not something that was very common or championed at home. It's still something I'm working on but watching drag race really made me feel less alone and also like the bad B I really am.
If you had to be on a reality TV show, what would it be?
It would definitely be Come Dine With Me because I love that show, I love food, and I'm a little competitive. What a sad little life Jane…
Go-to karaoke song?
S Club Party
What's something that's inspiring you lately?
The solidarity people are showing with different causes that are coming up lately. It's like people have now realised the power they have and are using it. I find that really inspiring.
What is something you would want people to say about you?
MASHALLAH.