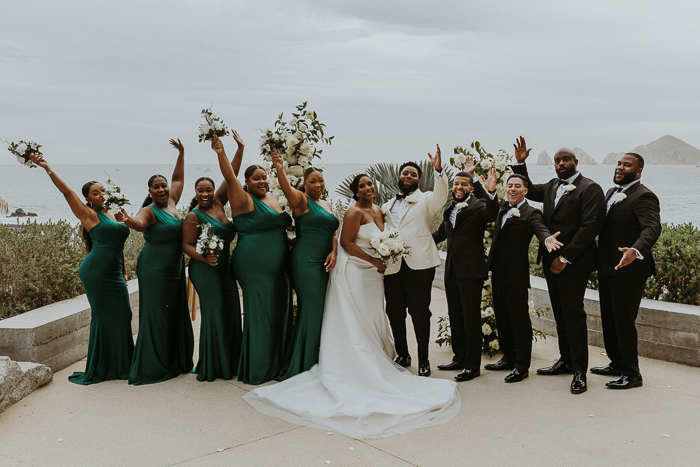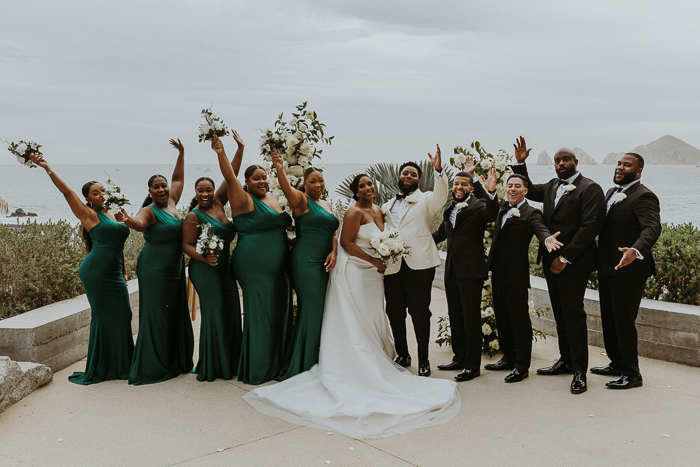 Planning a wedding can be a journey filled with unexpected twists and turns, as Stephanie and Alexander discovered in their quest for the perfect celebration. Their plans took an unexpected detour when Alex's suit colors clashed with their original vision. But this sudden change ultimately led them to their modern Cape Hotel wedding. Inspired by their Caribbean roots and love for wine, their choice reflected their refined tastes and paid homage to their shared experiences and passions. And it turned out to be an amazing decision!
With its unparalleled views of the sea and the surrounding tropical landscape, the luxury resort became the ideal venue for their special day. With asymmetrical floral pillars framing the ocean backdrop, the terrace was ready for a romantic waterfront ceremony. The following reception seamlessly combined modern architecture, minimalist decor, and natural elements. To achieve a vineyard-like vibe, they completed the look with an installation of greenery and candles in glass baubles hanging above a tablescape covered with gauzy linen, white blooms, and more candles.
And to top it all off, the couple filled their day with personal touches—from handwritten thank-you notes for each guest to heartfelt tributes for absent loved ones. They made sure every detail had meaning and purpose, and you can see all these special moments in the stunning photos taken by Junebug member Daniela Ortiz. 
The Couple:
Stephanie and Alexander
The Wedding:
Cape Hotel, Cabo, San Lucas, Mexico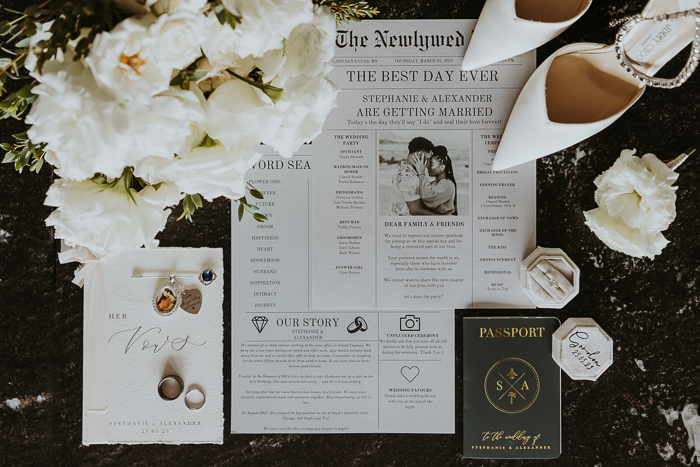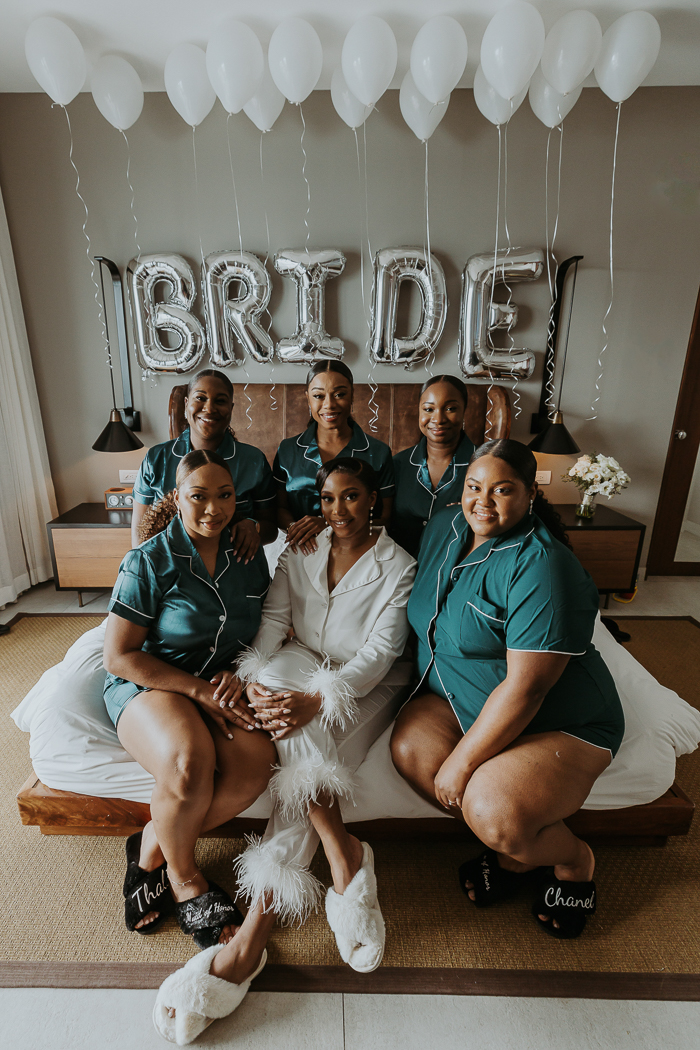 Shop Exact Matching Pajama Set: Emerald Bridesmaid Pajamas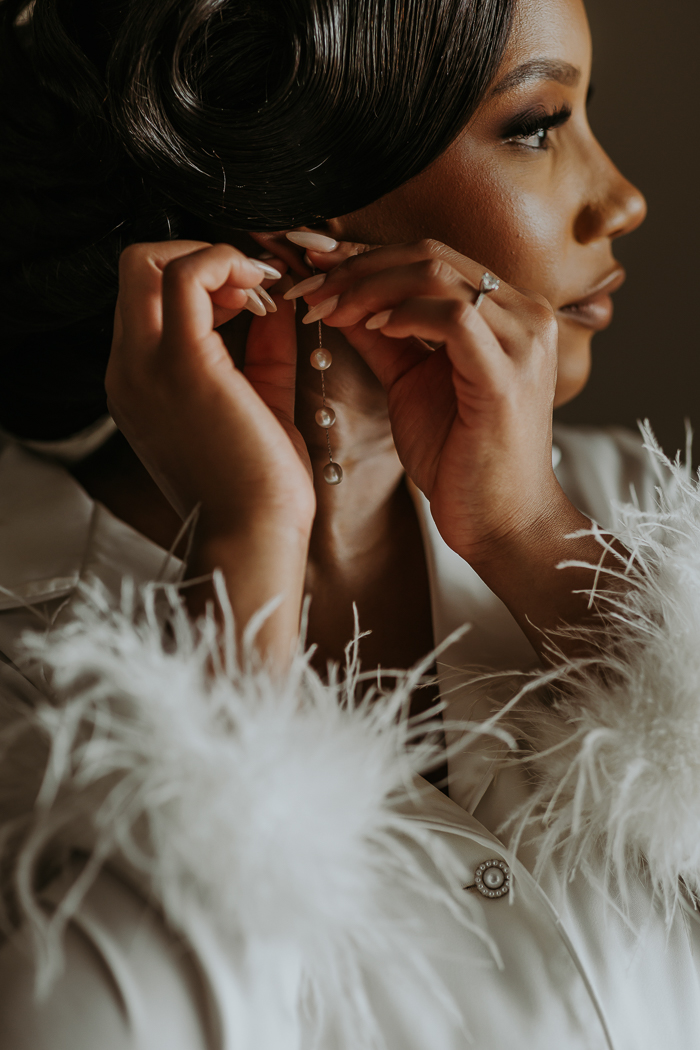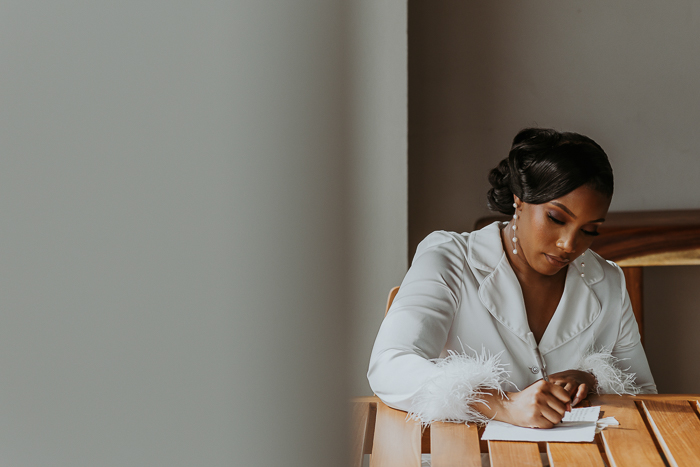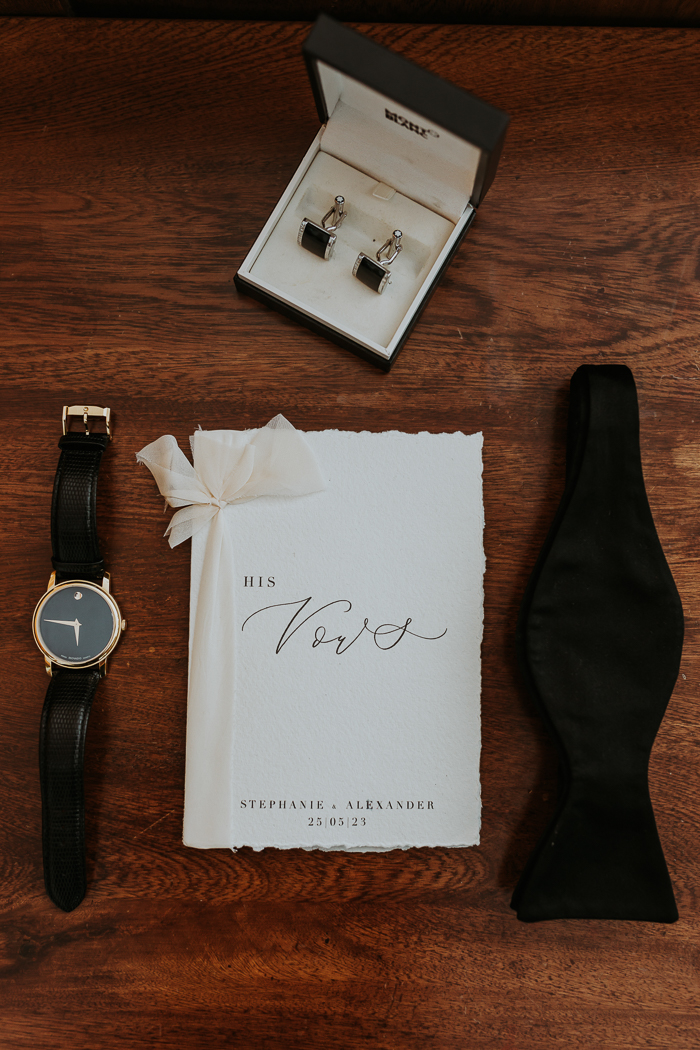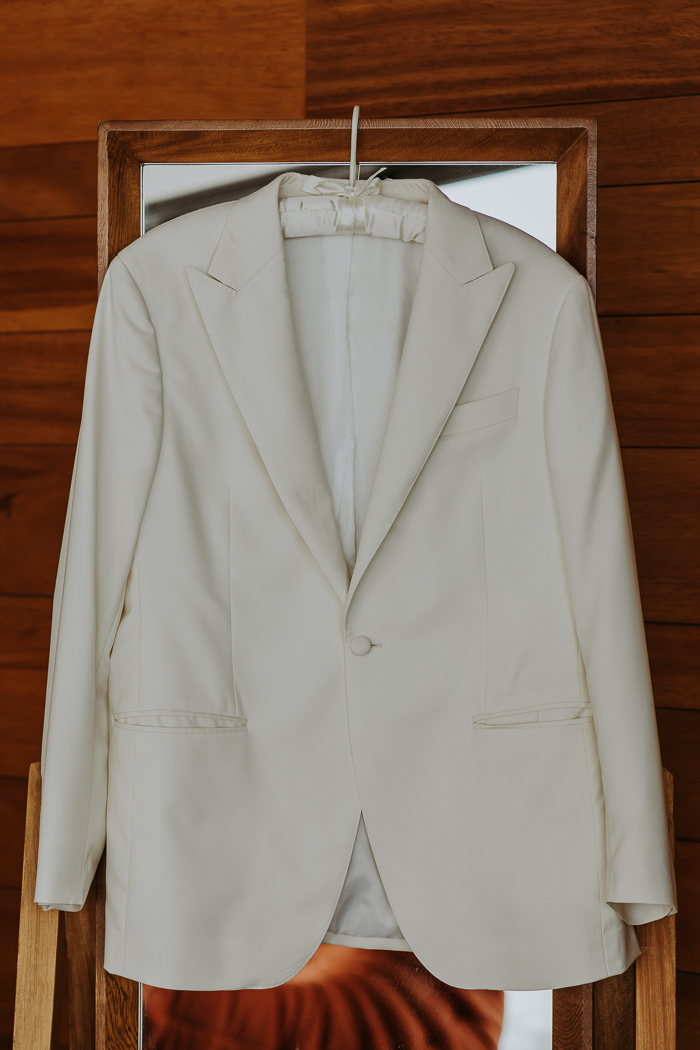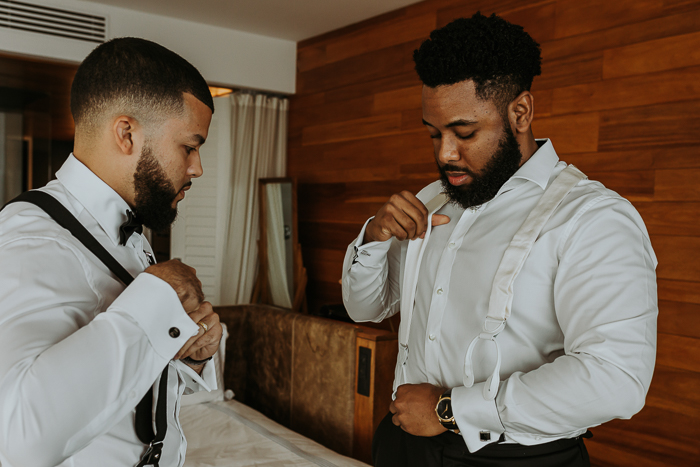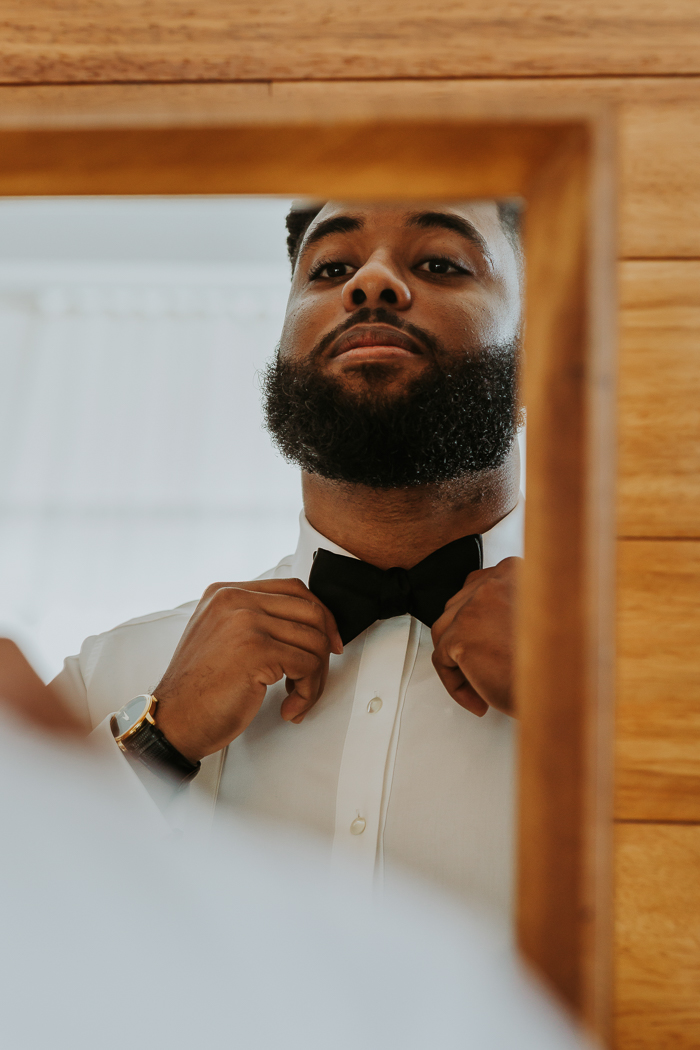 How They Landed On A Modern Cape Hotel Wedding
We've been together for eight years, so our tastes are similar. We both love a clean, modern style. When we picked our wedding colors, we went for classic seasonal greens, whites, and a touch of gold. Since we both lived in Europe and enjoyed wine, we wanted our reception to feel like a vineyard, honoring the beautiful venue. It was just the right size and matched our vision perfectly. We're both from the Caribbean and wanted to include our heritage in our wedding. We had Caribbean-inspired drinks and played mostly Caribbean music. We aimed to give our guests an unforgettable experience rather than just a typical event.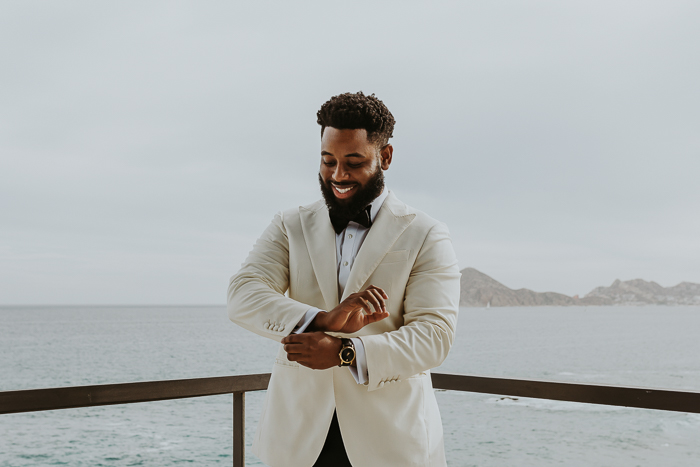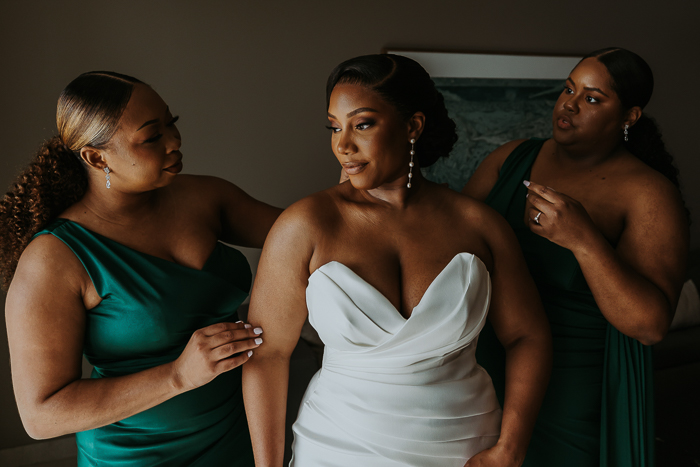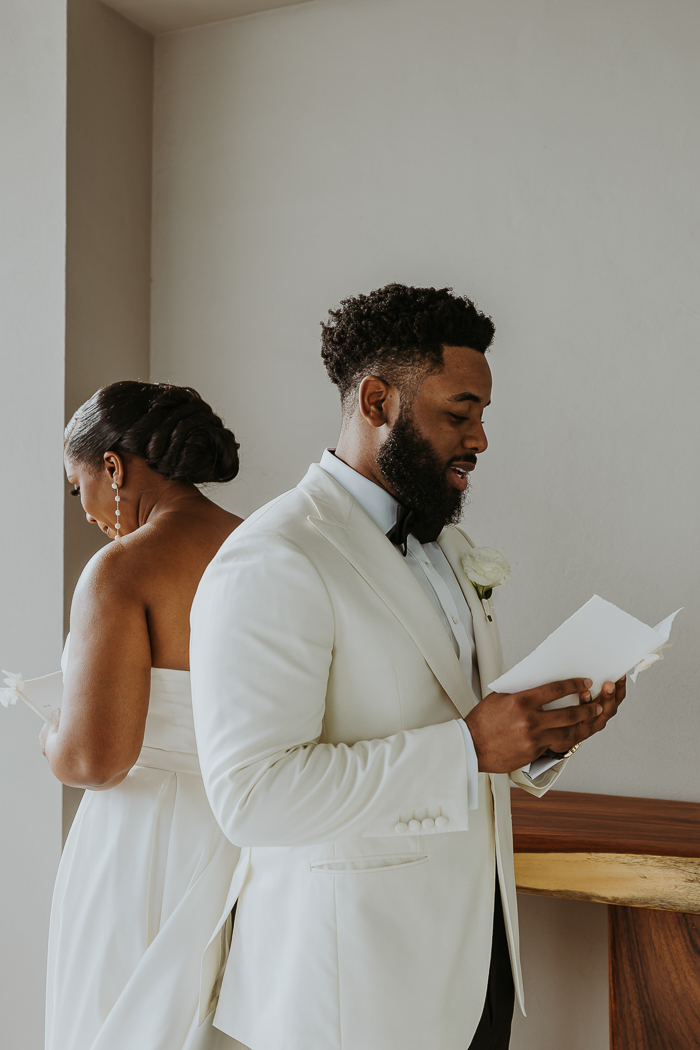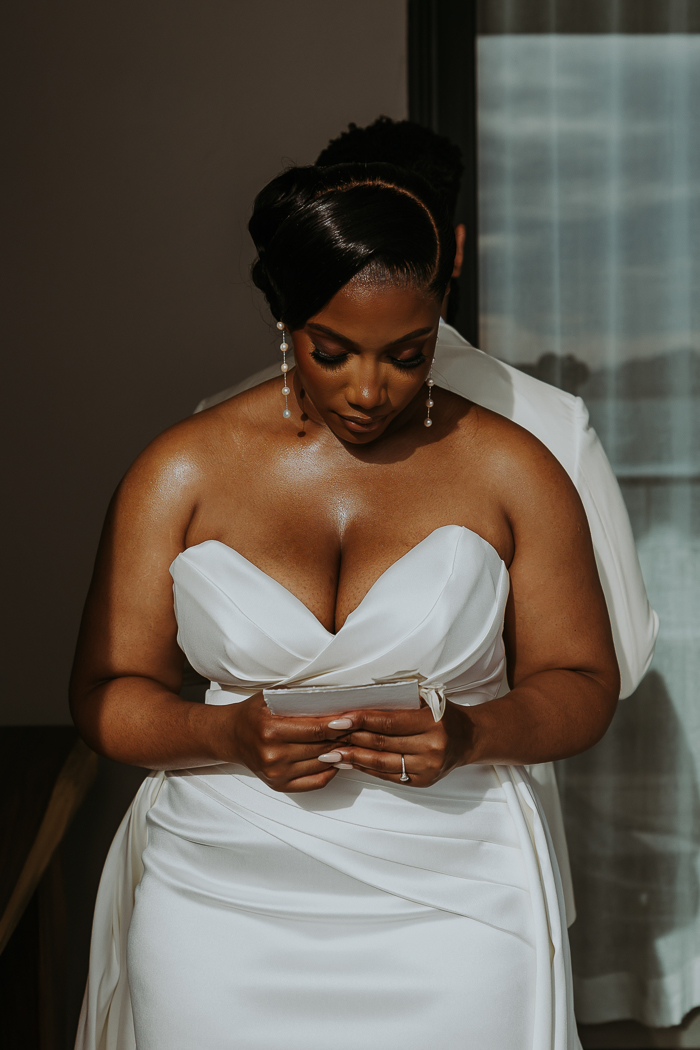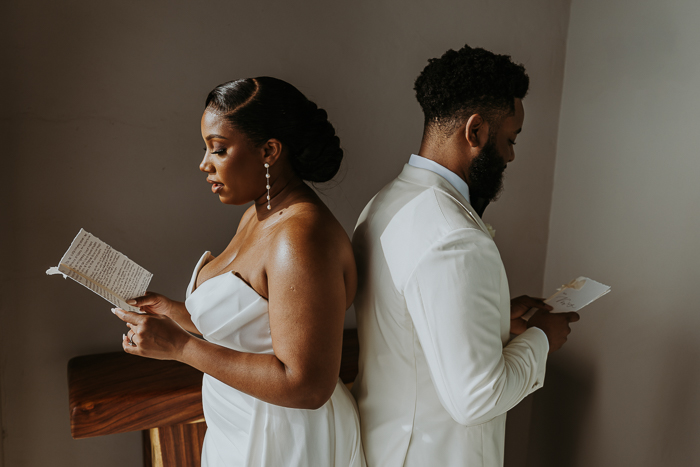 How They Found Their Dream Wedding Location
We decided to hire a wedding planner who took us to visit three potential venues. All of them were beautiful, but the third and final one truly took our breath away. When we approached the entrance of the Cape Hotel, we exchanged glances and instantly felt that this was where we wanted to exchange our vows. The stunning views, delightful fragrances, warm hospitality, and outstanding cuisine won us over completely. Our priority was staying true to ourselves amidst the overwhelming array of options on social media. The key was choosing a venue that authentically represented who we were.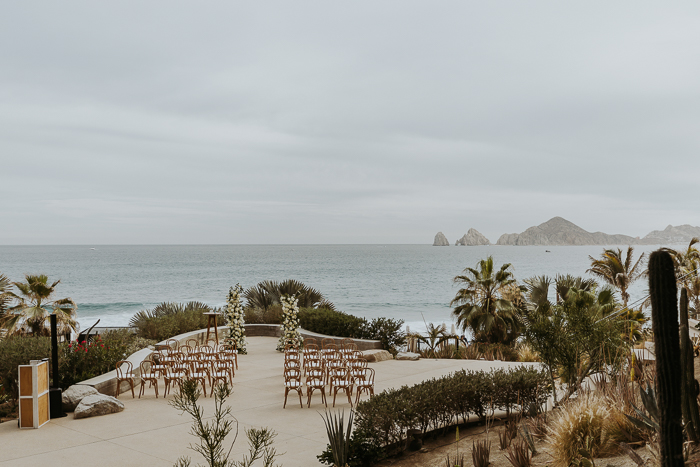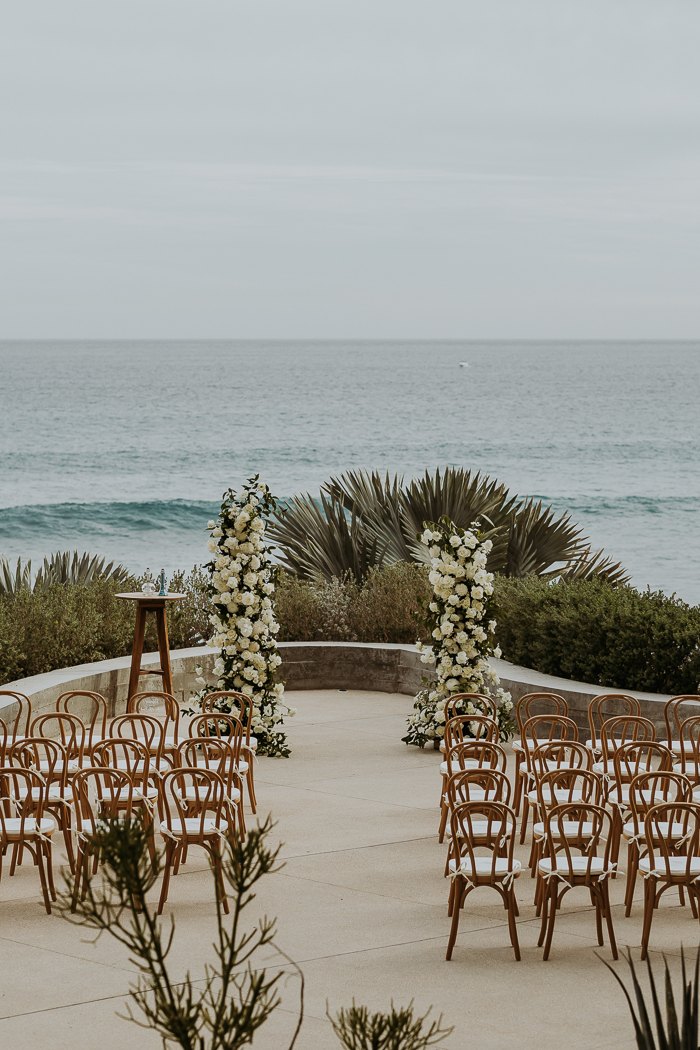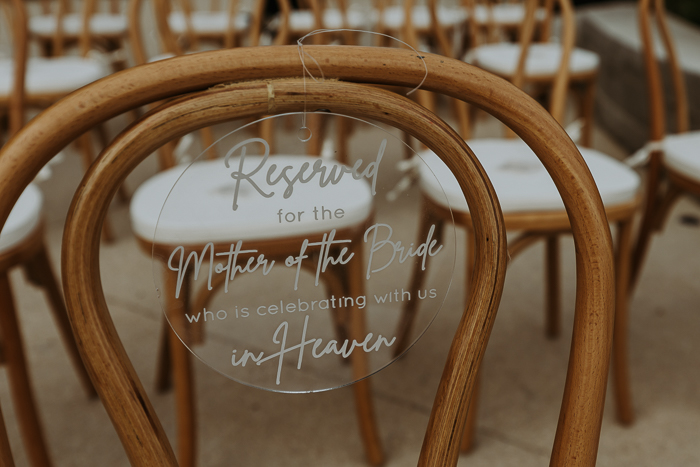 Recommended Reading: How To Honor Passed Loved Ones at Your Wedding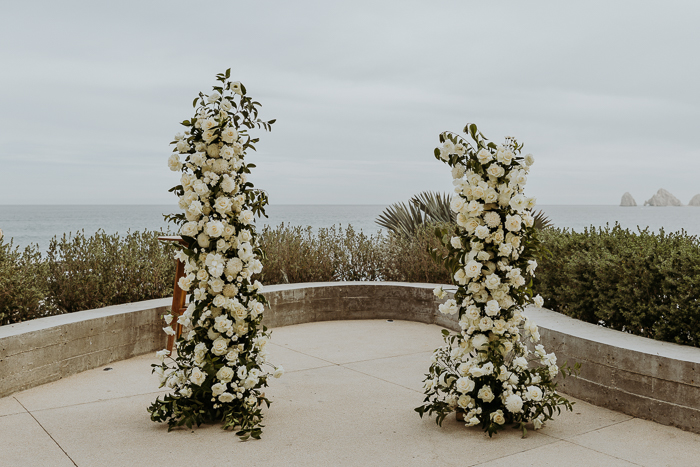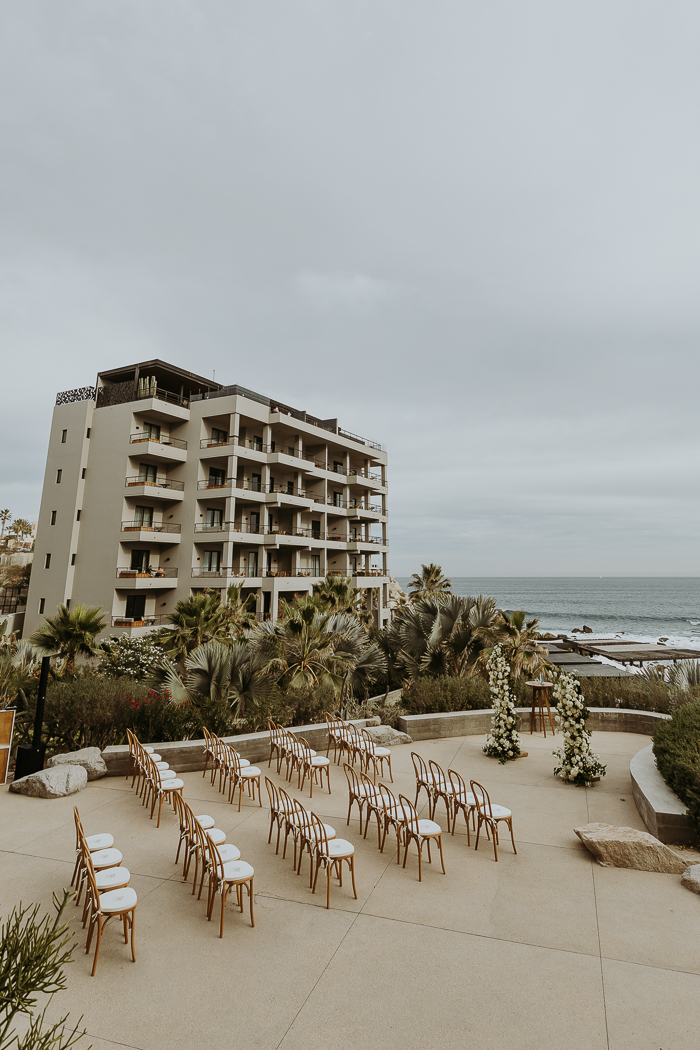 Making Their Cape Hotel Wedding Ceremony Special and Unique With Personal Touches
Our most cherished wedding moment was when we exchanged our vows. Being naturally private and reserved, we read our vows to each other privately before the ceremony, accompanied by our pastor. This allowed us to truly absorb each other's words without the pressure of an audience. During the ceremony, we shared traditional vows with our guests. We also added personal touches to our wedding, crafting custom programs that told our love story and other details about us. To honor our Caribbean heritage, we conducted a sand ceremony, symbolizing our eternal union by blending two vases of sand. Our sister-in-law read 1 Corinthians 13:4–8a, one of our favorite Bible verses, and our pastor, a close family friend, played a unique role in the ceremony.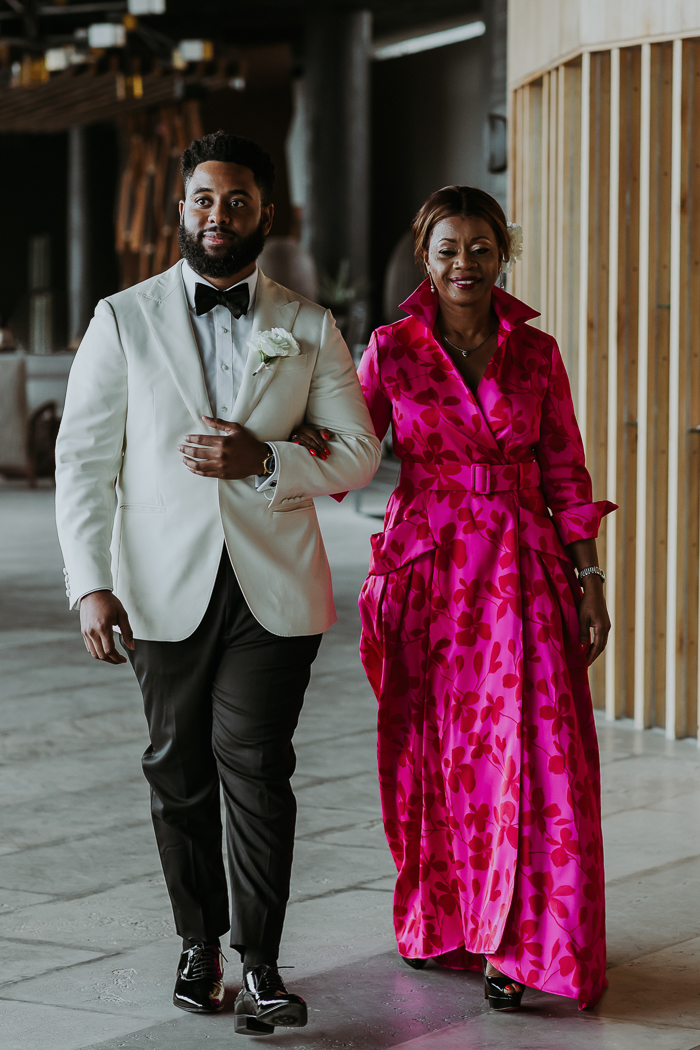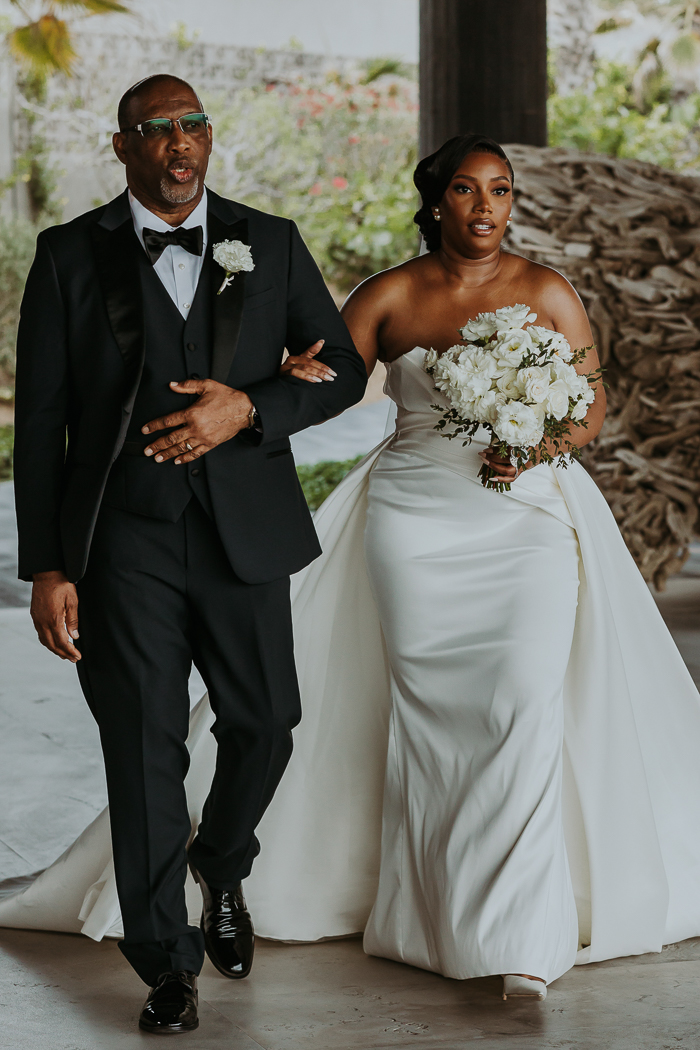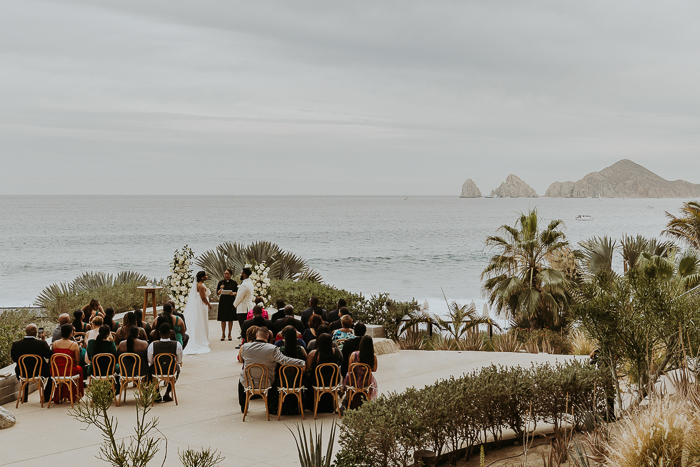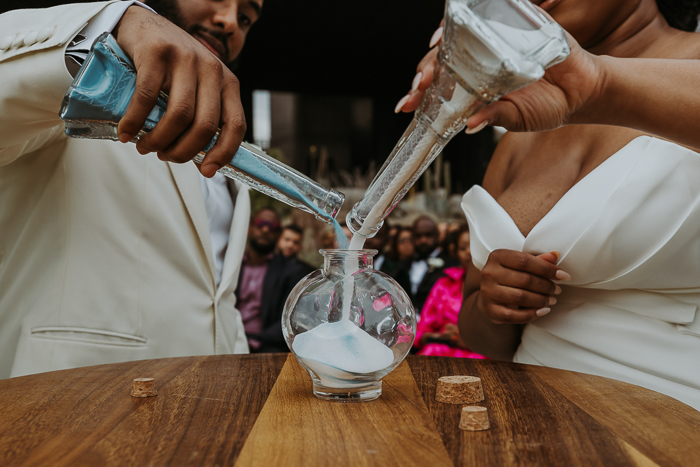 Recommended Reading: 15 Sweet and Sentimental Unity Ceremony Ideas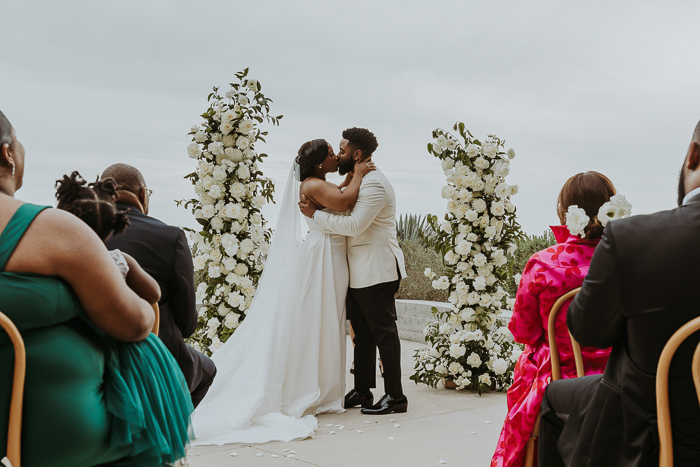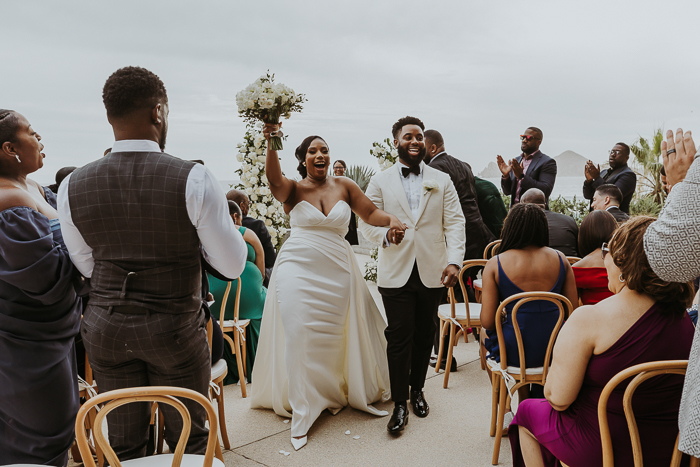 Navigating the Challenges of Planning a Destination Wedding
Planning a destination wedding was challenging, especially when choosing the right venue in Mexico. We knew we wanted to marry there but struggled to pick a city. We considered Cancun, Playa Del Carmen, Tulum, and Cabo San Lucas, and after visiting them all, we decided Cabo was the perfect fit for the atmosphere we wanted. It was a proud moment because we come from a small Caribbean island, the Cayman Islands, where many people choose to get married. We wanted something unique and had always admired Mexico. We overcame language barriers with the help of our amazing wedding planners. They made everything turn out as we'd imagined, sometimes even better. We were grateful to our guests for making the not-so-easy trip to Mexico, and seeing our friends and family come together to celebrate our special day brought us immense joy.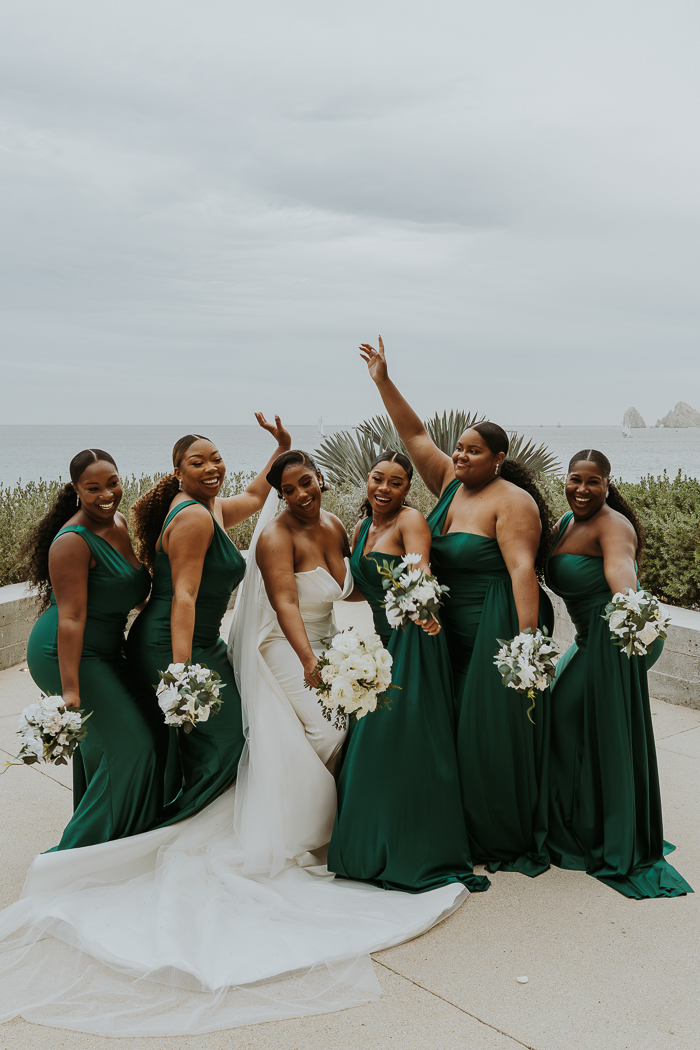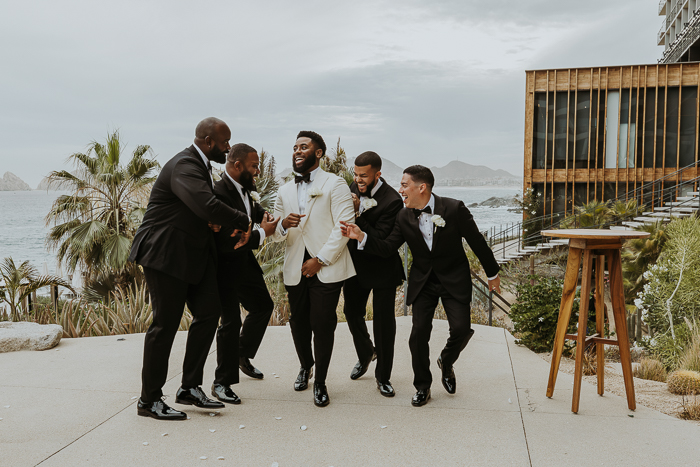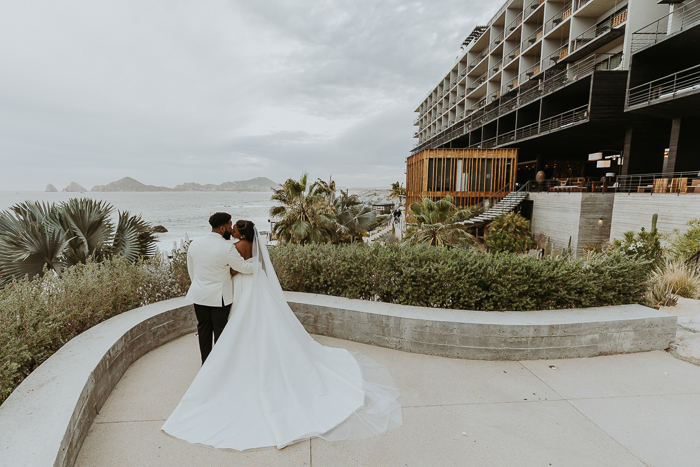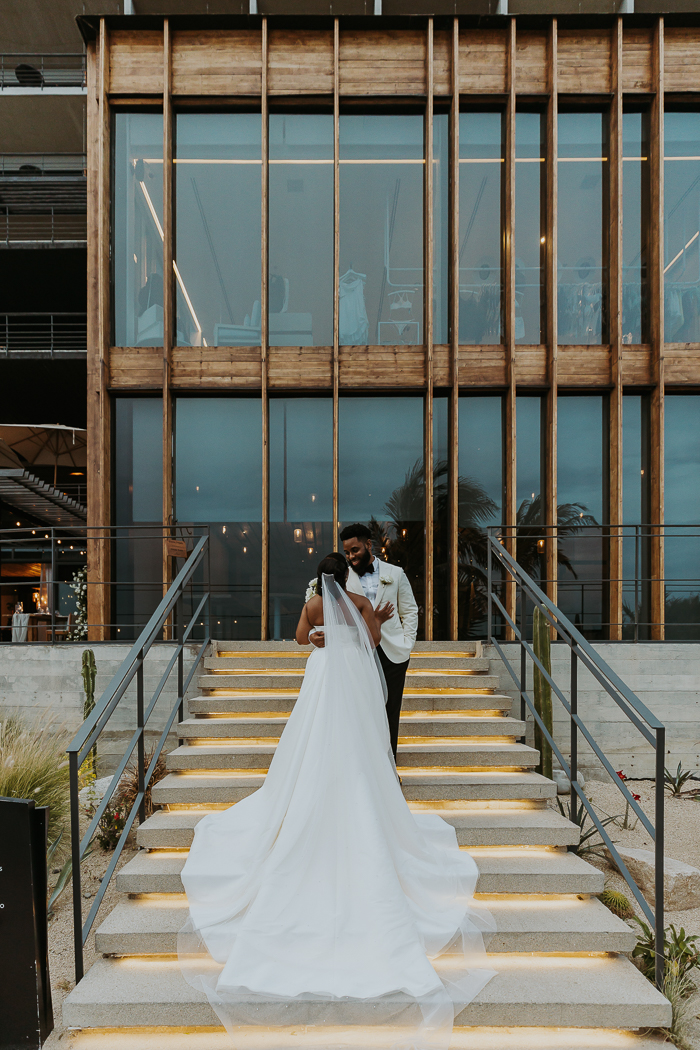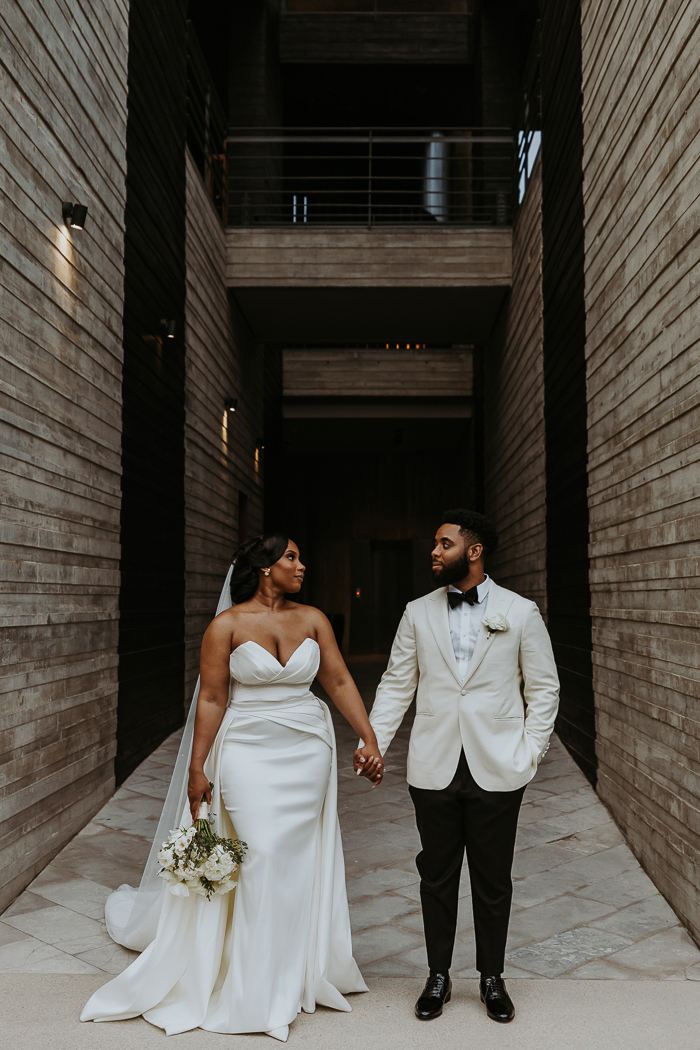 Incorporating Special Tributes and Creative Keepsakes Throughout Their Cape Hotel Wedding
Our wedding date is a special combination of our parents' anniversary dates, a tribute to the strong marriages that inspire us. We thanked each guest with handwritten thank-you notes during the reception, making them feel loved and appreciated. These notes differed from the usual post-wedding thank-yous and lifted everyone's spirits. We included unique decorations like candles with their names and a photo of Steph's mom on her bouquet to honor absent family members. We also created a photo book showcasing the day we got engaged for our guests to enjoy. To capture heartfelt messages, we had an audio guest book for guests to leave phone messages. Despite the challenges of traveling with luggage, we added personal touches like designing wedding programs and bar signs for the cocktail hour and reception.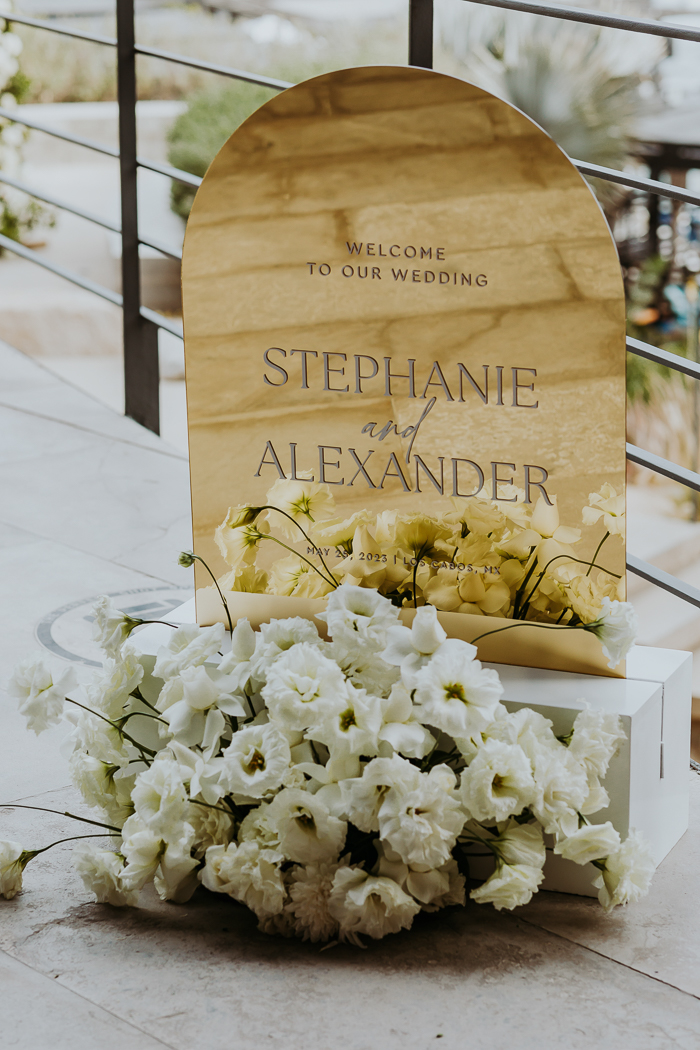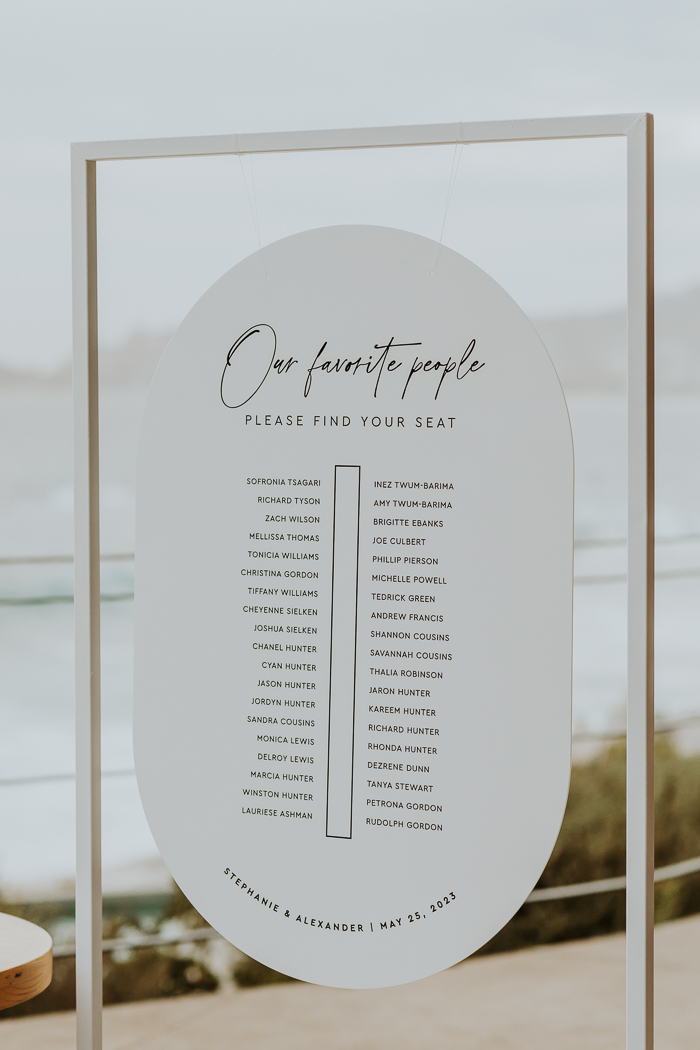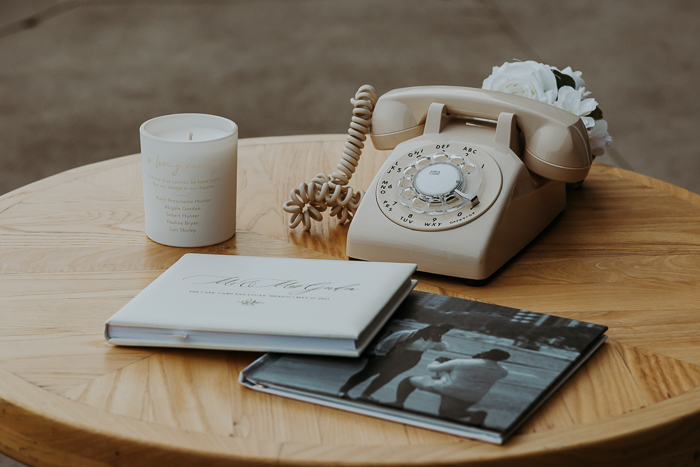 Recommended Reading: 5 Creative Wedding Guest Book Alternatives You'll Love Revisiting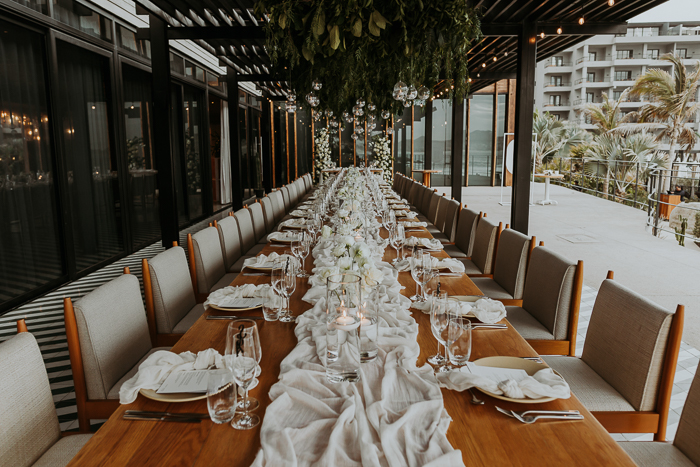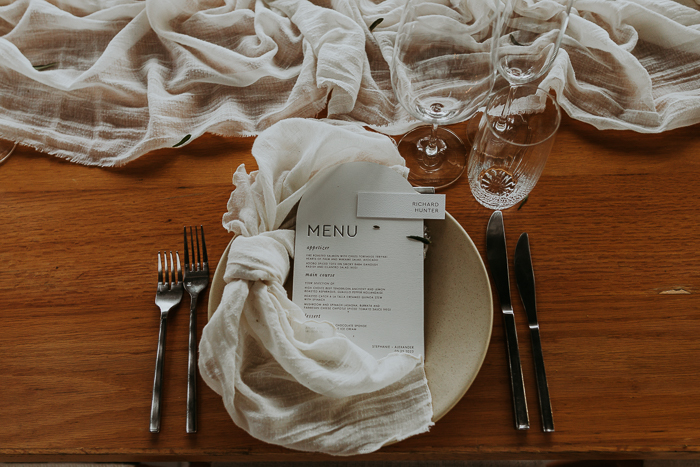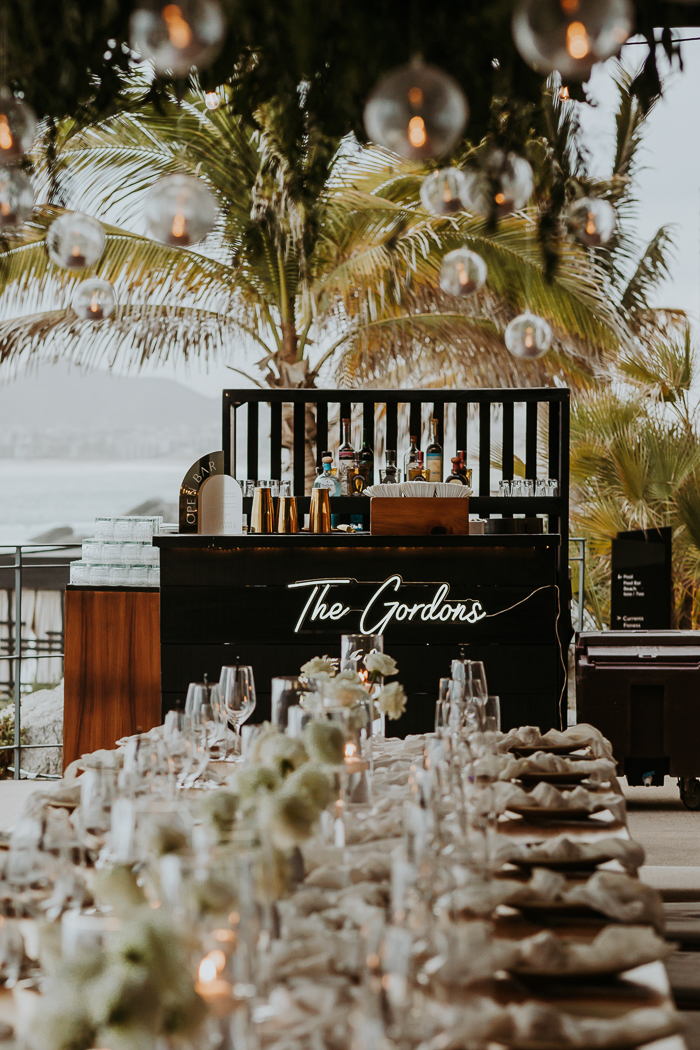 Recommended Reading: Ultimate Reception Wedding Bar Guide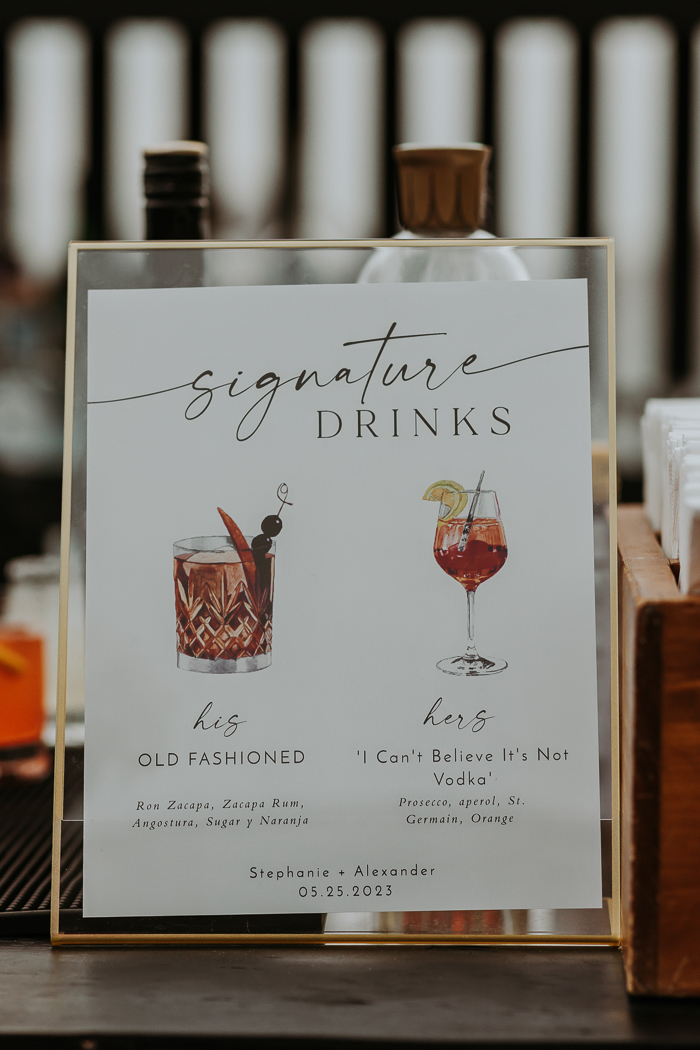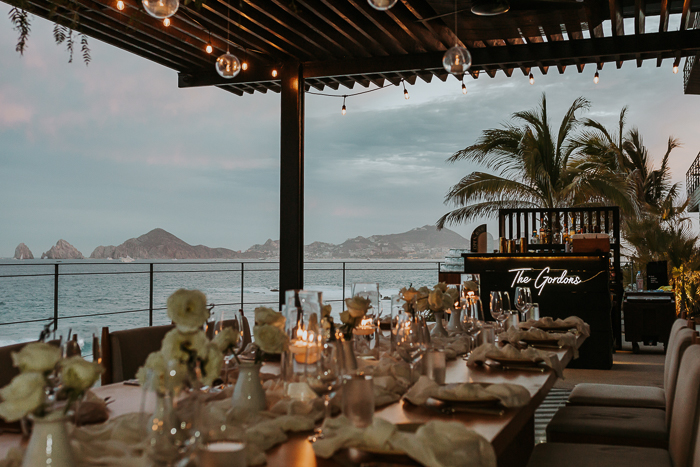 Embracing The Roller Coaster of Wedding Planning
Wedding planning comes with its ups and downs. You can plan everything perfectly, but something may still go wrong. Alex and I agreed that what truly mattered was getting married and having a great day, which we did. It's easy to get caught up in the details and others' opinions, especially with Pinterest around, but honestly, none of that truly matters in the end. Don't let the downs overshadow this once-in-a-lifetime experience. It's okay to feel all the emotions, but remember to have fun, too. On the day, everyone told us it would go by in a blur, and we wouldn't remember much. So, we made sure to have special moments just for us, like reading our private vows and taking a few minutes together before entering our reception, to make the day even more meaningful and unforgettable.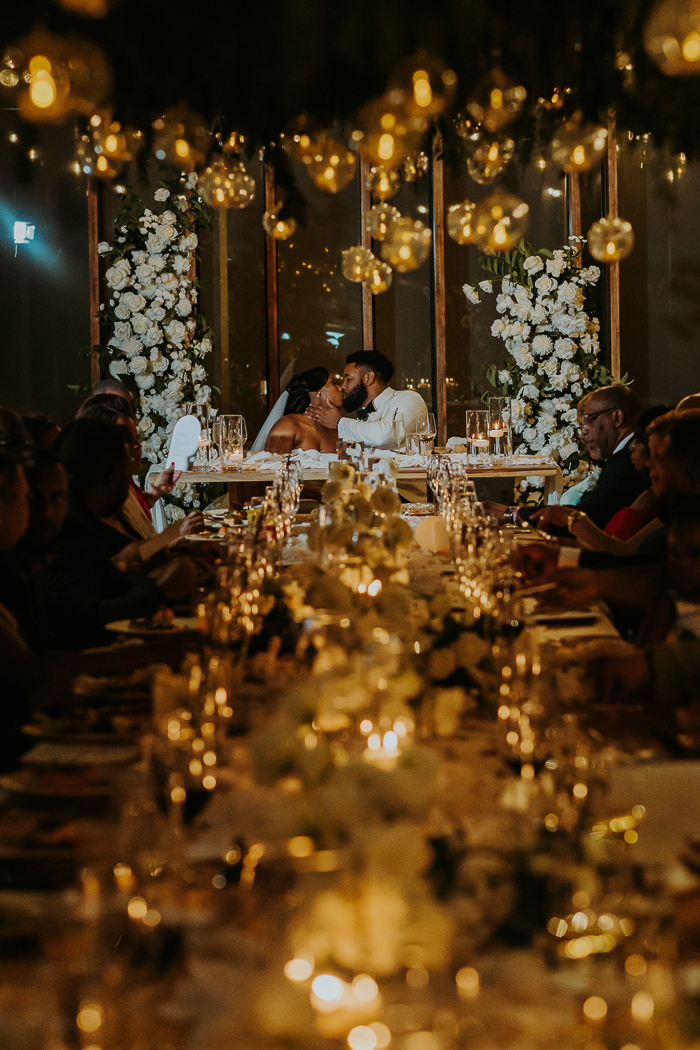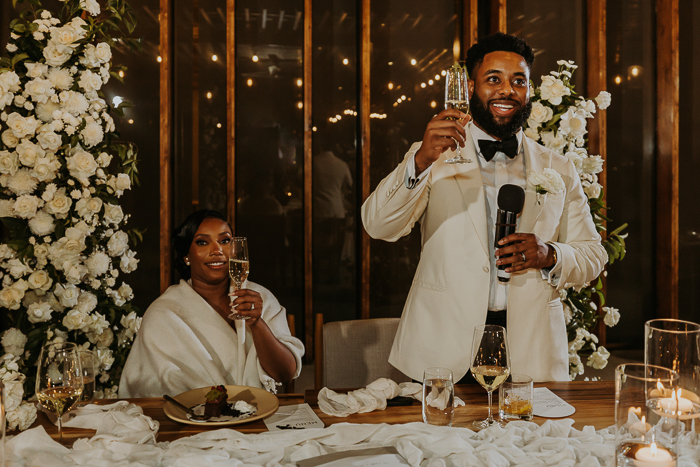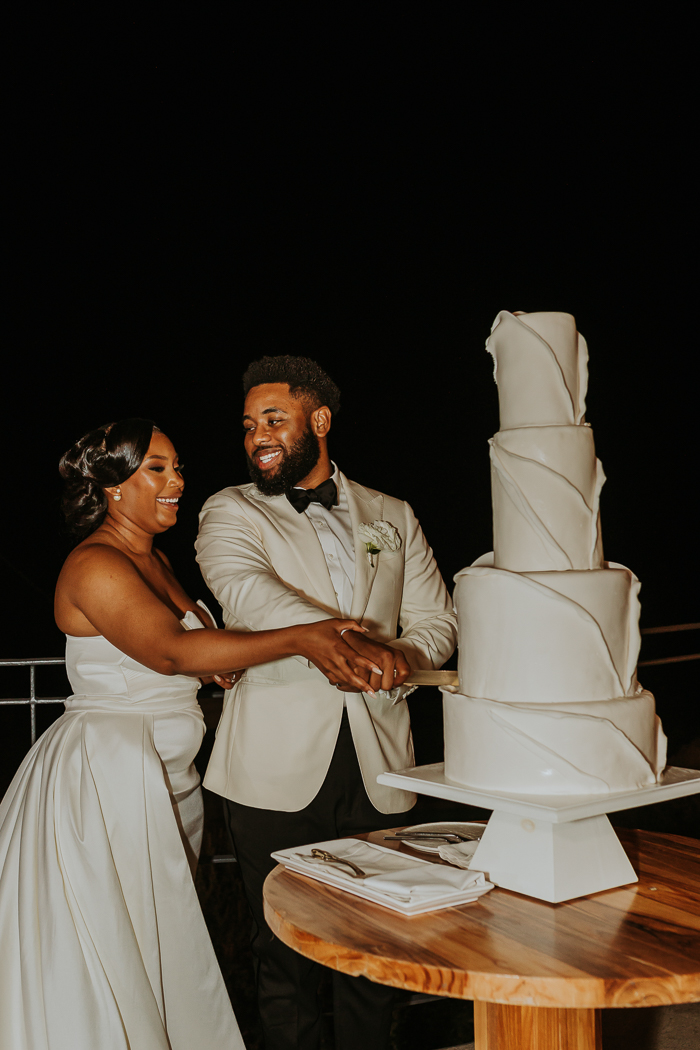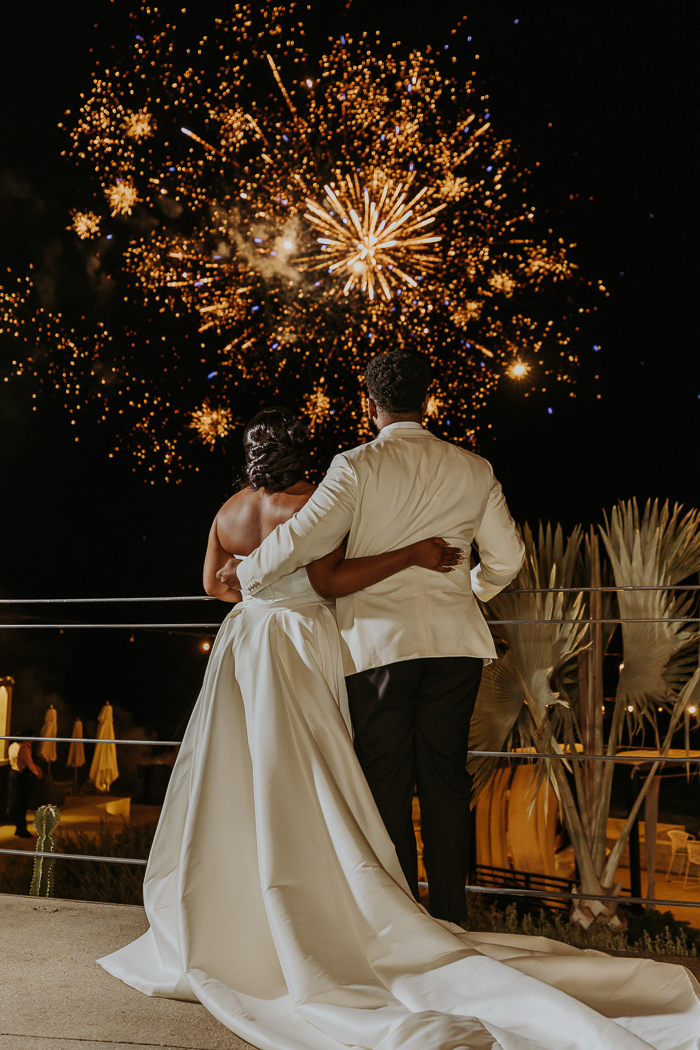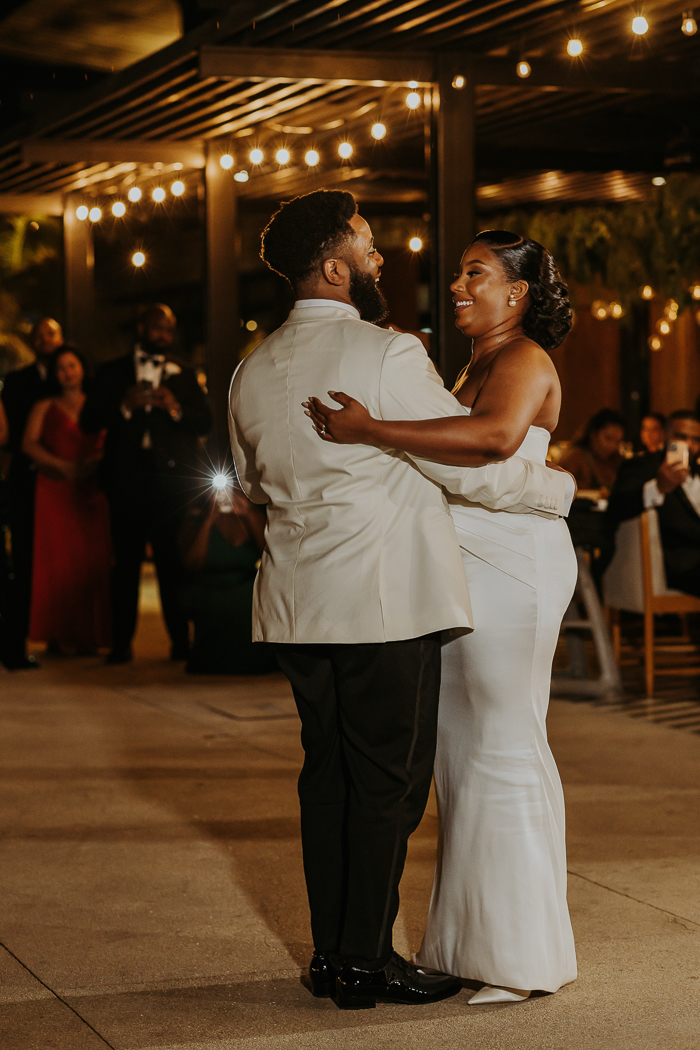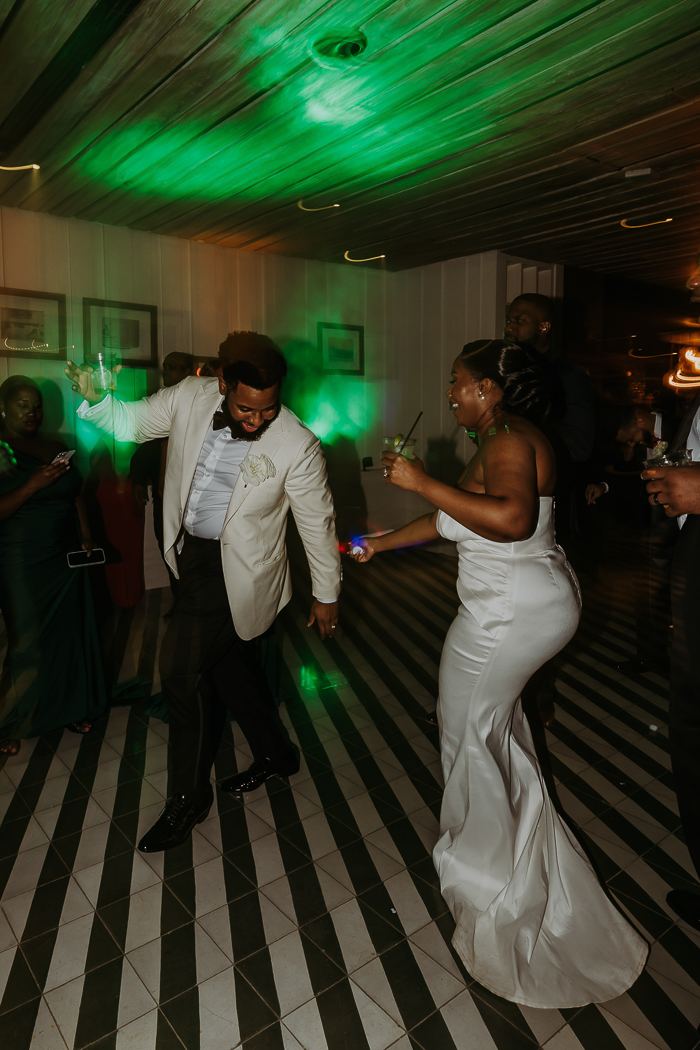 Congratulations to Stephanie and Alexander on their modern Cape Hotel wedding, with nods to their favorite people and things. A special thank you to Junebug member Daniela Ortiz for capturing all the special moments that made their celebration one for the books. To see more of her exceptional work, check out her profile in our directory of the world's best wedding photographers.
Take inspiration from this couple's story. If your wedding isn't exactly how you imagined it, don't hesitate to make adjustments. It's perfectly fine to pivot and find a new path that aligns better with your vision. Plan a day that authentically celebrates your unique love using our guide as a starting point.