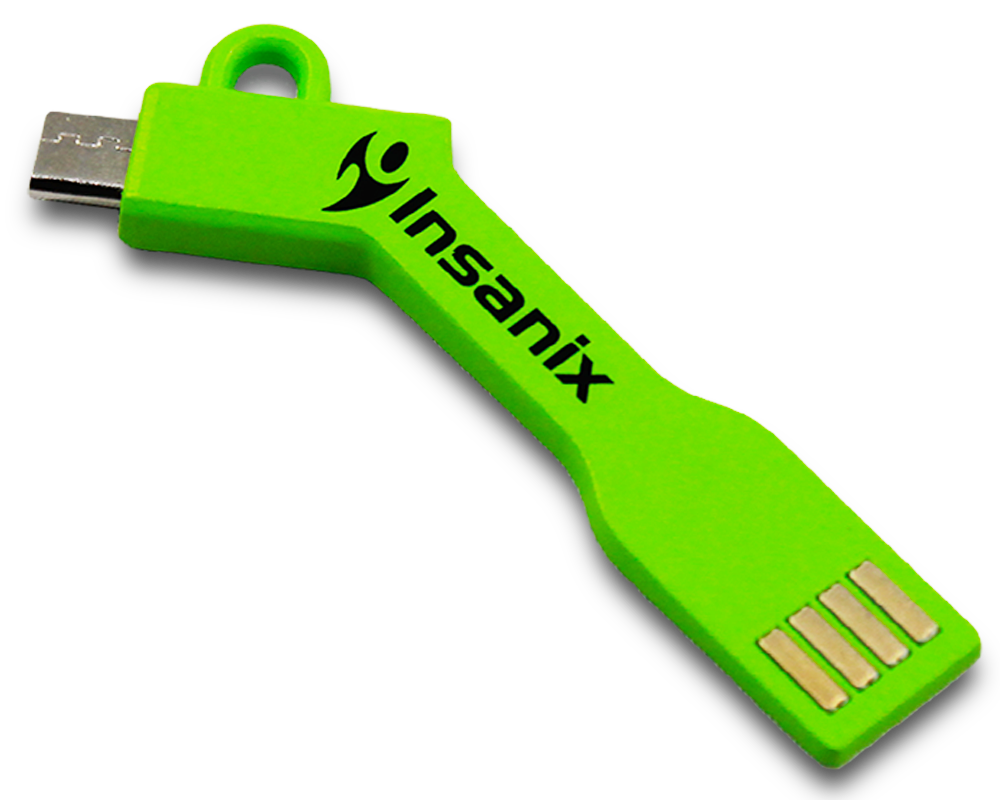 A Mobile ChargeKey, what is it?  It's a very-small micro USB cable for Charging Android and lightning cable for iPhone. Perfect for Android or other mobile devices with a micro USB port, even tablets like iPad,

The first thing you may think looking at a Mobile ChargeKey is its minimalist design, produced with just the least amount of material needed to make a USB cable so that it's the smallest it can be.

insanix chargekey – Green

Available In
---
ARKIN ChargeKey

Naturally leading it to being the smallest USB CABLE CHARGER and hence why it's the most portable so much so, that you can carry it in your pocket always, just simply add it to your KeyChain.

That's how the Mobile ChargeKey gets connected to your phone. It has strong micro USB metal tip that connects to your SmartPhone and it doesn't come out easily, allowing it to hang when its connected to your computer.
You can use it on any USB port not only to charge your phone but in addition mobile users can also use it to transfer data when connected to a computer.

We suggest that you look for Mobile Charge Keys made of plastics of high-grade materials that can withstand bending and hanging because it's really small.

ARKIN-ChargeKey – Flexible and built to bend
The Main Essentials of a Mobile ChargeKey for SmartPhones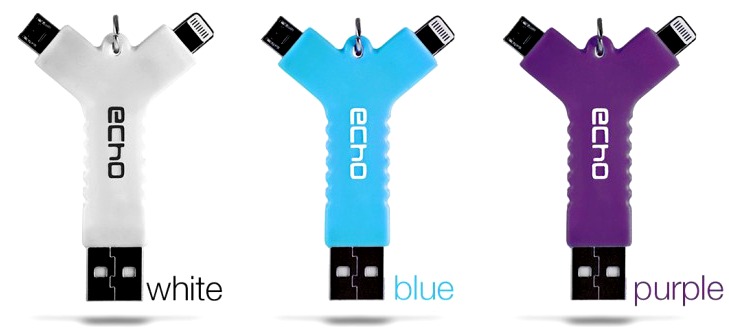 The First Dual Connector Mobile ChargeKey from eCho
---
A Mobile user would expect this as a standard, however they are not really made for charging your phone by connecting to a mains power source wall charger.
| | |
| --- | --- |
| CulCharge Compact Micro USB Charge and Data/Sync Cable | But trust that a Mobile ChargeKey will come in handy just when you need a micro USB cable the most, to quickly transfer data or charge your SmartPhone from your laptop or elsewhere.  |
https://www.youtube.com/watch?v=hD6T4zLrjbU

---
So in a nutshell, it's Small and portable, Flexible and built to bend, built to charge and sync, the perfect addition to your key chain.

And you can take it everywhere you go, works out of the box and wall charging is not recommended.

Designed to fit your life
Your ChargeKey will always be with you when you leave the house, it will never be left behind, and you won't even notice you're carrying it.

mophie-USB-Memory-Flex Travel Kit, Charge Any Device
| | |
| --- | --- |
| Ready to be Flexible | All the Colours |
---
Mobile ChargeKey – for your SmartPhone

---
Belkin MIXIT Lightning to USB Keychain (Matte Metallic Gray)

All colours

Flexible for hard to reach places
 where ever you have the Mobile ChargeKey with you, charging your devices can be easy, why?  USB ports are all over the place, they are everywhere even gyms have them on tap now.

Basically you can find them on computers, printers, TVs, stereos, in the car, heck even in the air on airplanes.

Whether you use Windows Phone, Android, Apple (and iPads) or Blackberry and Most Micro USB Devices, you will be covered.
---
Mobile ChargKey

 – Buying a Mobile ChargKey?  Here's The Tips

With a ChargKey you can connect to a PC, TV, games console or any other Hosting device that can supply +5V for charging.

 To accommodate different devices and situations, it's flexibility by design allows you to twist the cable, even allowing you to dangle a connected device off a table or desk, if you really wanted to.

| | |
| --- | --- |
| key-shaped smartphone cable that fits onto your keychain | Stellar Rubber Elastomer from "Dupont" to make it Flexible and Durable |
Nomad Chargecard

….just slips neatly into your wallet.

The bottom line is, if you own a SmartPhone (or any other mobile device) you  need the Chargekey that works with any USB port, when you need to charge your phone on the go, those lifesaver moments.  Just by default and as a given phoneismobile.com recommends a Chargekey for SmartPhone Users who are always on the go and for every SmartPhone User alike.

Chargecard version is an option, that's If you'd rather not go for the Chargekey. It's the same as a USB charging cable but it's credit card shaped that just slips neatly into your wallet.
You know how it goes. You forget to charge you phone and suddenly you're stuck, needing to make a call, with no bars left – and no charging cable in sight.
Well these little devices promise to end all that.

The Nomad Chargecard is the same size as a bank card.

Imagine that you are suddenly stuck, why?  You forget to charge you phone, and you need to make an important call, but phone battery is gone with no bars left and with no charging cable in sight, who you gonna call, not ghostbusters, well these little bank card sized Chargecards can save the day.
Mobile ChargKey

types and recommendations


Charge Card by Studio-Y

Chargecards fit perfectly in the wallet with your other plastic cards you're familiar with, however the real secret it holds is that it's actually a phone charging cable in disguise.

The Chargecard is a variation of the idea of a Chargekey or it could be the other way round.

But either way It means if you have access to USB, you'll be able to charge your SmartPhone.

You will no longer need to carry a long cable around, it's in your pocket tucked away for emergencies.
There's a price to pay for SmartPhones becoming smarter and faster, the price is the batteries don't seem to last longer, they seem to last even less than expected, in other words battery drains have increased significantly.  one thing is vital when traveling or moving away from home, for Mobile Phone Users of today, and that is its USB Charging cable, at the end of the day it doesn't matter how Smart your device is, as it is nothing without its charger.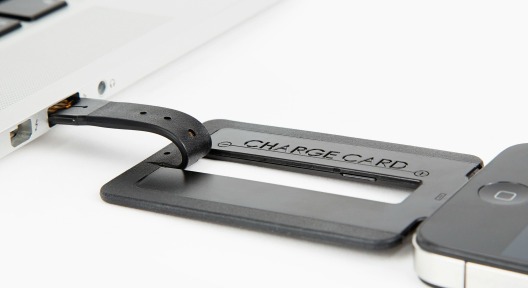 …so small in size that you can attach it to your keychain or maybe carry it in the wallet.
---
| | |
| --- | --- |
| | One can see the importance of carrying Charging cable such as a ChargeKey.  At least this way one can never forget to carry charging cable, why?  Because in addition as mentioned before it's so small in size that you can attach it to your keychain or maybe carry it in the wallet.  And don't forget its not just for charging batteries but also for data transfer or syncing between devices. |
Key for iPhone, Android, BlackBerry & Windows

 The size of a housekey, it's just about the ultimate minimalist and portable charging cable you could ever use. 

So use this compact yet fully capable Lightning or Micro cable for charging your phone on the go from any USB port wherever you are in the world .

Charge and Sync All of Your Devices

---
Ultra rugged construction

Kero Nomad Lightning USB Cable With Secure Key Ring Cap, Charge & Sync

Phoneismobile.com believes every Mobile Phone User should have a ChargeKey, as they work with any mobile device.

Whether you use Windows Phone, Android, Apple, or Blackberry, you will be covered.

The version for the iPhone is certified by Apple it's fully compatible and safe to use with all Apple devices.