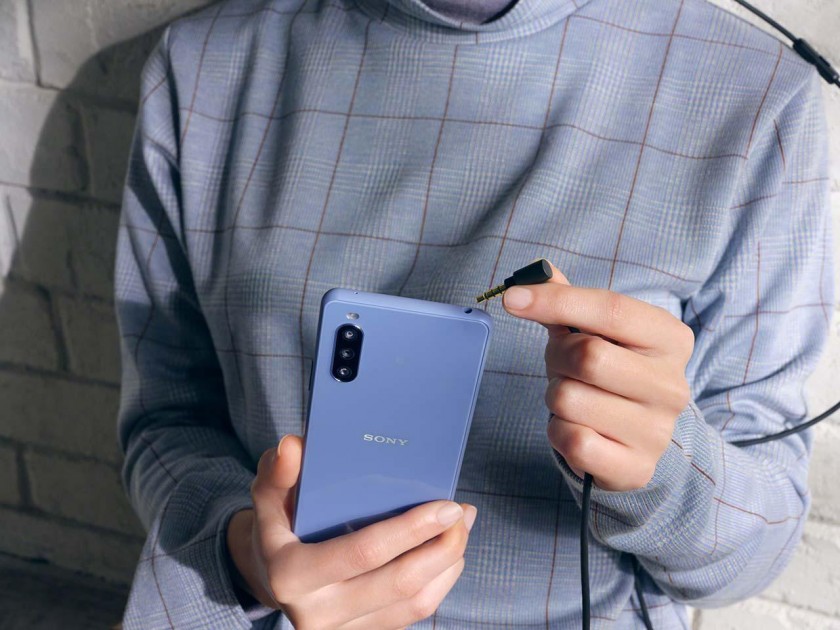 The Sony Xperia 10 III is the company's first mid-range smartphone to offer 5G connectivity.
It has been enhanced for low light scene and moving object with a new triple lens camera (16mm, 27mm and 54mm) and has additional features such as the new animal detection in Auto mode.
The Xperia 10 III will be available in Black, Blue and White, shipping with Android 11 from early Summer 2021.
Sony Press Release
Introducing Xperia 10 III: Bringing the benefits of 5G to the Mass Market in a Sleek, Powerful and water resistant phone
14th April 2021, Sony is pleased to introduce the latest addition to its popular Xperia 10 series with the launch of Xperia 10 III, the first model in the Xperia 10 series to offer 5G connectivity. Xperia 10 III is packed full of entertainment features, offers an extended battery life and is presented in a stylish, compact, lightweight, and water resistant body. Xperia 10 III is an exceptional mid-range handset that has been designed with power, speed and portability in mind.
First Xperia 10 series model to feature 5G connectivity with Qualcomm® Snapdragon™ 690 5G Mobile Platform
25% more capacity than Xperia 10 II with a 4500mAh battery – remaining healthy for up to three years of use
Improved sleek and lightweight design featuring IP65/IP68 water and dust resistance and Corning® Gorilla® Glass 6
Enhanced for low light scene and moving object with the new triple lens camera, plus additional features such as the new animal detection in Auto mode
21:9 Wide 6" notch-less FHD+ OLED display that includes HDR support for cinematic enjoyment
DSEE Ultimate for near High-Resolution Audio quality and optimal listening pleasure – whether wired through the 3.5mm jack or wireless
Available in three stylish colours to suit all tastes
Outstanding performance with the power of 5G
Users can enjoy more of what they want on the go with Xperia 10 III. It combines a powerful, long-life battery with the speed of 5G for fast streaming and downloads – whether listening to near High-Resolution audio through headphones, thanks to DSSE Ultimate compatibility, or watching favourite movies on the crystal clear FHD+ OLED display. The Qualcomm® Snapdragon™ 690 5G Mobile Platform can easily handle apps, movies, games and more, with high performance and power efficiency for superior connectivity. Thanks to Smart connectivity, the Xperia 10 III takes Xperia's deep learning technology that utilises Sony's Neural Network Libraries and analyses Wi-Fi signals to predict near-future connectivity issues.
The Xperia 10 III assesses the quality of available Wi-Fi before connecting so there is no more grabbing Wi-Fi that doesn't work. If it predicts any compromise in Wi-Fi connection quality, it uses mobile data instead.
All-day power and made to last
With its long-lasting 4500mAh battery, Xperia 10 III has 25% more capacity than its predecessor Xperia 10 II and allows users to enjoy the best of the features the handset has to offer. Thanks to Xperia Adaptive Charging, users are offered ultimate battery life reliability, even after three years of use. Xperia Adaptive Charging works by monitoring the battery whilst charging to ensure that it isn't overworked – keeping the battery healthy for longer.
Engineered to be robust, designed for practicality
Even though Xperia 10 III has a large 6″ display, the phone measures only 68mm in width – a perfect fit for the hand. Weighing just 169g, it is lightweight and easy to handle – whether taking a photo or playing a game.
Xperia 10 III is water resistant with an IP65/68 rating and is incredibly durable thanks to its Corning® Gorilla® Glass 6 shell . It's robust engineering means that the handset can withstand day-to-day damage. Corning® Gorilla® Glass 6 is also more scratch resistant– making Xperia 10 III a reliable companion for those who have their phone with them at all times.
A vision to behold
Drawing on Sony's world-renowned TV expertise, Xperia 10 III delivers an immersive cinematic experience thanks to its 21:9 Wide 6" notch-less OLED display that includes HDR support. Featuring TRILUMINOS™ display for mobile technology, found in BRAVIA® TVs, and video image optimisation, the OLED display delivers incredibly rich, natural colours and deeper blacks. It is also capable of showing HDR content, which has a wider dynamic range of luminance than standard video formats, enhancing both contrast and colour. Bright parts of the image get brighter and the colour palette expands to show more bright blues, greens, reds, and everything in-between.
Triple lens camera enhanced for low light scene and moving object
Featuring ultra-wide, wide, and telephoto options, the triple lens camera lets users capture a huge variety of shots – from expansive landscapes to expressive portraits. The ultra-wide 16mm lens allows phone shooters to capture expansive imagery, expressing dramatic landscapes and full-scale scenery. The versatile 27mm lens is a wide lens that is ideal for a variety of shooting situations and low light scenes, whilst the 54mm telephoto lens allows users to get closer to their subjects – making it ideal for portraits.
Auto mode on Xperia 10 III now features animal detectioniii, which can identify whether a subject is a dog or cat. It then adjusts the shutter speed and ISO Sensitivity accordingly to capture photos with less blur.
The improved F1.8 lens and enhanced image processing algorithm allows users to take photos in low light with less noise, both in Night mode and Auto mode. When shooting in bright sunshine or in backlit conditions, Auto HDR helps prevent blackout in the shaded areas of the shot or whiteout in the bright parts, ensuring faces and expressions are more visible.
When shooting in Burst mode, Xperia 10 III shoots at 10fps, ensuring subjects in motion are never missed and furthermore auto exposure works on every frame.
Finally, Xperia 10 III features 4K video recording, allowing users to shoot video with four times the resolution of full HD and SteadyShot™ ensures smooth, shake-free videos even when recording on the move.
Exceptional audio quality, wireless or wired
Xperia 10 III offers exceptional sound, whether enjoying wireless listening with High-Resolution Audio Wireless or using the 3.5mm audio jack to connect to wired headphones. Along with native High-Resolution Audio playback, Xperia 10 III also features DSEE Ultimate , which uses AI to upscale tracks to near High-Resolution Audio quality by automatically improving audio frequency and bit rate in real-time.
Made for multi-tasking
On the Xperia 10 III, Sony's unique multi-window UI on the 21:9 wide display has been enhanced with a new Pop-up window feature. Perfect for multi-tasking, it lets users overlay one window with another. So they can quickly handle a task such as replying to a message, then get right back to the game they are playing or the website they are browsing.
Easy content transfer from your old phone
The Xperia Transfer 2 app lets users transfer the content that matters from old Android or iOS smartphones to the new Xperia 10 III. From photos, videos and music to the contacts, calendar, call history, and messages (SMS/MMS) – they can be transferred quickly, safely and easily.
Accessories
Xperia 10 III is available with a new and improved antibacterial Style Cover with Stand. Designed with durability in mind, the cover features a built-in stand to support horizontal placement and provide a comfortable viewing experience. It is coated with anti-bacterial material that has a protection rate of up to 99.9% – preventing cell growth of specific bacteria to maintain cleanliness.
Availability
Xperia 10 III will be available in Black, Blue and White, and shipping with AndroidTM 11 from early Summer 2021.
Image Gallery
Click on a thumbnail to see the full version.
Your Comments