Coming off a two-year launch cycle, Microsoft has unveiled its latest premium flagship laptop, the Microsoft Surface Laptop Studio 2. Priced at $1,999, the laptop is a relatively lightweight powerhouse, packing a 13th Gen Core i7 processor with Intel integrated graphics, with a snazzy new Surface Pen boasting up to 18 hours of battery life. And like most premium Windows PCs, it has its sights firmly set on the current king of the castle –– the MacBook Pro. And Microsoft might be onto something if its video rendering demo can hold up under real world testing.
If the Studio 2 can defeat our benchmark tests, it could be the best laptop of the hour. However, with Intel's 14th Gen and Apple's M3 chips on the near horizon, its potential reign at the top might be short lived. But that's a future Microsoft problem. In the present, I had the opportunity to go hands on with the Microsoft Surface Laptop Studio 2 and here are my first impressions.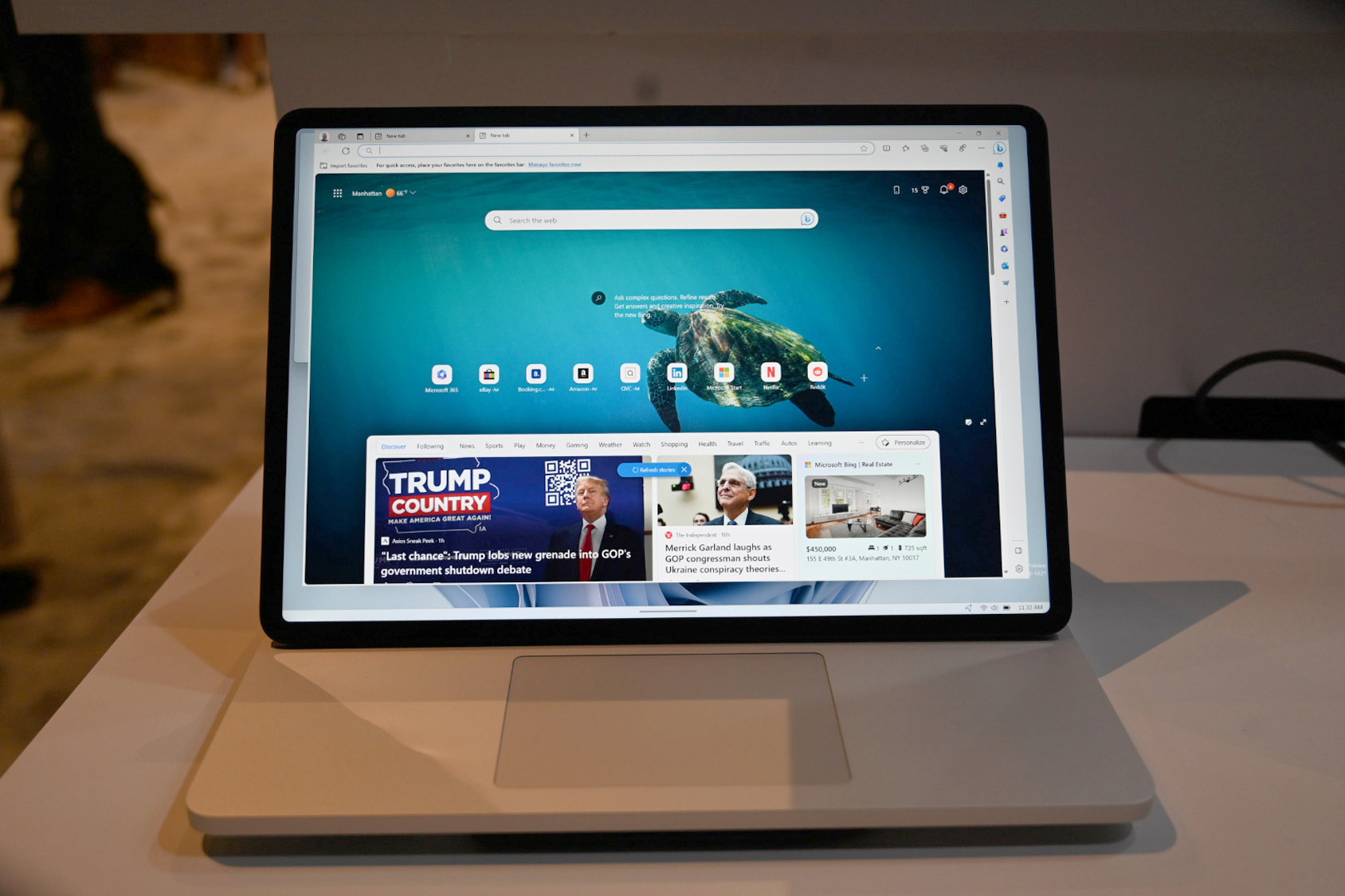 Microsoft Surface Laptop Studio 2 pricing and availability
The Microsoft Surface Laptop Studio 2 will be available on October 3 with a hefty starting price of $1,999, putting it squarely in MacBook Pro 14 M2 Pro territory. The base model of the Studio 2 features an Intel Core i7-13700H processor with 16GB of RAM, a 512GB SSD, Intel Iris Xe Graphics and a 14.4-inch, 2600 x 1400, 3:2 aspect ratio touchscreen. 
Want discrete graphics? The model with an Nvidia GeForce RTX 4050 GPU with 6GB of VRAM costs $2,399 while the 4060 GPU with 8GB of VRAM, 64GB of RAM and a 1TB SSD will set you back $3,299. And if you're a content creator, you're going to want the iteration with the Nvidia RTX Ada 2000 GPU which also features 32GB of RAM and a 1TB SSD which costs $3,599. It's a pricey venture no matter how you cut it.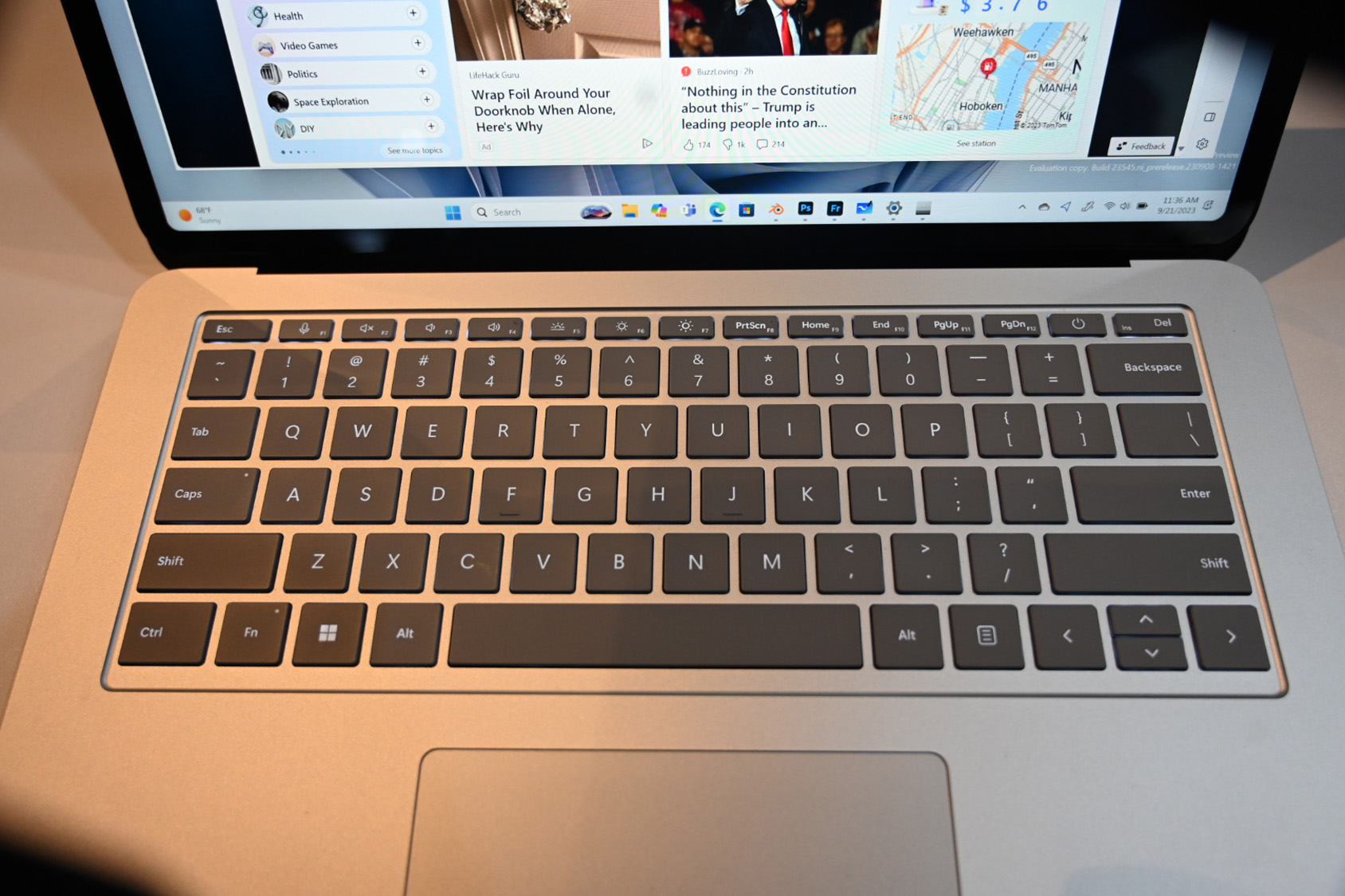 To be fair, the base model of the MacBook 14 M2 Pro starts at $1,999. But for the price, you're getting that powerful Apple silicon out the box, albeit in a less powerful version (10-core CPU, 16-core GPU, 16-core Neural Engine) with 16GB of RAM and a 512GB SSD. If I try to go apples to apples (as much as I can anyway) and configure the MacBook 14 with the 12-core CPU, 19-core GPU and 16-core Neural Engine with 32GB of RAM and a 1TB SSD, the price jumps to $2,899, which is still less expensive than most of the Studio 2's configurations. 
Of course, this all changes if you go with Apple's M2 Max chip, but again, I'm trying to keep things as similar as humanly possible.
Microsoft Surface Laptop Studio 2 design
When it first launched, the Surface Laptop's design was at best polarizing, at worst downright ugly. The Studio 2 has definitely grown out of its ugly duckling phase into a beautiful, stately laptop that I would not mind gracing my desk or accompanying me on travel. The laptop is made from silver anodized aluminum. The lid features a shiny Windows logo in the center for a nice visual pop. The deep line bisecting the lid is where Microsoft's  woven hinge lies, allowing the display to swivel between Laptop and Studio modes.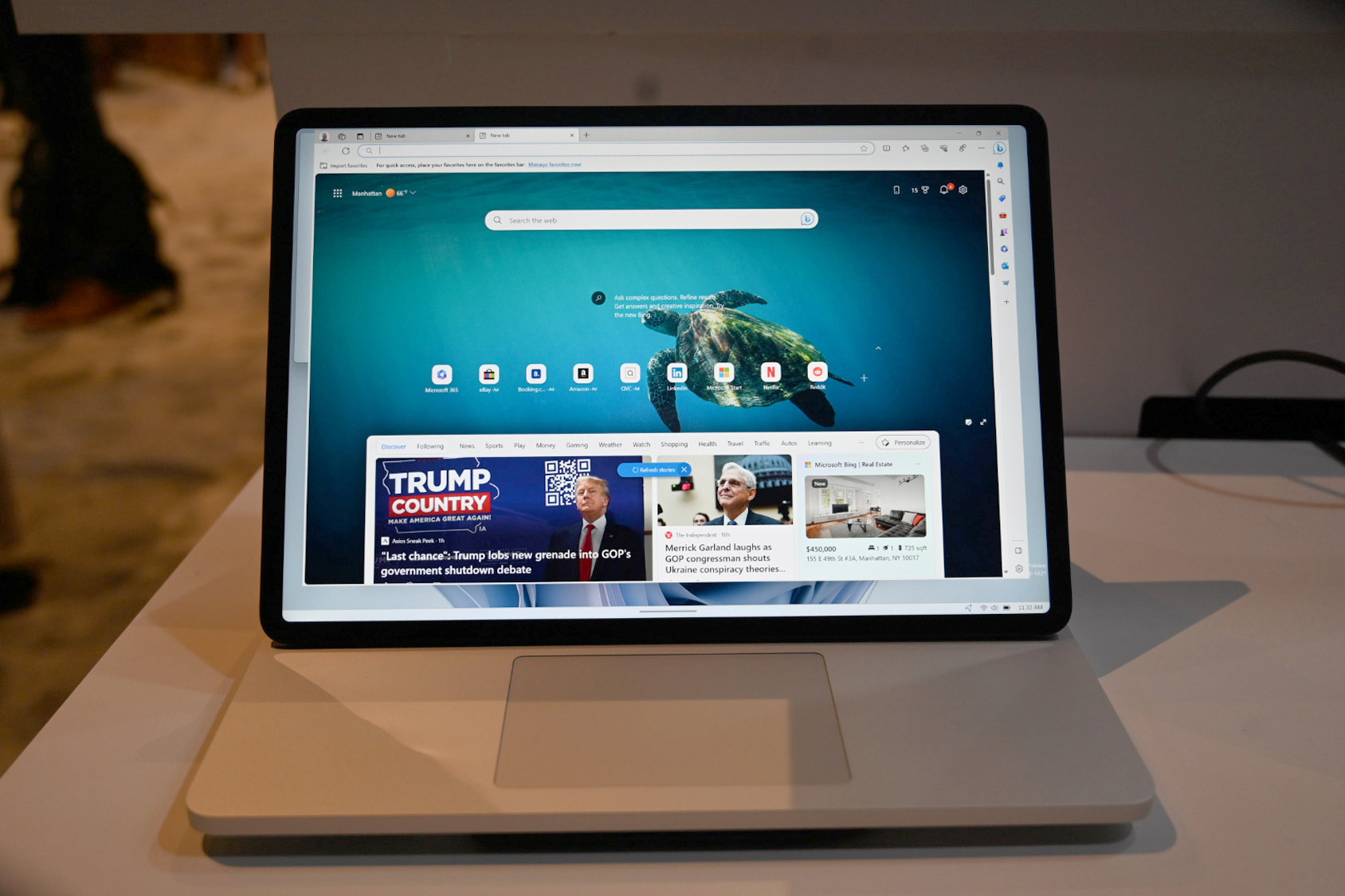 Flip the lid open and you'll see more silver aluminum with a dark gray, full-size keyboard occupying the dock along with the new precision haptic touchpad. When the hinge is engaged, the display can be pulled forward, hiding the keyboard, giving you better access to the display. I recommend using the magnetic Surface Pen cleverly tucked away underneath the front lip of the laptop instead of mussing the screen with unsightly fingerprints, but that's just me. 
Display-wise, the bezel looks to be thinner than last year's but it's nowhere near as svelte as the Dell XPS 13 and its InfinityEdge borders which are barely there. 
The version of the 12.7 x 9.1 x 0.9-inch Studio 2 with integrated graphics weighs 4.2 pounds while models with discrete graphics are slightly heavier 4.4 pounds. Neither version will break your back, but both are heavier than the 12.3 x 8.7 x 0.6-inch MacBook Pro 14 which weighs 3.5 pounds. 
Microsoft Surface Laptop Studio 2 ports
The Studio 2 has a light smattering of ports, but still more than your average thin-and-light these days. You'll find a pair Thunderbolt 4 ports along with a USB Type-A 3.1 port, microSDXC card reader, a headset jack and a proprietary Surface Connect port. 
Microsoft Surface Laptop Studio 2 display
I'm eager to get the Surface Laptop Studio 2 in for testing to see actual numbers for the screen, because it looks pretty darned good to my naked eye. Like its predecessor, the Studio 2 has a 14.4-inch, 2600 x 1400 PixelSense display with a 3:2 aspect ratio and 120Hz refresh rate. It's a taller display than the 16:10 offerings you'll find on most PCs, but Microsoft continues to bet that you'll appreciate getting more info on your screen.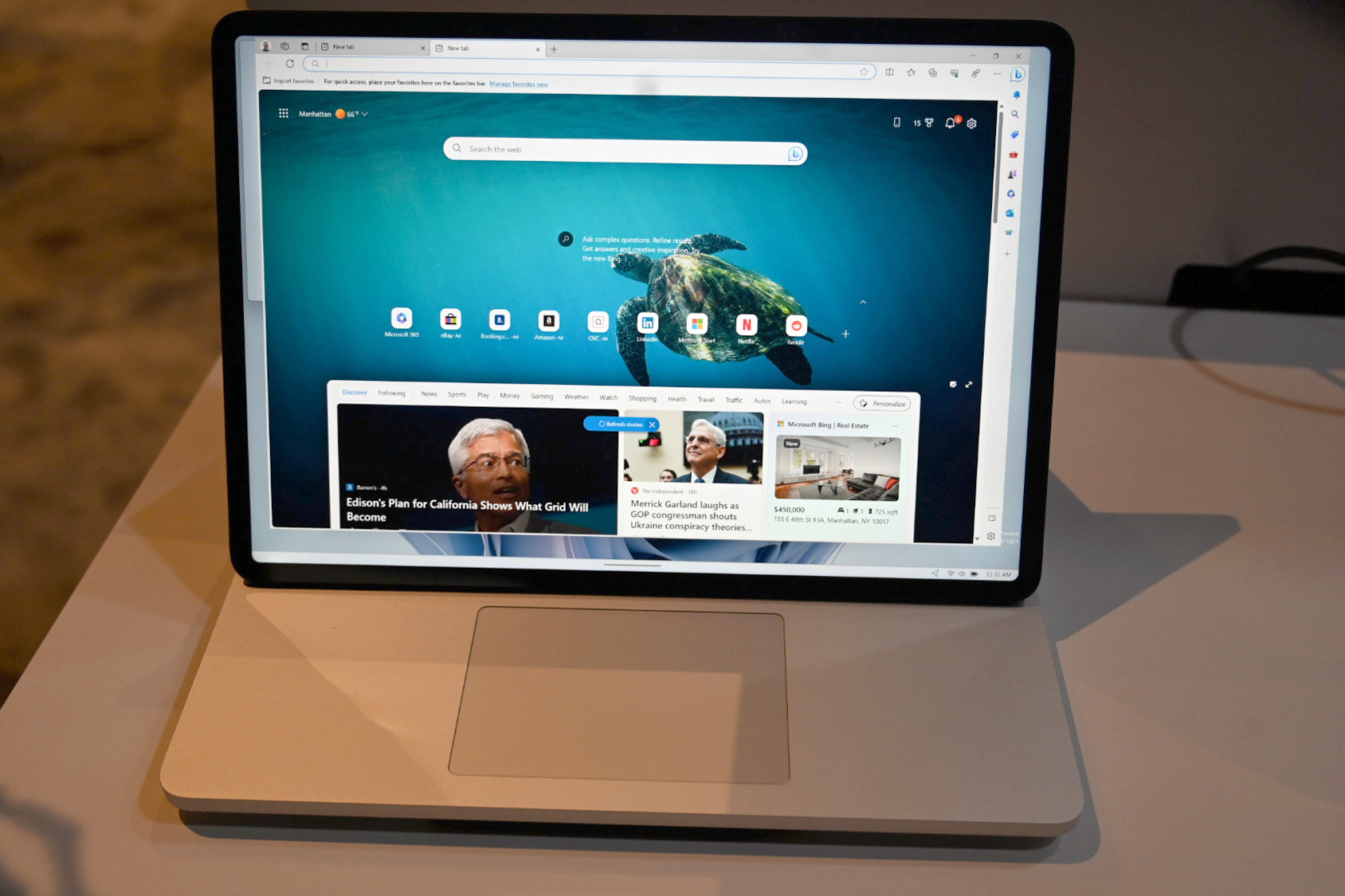 However, I'm really hoping that the Studio 2 performs better than its predecessor which only reproduced 76% of the DCI-P3 color gamut, compared to 82.9% on the MacBook Pro 14. The OG Studio did somewhat better on our brightness test, averaging 487 nits, handing the MacBook Pro its first defeat at 453 nits. 
Microsoft Surface Laptop Studio 2 performance
So we saw a little taste of what Microsoft has in store for the competition during the keynote. In a video rendering demo, I watched with the rest of the audience as both the Studio 2 and a MacBook Pro Max M2 laptop do their thing. The Studio 2 finished in 37 seconds compared to the 1:12 of the MacBook.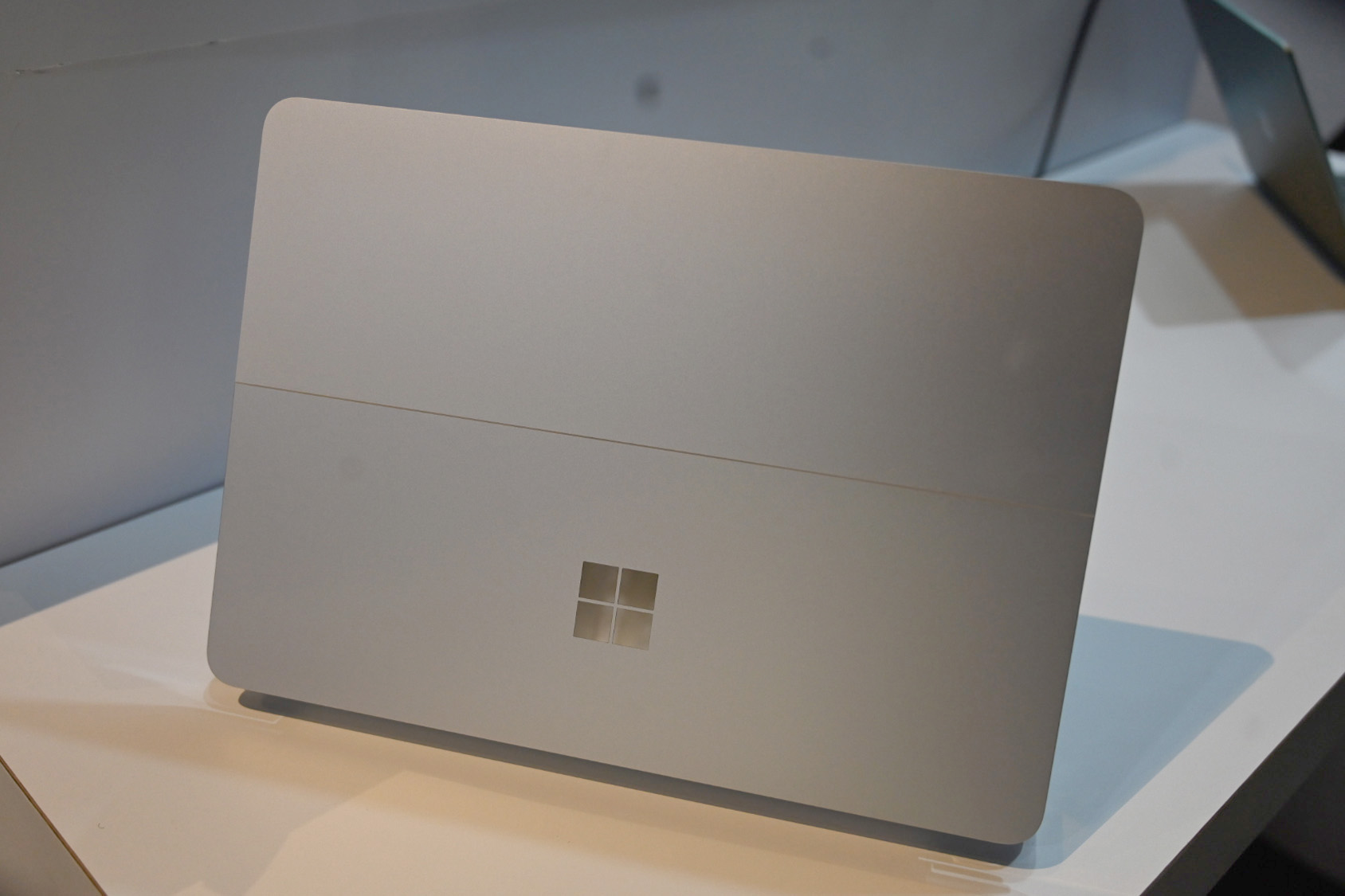 The Studio 2 comes to us with a 13th Gen Intel Core i7-13700H processor which is definitely powerful. However, the Studio 2 is already obsolete as Intel recently unveiled its Meteor Lake chips. That means we're only a few months out before the first laptops with the new chips launch. It's a bummer, especially considering the Studio 2's pricing. Something else that's coming in the near future? Apple and its M3 chips. So the Studio 2 has a few months to potentially sit at the top of the heap at best. 
But the video rendering test is promising, so I'll withhold my final judgments until the system is benchmark. It's just a shame that Microsoft couldn't wait for 14th Gen as Intel is making a big AI play that seems to go hand-in-hand with what Microsoft is trying to do with Copilot. It feels like Microsoft left the starting block early only to be left behind. But again, we shall see sooner than later.
Microsoft Surface Laptop Studio 2 graphics
I was pleasantly surprised to watch a Microsoft rep playing Cyberpunk 2077. Granted, he wasn't playing any missions and the area he was in didn't have any real activity, so there's still some major unknowns. But it was reassuring to see such a taxing game on what's theoretically not a gaming system.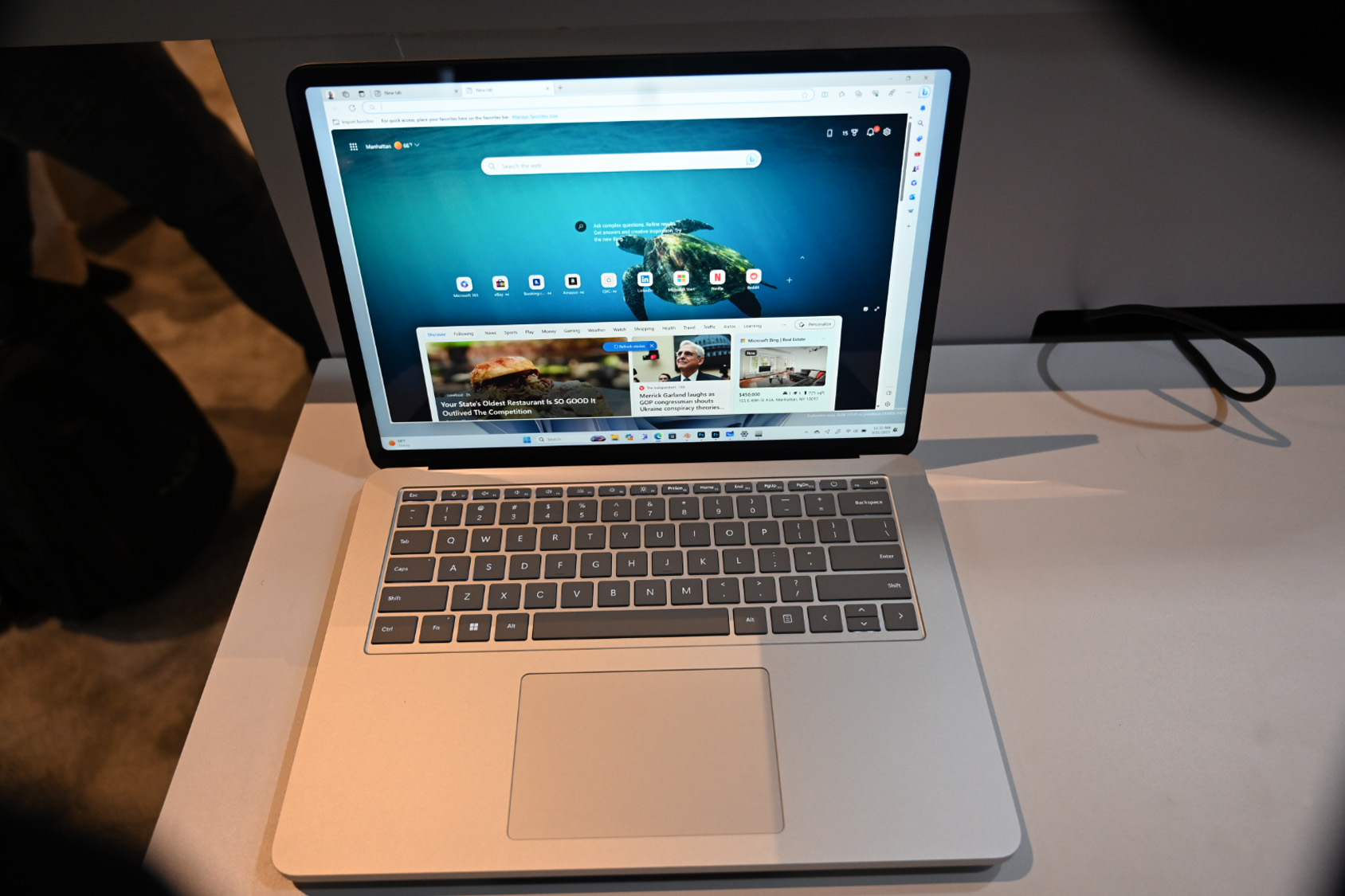 As a spec snob, I would recommend the 4060 SKU, so you can do all of the things Microsoft is advertising. But again, pricing quickly becomes an issue. And since I've yet to get my hands on a laptop with the RTX Ada 2000 GPU, I'm going to hold my opinion for now. But I have to say, I'm excited to see what the Studio 2 can do in all its iterations, even its integrated Intel Iris Xe Graphics-laden system.
Microsoft Surface Laptop Studio 2 battery
Microsoft is making some lofty claims about the Studio 2's battery life with 18 hours battery life (and up to 16 hours on 2 TB SSD Nvidia graphics models). The 18 hours are easier to believe with the integrated graphics version. But once discrete graphics come into play, so does my skepticism. While an RTX 4050 and 4060 GPUs aren't necessarily power vampires, discrete graphics do draw more power. In my experience, I'm thinking we're going to sit somewhere between 8-12 hours, which wouldn't be too shabby. But I'll have to wait and see how it fares on the Laptop Battery Life test. 
Conclusion
It's been two years in the making and I have to say, as Microsoft's "most powerful Surface," this is the first time I can say that I'm excited about a Surface laptop. The Microsoft Surface Laptop Studio 2 is a thin-and-light system that's packed with power and possibilities. Thanks to its 13th Gen Intel processor and Nvidia graphics (if you configure it that way), the Studio 2 is a viable everyman machine, capable of doing a lot of things at an above-average level. 
However, pricing is going to be a killer here as the $1,999 base model doesn't let you enjoy those tasty discrete graphics. No, my friends, you have to hit $2,399 for that privilege. Plus, I am concerned that Intel's upcoming 14th Gen chips will make the Studio 2 obsolete before it's even gotten its foot in the door. And let's not forget the looming specter of Apple and the new M3 chips. 
But for right now, if the Studio 2 can live up to Microsoft's lofty expectations by way of our benchmarks, the Surface Laptop Studio 2 could be the best MacBook Pro alternative on the market.