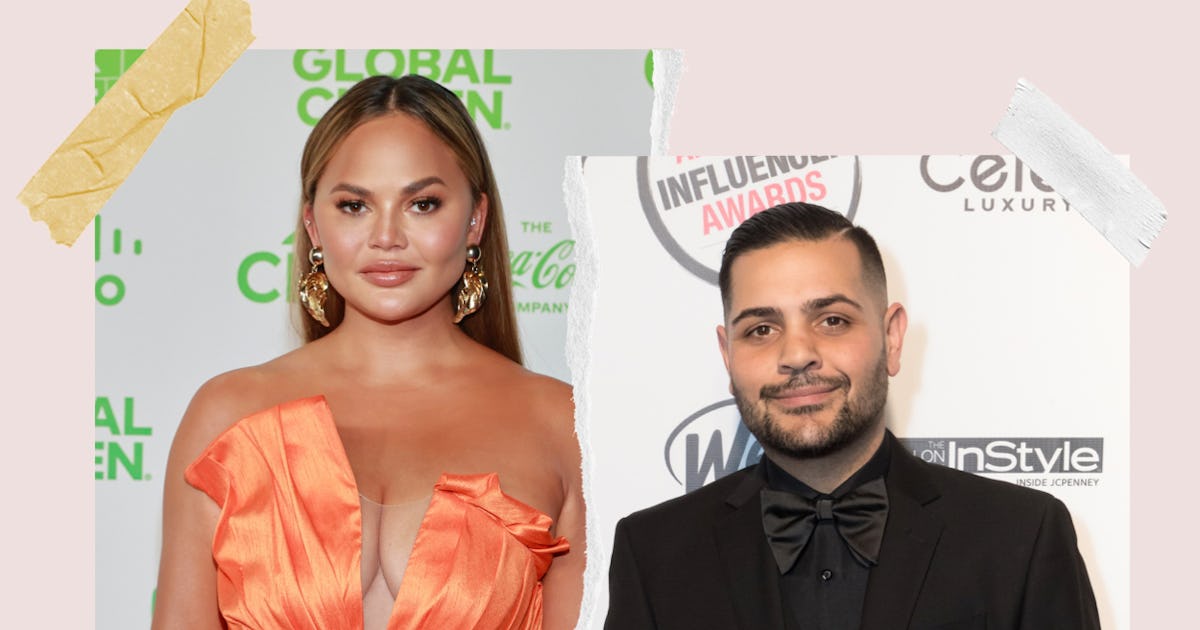 Chrissy Teigen issued an apology to Courtney Stodden, Farrah Abraham, and others for cyberbullying in the early 2010s, but now someone else wants to hold her accountable. On Monday, June 14, Project Runway star Michael Costello took to social media to call out the Cravings author for allegedly leaving him with "deep, unhealed trauma" and accusing him of being a racist in 2014. "I didn't want to do this but I cannot be happy until I speak my mind," the designer wrote in a now-deleted Instagram post before claiming he had an exchange with the model that left him with suicidal thoughts he struggles with to this day.
Costello says his conflict with Teigen began roughly seven years ago with an accusatory comment on his Instagram page, though she has since spoken out to dispute his claims. "She apparently formed her own opinion of me based on a photoshopped comment floating around the internet which has now been proven to be false by Instagram and since taken down," Costello said. The doctored comment made it seem as though Costello used a racial slur when he did not, he added. When the Project Runway star reached out to the Lip Sync Battle host to explain that he was "the victim of a vindictive cyber slander," he said she didn't believe him. "She told me that my career was over and that all my doors would be shut from there on," Costello said.
While Teigen has owned up to past bad behavior on social media in recent weeks, she denied Costello's specific claims in a Friday, June 18 Instagram post and disputed the authenticity of the images he said were proof of her bullying. "No idea what the f*ck michael costello is doing," Teigen initially captioned the post, which included a lengthy statement and some screenshots of her own. "He just released a statement where he didn't at ALL acknowledge how fake the dm's were, & now claims to have emails that don't exist."
The fashion designer's claims came shortly after Teigen posted a public apology for her past behavior on Medium. "It has been a VERY humbling few weeks," she wrote. "As you know, a bunch of my old awful (awful, awful) tweets resurfaced. I'm truly ashamed of them." Teigen went on to say that she apologized to one person publicly, but that there are many more people she needs to apologize to. "I'm in the process of privately reaching out to the people I insulted," she said. Among them are Stodden and Abraham, who both spoke out about their own abusive encounters with Teigen.
In May, Stodden said that the model would regularly insult them on Twitter while they were married to then-husband Doug Hutchison when they were 16 years old and he was 51. "She wouldn't just publicly tweet about wanting me to take 'a dirt nap' but would privately DM me and tell me to kill myself," Stodden told The Daily Beast. Teigen apologized on Twitter, and then Abraham came forward with similar accusations. "When I initially saw [her] make these comments I could tell she was a desperate music video groupie and model," the Teen Mom star told Fox News. "I just thought it was only with me and I ignored her because I don't behave like that."
The scandal has already taken a big toll on Teigen's career. The 35-year-old recently dropped out of her planned role on Netflix's Never Have I Ever and was dropped by several companies, including the Safely cleaning brand that she co-founded with Kris Jenner. Major retailers like Macy's, Target, and Bloomingdale's have also removed her cookware line from their shelves. Meanwhile, Costello claimed she hurt his work life, too. "I didn't share this with anyone because I was living in fear," he wrote. "In fear of losing some of my most profitable brand relationships; in fear of losing friends and allies."
Elsewhere in his post, Costello said that his fears turned out to be valid. "Throughout the next few years, I would book jobs only to be pulled off last minute with no explanation," he claimed. He alleged that he would also receive texts and calls from friends saying Teigen and stylist Monica Rose would "threaten people and brands" that continued to work with him. As a result, he said, this treatment only contributed to his worsening mental health. "I didn't see the point of living," Costello wrote. "There was no way I can ever escape from being the target of the powerful elites in Hollywood, who actually do have the powers to close doors with a single text."
Teigen's team, for its part, said, "Chrissy has never conspired with anyone to harm his career." The statement added that the stylist in question, Rose, was "not a part of Chrissy's team until 2016 and did nothing to harm Mr. Costello." As for the past behavior Teigen took responsibility for, she said in her open letter that there is "no excuse."
"I was a troll, full stop. And I am so sorry," she wrote. "I was insecure, immature, and in a world where I thought I needed to impress strangers to be accepted." Dunking on celebrities seemed like a simple and relatively harmless way to do that, but she realizes now that her words have caused more harm than she ever thought possible. "Now, confronted with some of the things that I said, I cringe to my core," she added. "I'll honestly get sharp, stabbing pains in my body, randomly remembering my a**hole past, and I deserve it."
Teigen's letter, it seems, did not placate Costello. One of the messages purportedly from Teigen that the designer shared on Instagram says, "Racist people like you deserve to suffer and die." As a result, Costello said, he is "not okay" and it felt like the time to speak his truth. "To this day, I am still not able to recover from the years of trauma I have experienced," he wrote. "I am not asking for sympathy from you. I am especially not asking for sympathy from Chrissy Teigen, Monica Rose, and those who believed the false narratives they heard about me. I simply want to set myself free."
If you or someone you know is experiencing suicidal thoughts, call the National Suicide Prevention Hotline at 1-800-273-8255 or text HOME to the Crisis Text Line at 741741. You can also reach out to the Trans Lifeline at 877-565-8860 or the Trevor Lifeline at 1-866-488-7386, or to your local suicide crisis center.
This article was originally published on