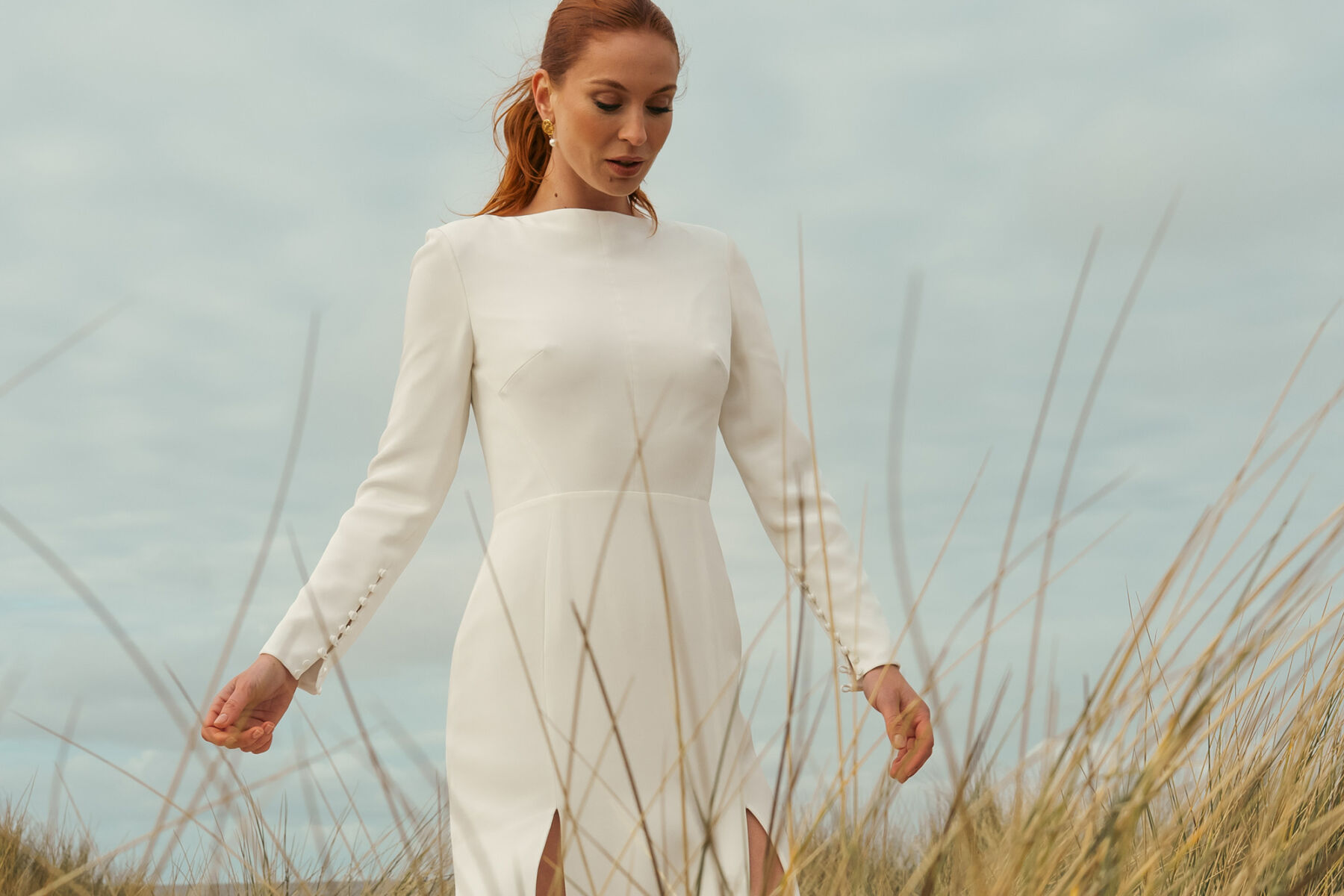 For the purposes of all the newly engaged brides to be visitors to our site right now, I am genuinely delighted to introduce one of my very favourite bridal fashion designers today, Andrea Hawkes.
Andrea Hawkes is a London based, environmentally responsible, British bridal fashion designers highly regarded for her beautiful, ethical, minimalist, simple wedding dress designs, every single one of which is crafted in-house at Andrea's atelier, by a team of highly skilled pattern cutters and seamstresses.
Andrea not only creates the most beautiful bridal gowns, she also has a collection of sustainable wedding veils and luxury pyjamas. Also, I really love working for this brand – they are so warm and friendly, so authentic in everything they do and have never let ego get to their head, which is magnificent given how wonderfully talented they are. Let's read on to find out more…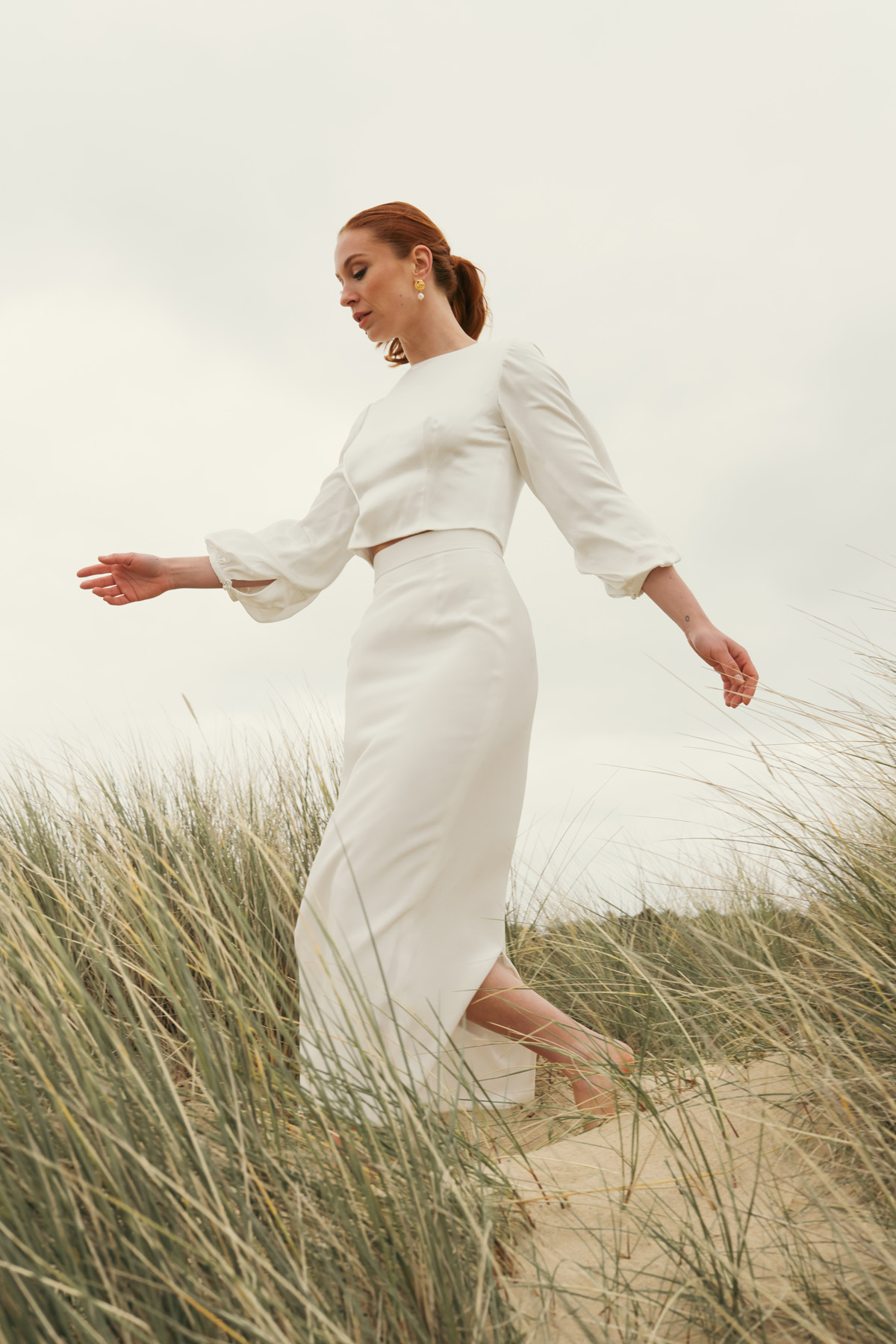 Amaryllis, by Andrea Hawkes Bridal
Amaryllis is Andrea Hawkes' latest collection of sustainable wedding dresses and separates for 2023.
Created using natural fabrics and time-honoured, highly skilled dress making methods, this modern, contemporary collection of minimalist wedding dress designs includes contoured corsetry, structured silks, statement sleeves and pockets – all the gorgeous design details that make your chosen wedding day look and feel really extra special.
All Andrea Hawkes designs are handmade using the most luxurious silk and plant based fabrics – that's both out layers and lining too, meaning gowns feel luxuriously and sensuously soft against your skin when you are wearing them. All silk used are produced by suppliers Andrea and her team have visited in person, to ensure workers are provided with good working conditions and paid responsibly and fairly for their work.
My signature style came from working with brides in different roles and my love of simplicity. I spent many fittings with brides who wanted to strip their design back and focus on the fit, the shape and the design. This led to my approach for my first collection and this has developed and grown through every collection since. Andrea Hawkes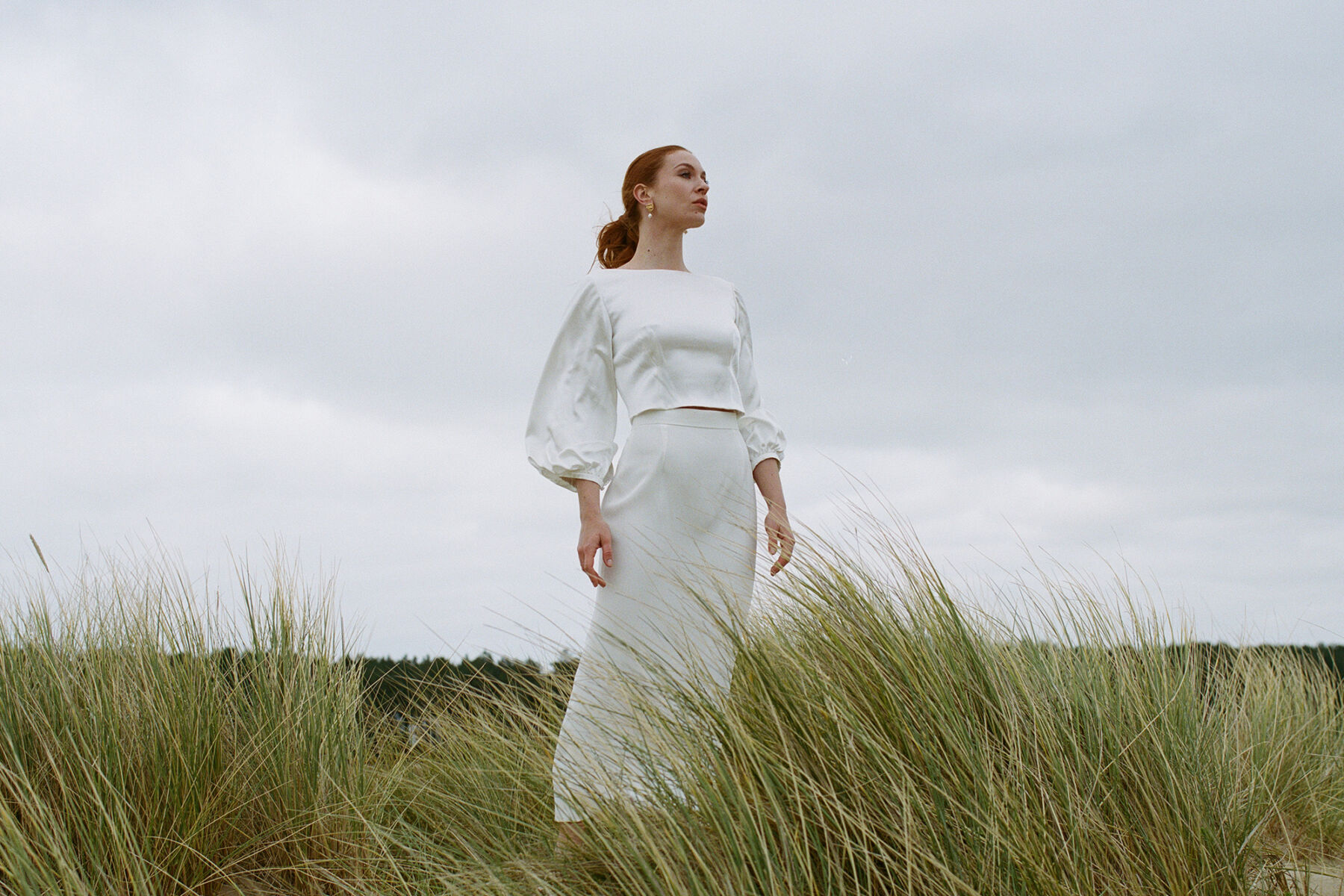 Andrea Hawkes Sustainable Wedding Veils
Andrea has taken the same meticulous approach she uses to create her gowns, to create a debut collection of veils and capes. These veils were created from a desire to give her bride's a feeling of completeness and encourage them to embody the magic opportunity a wedding provides to dress exquisitely for a day, wearing precious and meaningful items that you would not usually wear.
These are truly beautiful, delicately hand crafted veils that have been designed to work with all of Andrea's bridal designs.
The 'veil' is for me is the crowning moment – the first time friends and family really see a brides finished look on their wedding day. This is when you truly see the 'emotion' from everyone, with the bride looking their truly best and appreciate the care and time that goes into their vision and planning. Working on a collection of veils meant we wanted to make their styling more diverse and fitting with a range of our existing dress designs.The veils are highly adaptable and we can work on specified lengths and details to ensure they work with every bride's dress. Andrea Hawkes
Andrea Hawkes Luxury Bridal Pyjamas
In 2022, Andrea launched a collection of luxury pyjamas.  These gorgeous PJs are made using 100% sustainable and luxurious, medium weight sandwash ivory silk, a natural fabric that feels so soft against the skin.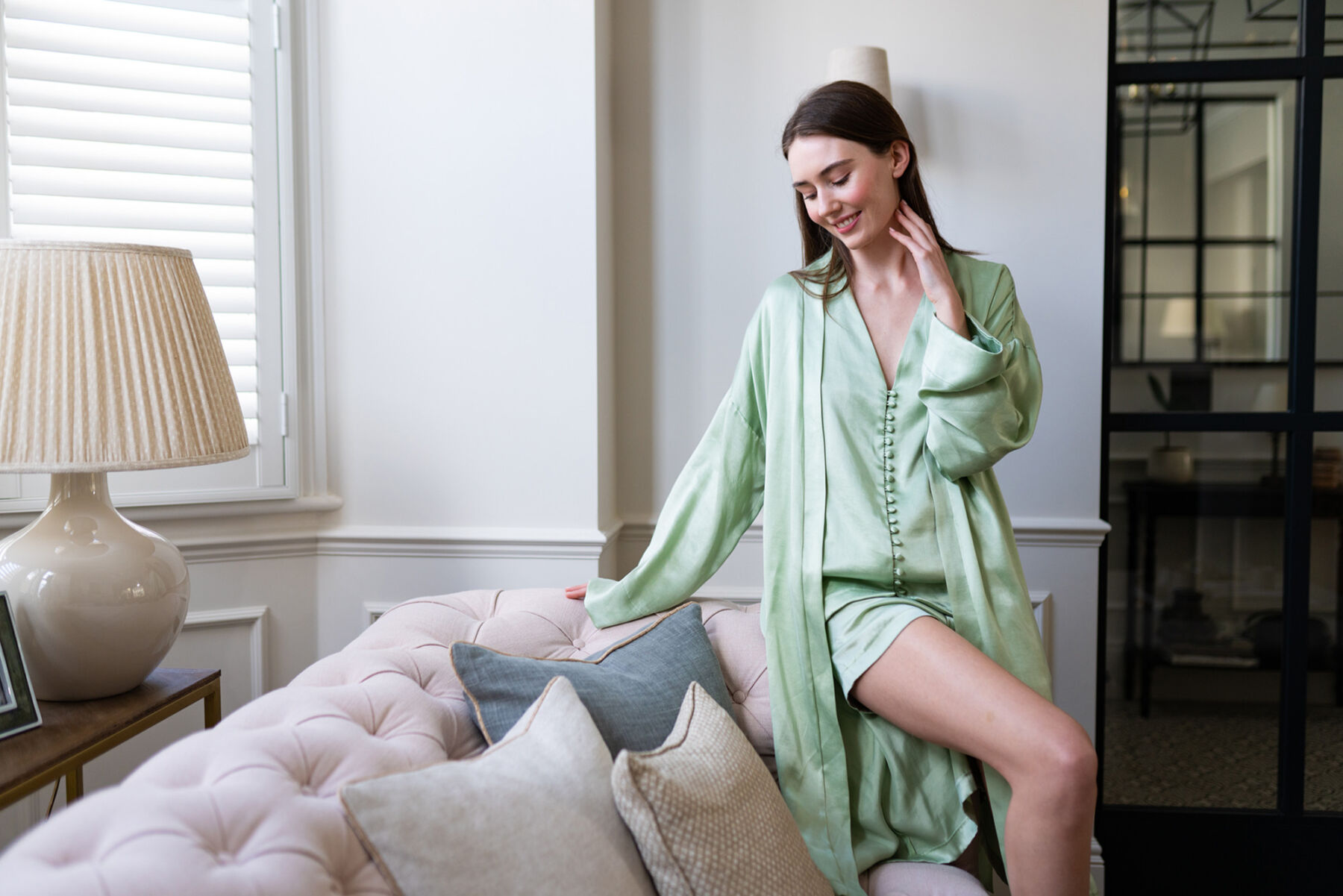 Our PJ range and Robes are a great option for anyone looking to add a luxury, wearable item to their night-time wardrobe or day-time lounge wear with a focus on sustainability. Made in London from both plant based and silk fabrics. Andrea Hawkes
Real Andrea Hawkes Brides
We've published many beautiful real weddings featuring brides in Andrea Hawkes wedding dresses.  The most popular of these weddings was that of influencer Megan Gilbride, who tied the knot on 9th July 2022 with a dreamy festival inspired wedding.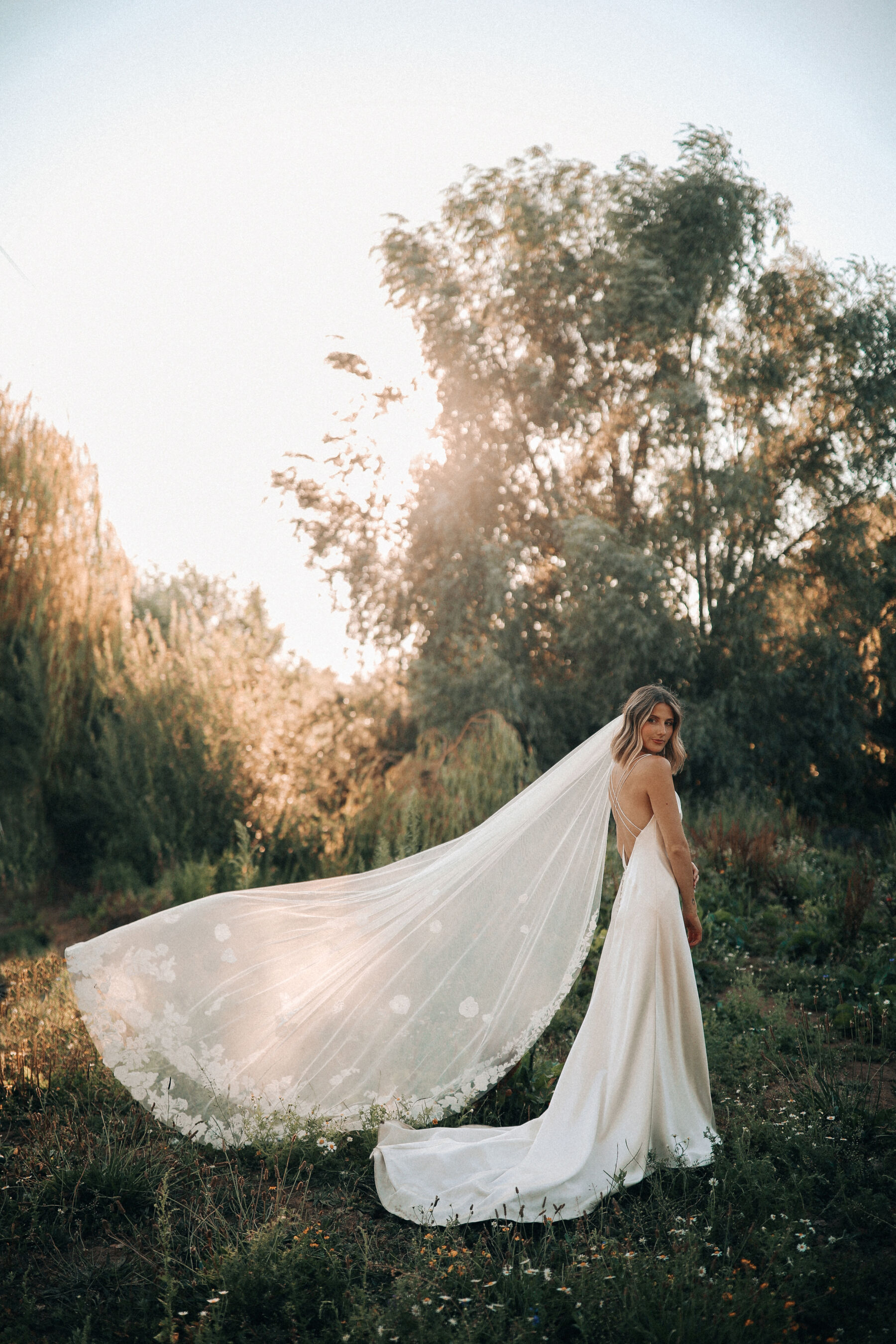 Rosie Hardy Photography
It was a dream come true working with Andrea Hawkes and the team. It's quite a challenge designing your own dress from scratch with no prior experience – and I felt very supported throughout the process. Nothing was too much and whilst they were clear and concise with their way of working, it felt more like I was designing my dress with my friends. I feel very grateful to have had such a special experience and would recommend Andrea a million times over. Megan Gilbride
Andrea Hawkes provided an extremely professional yet friendly service. It was the first bridal shop I visited, and I was so impressed with how clean everything was – especially the dresses – so pristine. I found that every shop after Andrea Hawkes was a disappointment – nothing seemed to compare to the luxurious silks and fabrics at Andrea Hawkes, and I knew after day two of dress shopping, that I would be back. Courteney
Gallery of Real Brides Wearing Andrea Hawkes Bridal
(click to enlarge)
How to Try on an Andrea Hawkes Wedding Dress
The Andrea Hawkes atelier is based at 36 Danbury Street in London, N1 8JU. To book an appointment, email [email protected], or telephone 020 770 40236.
The team would really love to hear from you. And please say hello from us!