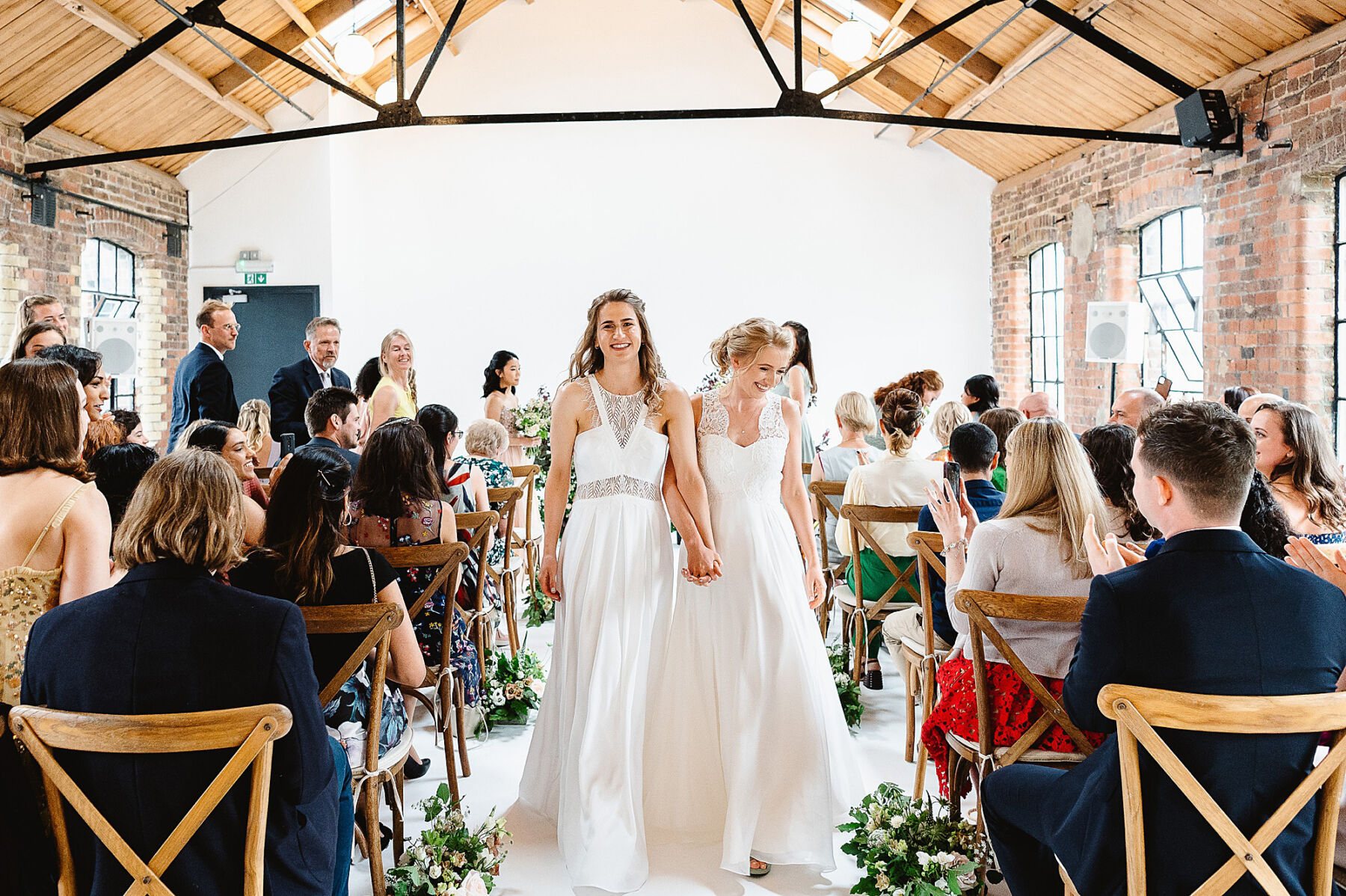 Sara and Judith, both Doctors working for the NHS, tied the knot on 31st July last year at Loft Studios in London.
This gorgeous wedding has just become a firm favourite LGBTQ wedding share on Love My Dress – everything feels so effortlessly stylish and the photography is so light and joyous.
These two beautiful newlyweds met whilst at university when playing for the same football team. Wanting a non traditional wedding, they chose this cool, blank canvas and former warehouse space to exchange their vows in front of friends and family.
Looking so relaxed and in love in their Charlie Brear and Rembo Styling gowns, it was important to both Sara and Judith that they worked with suppliers sympathetic with the LGBTQIA+ community, which is what lead them to Love My Dress recommended supplier, Fiona Kelly.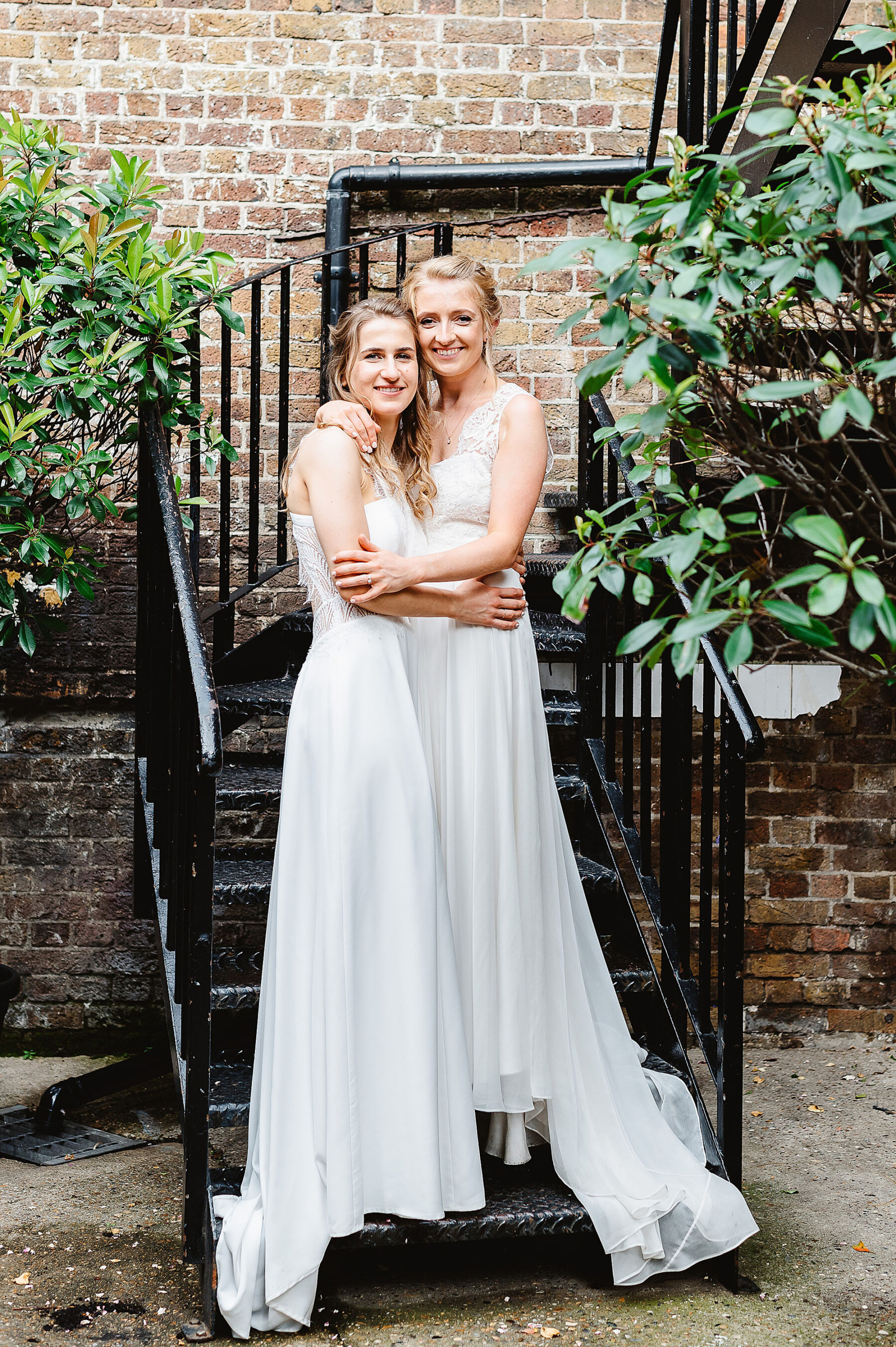 Sara wore Charlie Brear
We both had flowy, A-line dresses, because we wanted to feel super comfy, and to eat lots and do loads of dancing!
My dress was by London designer Charlie Brear, and whilst the bridal boutique I visited is now closed, the manager, Caroline, has relocated to a new boutique called Evelie in West London.
Caroline is fantastic and I went to her because I was conscious about the environmental impact of a wedding; she is amazing at selecting ex-samples from designers and she has loads to choose from.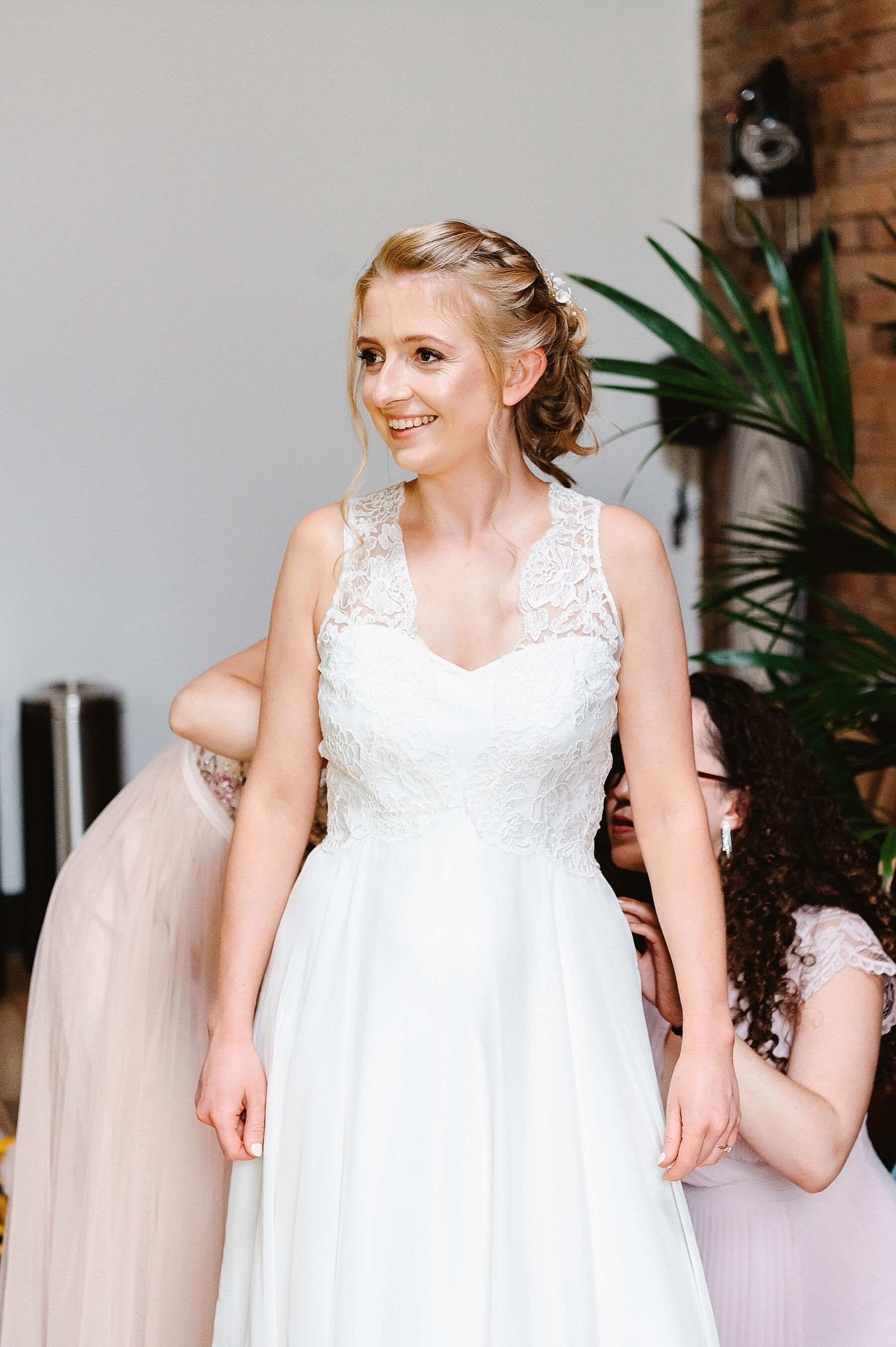 It was all in the lace for me. My lace was very floral and feminine and different from Judith's – I think they showed our personalities but also complemented each other.
Charlie Brear designs also feel so simple an elegant. As there were two dresses and the venue also had a lot of character we wanted our dresses to say something about us, but not steal the whole show.
My shoes were by Chie Mihara and I wore Coco Mademoiselle by Chanel perfume. I also wore  a Vivi Embellish hair accessory. These were beautiful and handmade to order by Georgie who runs the business and makes all the accessories herself. She's very lovely, she keeps you updated, and she packages everything beautifully.
Judith wore Rembo Styling
My dress by Rembo Styling, from Angelica Bridal. They have a great selection of dresses for all budgets. They made you feel comfortable throughout the whole process. They were not overbearing or pushy and allowed time to make a decision.
Being from Belgium, I was keen to use a Belgian designer. I was unable to physically travel there due to the pandemic, but found beautiful Rembo Styling gowns in London. The best part about my dress was the geometric lace – it was really exciting and different and suited my personality.
My shoes were by Michael Kors and I wore Code Satin by Armani for my scent.
"I Do" Bridal Services is Andrea's company and she brings in other lovely bridal hair and makeup artists to help. She was extremely friendly and approachable, quick to reply to questions and emails, and listened very carefully to what we wanted and made it happen (she even went home and practiced for Sara's hair on a model, because her hair was so long and heavy).
Flowers
We researched a lot of florists – this was one of the most important elements of the wedding for us, as this was our main decor.
We had quite a specific vision of natural, wild-looking flowers and foliage, to bring the outside in and evoke a feeling of a summer meadow.
We encountered a couple florists who had minimum budgets that were out of our range or who had a specific repertoire and weren't keen to do something new. Liz, who runs Blue Sky Flowers, is really approachable and lovely. She was so easy to work with and knew right away what we wanted.
She took us to the flower market to look at all the different flowers and foliage so we could see in advance the kind of things she was thinking of, and we could tell her our preferences.
An LGBTQ Wedding Ceremony
We had an informal ceremony delivered by close friends. It was really personal and special. Our friends said some very moving words and read poetry, and we delivered vows that we had written ourselves. We had an official ceremony at our town hall on another date.
We both entered the ceremony, accompanied by the sounds of Cello Suite No. 1, by Bach.
Lab Grown Diamond Wedding Rings
We wrote our own vows, but they were quite short and simple. One of our bridesmaids read 'Red Leather', by Kristen E. Nelson Part 4 and 5. Sara read a Dutch poem and Judith read a Swedish poem as Sara is part Swedish and Judith is Belgian. We thought it would be nice gesture to each other and our family to include something in our respective native languages.
We selected rings from Lily Arkwright and Brilliant Earth, as they mostly use lab-grown stones, so you can be certain of where they came from and all the ethical implications that go along with that.
Bridesmaids
We let our bridesmaids choose their own dresses so they would feel comfortable and just provided a colour scheme.
Photography by Fiona Kelly
Our photographer was Fiona Kelly. We narrowed our choice down to a few photographers and in the end we chose Fiona for the following reasons; her photographs are exactly what we wanted – candid and capturing lots of natural moments, and also very bright and joyful in the colour scheme
She had also photographed LGBTQ weddings in the past so we knew this was something she was familiar with (this was something that was important in most of the suppliers we chose)
Fiona is so so lovely and friendly. She gets excited with you about what you're planning, she's extremely communicative, and she provides loads of help and hints, both before and during the day itself.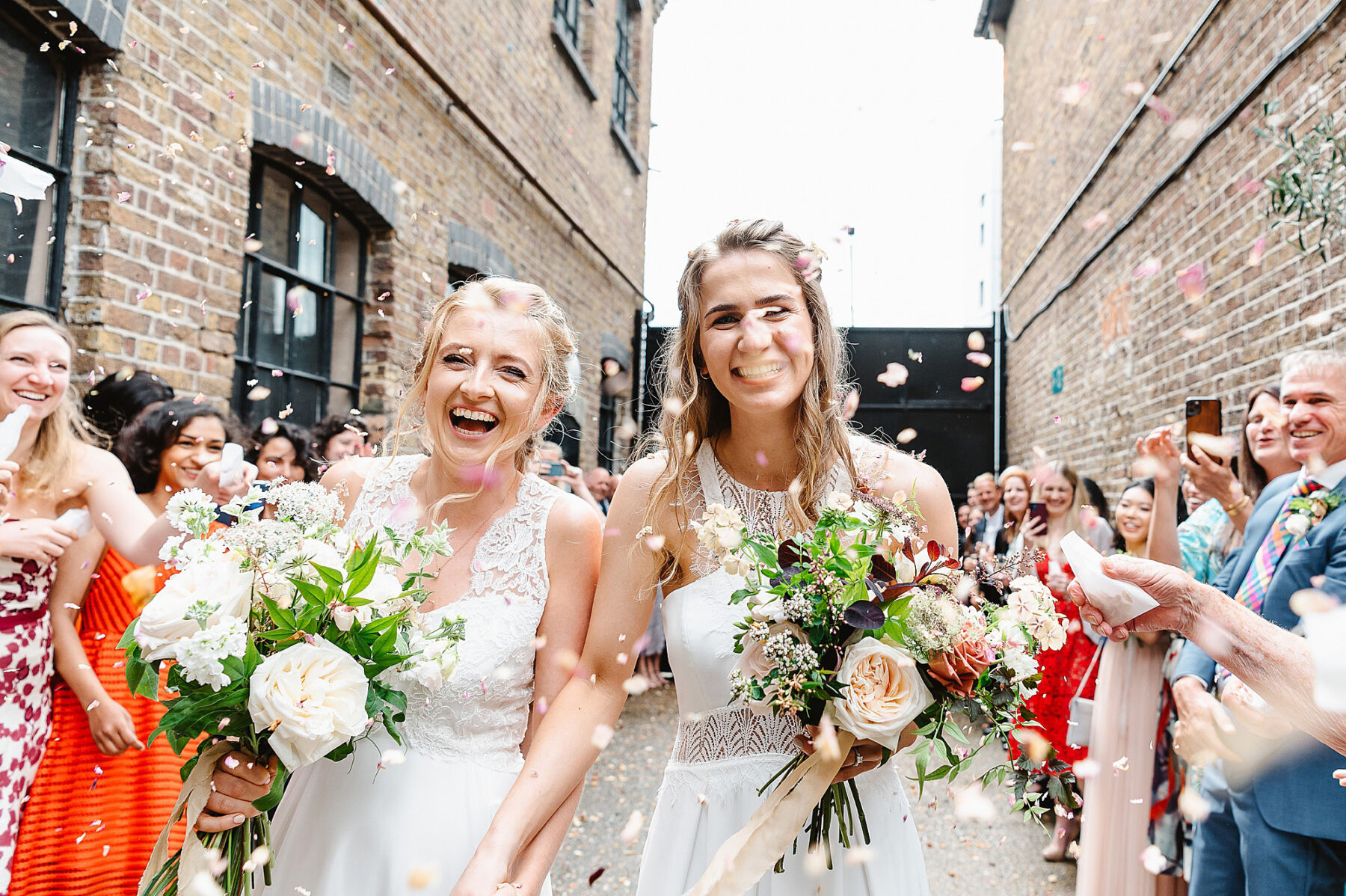 She managed to capture everything and took so many beautiful photos, yet at times we barely noticed she was there, she was so unintrusive. We still talk about how on point her timing was and how she must have been running around so fast without us even noticing.
We absolutely love the photos and look at them all the time. We would recommend her to everybody.
The Inspiration
Being a non-traditional couple, we wanted a non-traditional wedding. Also, we are both from Europe and have lived in different places, but we have been in London for around 10 years and feel at home here, and wanted something very urban.
Sara has grown up in the countryside and Judith in cities, so it felt right to create something that was a sort of juxtaposition of urban and natural, by bringing loads of foliage and lots of flowers to contrast with the exposed brick and beams of the warehouse.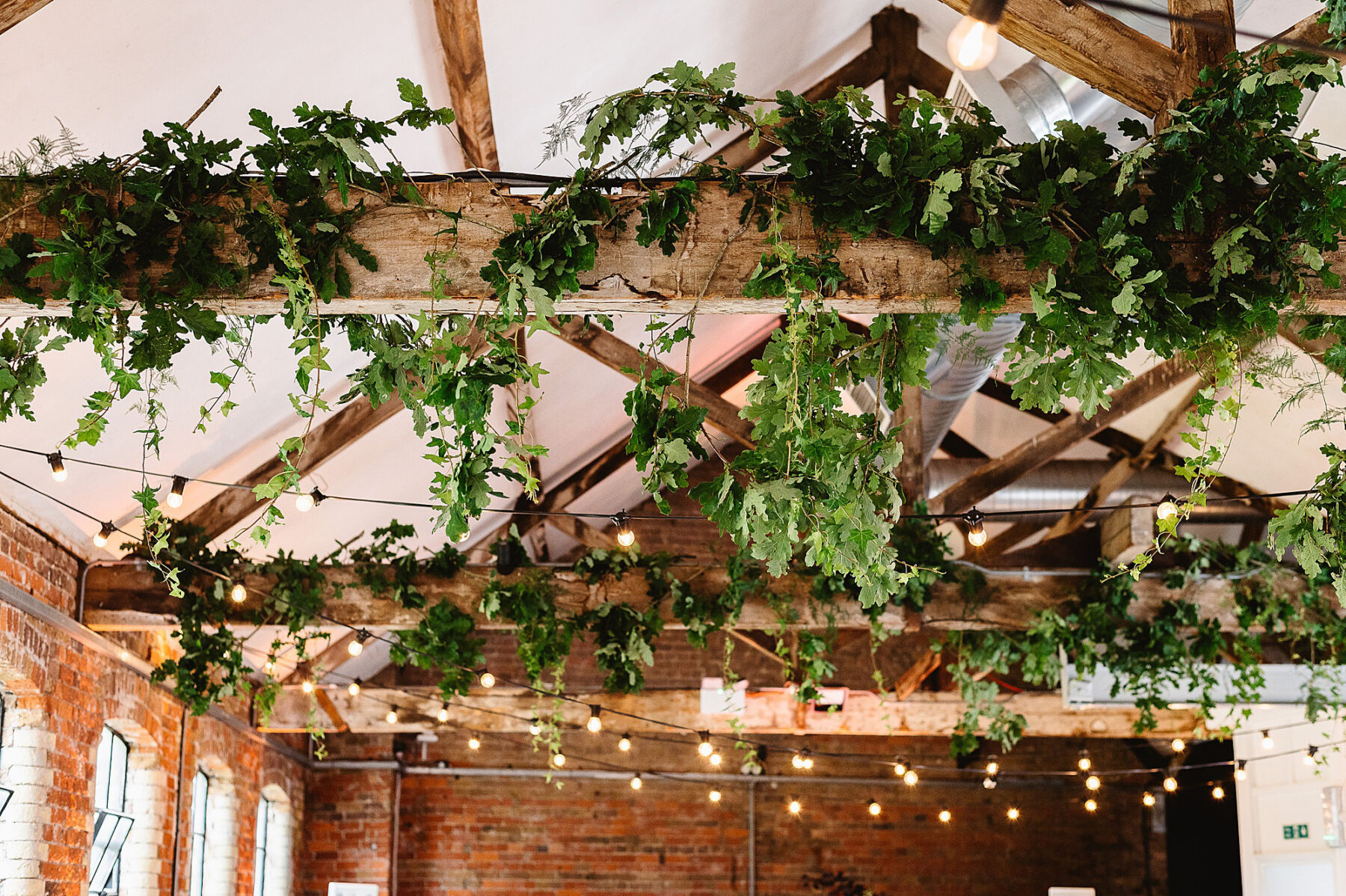 A Warehouse Wedding Venue
Our wedding reception venue was Loft Studios in London.
We wanted to have a venue that had several different spaces as well as an outdoor area as we were having our ceremony and reception at the same location.
The space needed to allow for a natural flow throughout the day, as we didn't want it to feel monotonous and all in the same room. It was also important the venue had character in itself and would just require some flowers/lighting to complete the space. Loft Studios ticked all these boxes.
On our first visit to Loft Studios, we met Josephine, the events manager. She was lovely and very organised, which helped us make up our minds.
Reception
Our caterers were Lettice Events – we cannot recommend them highly enough. Holly, whose company it is, is hilarious and so much fun. The food is delicious and looks stunning. They are there for the entire event from 10am until the early hours of the morning.
Our cake was by Blossom & Crumb. We had a two-tier watercolour style cake with some gold leaf detail, to go with the overall styling of the day. We chose a tier each in terms of flavour – one chocolate, and one coconut and lime
Evening & Dancing
Our first dance was to LOVE by Frank Sinatra. It's a song we've sung together many times in the kitchen and just makes us think of each other.
We hired the Adelaide Trio and DJ Markus, both through the Alive Network.
Words of Wedded Wisdom
Judith is not very used to wearing dresses. Love My Dress was great because she was able to see so many different types of dresses and styles in one place, and start to get a vision of what she might like.
It was also just really nice to see some lesbian weddings and shoots – it's always good to see reflections of yourselves when you are doing your research!
There are always going to be some hiccups, in the planning and on the day itself, but it's best to be mentally prepared for this and just relax and enjoy yourselves. Nobody else will even notice if things go "wrong" and whatever happens you will have an amazing time with all your favourite people.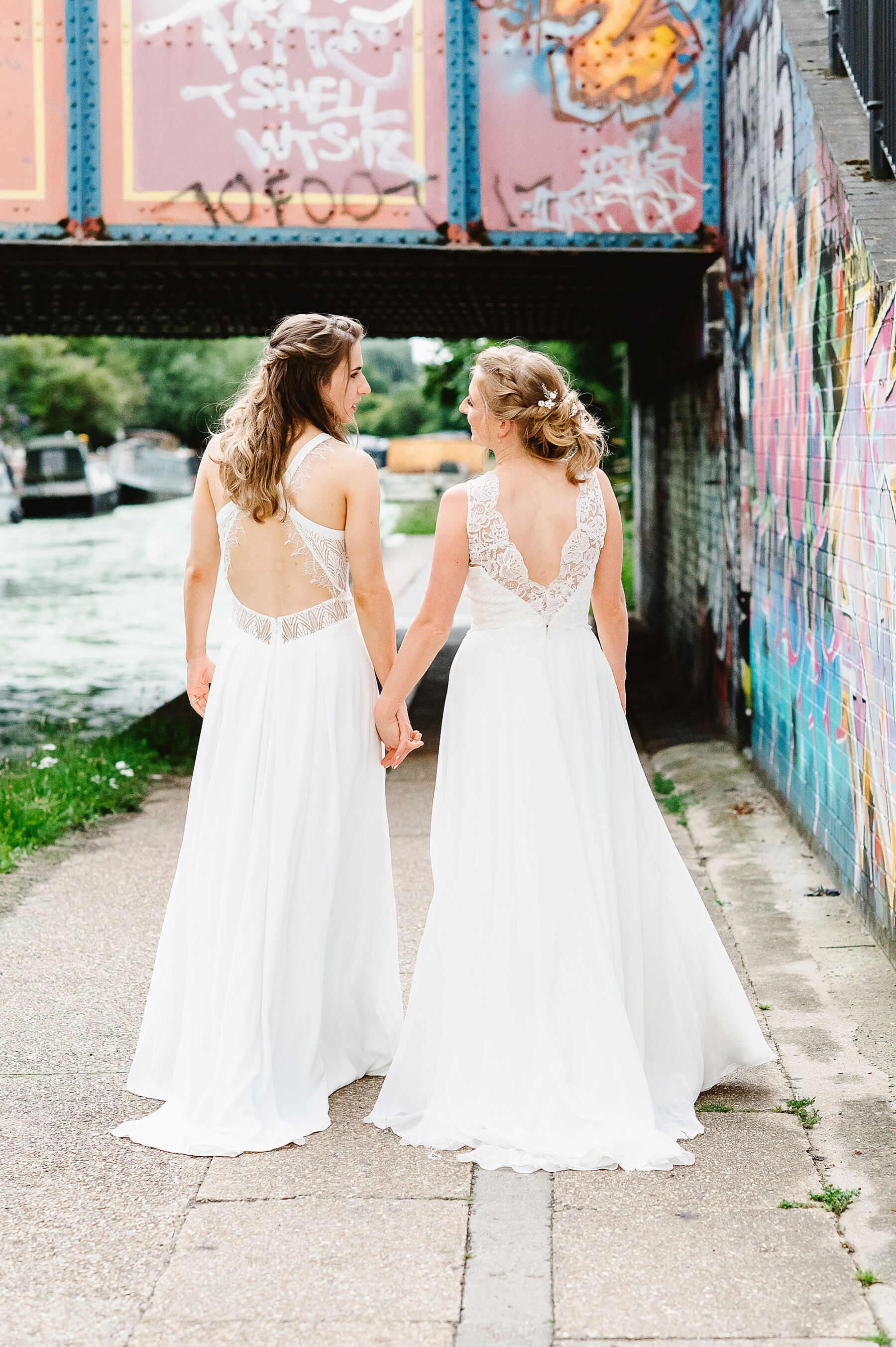 Chose suppliers who suit your vibe and whose work you already love, that way you can just leave them to it and don't have to fight their artistic direction. It helps if they are lovely people, and super organised, because then you feel comfortable and safe in their hands.
Take time to savour it (especially the food). You spent so long researching and choosing everything, and it's easy to end up rushing around.
If you are LGBTQ and it is important that your vendors are sympathetic to this, then searching instagram for specific hashtags can help.
Wear comfortable shoes!