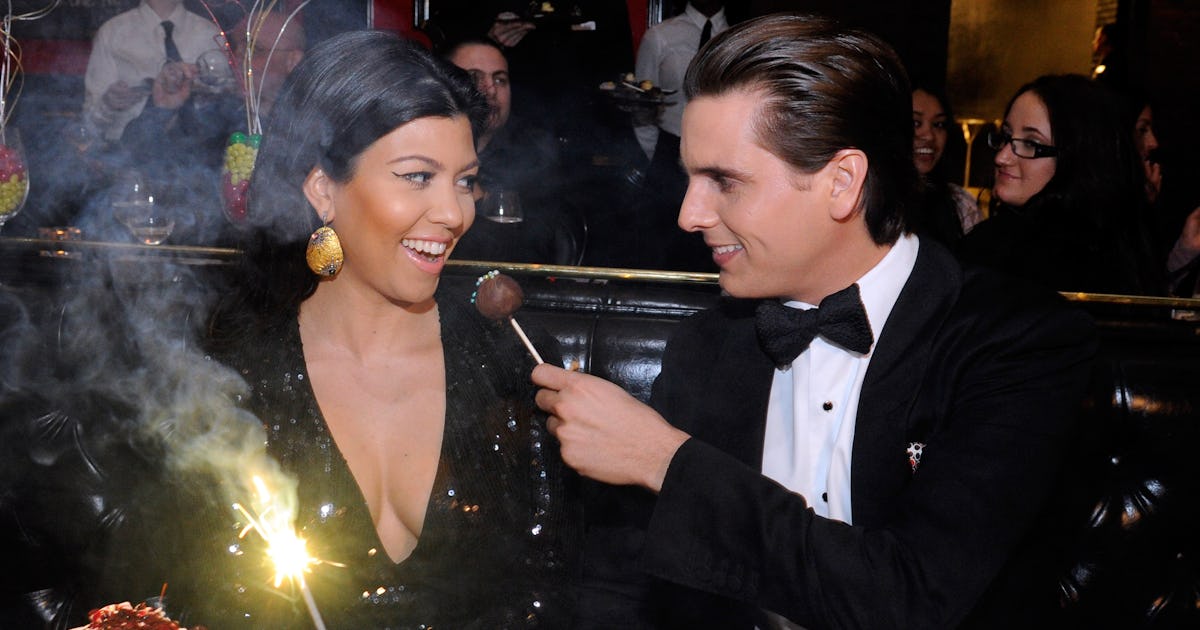 The finale of Keeping Up With the Kardashians marked the end of an era, but did it also ruin the possibility of Kourtney Kardashian and Scott Disick ever getting back together? We're not so sure. The finale opened with a private conversation between Kourtney and her sisters about their failure to hold Scott accountable for his actions. But despite his shortcomings, it doesn't seem like the 42-year-old reality star is ready to give up on their relationship quite yet.
"Scott and I have had so many private conversations about what I would need in order to even think about getting back together," Kourtney told Kim and Khloé on their final family trip to Lake Tahoe. But it quickly became clear that her sisters have had enough of the same old song and dance that's been going on between Kourtney and Scott for years. "How long is this going to be?" Kim demanded. "I really need an answer. What is going to happen?"
Unfortunately, the Poosh founder wasn't able to give Kim the answer she was looking for, but she did make it clear that she's not ruling out a future with Scott. "Would you ever just say to him, 'Hey, it's never going to happen?" Kim asked. And in a moment of vulnerability, Kourtney admitted that she doesn't know that it's "never going to happen." In fact, if Scott put in the work, they may have gotten back together by now. "She's saying it's never going to happen right now until you can show me for one year you can get your sh*t together," Khloé clarified.
Kourtney went on to explain that the major roadblock that stands in the way of them rekindling their romance is Scott's inability to correct his behavior. "I mean, he's obviously handsome and funny," she said before explaining to her sisters that he's always "playing the victim." "He isn't taking any accountability for himself so he's not able to grow." Kourtney went on to blame her sisters for feeding into it and for pushing them back into a relationship that Scott proved he's not ready for.
"I just feel like I'm really over it with my family enabling Scott because they don't know all of the details," Kourtney, who shares three children with Scott — Mason, 11, Penelope, 8, and Reign 6 — said in a confessional. "When Scott and I broke up I set certain boundaries with him. Scott's made so many major life improvements and he's such a great dad and I'm really proud of him, but the biggest thing is having consistency, so I just think him playing the role of the victim, I just can't have it keep going on and on."
We love each other, we trust each other, we care about each other, we have kids together, and our kids are happy and things are going by OK, so for right now, this is where our lives are and it's very, very good.
When Kourtney and Scott sat down for a one-on-one chat later on, he seemed to understand her frustration. "I think they just see how I'm feeling, naturally, and I think they just care," he said of her sisters' tendency take his side whenever he suggests that they should get back together. And even though Kourtney admitted that Scott is in "a billion times better place" than he used to be, she's tired of being "made to feel guilty" for not wanting to jump back into a relationship when Scott hasn't fixed certain outstanding issues.
"I think it's a lot of pressure when the whole family wants us back together," Scott said to the camera, explaining that it's not merely him putting pressure on Kourtney, but the family putting pressure on him as well. "Kourtney needs certain things from me that I haven't still been able to provide her." And ultimately, Scott seemed unsure about whether he would ever be able to give his ex what she needs. "I think maybe we have to both realize that maybe we won't be together and we have to move on completely," he said.
"The fact that we have what we have is amazing, and I just want to be thankful for that instead of always thinking there's more," Scott continued. "I mean, you know, we love each other, we trust each other, we care about each other, we have kids together, and our kids are happy and things are going by OK, so for right now, this is where our lives are and it's very, very good." This, of course, is a far cry from what Scott has said earlier this season. "Wherever Kourt stands, I stand with her," he said in a previous episode. "I love you and I'm ready to marry you right here, right now."
Inevitably, Kourtney's very serious relationship with Blink-182 drummer Travis Barker complicates things. People first confirmed that they were dating in January, and they've since gone on many vacations together. Their relationship has been heavily documented on Instagram, where the two have shared NSFW photos and exchanged steamy messages in the comments. While it's unclear at the moment whether or not the couple has Scott's blessing, what we do know is that he just wants the best for the mother of his three children. "My whole thing is I just want you to be happy and feel good," he told Kourtney in the finale. "I was never out for anything else than that."