Intel revealed its next generation 13th Gen Intel Core mobile processor for laptops at CES 2023, including the new flagship Intel Core i9-13980HX — the "world's fastest mobile processor."
With Intel's 13th Gen desktop CPUs already announced (opens in new tab) in 2022, we got a tease of the processing speeds to expect on laptops. Now, Intel has introduced 32 new 13th Gen Intel Core mobile processors, and it includes the first 24-core processor for a laptop.
The Core i9-13980HX features eight performance cores and 16 efficiency cores, along with up to 5.6GHz turbo frequency. Intel claims this is the highest clock speed currently available, offering 11% faster single-thread performance and 49% faster multitask performance over the previous 12th Gen CPUs.
Intel's 12th Gen Core i9-12950HX already offered eight performance cores, but the 13th Gen HX processor now offers twice as many efficiency cores. And, with support of up to 128GB of DDR5 RAM (up to 5,600 megahertz) and DDR4 RAM (up to 3,200 MHz), it's clear Intel intends to blow its competition away in terms of processing power.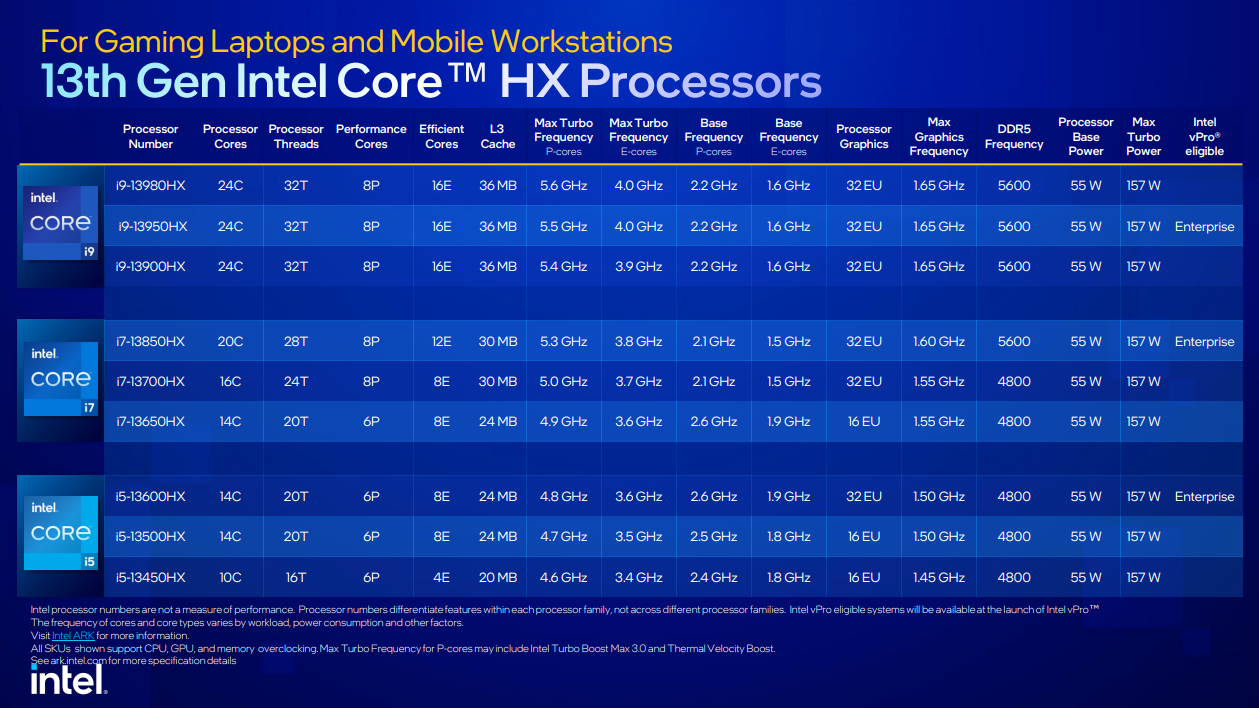 Intel's 13th Gen HX chips also offer Intel Killer Wi-Fi 6E for up to a claimed 6x faster internet speeds, Intel Bluetooth LE Audio and Bluetooth 5.2 support with "2x faster speeds" and lower power consumption, and Thunderbolt 4 support.
We've already seen a number of the best laptops of CES 2023 (so far) boast Intel's latest processor, including the Asus ROG Strix Scar 16 and Scar 18, and you can expect 13th Gen Intel HX laptops from Dell, Acer, Lenovo, Razer, HP, and more in 2023. 
13th Gen Intel Core mobile processors
The 13th Gen HX chips aren't the only mobile processors Intel has up its sleeve, as 13th Gen Intel Core H-, P-, and U-series mobile processors to power a variety of laptops.
The Intel Core P-series and U-series CPUs are set to be fore thin and lightweight laptops, and include up to 14 cores (six performance cores, eight efficiency cores) and new Intel Iris Xe graphics.
As for entry-level laptops, Intel also has the N-series CPU that focusses on education. You can expect new efficiency cores (microarchitecture code-named Gracemont) built on the Intel 7 process technology, up to 28% better application performance and 64% better graphics performance on the Intel Processor over the previous generation, up to 10-hour HD video playback without recharging, and more.
"The 13th Gen Intel Core mobile processor family delivers unrivaled, scalable performance for leadership platforms across all laptop segments," said Michelle Johnston Holthaus, executive vice president and general manager at Intel. "With our industry-leading technologies and unmatched global partner ecosystem, people can expect a high-caliber mobile experience in new and unique form factors — so they can game or create from anywhere."
With Nvidia RTX 40 Series laptops launching and 18-inch gaming laptops on the rise, CES 2023 is setting up a great year for laptops. For the best gaming laptops of CES 2023 (so far), we've got you covered.