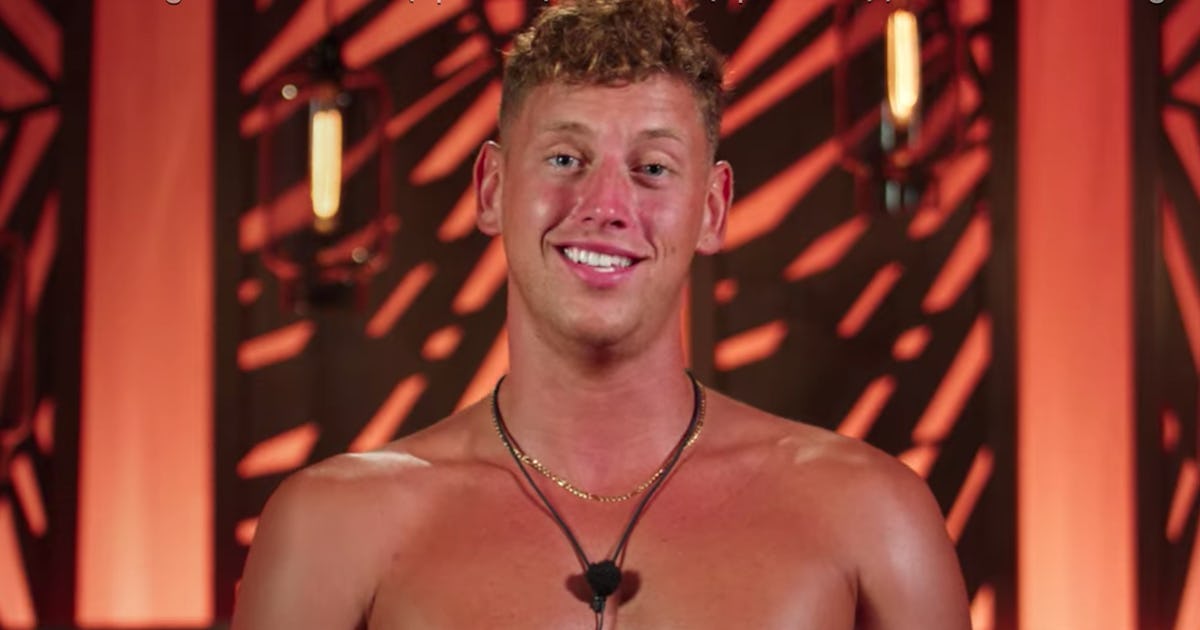 Spoilers for Too Hot To Handle Season 2, Episodes 6 and 7. Joey Joy sailed onto the Turks and Caicos set of Netflix's Too Hot To Handle just in time to rescue Carly from her post-Chase breakup blues. The instant Joey hit the beach in the sixth episode, Carly couldn't stop smiling. "Joey's really cute," she said in a confessional. However, he actually started flirting with Melinda at first (look out, Marvin) before making his way to Carly in Episode 7. The two shared some cuddles and even a rule-breaking kiss, with Carly expressing that he checked more of her boxes than Chase had — like being affectionate with her. "Joey's just, like, more cuddly," she said. "[He] reminds me of me. More like dorky, weird." She meant that as a compliment, of course.
But although Carly and Joey shared a kiss, Joey didn't share a whole lot about his life in his first couple of episodes beyond that he's from Miami and his "game plan" for the show was to "be me, stay me." Here's everything we could find out.
Joey's Was Previously A Football Player
In both high school and college, Joey was a star on the field. Per his athlete bio, he played wide receiver for Westminster College, helping earn the team a Division III championship during his senior year.
According to his Westminster athlete profile, he majored in Business Administration, but it doesn't seem like he's put his degree to use yet. He was a senior in 2019, meaning he basically graduated and then headed right to Turks and Caicos to join Too Hot To Handle when it taped in late 2020. He was working the register at a convenience store in early January, per some of his TikToks.
Like many reality stars before him, Joey may choose to go the modeling/sponsored content route after appearing on THTH. He's already expressed interest in posing for photos in the past. In mid 2019, he traveled to Iceland to be photographed by filmmaker and photographer Atit Amin. It's not clear whether the shoot was Amin's idea or Joey's, but he did a pretty good job modeling for the photos.
Joey's Instagram Is Pretty Self-Serious
If he is making a go at the male model thing like fellow THTH contestant Robert Van Tromp, Joey's already got his model face and stance down. Most of his Insta photos are some variation of this picture — posed, serious, and stylish — but with a caption that pokes fun at himself, like "Idk why this looks so serious." (Yes you do, Joey. You made it that way.)
Joey's TikTok Shows A Lighter Side
Joey only has a little over 1,000 TikTok followers now, but expect that number to bloom once fans get to know him on THTH. So far most of his videos feature him dancing, lip-syncing, and just generally having fun with his friends in Miami. Hopefully he'll throw fans some Too Hot To Handle BTS deets once his episodes start airing.
Are Joey & Carly Together?
Joey hasn't posted any direct spoilers about how his and Carly's relationship turns out post-show, but the two do seem to still be friendly at the very least. He recently mentioned her on the social media cryptocurrency site BitClout when he "reclouted" a message about how Carly's digital coin was about to explode due to her THTH popularity. However, he seems to just be chilling with his boys in most of his social media posts, so maybe he's single and ready to mingle in Miami.
Joey brought a fun dose of lightness to THTH for Carly and the viewers (his last name is Joy, after all). That's the same vibe he brings to his everyday life, too — at least according to his online presence. Keep an eye on him; there could be a lot more in store for this recent grad as his star rises thanks to the reality show.