HP Omen 16 specs
Price: $1,199.99 (starting); $2,389.99 (reviewed)
CPU: Intel Core i7-13700HX
GPU: Nvidia GeForce RTX 4080 with 12GB VRAM
RAM: 32GB
Storage: 2TB SSD
Display: 16-inch, FHD (2560 x 1440)  with 16:10 aspect ratio
Battery: 4:08 (1:40 gaming) 
Size: 14.5 x 9.7. x 0.91 inches
Weight: 5.3 pounds 
HP continues its office-appropriate gaming laptop design with the Omen 16, and I like it. The Omen features strong performance driven by its Intel Core i7-13700HX CPU and Nvidia GeForce RTX 4080 GPU. On the outside, the Omen is all office elegance, but inside it's a finely tuned athlete, thirsting to score the winning touchdown. 
The Omen comes with a 16.1-inch QHD(2560 x 1440) 240Hz display that delivers crisp, colorful, tear-free performance whether you're scoring touchdowns in Madden or splitting skulls with your battle ax in Assassin's Creed Valhalla. Let's see if the Omen 16 takes advantage of the specs it's packing. 
HP Omen 16 pricing and configurations
Our review model costs $2,389.99 and comes with an Intel Core i7-13700HX CPU, 16GB of RAM, a 1TB SSD, an Nvidia GeForce RTX 4080 GPU with 12GB of VRAM, and a 16.1-inch, 16:9 aspect ratio, 2560 x 1440-pixel display with a 240Hz refresh rate. These are solid premium gaming laptop specs and should handle the needs of most new gamers. 
There is a base model, Omen 16, that costs $1,199.99. This model has a Core i7-13700HX processor, RTX 4060 GPU with 16GB of RAM, and 512GB of SSD storage. If you choose not to buy a pre-built version, you can build your own, but it will change the pricing accordingly. 
HP Omen 16 design
HP seems to revel in creating office chameleon laptops. With its lovely all-metal satin black body, black chrome logo, and overall stately styling, the Omen 16 fits in while secretly hiding its gaming heart.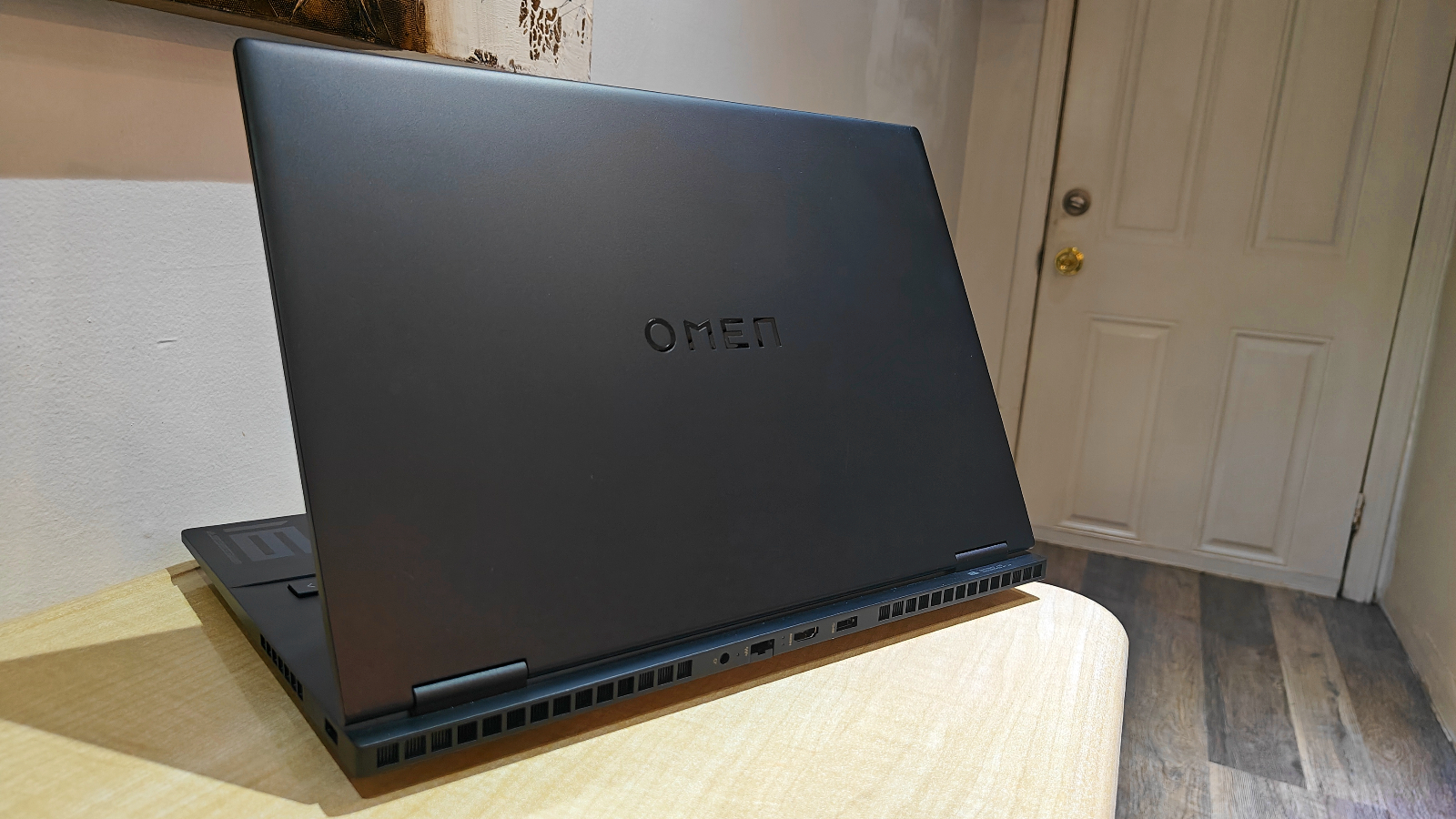 When looking at the rear of the Omen 16, you'll notice the black chrome Omen logo on the back of the lid, adding another refreshing hint of sophisticated styling that gives a knowing nod that something special may be lurking beneath.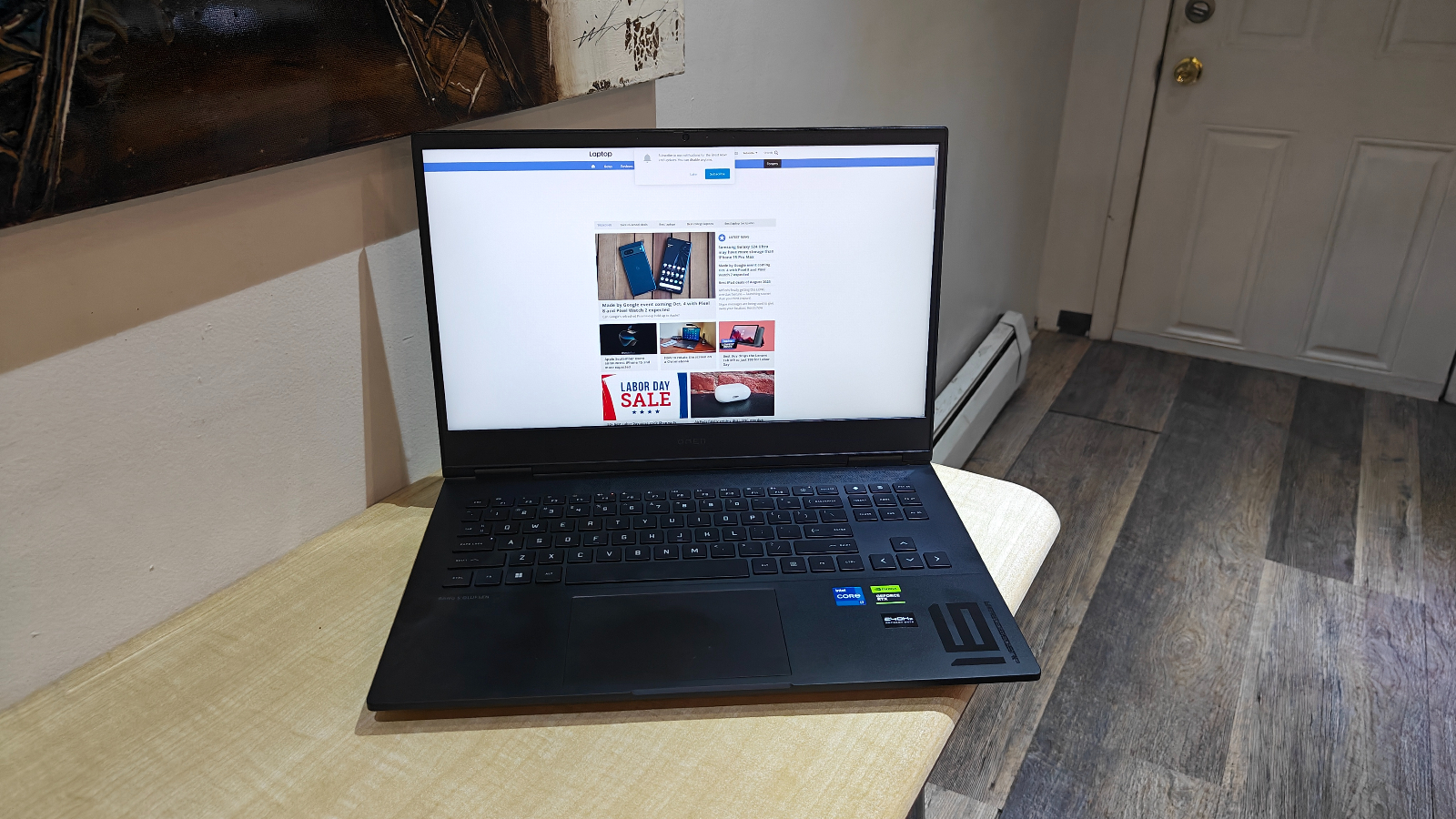 When you open the Omen, your eyes meet the massive deck and full-sized, RGB-lit keyboard; you'll see the Bang & Olufsen speaker grill centered above the keyboard. The touchpad also has a nice black chrome-cut finish that embraces the touchpad as it sits nestled into the deck; it's a very polished look.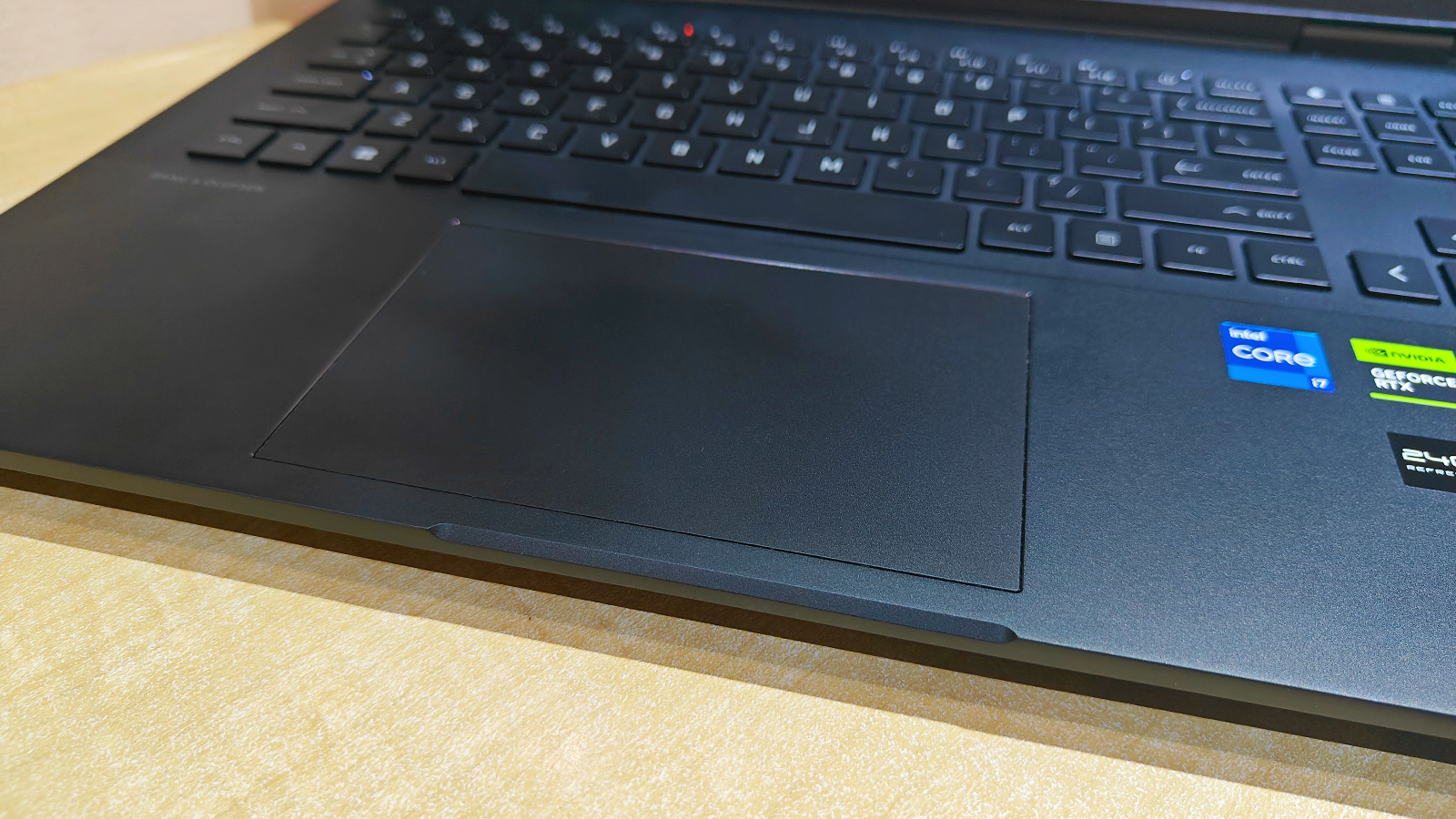 The embossed 16 to the right of the deck, gives the Omen a touch of flair that lets you know something special is under the hood.  You also come face to face with the massive 16.1-inch QHD (2560 x 1440) 240Hz display that is colorful and crisp. At the top center of the micro-edge bezel, we find the webcam.  
The HP Omen 16 measures 14.5 x 9.7 x 0.91 inches and weighs 5.3 pounds. The weight is well distributed, so it feels lighter than its five-plus pounds. The Omen slid easily into my backpack next to my main work laptop as I left to start my day. The Asus ROG Strix Scar 16 weighs in at 5.51 pounds (13.94 x 10.39 x 0.89 inches), followed by the Origin EON 16-S (14.1 x 10.74 x .78 inches) at 5.5 pounds. The largest member of our group is the MSI Raider GE78 HX, which measures 15.0 x 11.7 x 1.1 inches and weighs 6.5 pounds
HP Omen 16 ports
The Omen 16 has ample ports that most gamers will appreciate. On the left, we find the combo audio jack and two Thunderbolt 4 ports.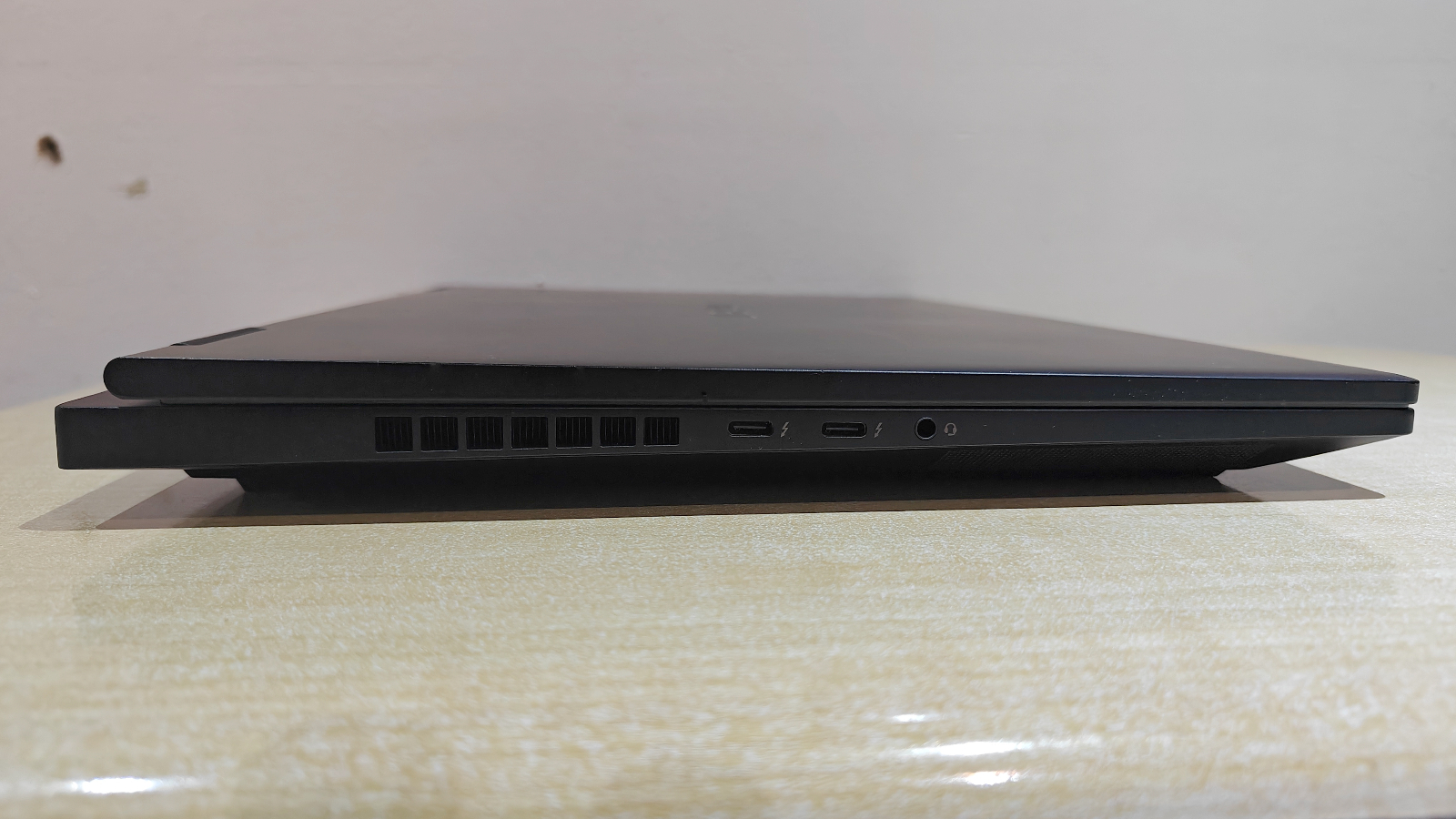 On the right, there is a single USB Type-A port.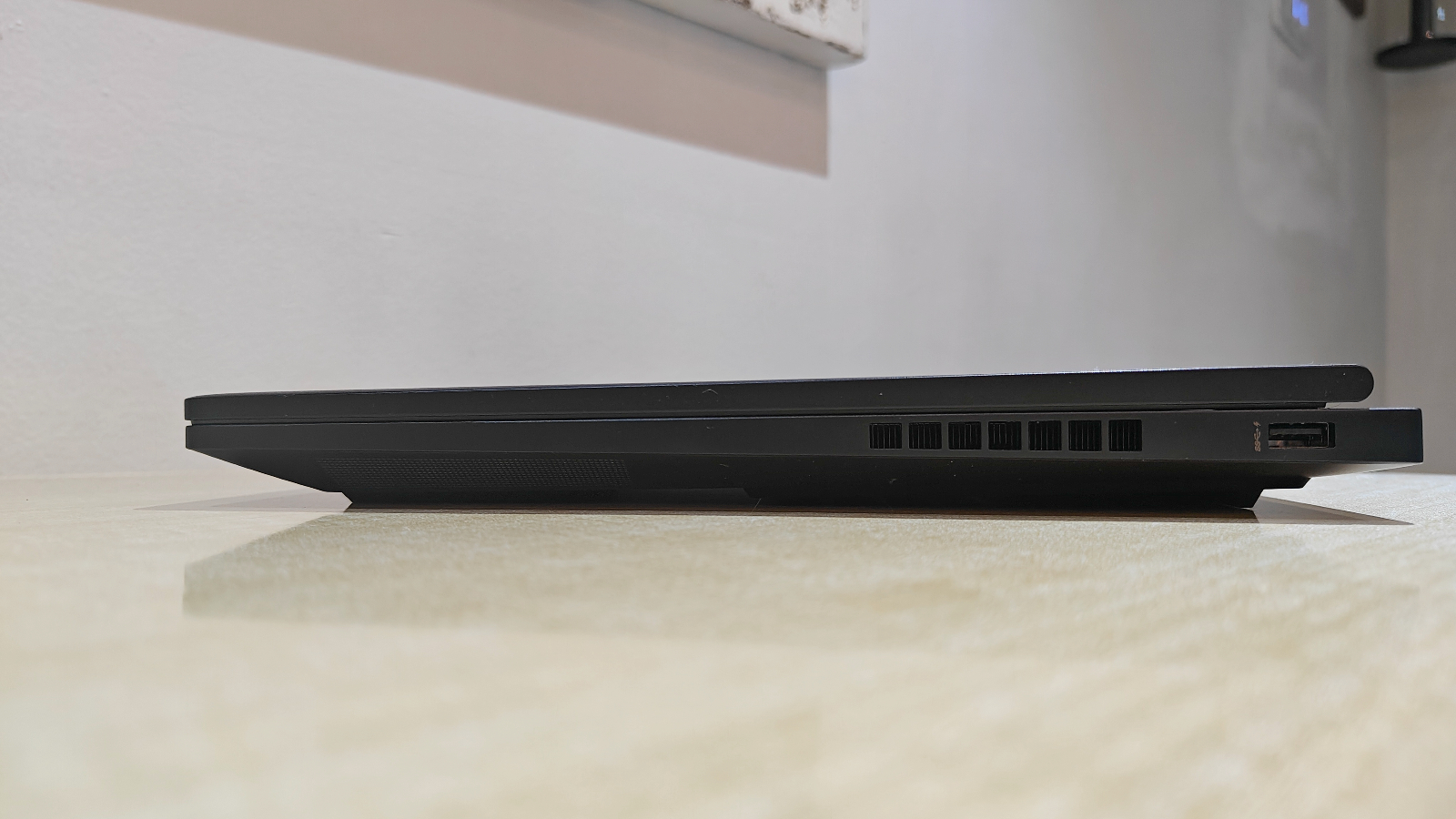 In the rear sits the AC power port, an Ethernet port, an HDMI port, and an additional USB Type-A port.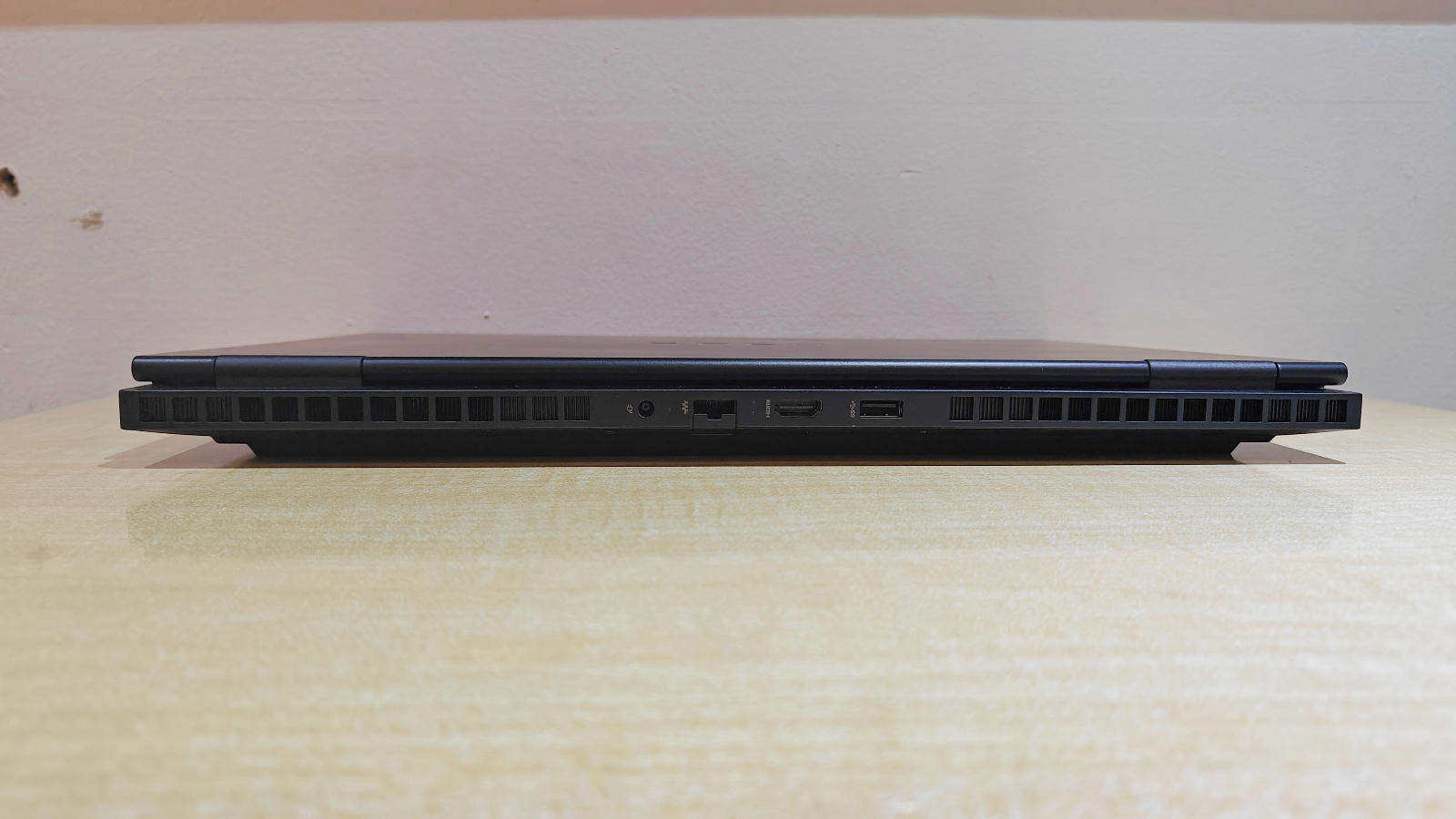 HP Omen 16 display
For gaming, you want a display with excellent contrast that produces powerfully saturated colors and crystal-clear quality, and the Omen's 16.1-inch QHD (2560 x 1440) 240Hz display checks off all those boxes. The 240Hz refresh rate ensures your gaming is smooth and tear-free, and its 16.1-inch size also gives the user a very immersive experience. And while the color isn't the most vibrant out there, I didn't really notice during real-world testing.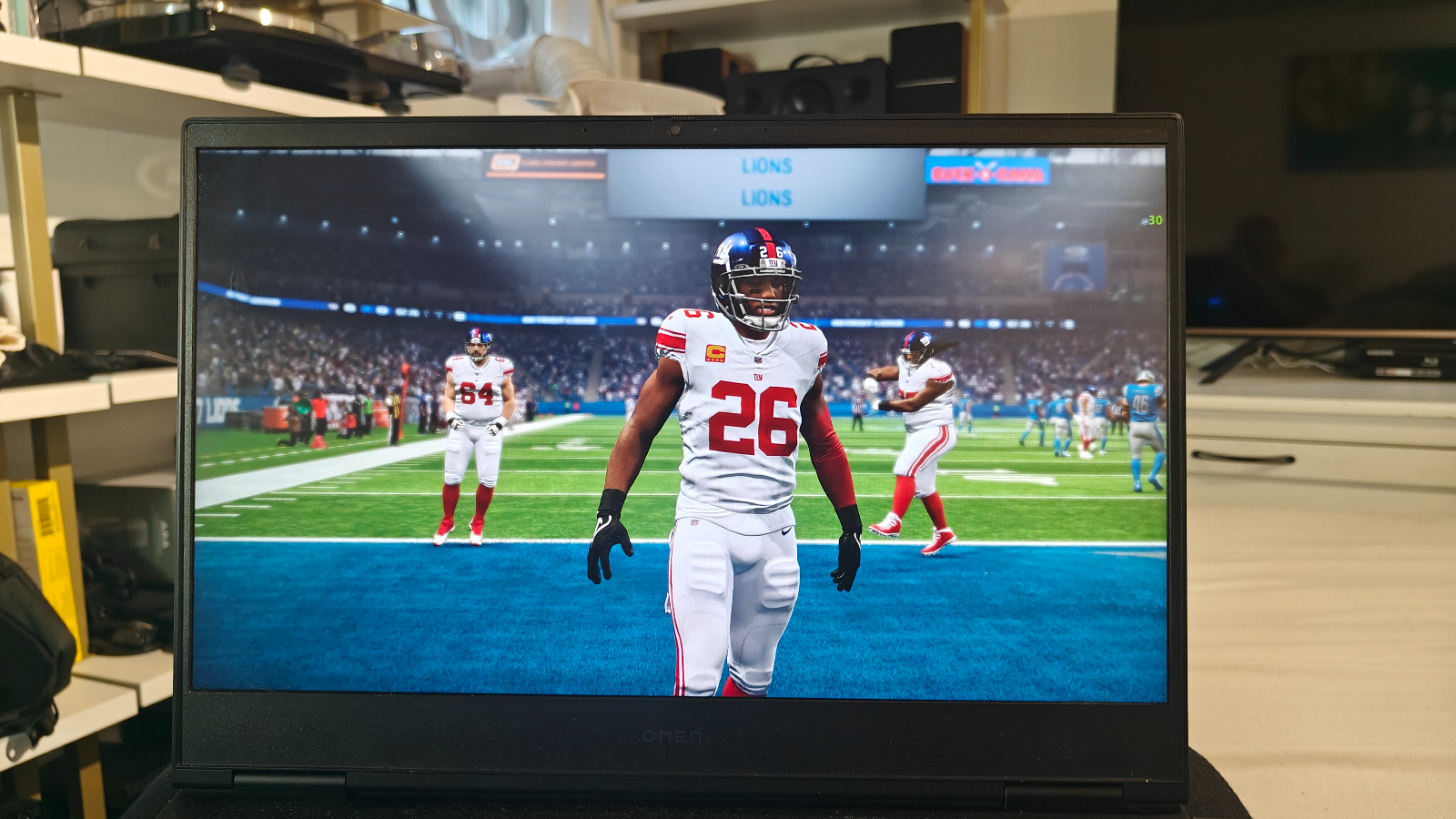 I thoroughly enjoyed the brightly colored uniforms and hard hits as I played Madden 24. The Omens display is crisp, with excellent detail bringing individual players' faces to life. I could see New York Giants QB Daniel Jones's furrowed brow.  The display also did a fantastic job reproducing the smallest details on the shiny football helmet. I felt like I was back on the field again, leading my squad to a winning touchdown. The 16.9 aspect ratio gave me an excellent field of view, making sure I could pick out the best receiver to throw to.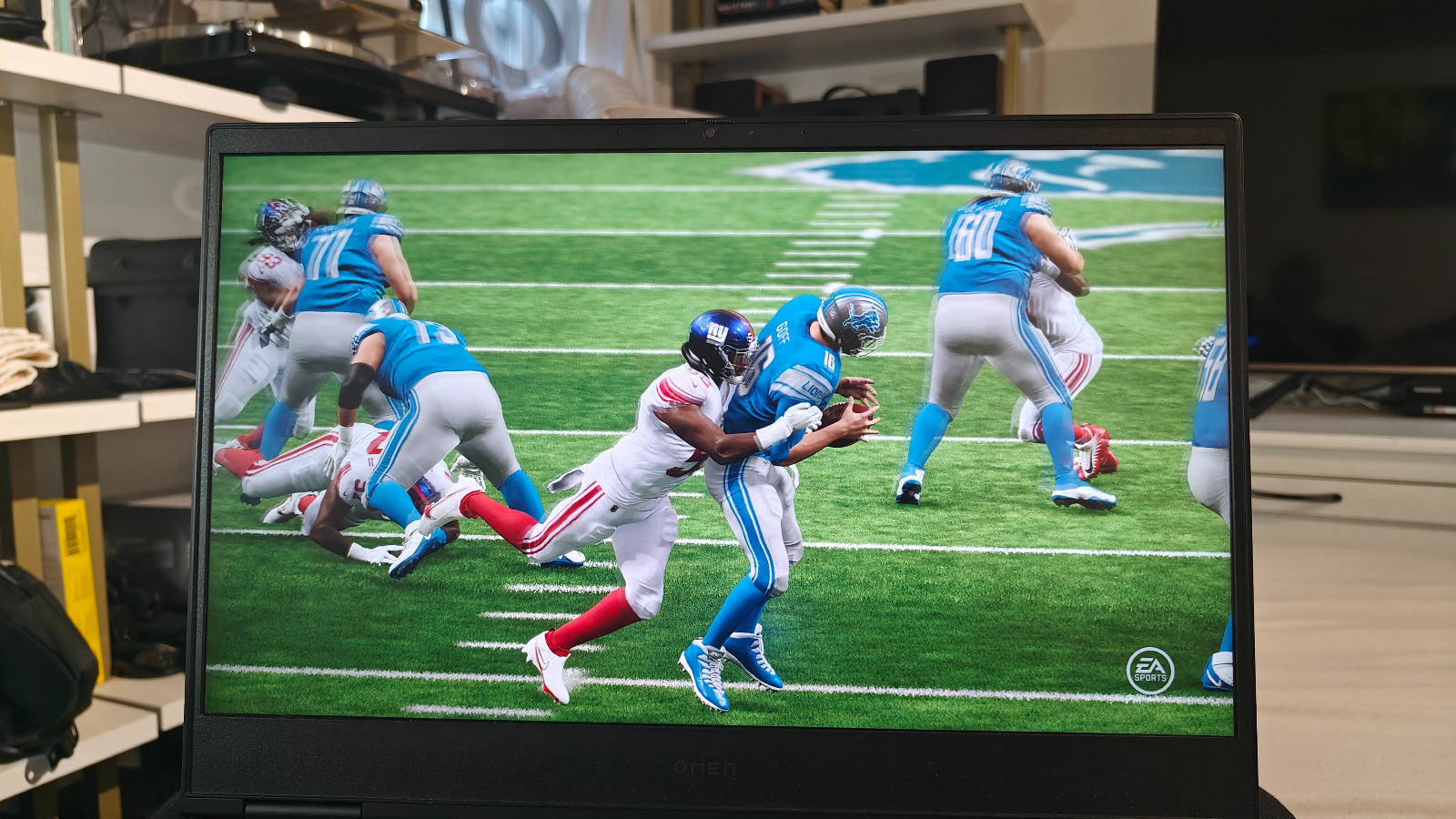 So after my New York Giants slaughtered the Lions, I rewatched The Avengers movie on Disney Plus, enjoyed the CGI of aliens attacking Manhattan, and watched the building I worked at many years ago get blown to bits.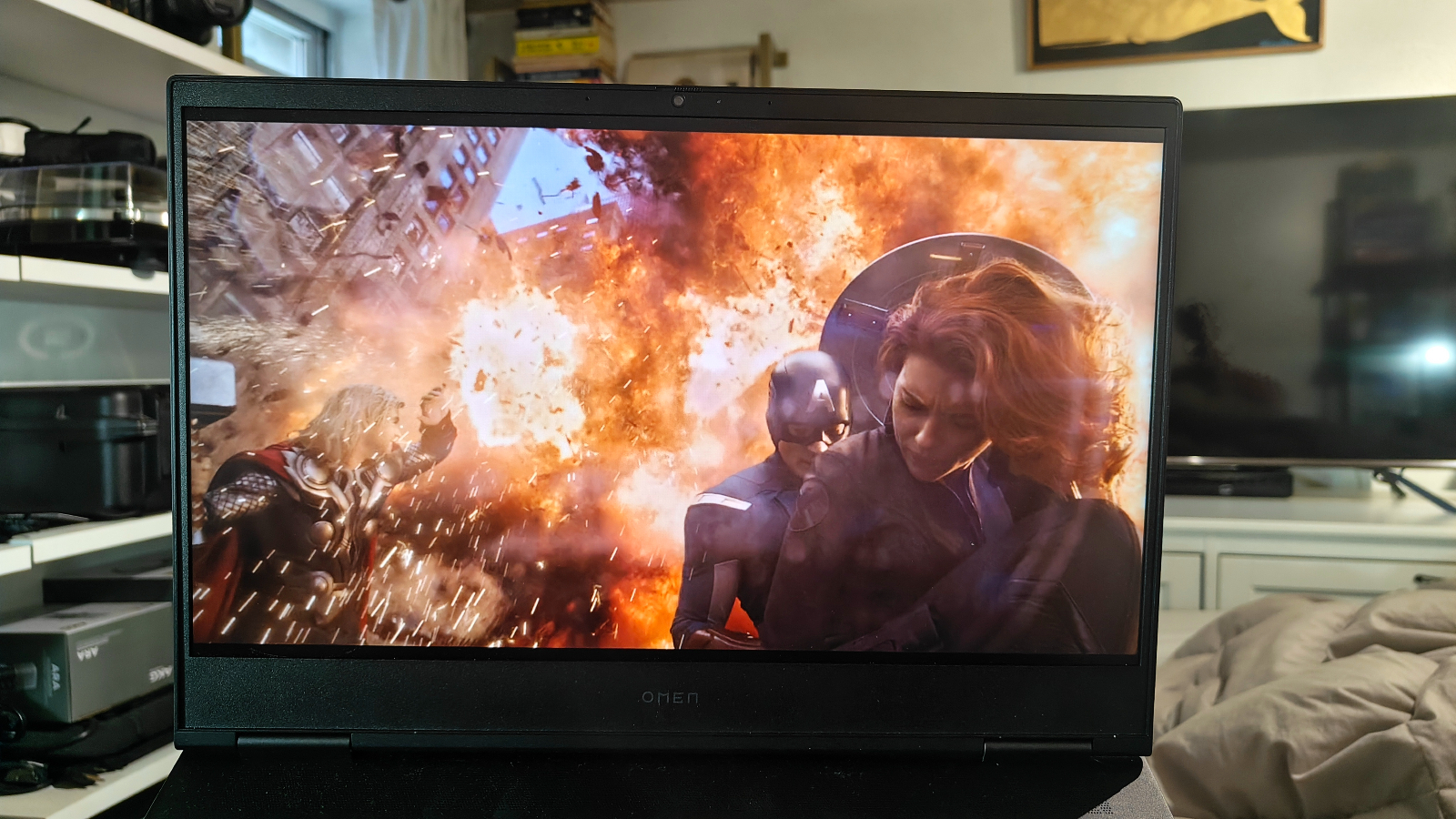 The explosions were brightly colored with vivid oranges, reds, and blacks with white plumes of smoke. I didn't notice any color bleeding you can sometimes spot. I loved it when Thor and the Hulk slaughtered that giant alien flying dragon, followed by the green rage machine sucker-punching Thor out of view.
During our testing, the HP Omen 16 reproduced 78.1% of the DCI-P3 color gamut, which is below the premium gaming average of 92.9%, which was surprising. Meanwhile, the MSI Raider GE 78 HX led our group with 115.4%, followed by the Origin Eon 16-S, which tallied 83.5%, with the Strix Scar right behind it, with a DCI-P3 average of 83.3%. 
Our Omen 16 produced 305 nits of brightness, below the premium gaming laptop average of 426 nits. The Asus Strix Scar produced a stunning 503 nits of brightness, lighting the way for our merry band of gaming laptops. The MSI followed with 412 nits, while the Origin averaged 326.4 nits. 
HP Omen 16 keyboard and touchpad
The Omen 16's RGB keyboard is massive, even for monstrous mitts like mine. Although the Omen is office-safe, you can still have a little fun and design your per-key RGB lighting scheme within the Omen Gaming Hub software included with the unit. The keyboard is hyper-responsive with fast, excellent bounciness that's great for gaming. It's not clicky and loud, which some prefer for gaming, going for a more definitely silent and deadly route.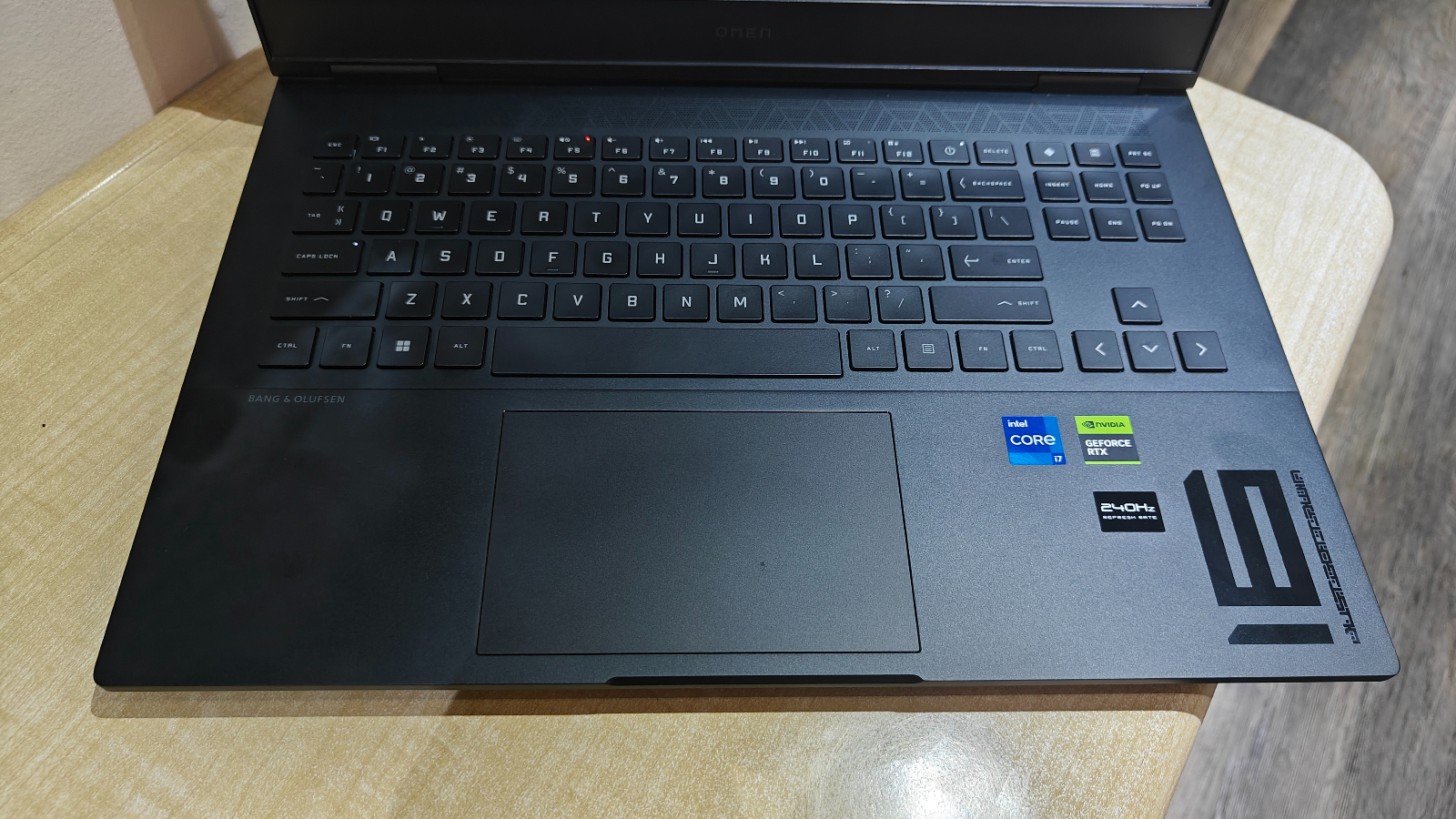 During the 10FastFingers.com typing test, I typed 91 words per minute with 90% accuracy. Usually, I am in the 85 to 90 words per minute range with 85% accuracy, so I was within my average speed with slightly elevated accuracy.  
The 4.9 x 3.1-inch touchpad is responsive and accurate when navigating websites or documents. It nicely performed all Windows 11 gestures, such as two-finger swipes and three-finger taps. The bottom corners give firm and clicky feedback when using right or left clicks. 
HP Omen 16 audio
The audio experience on the HP Omen is solid and reminiscent of my recent experience with the HP Victus 16, producing the same levels of excellent depth for laptop speakers. The Bang & Olufsen speaker system creates enough tonal separation to easily determine the differences between highs, mid-ones, and lows. The Omen's speakers may not be bass-pushing thunder drivers, but they produce more than loud enough audio for an individual to enjoy while gaming or binge-watching video. 
I fired up The Bass Police's "Shake That," and the Omen's speakers remained clear without distortion, even with the too-heavy bassline pushing its tiny drivers. It held up well, delivering very discerning, clear audio with depth. In honor of Hip Hop's 50th birthday, I listened to the classic "White Lines" by Grandmaster Flash and the Furious Five. The Omen did a nice job with the disco-inspired beat, Grandmaster Flash's smooth lyrics, and the triumphant horns in the background. The thumpy bass was well separated from the high and mid tones, and I had a brief flashback to my older brother mixing records in our home. 
While watching The Avengers, the vocal reproduction and tonal depth were precise. Sound effects were reproduced cleanly, without distortion, during those loud explosion scenes. The mic array on the Omen 16 worked very well, and the people I video chatted with said my voice sounded clear. 
HP Omen 16 graphics
The HP Omen 16 has an Nvidia RTX GeForce 4080 GPU and 12GB of VRAM. The 4080 easily handled Madden 24, as I spent part of my grueling workday playing quarterback for the New York Giants and crushing every team I played. 
On the 3DMark Fire Strike benchmark, the Omen scored 29,005, which beats the average premium gaming laptop (26,746). However, the MSI Raider (Nvidia GeForce RTX 4080) crushed this benchmark with a score of 34,015, followed by the Asus (Nvidia GeForce RTX 4080) 31,761, with the Origin EON 16-S  (Nvidia GeForce RTX 4070) closing things out at 26,022. 
The Omen surpassed the 93 frames per second premium gaming laptop average during our Far Cry 6 (1080p) benchmark, averaging 98 frames per second. The Strix Scar blew this benchmark away, averaging 133 fps, with the MSI Raider hot on its tail averaging 121 fps. The Origin followed along, averaging a respectable 99 frames per second. 
Finally, we ran the GTA V (Very High, 1080p) benchmark, and our unit fell a smidge below the premium gaming laptop average of 128 fps, averaging 126. Our group leader was the MSI Raider, which averaged 157 fps, followed closely by the Asus at 147 fps. The EON 16-S  closed us out, averaging 97.48 frames per second during this benchmark.
HP Omen 16 performance
With an Intel Core i7-13700HX CPU, 32GB of RAM, and a 2TB SSD, the Omen delivered a solid performance throughout my time with it, and I never experienced any lag while using different applications.  
When I got the Omen in hand, I plugged it in, powered it up, and immediately opened up 50 tabs in Google Chrome. Several were playing YouTube videos, one running "Avengers" on Disney Plus. There was no lagging performance, and the fan noise was minimal, but I could feel them pushing out warm air. The cooling system on the Omen is quite effective, which obviously helps with performance. 
Our HP Omen 16 review unit surpassed the category average during our synthetic tests, starting with Geekbench 6, an overall performance benchmark. The Omen 16 scored 13,940, leapfrogging the average premium gaming laptop score of 11,170. The ROG Strix Scar (Intel Core i9-13980HX) led our group with a score of 16,493, followed by the MSI Raider's 15,916 (Intel Core i9-13950HXc). The Origin EON16-S (Intel Core i9-13900H) closed things out, tallying 14,068. 
During the Handbrake video-editing test, requiring the laptop to transcode a 4K video to 1080p, the Omen fell just below the premium gaming laptop average of 4 and 18 seconds, taking 4 minutes and 29 seconds to transcode the media. The Asus ROG Strix Scar 16 owned this benchmark taking just 2 minutes and 50 seconds to transcode the same media, with the EON 16-s following that up with a speedy 3 minutes and 46 seconds. The MSI Raider handled the job in 4 minutes and 8 seconds. 
During our file transfer test, the Omen 16 (2TB SSD) averaged a transfer rate of 1,989.7 megabytes per second, shooting past the 1650 premium gaming laptop average when duplicating 25GB of mixed-media files. The Scar (1TB SSD) delivered a group-leading transfer rate of 2,042 megabytes per second, blasting past the rest of the group. The third spot belongs to the Origin EON 16-S (2TB SSD) with 1,818.53 MBps. The MSI Raider (2TB SSD) closed us out, averaging 1,715.14 MBps.
HP Omen 16 battery life
As with many gaming laptops, the Omen 16's battery life is nothing to brag about, but top-of-the-line gaming hardware devours power. During our in-house battery test (continuous web surfing over Wi-Fi at 150 nits), the Omen lasted 4 hours and 8 minutes, which is okay for a gaming laptop but below the premium gaming laptop average of 4 hours and 44 minutes. While gaming, the Omen 16 lasted just 1 hour and 27 minutes. 
The Asus ROG led our group, averaging 5:32, with the Origin coming in at 5:06. The MSI Raider lasted 2 hours and 33 minutes, as it treated its battery like a box of Teddy Grahams, devouring it in no time. 
HP Omen 16 heat 
The Omens cooling system is very effective, and I never experienced feeling like this is too hot for my lap. It scored well during our heat tests, which consisted of a series of temperature scans after running a fullscreen HD video for 15 minutes. The touchpad measured 75.2 degrees Fahrenheit, while the space between the G and H keys measured 84.4 degrees. The laptop's underside was also acceptable at 90 degrees during testing and below our 95-degree safety threshold. 
Those were the non-gaming scores. After 15 minutes of gaming, the temps in two areas got steamy. The touchpad measured a still very acceptable 73.8 degrees. However, the center of the keyboard peaked at a temperature that rivals an Arizona heatwave: 103.6 degrees. The underside was measured at 119.8 degrees, so I recommend placing the laptop on a table or desktop while gaming. 
HP Omen 16 webcam
The FHD (1920 x 1080) webcam on the HP Omen 16 is one of the better webcams you'll find on a laptop. The 1080p resolution is more than enough for streaming and meetings. During my time with the unit, I found the camera provides excellent crisp images and is color-accurate in all lighting conditions.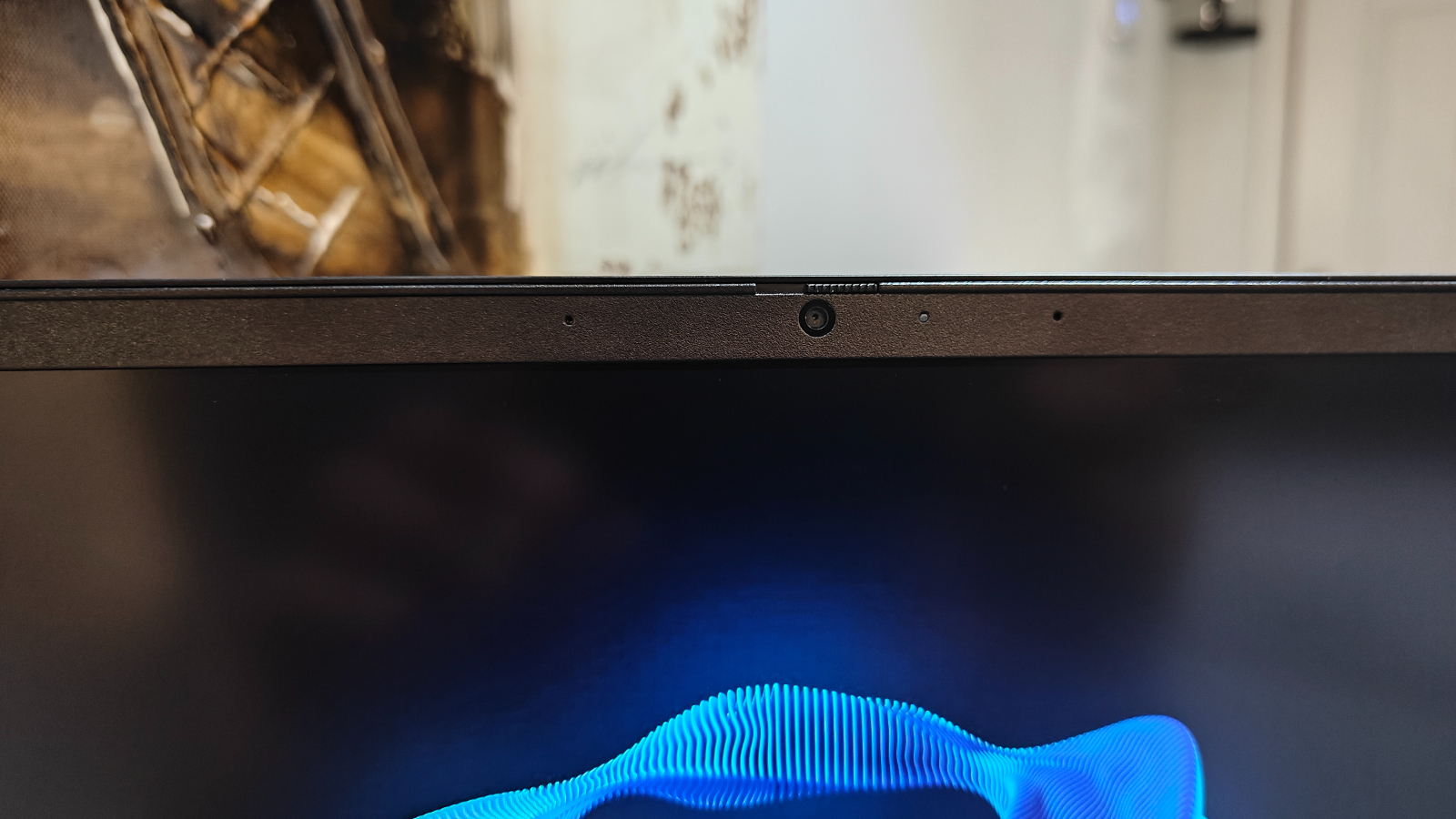 I was happily surprised by how quickly the webcam adjusted to low-light conditions. However, at times, there was some pixelation, but I expect that with most built-in webcams. 
The Omen's webcam offers solid imaging, but if you need more resolution, I would check out our best webcams page for some extra guidance if you need more.
HP Omen 16 software and warranty
The HP Omen 16 comes with Windows 11 Pro but minimal added software or bloatware. The HP Omen Gaming Hub app gives users intimate control of the entire system, from CPU overclocking to RGB lighting and audio. The user-friendly app made me feel more in tune with the laptop. You will find that HP's Windows experience is very similar across all their gaming laptops.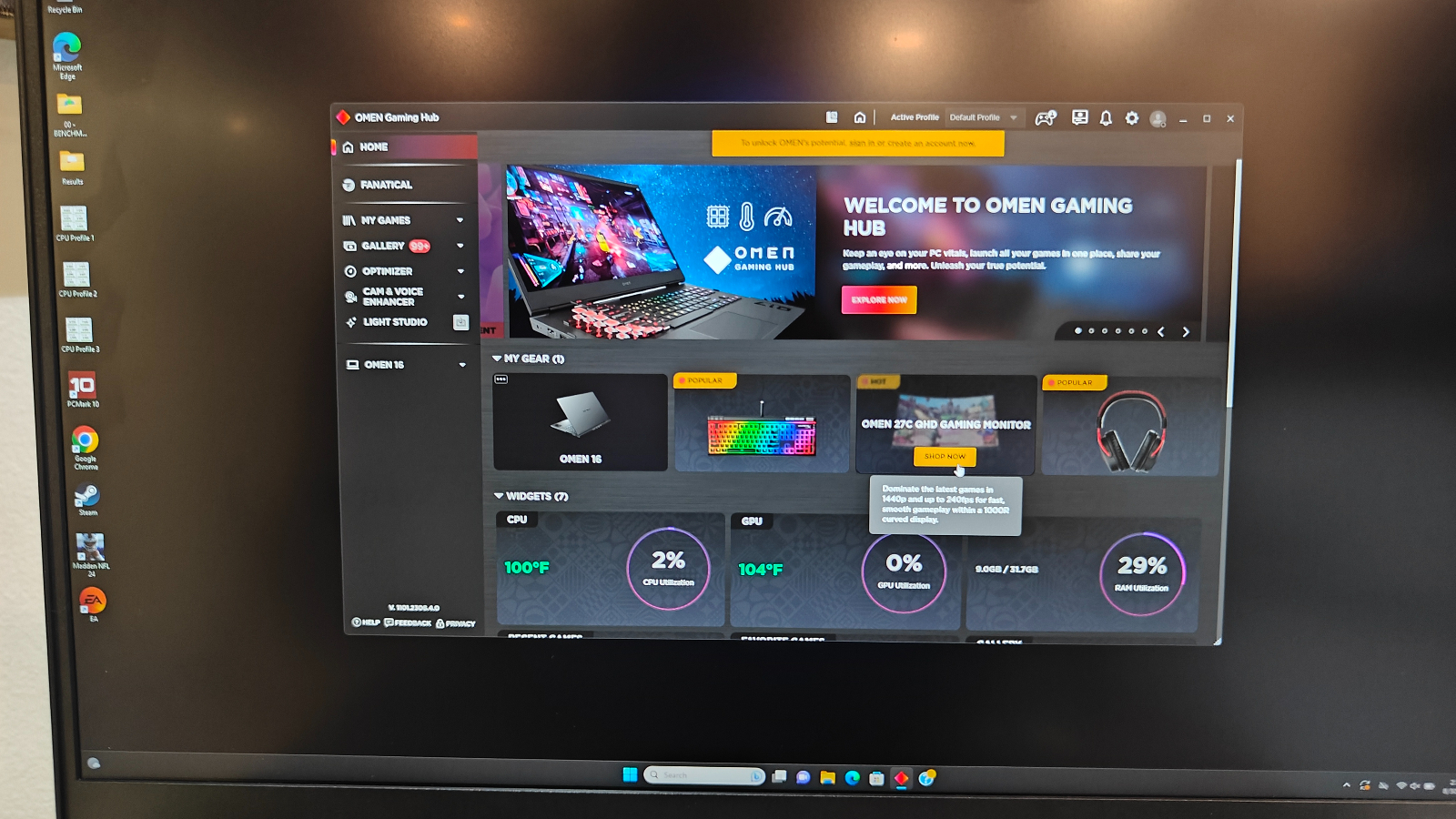 Like every Windows 11 computer, there are apps for Skype, Office 365, Microsoft Solitaire suite, and Xbox console. Other than that, you can get into gaming or pushing documents without dealing with deleting extraneous software. 
The HP Omen 16 comes with a one-year limited warranty. See how HP performed on our Tech Support Showdown special report.
Bottom line
The HP Omen 16 is a good gaming laptop that represents a step up from budget gaming without traipsing into the $3,000+ for some of the best gaming laptops. Its Core i7 CPU and Nvidia 4080 GPU combo can easily handle your triple-A game titles.  The only thing that sticks out for me is I found it too similar to the Victus 16, which could be a good thing if you're moving up to a new level of gaming. However, I don't know if the performance boost is enough to warrant spending the extra money.
The Omen's display is an excellent selling point as it reproduces imagery beautifully, although according to our testing, it's not very bright, in real-world usage I found it sufficient, but be wary if you are often gaming in an overly bright environment. Overall, the HP Omen 16 is a fine premium gaming laptop to spend your weekend gaming on, but watch those add-ons if you are customizing as it can get expensive quickly.