Help! My dog pulls on the leash and I've tried everything! I hear this comment frequently working as a veterinarian. It can be frustrating to teach a dog how to walk on a loose leash, but through my years of experience as a veterinarian, I have learned the best techniques to get dogs to stop tugging on the leash. In this article, I will share several tips and tricks to get your dog to walk on a loose leash. Not only will I share training tips, but I will also share leash, harness, and training collar recommendations that work best for dogs that tug on the leash.
What is Loose Leash Walking a Dog?
Loose leash walking is when your dog is able to walk on a leash without pulling or tugging on the leash. Loose leash walking is not typically an inherited trait, meaning that most dogs need to be trained on how to do loose leash walking. It will take a lot of patience and persistence to teach your dog how to walk on a loose leash, but with hard work and dedication, your dog will be able to walk on the leash without pulling.
How To Train a Dog To Walk on a Leash Without Pulling
1. Keep the Leash Short
Use a leash that is no longer than 6 to 8 feet long. Retractable leashes are not recommended as they can easily break and can confuse your dog during training because they vary in length. Also, avoid extremely long leashes. Try and keep the leash short to keep your dog close to you but leave a little bit of slack in the leash.
2. Use a Lot of Treats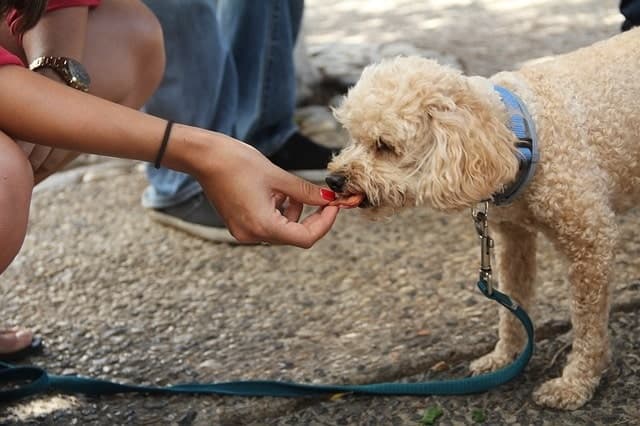 Positive reinforcement of the behavior that you want is one of the best ways to teach your dog to walk on a loose leash. Keep a pouch of your pup's favorite training treats handy. Keep feeding your pup a treat to keep them walking close to you. Reward them when they are walking without tugging on the leash. According to the American Veterinary Society of Animal Behavior, consistent rewards-based training is the most effective way to train your dog.
3. Stop Walking When Your Dog Pulls
If your dog starts to pull on the leash, immediately stop walking. When your dog stops pulling on the leash, you can give them a treat and begin walking again. As you walk, be consistent with this start and stop routine. Only allow your dog to walk when they are not pulling on the leash. This will teach your dog that the only time that they are allowed to walk is when they are not tugging on the leash.
4. Try a Front Pull Harness
The front pull harness is my favorite recommendation for dogs that pull on the leash. I have recommended these products for many tugging dogs, and their owners have always been extremely pleased with the results. The leash clips in the front of the harness so when your dog tries to pull, it pulls them the opposite way that they want to go. This discourages the leash pulling behavior. My favorite front pull harness is the PetSafe Easy Walk.
5. Try a Headcollar
Headcollars are another good option for dogs that pull excessively on the leash. They sometimes require a bit of extra training to get your dog comfortable with it, but I have seen good results from these products. Headcollars attach around your dog's face and when your dog tries to pull on the leash, it will gently pull on its head which discourages the tugging behavior. My favorite headcollar is the PetSafe Gentle Leader.
6. Try a Training Leash or Training Collar
If you want options for training leashes for dogs that pull, you will want to find a sturdy short leash. I recommend the PetSafe Nylon Leash. You may also consider using a training collar to train your dog to walk on a loose leash. If you are considering using a training collar, you should consult with a qualified trainer to teach you how to properly and safely use these products. Also, positive reinforcement has been shown to be more effective for training than using training collars.
7. Hire a Trainer
If you feel like you have tried everything and your dog still tugs on the leash, it might be time to hire a trainer. When looking for a qualified trainer, it is important to inquire about their qualifications and the training methods they use. Try and find a trainer that uses mostly positive reinforcement and avoid trainers that mostly use punishments like prong collars and shock collars. I do not recommend using prong collars for dogs that tug on the leash. Look for a trainer who is a good instructor and will teach training techniques that work for your dog.
How Long Does Loose Leash Training Take?
Loose leash training can take time. It is important to be patient and consistent when training your dog to walk on a loose leash, as it can take several months of consistent training. Remember that there are products available that can help you train your dog more quickly, including front pull harnesses, headcollars, and training collars. Also, working with a trainer may speed up the training process. Remember to give your pup plenty of treats during training to encourage the behavior that you want to see!