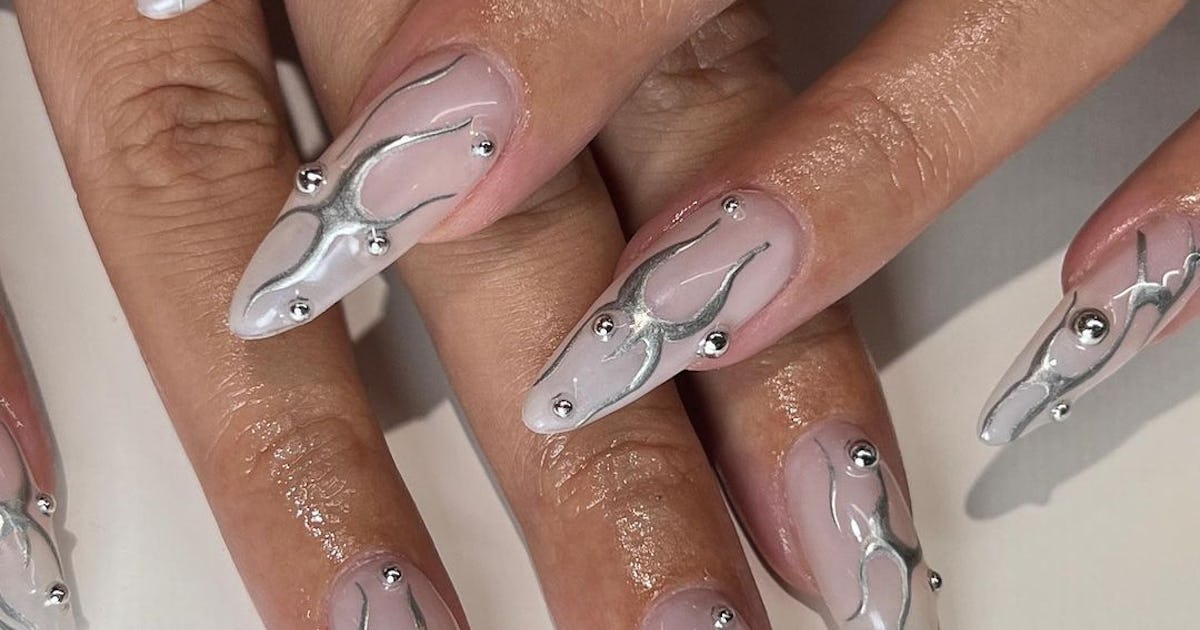 From on-trend chocolate glazed donut manicures that feel cozy for fall to mirror-like silver finishes that add some serious edge to any 'fit, one thing is for sure: Chrome nails of every color are definitively in at the moment.
With A-list celebrities like Dua Lipa, Cardi B, Hailey Bieber, Bella Hadid, Kourtney Kardashian Barker, and countless others opting for unique chromatic manicures and pedicures — especially in recent months — it's safe to say the high-shine, glistening vibe isn't going away anytime soon.
While chrome nails may seem best suited for only the mani maximalists of the world, the trending nail art is surprisingly versatile.
On one end of the spectrum lies a very "quietly luxurious," understatedly chromatic look, which most often features a base color in a light "your nails but better" neutral. On the opposite end lives a "more is more" manicure mindset, with daring 3D details, intricate nail art, and more out-there chromatic finishes aplenty.
In other words? Chrome nails are certifiably a major green flag for everyone.
For the salon goers who have tried chrome tips, you might recall your manicurist whipping out a professional chrome powder to add the coveted finish to your nails. In speaking with some experts in the industry, however, there are quite a few different ways to recreate the look when painting your fingers and toes at home, too.
Below, Leanne Woodley — a celeb-loved manicurist whose work can be spotted on runways and magazine pages — explores the roots of the trend and explains how to do chrome nails at home.
The Rise Of The Chrome Nail Trend
"To delve into the origins and influence of nail trends, it's fitting to begin with the ascent of luster nails in the late 1960s and early 1970s," Woodley tells Bustle.
"This period marks a significant turning point when nail brands started expanding their color palettes and enhancing nail options." In other words? Nails weren't just painted in nostalgic reds and bright corals around that time.
Throughout the 1990s, metallic silver hues became a staple, with pop stars of the time like Britney Spears and Madonna getting in on the trend. Seeing as the early aughts are making a comeback — especially in the last few years — metallic lacquers, too, have gotten a chromatic upgrade to coincide with the nail industry's innovations.
As for fall and winter 2023 chrome nail trends? "We can anticipate the emergence of darker chrome hues and unexpected color variations," Woodley says.
How To Use Chrome Powder At Home
"Due to the specialized nature of chrome nail applications, I typically caution against novice users attempting to use professional products without the guidance of a trained professional," Woodley tells Bustle. "However, there are various alternatives available that can help achieve the same stunning chrome nail look."
While chrome powders are typically a professional-exclusive nail art medium, BeautyTok has discovered a hack to effortlessly recreate the look at home. Woodley has her own spin.
"Pigment powders, or actual chrome powders, mixed with a clear top coat can yield remarkable results," she shares. "Before you begin your nail preparation, consider mixing your pigment powder with a separate top coat, distinct from the one you'll use to seal the final look."
First things first: "The foundation of your chrome nail look starts with two even coats of your chosen base color," Woodley explains. "The importance of selecting the right base color cannot be overstated — it plays a pivotal role in achieving your desired outcome."
Don't shy away from mixing and matching different hues. "Experimentation is encouraged, especially with colored pigments. Try pairing a pigment that complements your base color for an intensified effect." In other words? A chocolate-colored chrome would look amazing over a rich brown nail polish.
After you've applied a base, swipe on an even coat of your DIY chrome polish. "Check the opacity as well, as you may need to adjust by adding more chrome powder or applying additional coats for the desired effect," advises Woodley.
Finish with a shiny top coat, and you're all done.
Chrome Nail Polishes For Mirror-Like Shine
Craving a chromatic look, but don't feel like heading to the salon? "For individuals with little to no prior nail experience, I recommend opting for chrome nail polish colors to streamline the process," Woodley explains.
"Featured in their recent spring 2023 collection, CND's Live Love Lavender offers a striking mirror-like finish that emulates the look of chrome nails without the need for the powder application step." Further, countless brands on the market — like the cult-fave OPI, as well as the more indie (but equally stunning) Mooncat — offer an artful collection of high-quality glitters and chromes.
Try Chrome Press-Ons & Nail Stickers
With Kim Kardashian a notable fan of the easy-to-use press-on nail life, the trendy nail art category has been steadily on the rise for quite some time now.
"Press-on nails are a serious game-changer when it comes to saving time and money, [as] you can give yourself an on-trend mani in less than five minutes and for a fraction of the cost that it would be in-salon," Bailey Stanworth, the founder of Quickies, previously told Bustle.
What's more, press-ons can be more gentle on your tips, as the artful tips can be removed by soaking your nails in a bowl of warm water with dish soap and olive oil instead of damaging, drying acetone.
Similarly, stick-on decals and nail tattoos are the quickest way to elevate your at-home manicure (and easily try out the chrome trend), allowing even the most novice nail painters to access high-quality, detailed art on the regular.
Shop Chrome Press-Ons & Nails Decals