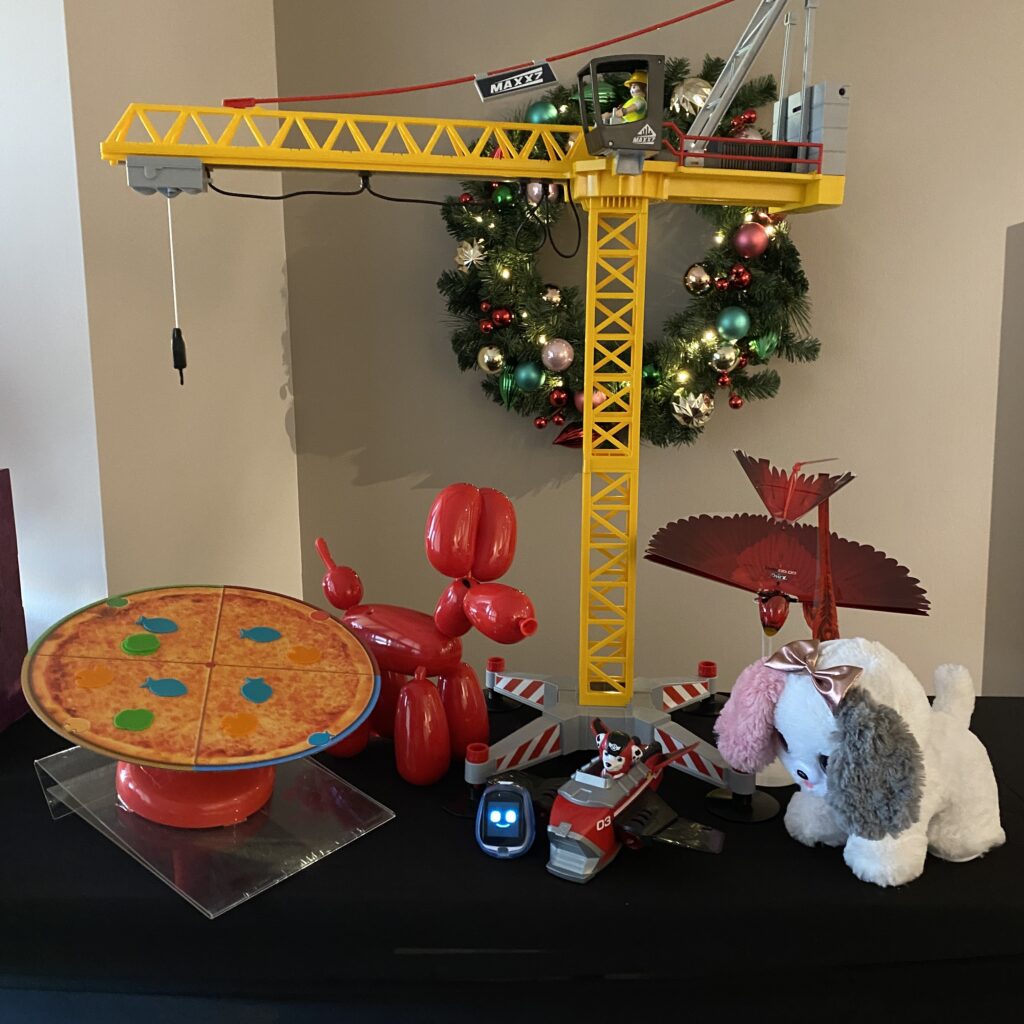 In the year of Coronavirus, these are going to be holidays like none we've seen before. But here at Toy Guy Headquarters, we have it on excellent authority that Santa is still going to fly…and his sleigh may way a bit more this year. Or, he may have to make a few trips.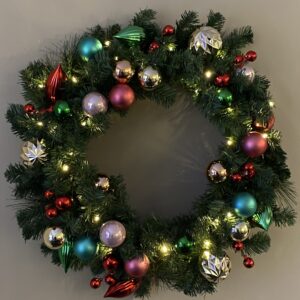 Kids being kids and toys being toys, good toys always begin with engaging kids on imaginative, creative and expressive play. Depending on your family, there may be more need for toys that engage social play or provide an outlet for working out emotional issues. As always, we like to think of "hot" toys as toys that your kids will love playing with, that they connect to in some way. Since no two kids are a like, no toy list will ever be completely comprehensive, but here are a few that we've been playing with that we think a lot of kids will enjoy.
When it comes to "criteria" for picking a good toy, there are several things we always look for:
Is it Fun? Of course, that means different things to different kids, but a good toy something very human in players such as imagination, interaction, discovery, and, of course, that elusive concept of "fun."
Is it a Good Play Experience? We like to say, "a good toy isn't complete without the kid," meaning that toys that require a child to be engaged provide the richest play experiences.
Is it a Good Value? Of course, value can mean many things. It's not just about the price; it's about the long-term play. It should have a lot play value, meaning that kids should want to play with it again over time.
One other component of good, even hot, toys is that they are part of the current culture. Toys have a fashion component to them, so whether it's popular themes, design, technology, or more; toys help kids locate themselves in the culture of their time.
And, finally, don't forget the "Wow!" This is, naturally, an inexact criterion. Yet when you see a kid's eyes light up, and watch as they get lost in the play, you know you've found it.
Speaking of which, here are some we've found for 2020, and why we think they're worth a look: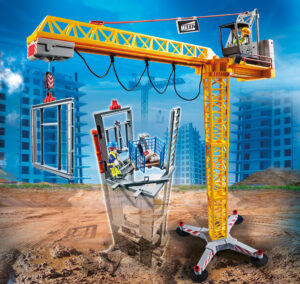 Playmobil RC Crane with Building Section from Playmobil
Ages 5 +
$99.99
Where to Buy
This outstanding toy features the best of classic, construction play. The super sturdy crane can be extended up to three-feet tall, and the R/C unit allows kids to operate it smoothly and exactly. It comes with two Playmobil figures, and it can be combined with other sets to create a three-story building and a full construction site. High quality construction and rich play make this a set to build imagination.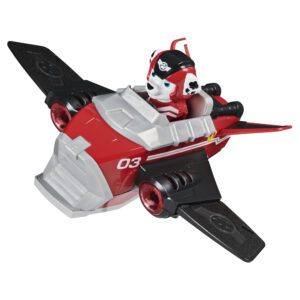 Paw Patrol Jet to the Rescue Marshall's Deluxe Vehicle from Nickelodeon/Spin Master
Ages 3+
$14.99
Where to Buy
Paw Patrol continues to be the hottest preschool entertainment property today. Kids love the adorable pups and the exciting rescues. Plus, they're learning valuable social/emotional lessons as they play and create their own hero stories. The Jet features Marshall in flight gear and the transforming jet. This is part of a whole line of engaging, imagination-inspiring toys featuring the entire Paw Patrol crew.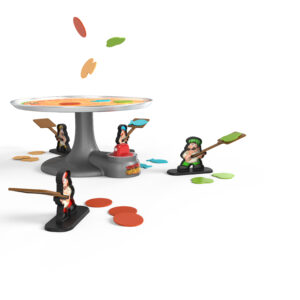 Pizza Party Throwdown from Hog Wild
Ages 4+
$19.99
Where to Buy
Yes, you can have pizza every night or every afternoon for that matter. Wind it up, and you have 30 seconds to toss your pieces onto the spinning pie to score points. It's fast-paced, super fast fun for everyone. Games are very popular this year as families are spending lots of time together, and this is perfect because it's both competitive and silly at the same time and anyone can play. Get ready to send the food flying!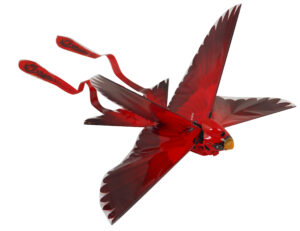 Go Go Bird from Zing
Ages 8+
$39.99
Where to Buy
This is one of the coolest toys we've seen in a long time. It's a real, flying bird you control with the R/C. It's easy to learn, fun to fly, and it can go about 200 feet in the air. It also works indoors. You need a little space, but it has sensors to help it avoid walls. This was the hit of the toy fairs in Hong Kong and New York this year. It's an amazing combination of technology and play that really makes magic for players of all ages!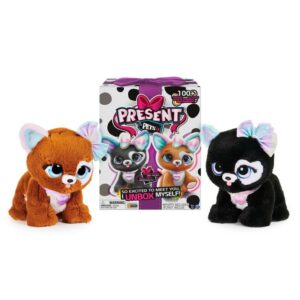 Present Pets from Spin Master
Ages 4+
$49.99
Where to Buy
Interactive pets just keep getting more sophisticated and lifelike, and these soft, pups are adorable. And the play starts while the toy is still in the box. You may have heard about unboxing, and these are the first toys that unbox themselves. It takes about two minutes, but kids will love pretending that their new pet is so eager to meet them! After those magic moments, these best friends have plenty to keep kids engaged and playing. Choose from Fancy Pups or Glitter Pups. Spin Master tells us that these may be in short supply this fall, so be sure to buy this one early!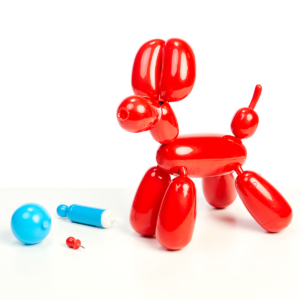 Squeakee the Balloon Dog from Moose Toys
Ages 5+
$59.99
Where to Buy
We've been in love with this toy since we saw it in Hong Kong earlier this year. It looks like a Jeff Koons sculpture, and it's got tons of play built in. We've never seen an interactive pet like this before…or one so packed with features. More than 60 sounds and movements let Squeakee come to life, respond to voice commands, and more. You'll be amazed at all he does, and you won't mind the artistic design, either. This is one that's got lots of "wow" built right in. We've also seen lots of deals on this, so shop around.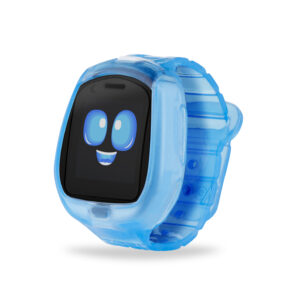 Tobi Robot Smartwatch from Little Tikes
Ages 4-8
$54.99
Where to Buy 
This is one of the coolest tech toys of 2020. It delivers all the grown-up magic of a smartwatch but with kid-centric play and interactivity that makes it a rich experience for kids ages 4-8. It's the first time Little Tikes has made a stand-alone tech toy, and they've knocked it out of the park. The Tobi face and touchscreen has more than 100 expressions and interactions. His arms and legs move. There are two cameras, clock, and games. Plus, it communicates via Bluetooth with other Tobi watches. It does not connect to the Internet or any external systems. Talk about on-trend play!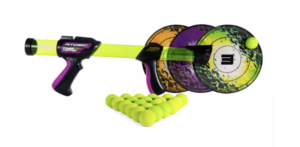 Atomic Power Popper with Sticky Targets from Hog Wild
For Ages 4+ years
$19.99
Where to Buy
Get ready for fast-paced action with this ball blaster that comes complete with sticky targets for great indoor or outdoor play. Load it up, put the sticky targets on any flat surface and use the pump-action blaster to try your accuracy at hitting the targets. The soft foam balls will fly up to 20 feet. Move the targets to different places to customize your games and challenges.  Great for players of all ages who want to test their skill…and perhaps burn off a few holiday calories.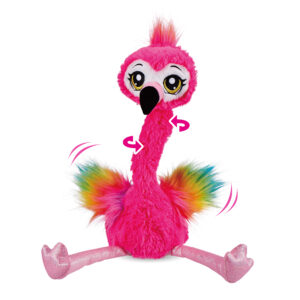 Frankie The Funky Flamingo from Zuru
Ages 3+
$19.99
Where to Buy
Sometimes you just need to be silly! And that's what you get with Frankie. Part of Zuru's Pets Alive collection—and the follow up to the unforgettable Boppi the Booty Shakin' Llama—Frankie rocks out to some awesome beats. Watch this bright pink flamingo flap its rainbow wings and swivel its neck in time to the music. In this year especially, it's just the right amount of happy holiday hysteria we need to keep us entertained and laughing. It's a lot of laughs for a low price—and makes the best gag gift of the season for grownups, too!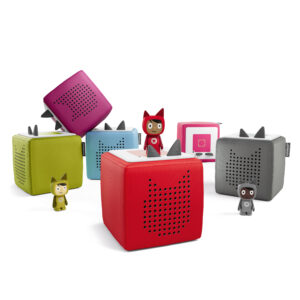 tonies from tonies
Ages 3+
$99.99 starter kit. Additional tonies $11.99-$14.99
Where to Buy
It may seem counterintuitive in this video-crazed age, but audio has become extremely popular for kids. The benefits for learning through listening and imagination go beyond entertainment and facilitate learning, and, of course, telling stories is a classic activity. That's why we've been so excited about the tonies. Designed for kids ages 3 and up, the basic unit is a soft, 5-inch fabric box with an integrated speaker. Place a character on top to unlock hours of related content. Kids can control the stories easily with the touch controls. The magnet holds it in plce. There are 17 tonies available now, which include time-honored fairytales and children's classics, as well as titles from Disney and Minions. Plus, adults can add up to 90 minutes of personalized content just for individual kids. Parents keep complete control through an app, and the unit uses WiFi only for setup and does not connect to the Internet.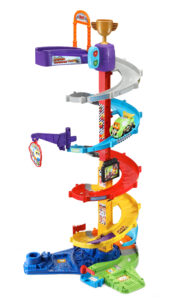 Go! Go! Smart Wheels: Ultimate Corkscrew Tower from VTech
Ages 1-5
$29.99
Where to Buy
We love the Go! Go! Smart Wheels. These preschool cars are full of fun and personality. It combines car fun with lots of cool interactions. When the cars go over the SmartPoints on the track, they activate more than 40 sounds, lights and interactions. Build the tower three-feet talk and watch the cars go spinning down. Or, set it up as a side-by-side system and race the cars against one another. It comes with one Rocky the Race Car vehicle and works with any Go! Go! Smart Wheels cars. This is a lot of toy for the money! It's a great play value, too, inspiring lots of repeat play and engagement for either solo or co-play.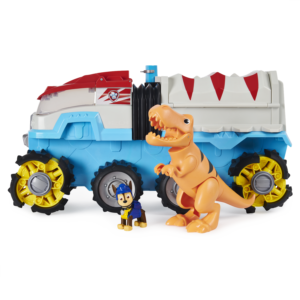 Paw Patrol Dino Patroller from Spin Master
Ages 3+
$59.99
Where to Buy
The world of Paw Patrol got a whole lot more exciting this year, as the pups find themselves interacting with real live dinosaurs! Kids who love these pups and the whole world of Adventure Bay know they need the right equipment. That's where the Dino Patroller comes in. It's the first-ever motorized Paw Patrol vehicle. This big vehicle comes with a T-Rex figure and an exclusive Chase figure, plus projectiles. So when Paw Patrol is on a roll, you're ready for any dynamic dino action. Other figures, toys and vehicles in the line are all sold separately.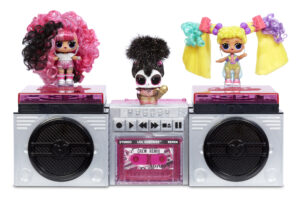 L.O.L. Surprise! Remix Hair Flip and L.O.L. Surprise! Remix Pets from MGA
Ages 4+
Hair Flip $15.99; Pets $12.99
Where to Buy
The surprises just keep coming with this new collection from L.O.L. Surprise! The dolls are cool, and each represents a different music style—R&B, Country, Hip-Hop, Pop, and Rock. More than 15 surprises with each doll, and hair that flips into different colors and styles.  The pets are cool, and each have tons of surprises inside, too. But we just love how the play begins right with the package that doubles as a record player (remember those?) and can be assembled (two dolls and a pet) into a working boombox (remember those?). Outrageous fashion, tons of creativity, lots of play, and an entire universe of creative fun, including original songs that we promise you, you won't be able to get out of your head. It's all in the L.O.L. Surprise! scale that have made these consistently best-sellers.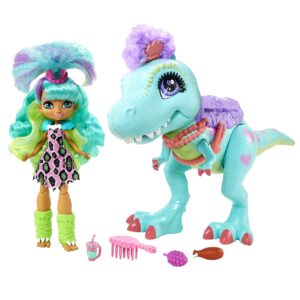 Cave Club Rockelle & Tyrasaurus from Mattel
Ages 4+
$39.99
Where to Buy
Friendship is positively prehistoric with this great new property from Mattel. Cave Club is about the first-ever group of BFFs and their adventures. You can find age-appropriate content on YouTube Kids, with lots of music, fun and some subtle lessons about what it means to be a good friend. Then, bring it all to life in the complete line of toys. Rockelle and her Tyrasaurus sidekick make a fun way to act out cave-a-riffic adventures with these great characters. The bright colors and fun fashions inspire lots of play for kids on their own, or with their present-day BFFs!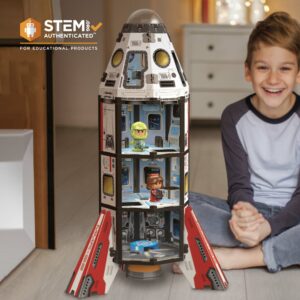 Gujo Adventures Mission Mars Rocket from Luki Lab
Ages 7+
$59.99
Where to Buy
Blast off for all kinds of great, narrative-based play with this 2.5-foot-tall rocket. Build and play as you imagine yourself off in outer space. There are multiple levels, two characters with changeable faces and unending interactive play. The set includes 245 pieces to inspire creative play. The building play is STEM authenticated, but what we really like is that while the basic building and engineering are solid skill-building activities, what kids will love is the classic fun of taking an imaginary space voyage.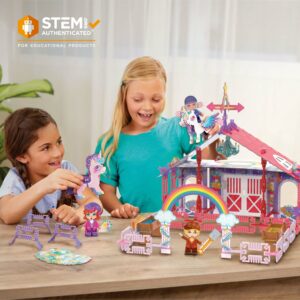 Pinxies Unicorn Barn from Luki Lab
Ages 6+
$39.99
Where to Buy
This set is absolutely gorgeous and the perfect setting for wonderful, imaginative, narrative-based play. Train unicorns ride on rainbows and much more in this adorable fantasy world. The building and play are STEM authenticated, and what's so great about this is the way each child will bring this world to life. More than 240 pieces to inspire great play, and interchangeable expressions are great for social emotional learning and expression. We love the rich play in this simple and beautiful setting.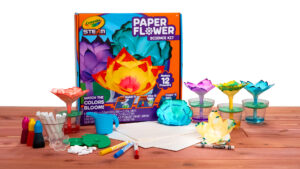 Crayola STEAM Paper Flower Science Kit from Crayola
Ages 7+
$19.99
Where to Buy
Is it art? Or is it science? How about both! This fun craft kit is part of the Crayola STEAM Science Kits collection. Create paper flowers, then, place the "stem" in colored water. Capillary action (aka "wicking") draws the water up the stem and into the leaves, creating all kinds of beautiful designs. The kit comes with 12 flowers that you can assemble and watch "bloom" right before your eyes. Kids can also "rewick" the flowers to change colors. This is part of two trends we've been following this year: STEAM without screens and learning toys that are actually fun. When kids are playing, they're experiencing the thrill of creativity, but they're also creating an opportunity to understand how the science works. Other sets in the series include kits about Space, Liquids, and Gross (which is a fun way of saying chemistry). Great design and lots of immersive (literally and figuratively) play make these excellent choices for curious kids.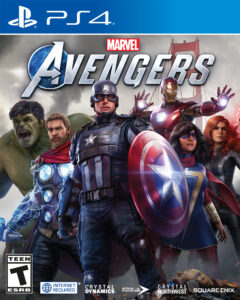 Marvels Avengers from Square Enix
Rated T for Teen
$59.99
Where to Buy
Get ready to spend hours in your customized Marvel Universe. Assemble your personal team of Earth's Mightiest Heroes, embrace your powers, and live your Super Hero dreams. This is a dramatic—and gorgeous—third person game that has both single player and co-operative gameplay. You can assemble an online team of up to four players, and defend the Earth, as usual. What makes this so exciting is that players control so much of the content, from mastering extraordinary ability to customizing your Hero roster, to unlocking new skills and gear, and more. Plus, there is new, free, content that is being developed and delivered regularly. It's really the ultimate game for the Avengers fan who wants to feel like they live in a world of Heroes. Long-term, evolving play and the ability to customize this to an individual play style, make this epic game and epic choice.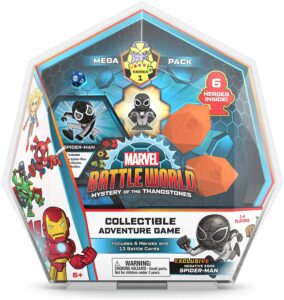 Marvel Battleworld: Mystery of the Thanostones from Funko Games
Age 6+
Starter Game $24.99, Additional Figures $8.99
Where to Buy
Leave it to Funko and the Funko Games division to come up with a game that's a perfect blend of game play and collectibles. In Marvel Battleworld, kids work together to pick favorite Heroes, rescue friends, and win battles to defeat Thanos! Plus, players get to crack open the mysterious Thanostones during the course of play to reveal one of more than 30 mystery Marvel superheroes inside. The Marvel Battleworld includes Battle Balls, Mega Pack, Thanos Ship Showdown and a Travel Portal. We like how expandable the game is, so players who are really engaged can continually refresh their play—and that makes it somewhat different every time it's played, which we always think is one of the hallmarks of a good game.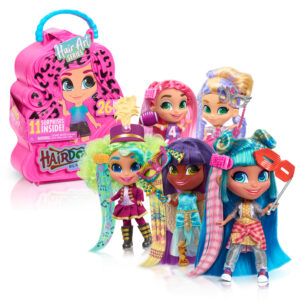 Hairdorables Hair Art Series from Just Play
Ages 3+
$12.99
Where to Buy
This super-hot doll line has been expanded with 26 new dolls to collect in a brand new theme. The addition of printed hair extensions gives them a truly arty look, and new accessories make the styling play engaging and outrageous thank to great hairstyles and eye-popping colors. The story behind this collection is that Noah and the Hairdorables are all about making content for YouTube—a popular play pattern for the target age. (Vlogger is the answer to the "What do you want to be when you grow up?" question for lots of little kids today.) The Hairdorables come in blind packages, so you never know who you'll get till you unbox it. It could be the ultra-rare Kat Mascot. These are great dolls for imaginative and fashion play for either solo or co-play. Collecting is as much fun as playing, and these girls get along with all their friends from previous Hairdorables collections.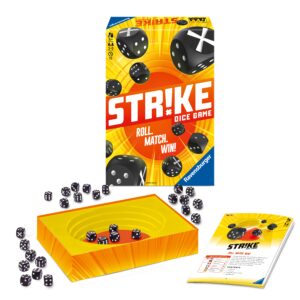 Strike from Ravensburger
Ages 8+
$19.99
Where to Buy
This is an exciting, fast-paced family dice game that's pretty addictive…in a good way. The game has an arena, and the goal is to be the last player with dice in your hand. Open the box and toss a die into the arena. The first player tosses another die in, and if both dice have matching numbers, take them out. Play then passes. Now there are a lot of things that can happen. If you toss in a die and there are no matches, you can try again—hence the name as you strike one die into another. But there's a risk. If you run out of dice you're out. If your die bounces out of the arena your turn is over. So, it's simple, but risky. And, yes, there's a little skill involved as you learn to toss the dice. We also like it because it's great for people of all ages to play together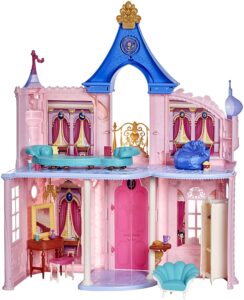 Disney Princess Comfy Squad Comfy Castle from Hasbro
Ages 5+
Where to Buy
Inspired by the scene in Wreck-It-Ralph: Ralph Breaks the Internet when Vanellope meets the Disney Princesses "backstage," this glamorous doll castle is the perfect combination of classic Princess magic and contemporary BFFs. It's the perfect place for the young ladies to lounge about. It stands about 32-inches tall and comes with 6 pieces of furniture and 16 accessories. It's reimagined princess play for thoroughly modern kids, but there's just the right amount of glamor, too. We've been enchanted by this collection since we first saw it, and you've got to love how Disney was willing to update some of their most iconic characters.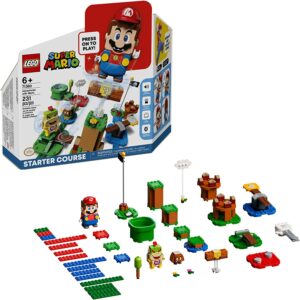 LEGO Super Mario Adventures with Mario Starter Course from LEGO
Ages 6+
$59.99
Where to Buy
The perfect mash-up of favorite play patterns and characters, LEGO's Mario sets combine an interactive Mario figure with a lot of whimsical play so that Mario's world comes alive in a kid's world. The 231-piece starter set replicates a typical Mario experience where you have to beat enemies, get around obstacles and collect coins. There are action bricks that trigger different reactions in the Mario figure, some skill-based game play, and it can all come together with the app that provides cool building tools.
And we're just getting started! Bookmark this page to find out hot toys, where to find them, and availability over the next weeks of the shopping season!
DISCLOSURE: PURCHASE LINKS ARE TO PLACES THAT HAD IN-STOCK AVAILABILITY AT THE TIME OF PUBLICATION. THE TOY GUY DOES NOT RECEIVE ANY COMMISSION OR FEES IF YOU PURCHASE THROUGH THOSE LINKS.