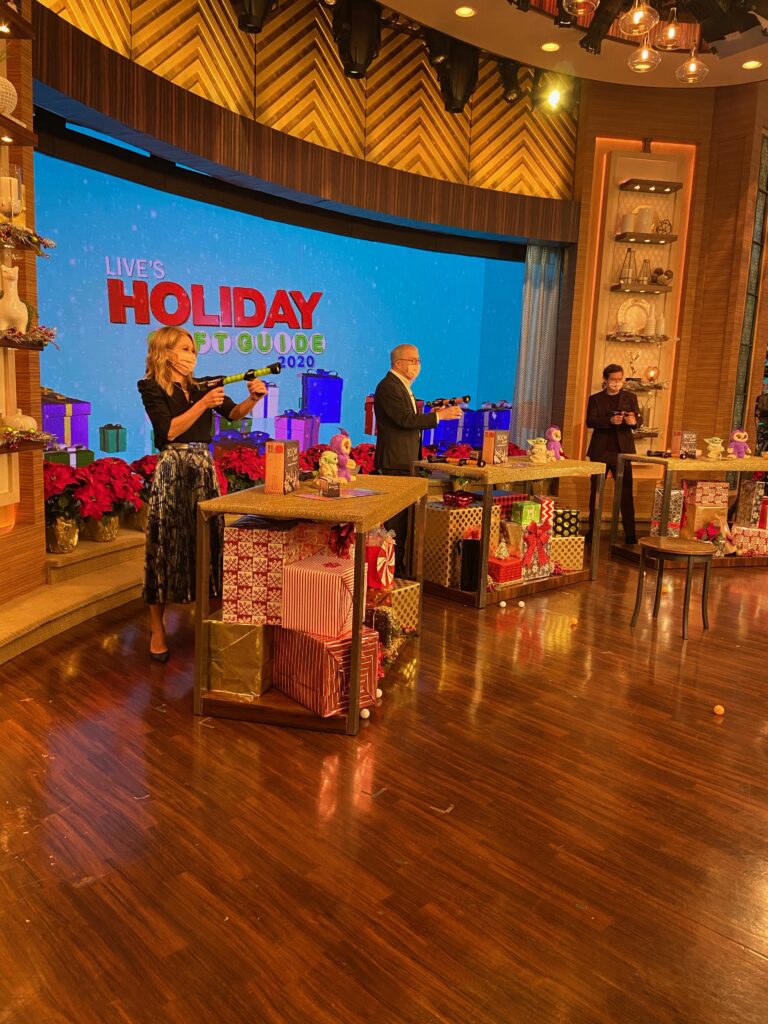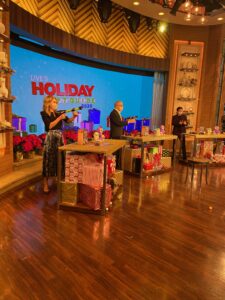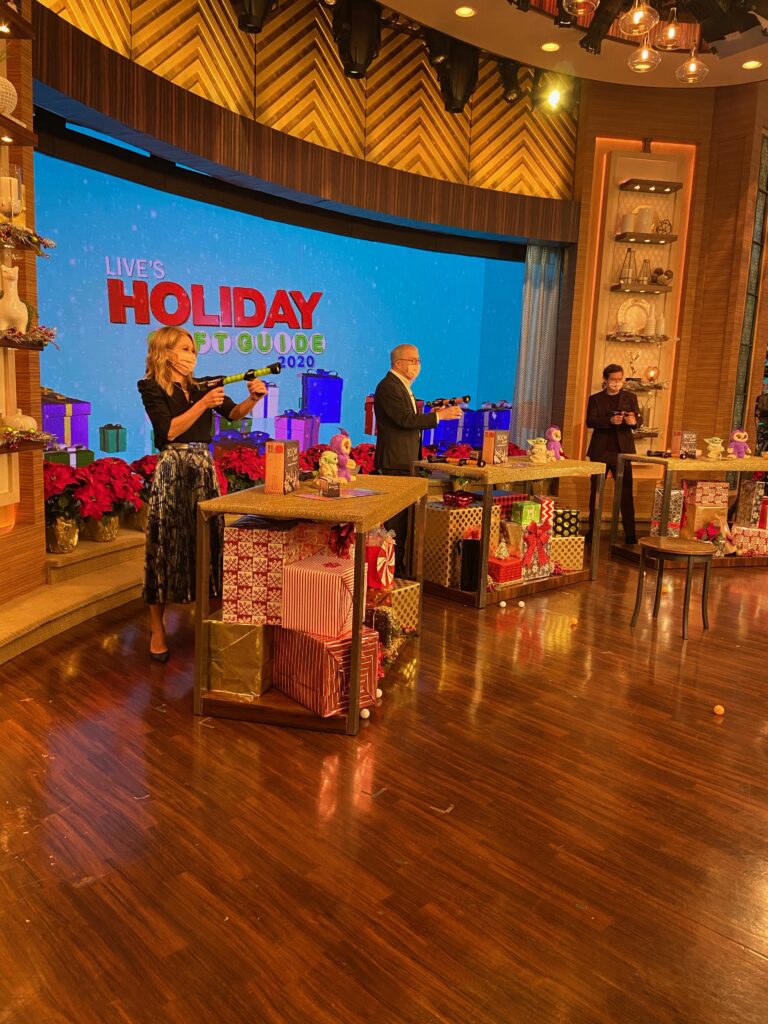 One of the most entertaining things I get to do every holiday season is play with the hosts on Live with Kelly & Ryan! If memory serves, 2020 is my 25th year of playing on this exceptional show. Of course, what you see is only the proverbial tip of the iceberg. One of the reasons for the show has been so successful for so long is that the producing staff, stage crews and the entire organization are some of the most joyful, kind-hearted, and fun-loving people I've ever met or been privileged to work with.
Over the years, we've set off Diet Coke and Mentos, been slimed (twice!), and I even played Twister with Regis and Dolly Parton, and there are so many other fun memories associated with the show—and the people who work so hard to make it happen.
Part of what I love about this show in particular is that a lot of things you'll see us play with are things that I've known about for a year or more. Sometimes even when I see something even in its earliest stages as a prototype, I start to laugh, and I can't wait to show them to Ryan and Kelly.
Here's what we got to play with this year.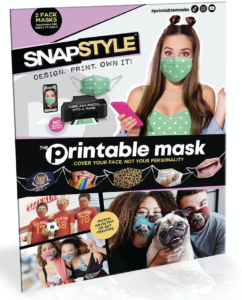 Snapstyle Masks from Skyrocket
All ages.
4-Pack $15.99
Where to Buy
Mask-wearing is essential during the time of Covid, so why not make it fun? Snapstyle Masks make the process easy with a highly engineered cotton fabric that provides an effective face covering. The fun part is that you can design and style your own masks using the easy app and then print them out on a regular printer. There are so many creative options, you won't want to go out without one.

Handy Grabs from Hog Wild
Ages 4+
$19.99
Where to Buy
If you've watched some of our previous playtimes, you know that Kelly loves toys with tiny, doll-like hands. Well, this is part toy/part tool. The hands are on a 20-inch extender and you can grab almost anything you want—and create different games. You have to "hand" it to Hog Wild for taking something that you'll want around the house every day and turn it into something playful, too.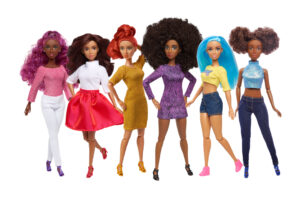 The Fresh Dolls from The Fresh Dolls
Ages 3+
Around $17.99 (prices and styles vary)
Where to Buy
These beautiful dolls feature African American characters (both boys and girls) that are big on style and glamor. Gorgeous, authentic features and stunning fashions make these both great for any doll player and inspiring to young people of color—and their families. Created by Dr. Lisa Williams, the Fresh Dolls are all about celebrating each child's unique beauty, gifts, and talent. They're a wonderful way to celebrate the dazzling diversity of our culture.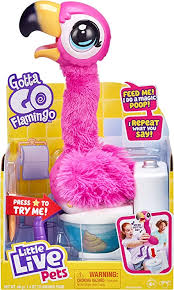 Gotta Go Flamingo from Moose Toys
Ages 4+
$19.99
Where to Buy
Of course it's silly. A pooping flamingo? Hey, why not. Feed your feathered friend the special food, and in a moment it starts to sing the "Ut, oh, gotta' go song." Place it on the potty, and, you guessed it, it does its business. We think this is going to be a great gag gift, too. Because, really, you just can't stop laughing at this over-the-top hilarity.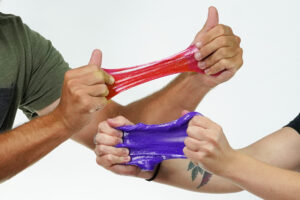 Angry Putty from Crazy Aaron's Puttyworld
Ages 3+
$10.00
Where to Buy
In these stressful times, it's great to have something that will relieve a bit of the stress. Known for their many wonderful and engaging putty formulas, this is the latest. The putty itself isn't angry, but if you are, you might want to grab this. Pull on it…and it pulls back. We don't know how they come up with this, but it's an amazing stress reliever, and the bright colors are super cool. Choose Drama Queen, Hot Head or Stress Ball. These might just be the perfect stocking stuffers for 2020!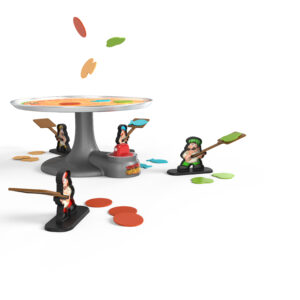 Pizza Party Throwdown from Hog Wild
Ages 4+
$19.99
Where to Buy
Yes, you can have pizza every night or every afternoon for that matter. Wind it up, and you have 30 seconds to toss your pieces onto the spinning pie to score points. It's fast-paced, super fast fun for everyone. Games are very popular this year as families are spending lots of time together, and this is perfect because it's both competitive and silly at the same time and anyone can play. Get ready to send the food flying!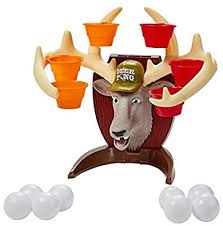 Deer Pong from Hasbro
Ages 8+
$14.99
Where to Buy
Bucky the Stag is going to trash talk you as you try to bounce ping-pong balls into the cups on his antlers. Yes, it's an updated version of a classic drinking game, and it's a lot of fast-paced fun. As if the pun wasn't funny enough to begin with, a plastic deer that taunts you as you try to play is just over-the-top. You can create your own house rules and variations as well. We've found some great deals on this game, too, so be sure to shop around!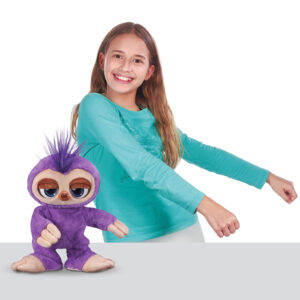 Fifi The Flossing Sloth from Zuru
Ages 3+
$24.99
Where to Buy
Floss like a boss with this swinging sloth. Yeah, it's crazy, but it's also funny. After all, few of us can really do that hot dance move without looking ridiculous. So if you're going to look silly, why not do it with a purple sloth? That's what we always say. This is one that we've been watching since we were at the Toy Fair in Hong Kong, and we hoped it would make Kelly & Ryan laugh, too. Fifi is the latest addition to the Zuru hit line, Pets Alive, this is just for fun and will lighten up your holiday gatherings…or Zoom calls.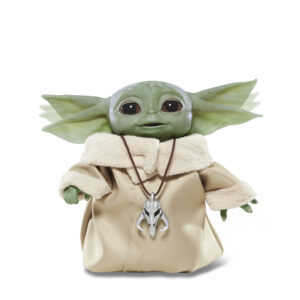 Star Wars the Child Animatronic Edition from Hasbro
Ages 4+
$59.99
Where to Buy
This is one of the hottest toys of the year—and it appeals to fans of Star Wars and The Mandalorian of all ages. Everyone calls him Baby Yoda, but his real name is "The Child." The animatronic version has 25 sounds and movement combinations, and much more. Learn to manage The Force from the earliest age, and of course the appeal is that he's so darn cute! (Note: There is also a collector's edition at Hasbro Pulse for $79.99)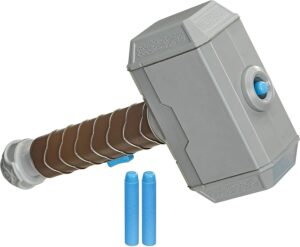 Nerf Power Moves Avengers Thor Hammer Strike from Hasbro
Ages 5+
$19.99
Where to Buy
Here's a nifty, NERF way to become one of your favorite superheroes. Thor's hammer is realistic looking based on the movies, but it's made of soft foam. Load a dart in the head of the hammer, pull the handle, and when you strike, your dart flies. Easy to use, great value and super durable, we thnk this is great for active indoor, imaginative play, or any day when pretend play is on the agenda.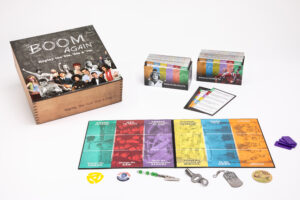 Boom Again from Boom Again
Ages 14+
$45.00
Where to Buy
If you've got a Boomer in your house, or you love classic pop culture, this is the game for you! From recalling the sound that baseball cards made in bicycle spokes to the intoxicating smell of mimeograph ink, the goal of the game is to get people to laugh at themselves; and tell great stories. Brian Hersch, the inventor of this game, who also brought us Out of Context and Taboo among others, looks at games like this as "social lubrication," a great way to get people talking!
Boom Again encourages players to recount real life highlights and shared experiences.  It is not an S.A.T. test. The camaraderie and laughter it produces are reminders of normal interactions between friends and family–and the perfect to social isolation. You can use this game to give your holiday Zoom calls a little structure, and fun, too.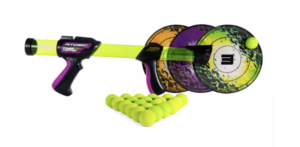 Atomic Power Popper with Sticky Targets from Hog Wild
For Ages 4+ years
$19.99
Where to Buy
Get ready for fast-paced action with this ball blaster that comes complete with sticky targets for great indoor or outdoor play. Load it up, put the sticky targets on any flat surface and use the pump-action blaster to try your accuracy at hitting the targets. The soft foam balls will fly up to 20 feet. Move the targets to different places to customize your games and challenges.  Great for players of all ages who want to test their skill…and perhaps burn off a few holiday calories.
DISCLOSURE: PURCHASE LINKS ARE TO PLACES THAT HAD IN-STOCK AVAILABILITY AT THE TIME OF PUBLICATION. THE TOY GUY DOES NOT RECEIVE ANY COMMISSION OR FEES IF YOU PURCHASE THROUGH THOSE LINKS.