Every Sunday, we bring together a collection of easy-reading articles from analytical to how-to to photo features in no particular order that did not make our regular daily coverage. Enjoy!
---
How Dorothea Lange Reimagined Protest Photography by Quietly Documenting Life Inside Japanese Internment Camps – Forbes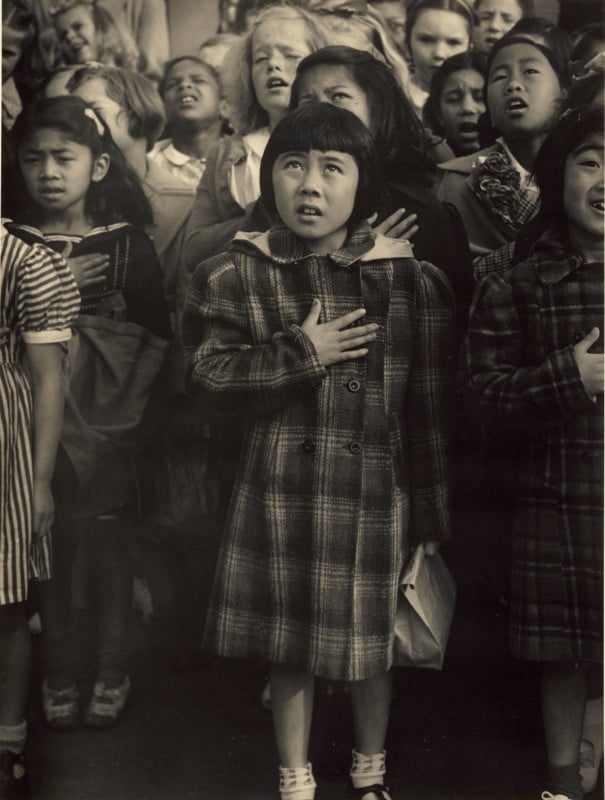 In April 1942, photographer Dorothea Lange was commissioned by the US Government to photograph a Japanese American girl reciting the pledge of allegiance at a school in San Francisco.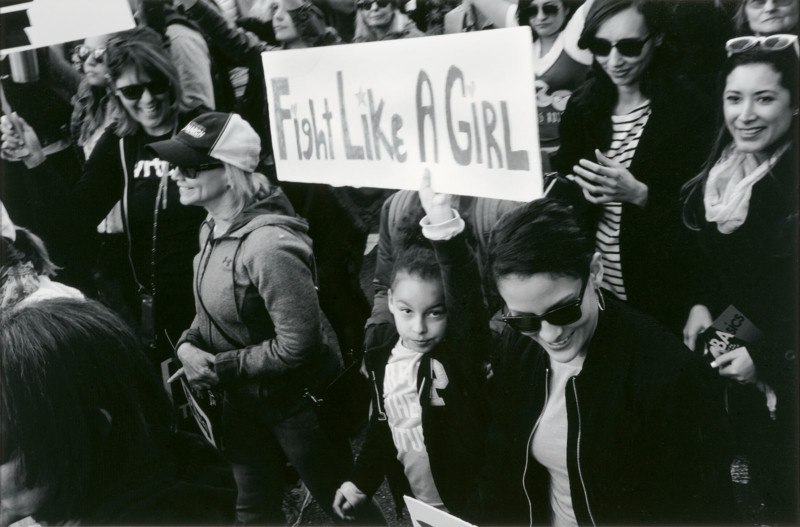 Americans of Japanese ancestry had already been moved to concentration camps as President Roosevelt doubted that he could trust them during World War II.
"The majority of photographs are politically impactful but conceptually conventional," writes Forbes. "For instance, Bruce Davidson captured the brave faces of the young black men who were willing to risk bodily injury to demonstrate their support for civil rights in the deep south.
"The conceptual basis and visual language of Dorothea Lange's photograph are more ambiguous because she was working for a president she admired, who'd enacted a system she deplored.
"Lange's photographs – which also documented the harshness of life inside the internment camps – were disturbing enough for the military to censor them and for the government to stash them in the National Archives, where they remained unseen until the 1970s.
"Her work became protest photography only retrospectively, years after her death."
In Focus: Protest is on at the Getty Center, Los Angeles, till Oct 10.
---
The LAPD Tried to Change its Image After Rodney King. Here's What a Photographer Saw – NBC News
As part of these efforts, the LAPD gave Brooklyn-born documentary photographer Joseph Rodriguez unprecedented access to document the officers in the field for The New York Times, hoping to give the public an image of a "kinder, gentler cop," as the headline put it.
In the photo above, an arresting officer casually kneels on the neck of a suspect who has already been handcuffed while he watches his partner restrain his legs. Before Minneapolis police officer Derek Chauvin kneeled on George Floyd's neck resulting in his death, most people had no idea that such a tactic was even used. Looking at the photo from 20 years ago, it seems to have been a common practice.
The Kodachrome photos in LAPD 1994 display the subjectivity of Rodriguez as much as that of the cops and the civilians, who are the victims and sometimes perpetrators of violence – he is not afraid to humanize the cops, but the images also show the darker side of both the officers and the people they are sworn to protect.
---
North Carolina Film-Maker's Copyright Case Against the State Revived After Supreme Court Denial – The Art Newspaper
A district court will now consider whether state officials unjustly took Rick Allen's footage of a pirate ship salvage operation.
Also:
State Copyright Plunder is Bad and Getting Worse – Real Clear
---
'I Believe it's a Mental Health Issue': the Rise of Zoom Dysmorphia – The Guardian
The effects of staring at ourselves for hours during video conference calls have resulted in a breakdown of how we perceive our own self-image.
The phenomenon has been nicknamed "Zoom dysmorphia" by Harvard Medical School Professor Dr. Shadi Kourosh, who has noticed an increase in appointment requests for appearance-related issues during the pandemic.
"I was concerned that the time spent on these cameras was negatively affecting people's perceptions of their appearance," she tells The Guardian.
Kourosh feels that video conference via phone camera is like a "funhouse mirror" rather than a true reflection of themselves. Participants do not realize that their faces are being distorted by wide angle lenses and how close they are to the camera.
---
On Set with Photographer Mary Ellen Mark – Criterion
From Criterion:
When the photographer Mary Ellen Mark died in 2015 at age seventy-five, she left behind a vast and varied five-decade trail of portraits and documentary pictures, collected in twenty books and dozens of exhibitions… Most of her work was shot in black and white and originated from magazine assignments …

This was true whether Mark was embedded with Mother Teresa working in her missions in Calcutta, a troubled family living out of their car in Los Angeles, residents of an Oregon psychiatric ward, underage sex workers in India, animals and circus performers, child beauty pageant contestants, or the young runaways in Seattle whom she would continue to work with in what became one of her best-known projects, the books Streetwise (1988) and Tiny: Streetwise Revisited (2015)…

For those whose introduction to Mark's work came via the Streetwise books, it's perhaps a discovery to learn that her favorite director was Federico Fellini, or that a significant body of her work was made on film sets … of at least 140 films, from Fellini Satyricon to the Coen brothers' remake of True Grit.
---
What Is the Resolution of The Eye?
---
I Traded My Full-Frame Kit for A Sony RX100 VI. Here's What I Learned – LensRentals 
This is the story of that time Mathew Saville, an obsessed pixel-peeper, decided to leave all his exotic full-frame cameras and lenses at home and instead bring a Sony RX100 VI on a week-long backpacking trip in the High Sierra of California.
---
Polaroid Now: The History and Future of Polaroid Photography – Flaunt
"Polaroid is one of the few companies in the world that can truly say it invented magic," says Polaroid CEO Oskar Smolokowski in the foreword to Polaroid Now: The History and Future of Polaroid Photography published by Chronicle Books.
And that magic still exists 74 years after Edwin Land first presented his new camera and film to an amazed audience.
The curated selection of 200 Polaroid images features renowned luminaries such as Andy Warhol, David Hockney, and Chuck Close, as well as a section on the 20×24 Polaroid camera. The book cover design mimics a vintage Polaroid Colorpack Film box.
---
Through the Lens: Yoshirotten x Daido Moriyama – Hypebeast
Daido Moriyama (b. 1938) has captured street photography of his native Japan for over 50 years. He has used a compact film camera and created contrasty and grainy images as his signature style with little regard for the technical aspects of photography.
Yoshirotten is one of Tokyo's most active graphic artists and an interdisciplinary artist known for his retro-futuristic pieces.
Yoshirotten has injected his signature distorted elements across a handful of Daido's grainy images of Shinjuku, Tokyo, which will be released as prints.
---
Fox Talbot's Cache of Ghostly Monument Photographs – Museum Crush
Henry Fox Talbot's photographs of some of Britain's most famous monuments remain the earliest photographs ever taken of London and Edinburgh.
Talbot, an important player in the invention of modern photography, made a two-week photographic trip to Scotland in October 1844. Many of these studies appeared in what has often been referred to as the first illustrated monograph, Sun Pictures of Scotland, which he issued in 1845.
Talbot made 100 copies, which were available by subscription, with Queen Victoria among the subscribers. Today about 20 copies still survive, but most of them are badly faded from their original rich brown tones to a ghostly hue owing to lack of fixing and washing.
Look at this copy in the Met Museum collection (above) to see it in its original form.
---
Want Better Selfies? Your iPhone Already Has This Front Camera Trick – CNET
One small camera feature on your iPhone may make the biggest difference for your selfie needs: a setting called Mirror Front Camera.
Mirror Front Camera comes after the iPhone 11's "slofie" slow-motion selfie feature to bring us a subtler — and more useful — selfie tool.
---
Male-Centric and Whitewashed: Major Photography Brands Fuji, Canon and Kodak Scramble to Diversify Following Criticism – The Art Newspaper
Fuji, Canon and Kodak have each pledged to support more diverse photographers after receiving a barrage of criticism from activists over their allegedly male-centric and whitewashed ambassador programs and Instagram accounts.
---
Peter Bunnell, Eminent Scholar of Photography and an 'Essential' Figure in the University Art Museum, Dies at 83 – Princeton University
How Peter C. Bunnell, Shaped the Photography World — Aperture
---
Photographers Workspaces – ShotKit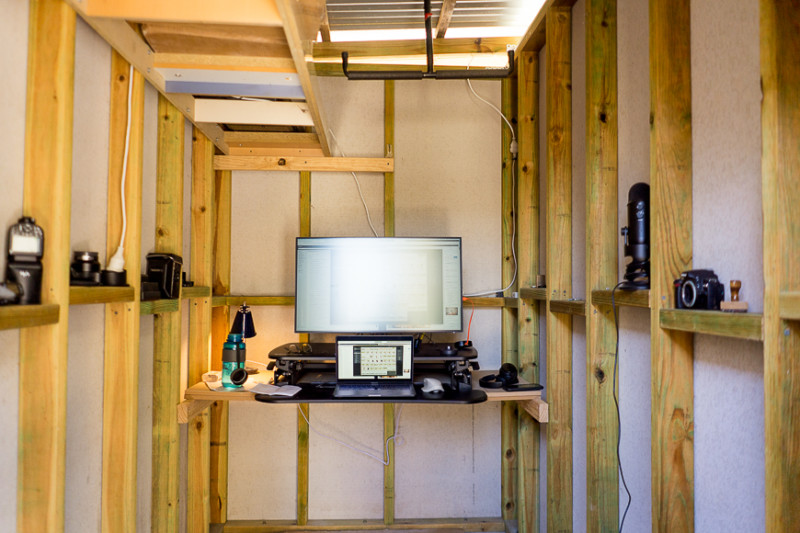 The life of a photographer has many glamorous moments… but it must be said – the hours spent editing behind a desk are not among them!
That's why having a good workspace is so important. If you're looking for inspiration on how to set up or improve your own photography workspace, look no further: below are the workspaces of 39 professional photographers from around the world.
---
How 'Flying Dress' Photos Became so Popular on Social Media – CNN Travel
These Instagram-worthy images, known as "flying dress" photos, started out on the picturesque Greek island of Santorini and have since become popular in other tourist spots like Dubai and Italy.
While the pictures look like they could have been taken for a high fashion magazine, the photoshoots are relatively affordable. They have become a more common offering on travel experience booking websites like Viator and Klook.
---
What Is Infrared Photography? A Beginner's Guide — MUO
While not exactly the way to go if your aim is to paint a picture of the world as we know it, infrared pictures offer a glimpse into what feels like an alternate version of reality. To some, this may be a welcome and refreshing deviation from the ordinary.
---
Photo Basel, Switzerland's First and Only Photo Show is Back – The Guardian
Switzerland's first and only art fair dedicated to photography is back with vivid images of fairytales, fabrics and firepower.
---
Quiz of the Week
1.) How many photos will be taken around the world in 2021?
2.) Did Canon ever make a 400mm f/2 lens?
3.) Are CFexpress Type A cards as fast as Type B cards?
Answers
1.) Last year, in 2020, it was 1,436,300,000,000 photos, and this year in 2021, it is expected to increase by 0.2%. In 2020 the capture devices were:
Tablets                        1.8%
Digital Camera            7.3%
Phones                        90.9%
2.) Yes, but it was only a one-of-a-kind and probably a prototype. Nobody has been able to exactly identify this lens so far.
3.) No. CFexpress Type A cards currently READ at approx. 800 MB/sec, whereas Type B promise a rated READ speed of approx. 1,700 MB/sec. These speeds are from Sony, which manufactures both types of cards.
---
Why I like This Photo — Jon SooHoo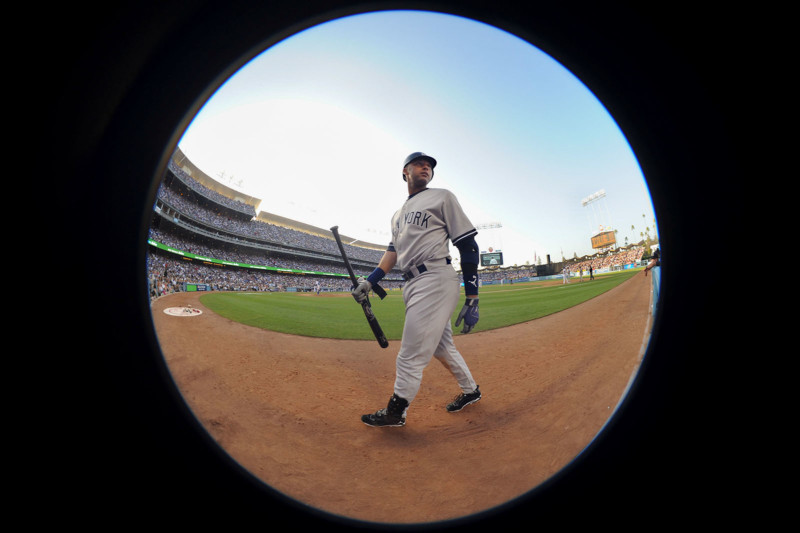 I like this photo because of the timeliness of all of my worlds colliding at this moment. Standing next to Sports Illustrated Photographer Robert Beck in the fourth inning, he offered me a chance to use his Nikon 8-15mm f/3.5-4.5E EDIF AF-S fisheye lens while we were standing in the inside first photo well at Dodger Stadium next to the visiting Yankees dugout and on deck circle.
I had just clicked the lens onto my Nikon D3 when future Yankee Hall of Famer Derek Jeter climbed up the dugout steps towards the on-deck circle. Suddenly, he looked back into the dugout and, I was able to see both eyes, and I fired away.
The American League Yankees rarely visit the National League Dodgers unless in the World Series, so shooting this future Hall of Famer in this situation outside the lines back in 2010 made for a fun weekend series of extremely historical teams.
As sports photography goes and shooting endless amounts of games per season as the team photographer of the Dodgers, I can't say I honestly look at my images as closely as those who look at framed photos on walls in galleries. Usually, the edit is quick, and the captions need to be specific and accurate as to who is in it and all of the game details. I definitely appreciate it now more than when I took it. I love the round look of this image, especially since it was my first time trying on a circular fisheye lens.
Jon SooHoo is a fifth-generation Chinese American photographer born and raised in Los Angeles and has been covering sports in Los Angeles for over 40 years. He is the long-time team photographer for the Los Angeles Dodgers and has been photographing them since 1985. He has continued to freelance for United Press International since the early '90s covering the NBA, NFL, and all other major domestic sporting events in the US. He currently lives in Manhattan Beach, California.
---
Quote of the Week – Bruce Davidson
Most of my pictures are compassionate, gentle and personal. They tend to let the viewer see for himself. They tend not to preach. And they tend not to pose as art. – Bruce Davidson
---
To see an archive of past issues of Great Reads in Photography, click here.
---
We welcome comments as well as suggestions. As we cannot possibly cover each and every source, if you see something interesting in your reading or local newspaper anywhere in the world, kindly forward the link to us here. ALL messages will be personally acknowledged.
---
About the author: Phil Mistry is a photographer and teacher based in Atlanta, GA. He started one of the first digital camera classes in New York City at The International Center of Photography in the 90s. He was the director and teacher for Sony/Popular Photography magazine's Digital Days Workshops. You can reach him via email here.
---
Image credits: All photographs as credited and used with permission from the photographers or agencies. Portions of header photo via Depositphotos.