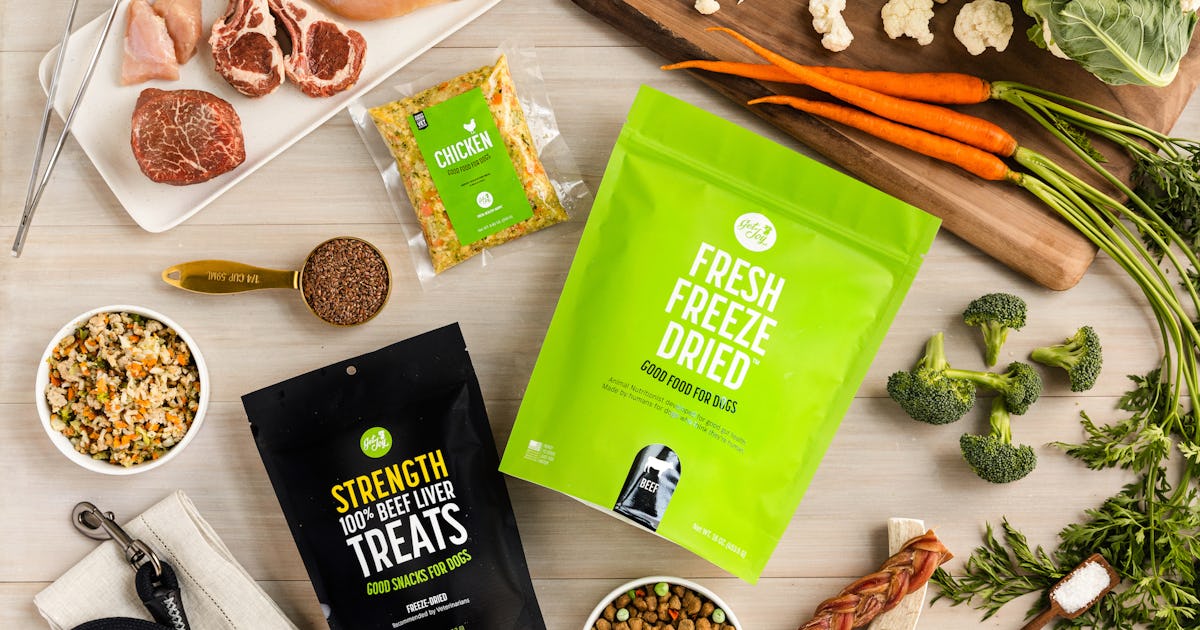 When Tom Arrix's dog, Cooper, was diagnosed with lymphoma, he learned a lot about animal wellness from vets and vet nutritionists. Thanks to those lessons, Arrix set out to create dog food that's fresh, nutritious, and easy to serve, all at the same time. The result is Get Joy, which delivers frozen and freeze-dried "farm-to-bowl" meals, treats, and toppers using fresh ingredients with no additives or artificial preservatives.
What's In Get Joy Pet Food?
Fresh Freeze-Dried Food
Get Joy makes fresh freeze-dried food, which can be used as a full meal on its own (just add water to rehydrate it) or mixed into your dog's current favorite food. The freeze-dried food is made from grass-fed beef, whole vegetables, and premium ancient grains. It also contains a natural preservative, mixed tocopherols, which are a combo of different sources of vitamin E.
A helpful review: "My dog Loves this freeze dried dog food! He looks better and has more energy." — Lori H.
Freeze-Dried Beef Treats
Available in three options — liver, heart, and kidney — Get Joy's freeze-dried beef treats contain a single ingredient and literally nothing else. Each one is designed to help with different things, such as cardiac issues, arthritis, tendon and ligament pain, and more, so you can rotate flavors to help boost your pup's nutrition.
A helpful review: "Out of everything we feed our beloved pets, we feel most secure with all of the products we use from GetJoy. It's one of the only products that doesn't upset the bellies of our finicky eaters." — Denise C.
Fresh Meals
The brand's fresh meals are made with — you guessed it — fresh, whole ingredients that are gently cooked with zero preservatives and then frozen. The meals are cooked each week in small batches so the food is delivered as fresh as possible. (Hint: Save 10% on fresh meals by selecting the Subscribe & Save option when adding to your cart.)
A helpful review: "Dog with food allergies, can't tolerate kibble of any kind. Great alternative to me cooking meals for her and she loves it. Limited ingredients so if she has problems I will be able to tell what it is." — Elaine R.
Chews
Lastly, there's a selection of chews available, including beef bully sticks and naturally harvested elk and deer antlers. You can opt for a single bully stick or multipacks, and the antlers come in large, extra-large, and jumbo sizes.
A helpful review: "My sister's golden retriever came over for my daughter's birthday and we bought bullies – both regular and braided, as well as an elk/deer antler as a party favor. She LOVED them! Spent the entire party chewing on the bully stick and was super protective of her chews when she got home – only she could touch them. ha! Great chew products all around." — John
Or Try A Bundle
If you want to try a few products (and save a few bucks along the way), you can choose from a selection of bundles. Prices start at $14.99 for the Simple Starter Bundle, which includes one packet each of the beef, turkey, chicken, and lamb fresh meals.
See All Of Get Joy's Products
If you think your dog will drool over Get Joy's food and treats, you can head over to the brand website to see the full collection.
This article was originally published on