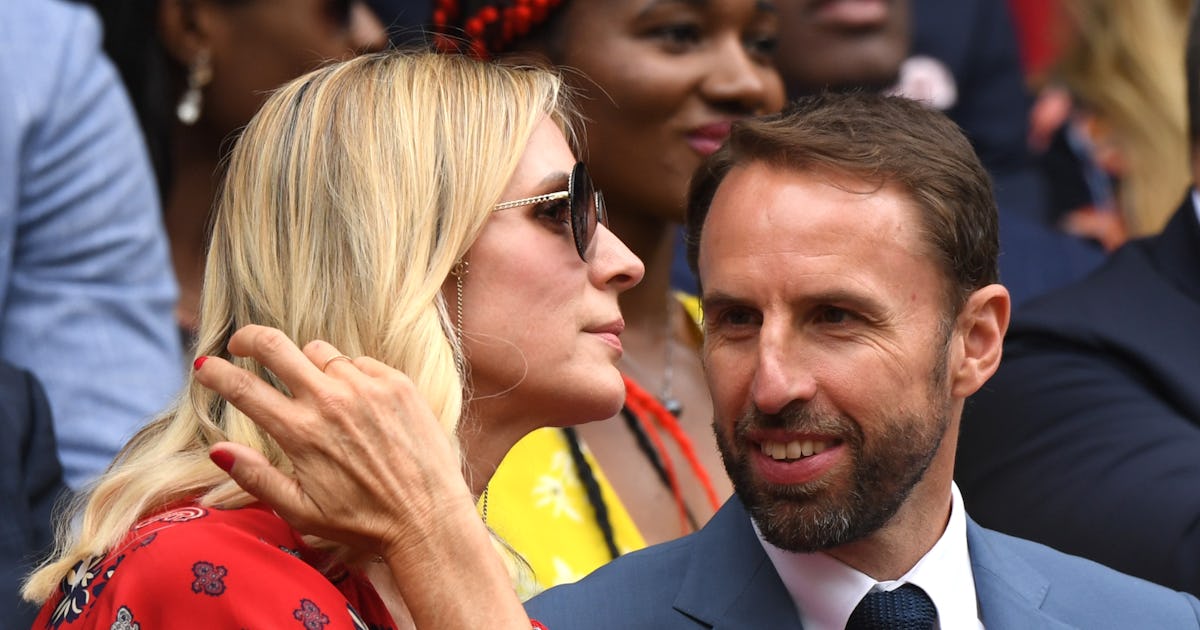 As manager of the England football team, Gareth Southgate is currently one of the most prominent men in sport right now. With hopes that England will go far in the Euros, the former footballer-turned-manager is under the spotlight once more, and fans are likely wishing to know more about him. Enter the question about his love life: Is Gareth Southgate married? Here's the scoop.
The simple answer is yes, Gareth Southgate has been married to his wife, Alison, for nearly 23 years. The couple have two children: Mia, 22, and Flynn, 18. While their devotion and commitment to each other is clear due to the amount of years they've been married, it's the story of how they met that is perhaps the most heartwarming.
In his 2003 autobiography, Southgate revealed that despite being a successful football player for Crystal Palace at the time, he had been super shy originally. In fact, when he first saw Alison working at a shop in Croydon, he didn't initially pluck up the courage to ask her out. When he finally did (two years after first seeing her) she turned him down as she was in a relationship.
Not long after, Southgate saw her again in a restaurant with her boyfriend, and sneakily slipped her his number after hearing that the couple were likely to break up soon. After phoning later that night, the pair had a date the next day, and, as they say, the rest is history. Per the Sun, the pair married two years later in his hometown of Crawley, and have been a unit ever since.
It's clear that family life for Southgate is important, and a key to his career success. Ahead of the 2018 World Cup, the manager spoke about the importance of being a husband and a father in 2017, as he told the Evening Standard:
"Over the last couple of weeks I've just had a nice time spending it with the family though, and for me that's important because my kids are 18 and 14, and their development is as important for me as anything else in my life.
"You do have to try to find a balance because my focus inevitably gets drawn towards making this team as successful as we can and driving them to be the best team in the world, but I'm also a dad and a husband."
He also wrote in his book about how – regardless of what happens in his job – his family are always by his side. "On Saturday evening, our children are not too bothered whether Dad's team have won or lost. Neither does Alison fret too much about football, and this is how I like it. Regardless of the result, it is up to me to ensure that no one's evening is ruined because of things that happened on a football field."
The family of four currently reside in a six-bedroom Elizabethan manor house in North Yorkshire.