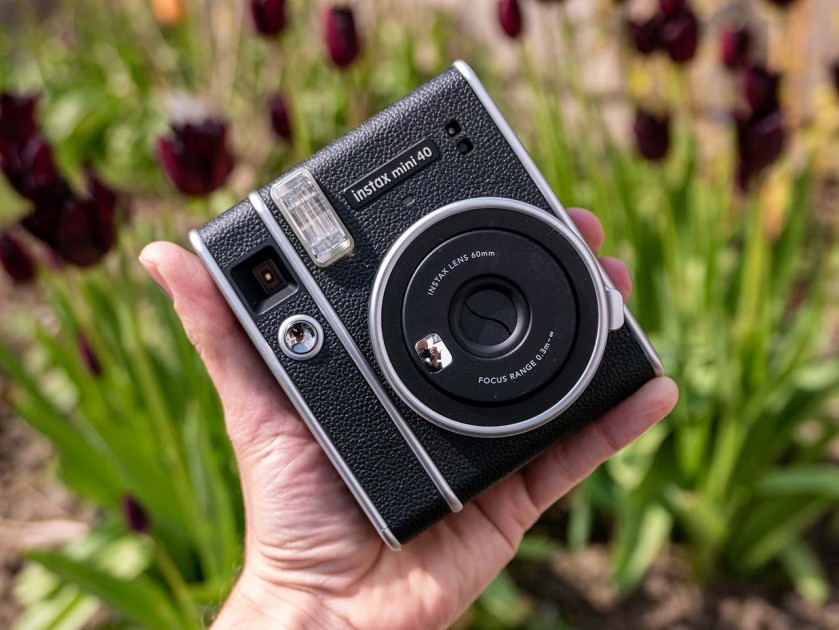 Introduction
The Fujifilm Instax Mini 40 is an instant film camera launched in April 2021, sporting a classic, vintage retro design that recalls old-fashioned cameras from yesteryear.
It "instantly" creates small 54x 86mm (2.1 x 3.4in) paper prints which emerge from the slot in the side of the camera and gradually fade into view 90 seconds after you first pressed the shutter button.
It sits alongside the more modern-looking Instax Mini 11, which was released in May 2020, in the expanding range of beginner-friendly on-the-spot photo printing cameras from Fuji.
In fact, other than their markedly different appearances, the new Mini 40 is identical to the Mini 11 in terms of its lens, features and how it actually works, so choosing between them comes down to which one you like the look of best, and the price difference.
The Mini 40 inherits the same key improvements that Fujifilm introduced in the Mini 11 to elevate it above the previous Mini 9 model, both of which will increase your hit ratio of usable pictures.
Those two key features are auto exposure and a built-in 'selfie' lens setting.
Firstly, you no longer have to select the "correct"exposure mode – instead the Instax 40 automatically optimizes the shutter speed, flash output and other settings according to the shooting conditions.
Secondly, you no longer have to use separate attachments to adjust the close-focus distance for selfies. This is now built-in to the Mini 40, simply activated by pulling out the front edge of the camera's lens after powering it on.
While instant photography has never been about technical perfection, whether it be it accurate composition, sharp focus or perfect exposure, it is especially disappointing to see an unusable picture emerge on a sheet of paper that set you back the best part of £$1.
Those two new features alone – auto-exposure and selfie mode – are enough to elevate the Instax Mini 40 above the older Mini 9 and cement Fujifilm's position as the go-to choice for instant photography newcomers.
The new Fujifilm Instax Mini 40 is priced at $99.99 / £89.99, so you do have to pay quite a bit extra for the classic styling – the Mini 11 is available for £69.99 / $69.95.
Also, whereas the Mini 40 is only available in Black with silver accents, the Mini 11 comes in five pastel colours; Blush Pink, Sky Blue, Charcoal Grey, Ice White and Lilac Purple, so there's a lot more choice.
Just like the Mini 11, the Mini 40 also uses the readily available Fujifilm Instax Mini paper which comes in a cartridge containing 10 sheets.
A single pack of 10 sheets typically costs £8.99, but you can usually buy multi-packs for a lower cost per unit. For instance, a two pack is usually £14.99 each and a five pack of 10 sheets will set you back anything from £29.99.
Also, if you shop around there is a range of paper frame designs in addition to the standard white, such as Blue Marble', 'Candy Pop' and 'Rainbow', as well as monochrome packs for fans of black and white photography.
Fujifilm have also launched the Contact Sheet instax film alongside the Mini 40. This features text in orange to add a classical touch to a black frame. The design simulates a "contact sheet", which back in the days of film photography was a bromide sheet printed with multiple photos to check individual images.
A new synthetic leather, black camera case with white stitching detail and a shoulder strap is also newly available to match the Mini 40.
Ease of Use
The Instax Mini 40 measures 104 x 121 x 65mm and weighs 330g without batteries, strap, and film. The Mini 11 is slightly bigger but also slightly lighter, measuring 107.6 x 121.2 x 67.3mm and weighing 294g.
Being a budget-level instant film camera, the Fujifilm Instax Mini 40 is very easy to setup. It also comes with a concise instruction manual to follow for a smooth experience.
To get going, you'll need to load the camera with the two AA batteries that are supplied in the box and, of course, the instant film. Battery life is around 100 shots, or 10 packs of film.
Before popping open the large plain rear door, you'll need to check the two small windows that are visible.
If the window by the rear door's catch is yellow, then there is film already loaded. If it's black, it's empty. The other window displays how many sheets remain in the pack of ten cartridge and when S is displayed it is safe to load a cartridge.
With the rear door open, the yellow mark on the cartridge lines up with one inside the camera. Slot in the cartridge and close the door. Simple.
Before you get started and whenever you insert a new film cartridge, you'll need to take a single shot to eject the safety sheet from the cartridge, which you can then throw away.
To switch on the camera, there is a silver button next to the pop-up lens which moves it into position ready to take photos. Now you're good to go.
A second extension action of the lens barrel, achieved by pulling the lens forwards and snapping it into position puts the lens into 'selfie' mode, which changes the close focus distance to 0.3m. Otherwise, the focus range is from 0.5m to infinity.
You'll maybe notice that the lens is labelled with a 60mm focal length, which in this format translates to around 35mm – that's a moderate wide angle.
With a subject around a metre away, you'll get a good amount of the surroundings in the shot. For a selfie from around 0.4m, you can comfortably fit in two people, but if anyone else jumps in it's a real squeeze. Landscape format is more accommodating.
Shots can be composed using the basic optical viewfinder, although you won't want to rely too much on its accuracy, especially for close-up subjects. Also, you really have to press your eye in close in order to see through the finder in the first place.
The Instax Mini 40 is primarily designed to be used in portrait format with the built-in flash at the top. For accurate framing, the 'O' seen in the middle through the viewfinder should be positioned slightly up and right of centre to your subject.
If you switch to landscape format with the flash still on top, then the 'O' should be slightly to the upper left of centre.
On the lens itself is a mirror that can be used as a guide for selfies. The selfie mirror is a surprisingly helpful aid, but again because of the lens position you'll consciously need to tweak of angle of the camera to frame yourself in the centre. And with the camera turned on you, those tweaks are reversed as you look at the camera.
Guidance regarding composition can be found in the instruction manual – it's possibly the most tricky aspect of the camera to consciously remember, and as with all things becomes easier with practice.
When taking shots, you'll need to be aware of where your hands are holding the camera because you don't want to obstruct the built-in flash or crucially the auto exposure (AE) light and Flash Light sensors – both found above the lens.
This is so crucial that Fuji include a warning note in the box which carries this very warning.
It's worth noting that the automatic flash fires every time a photo is taken. If we had a choice, the flash would be on by default but with an option of deactivating it for the picture you are about to take.
The Instax Mini 40 is a more serious looking camera than the "fun" Instax 11, which has a much more modern design that's available in different five colours. By contrast the Mini 40 is only available in black with the silver mirror accents.
It mimics the look of classic film cameras pretty well, with the faux leatherette coating both looking genuine from afar and also making it easier to grip than the smooth, shiny surface on the Mini 11. The textured coating is made from plastic, though, not true leather.
There's a single accessory included with the Mini 40 – a rather boring black wrist strap with Instax embossed on it. Unlike the Mini 11, there are no clip-on buttons included to customise the shutter release button.
Size-wise, the Instax Mini 40 fits in the hand comfortably enough – for reference, I have large hands. It has a much more angular design than the smooth curves of the Mini 11, and as mentioned above it also has a usefully textured surface.
We still found ourselves needing to concentrate a little to avoid dropping the Instax Mini 40, though, and certainly appreciated the wrist strap as a back up.
The camera is of course made entirely from plastic, so ideally you won't ever drop it (!), but it is robust enough to survive a small drop if you do.
For a more secure hold and to avoid obstructing those crucial light sensors, we found placing both hands on the underside of the camera best and comfortable. However, there is no intuitive way to hold the camera properly in landscape format.
With Instant photography, there is an almost compulsive nature to it. Capture a moment and enjoy it together there and then. Take your keepsake with you. Give one away, share the joy.
Of course, that enjoyment factor is rather tarnished if the camera is spewing out pictures that appear too bright or too dark, blown out by flash or with off-kilter framing. You don't want photos that go straight in the bin.
Thankfully, with auto exposure now on board, good photos are a more regular experience in this, Fujifilm's budget-friendly Instax camera.
Of course, you never know exactly what you will get, especially when it comes to framing, but you at least get something close enough. This all comes with a caveat that is painful to say – we strongly recommend reading the instructions!
Offering a classic camera look and feel and exactly the same capabilities as the Mini 11, the new Instax Mini 40 offers few surprises.
Image Quality
We have mostly ignored the critical element of image quality because that is largely irrelevant in instant photography. Instead, we have focused our attention on how the Instax Mini 40 fares as an instant camera and how it compares to the functionally very similar Mini 11.
Like a number of Instax cameras, the Fujifilm Instax Mini 40 uses the Instax Mini Instant Film. 'Credit card' print sizes measure 62x46mm (or 86x54mm including the border) and take about 90 seconds to develop once the paper is ejected after a picture is taken.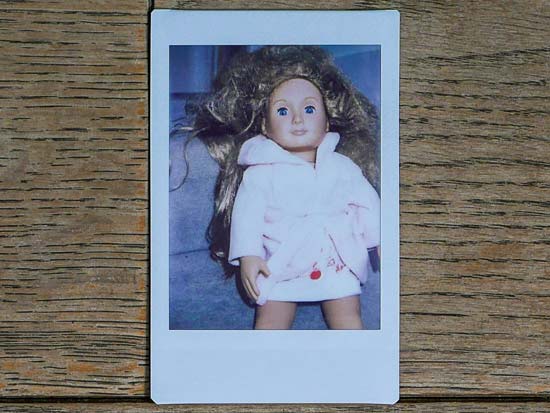 If we had to choose between the Instax Mini print size or the Instax Square size (62x62mm), we'd go for the latter. In the hand, mounted to a wall, stuck in an album, the larger square format gives subjects that extra room to breathe.
Exposure control is fully automatic and measured through the AE Light and Flash Light sensors next to the "Instax mini 40" name-badge – so don't cover them up when you are shooting or else the shot won't come out properly!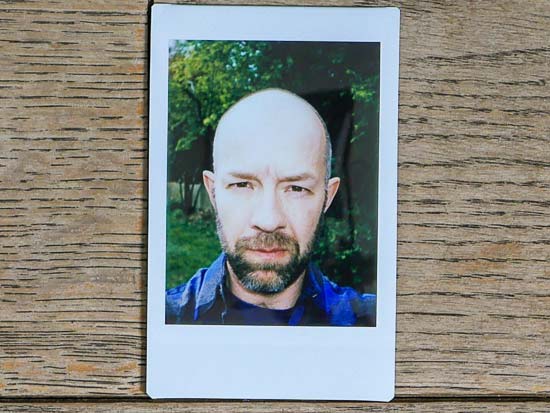 We really appreciated not having to fiddle between the exposure modes like in the Instax Mini 9 – auto exposure means one less thing to think about. There really shouldn't be much at all to think about with an Instant camera!
The auto exposure control method in the Instax Mini 40 is through a fixed f/12.7 aperture lens and a variable shutter speed range of 1/2 sec to 1/250 sec, with a slow synchro for low-light and a built-in flash that has an effective 0.3m to 2.7m range.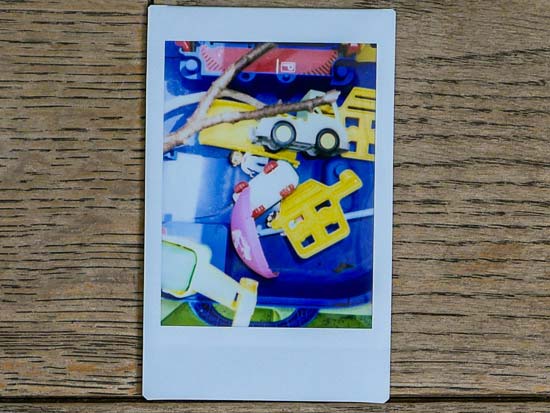 The paper itself has a sensitivity of ISO 800, which at a basic level is a multi-purpose paper. The sweet spot for this paper and shutter speed range combination is outdoor overcast conditions or in the shade.
In bright light, the minimum 1/250 sec, fixed f/12.7 aperture and ISO 800 combination is still too fast for exposures not to blow-out in the highlights. For example, sunlit bright white clouds lack detail. Extending the fast end of the shutter speed range to 1/500 sec would for the best part solve this problem.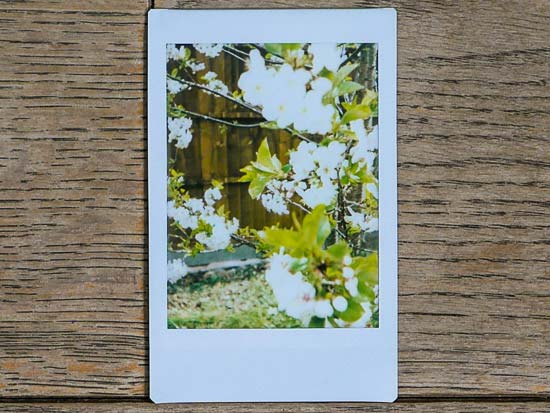 One other factor regarding blown-out bright highlights is 'metering'. If there is a range of shadows and highlights in a scene, the AE light sensor seems to favour the shadows. In general, you'll want to capture scenes that feature a similar brightness level all throughout.
We strongly feel that an instant camera should at least be able to take well exposed photos in a range of scenarios – including bright light! Hopefully blown out highlights can be addressed next time around.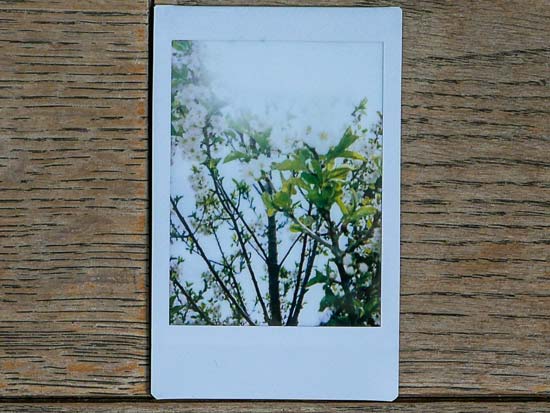 On the opposite end of the spectrum in low contrast light, the 1/2 sec maximum shutter speed with slow-synchro flash is a big improvement from before.
In the Instax Mini 9, whenever the flash came into play, the background around the subject would be virtually black. With slow synchro in the Instax Mini 40, more detail is revealed in those darker areas outside of the flash range. We much prefer the look of shots in low-light here.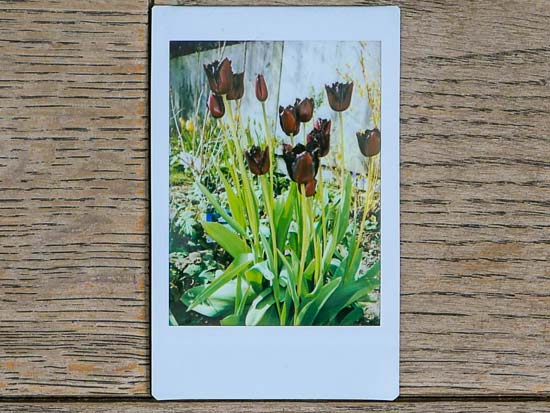 An always-on flash can be a limiter. If you have more than one subject at various distances within the 0.3 to 2.7m flash range, the closest one will likely be too bright. That would be true of any flash, but here you don't have a choice to turn the flash off.
The Instax Mini 40 minimum focus distance is 0.3m, which again is an improvement over the 0.35m in the Mini 9. It doesn't sound like much, but it's a big difference especially for selfies.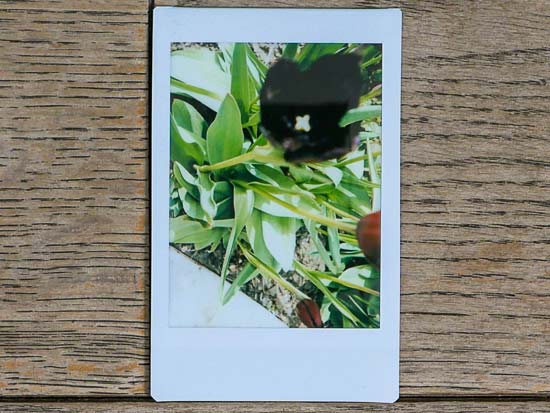 While images are never going to be critically sharp, at least pictures using the selfie mode are more likely to be in focus than before. Just make sure you stretch your arms as far as they can go!
Technically, the selfie mode works well for close-up shots because what it does is narrow the focus range to 0.3m to 0.5m.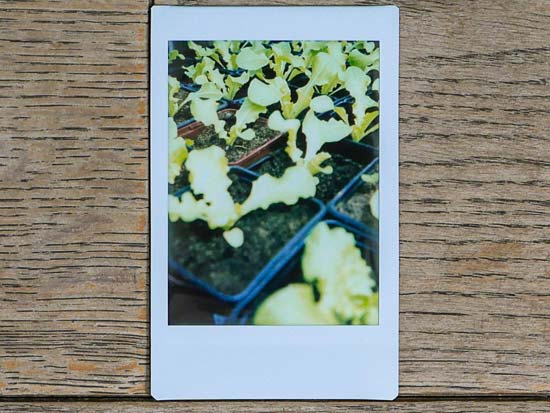 Overall, these handling improvements in the Instax Mini 40 result in a much more reliable camera – there will be far fewer throwaway prints. Auto exposure, an exposure range more capable across a range of scenarios (thought not totally), a more useable selfie mode, it all adds up.
And as for the overall feel and colour rendition of the images, we are big fans of the Instax Mini film. Colours are truly and simply gorgeous.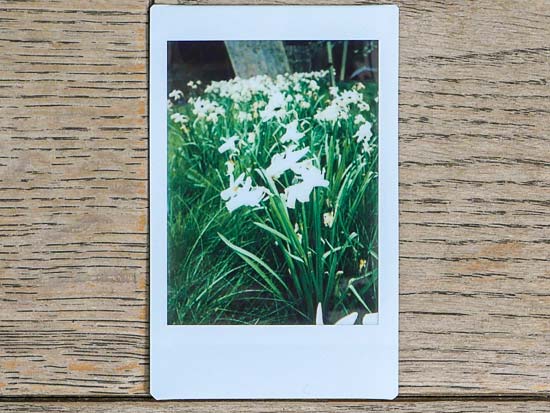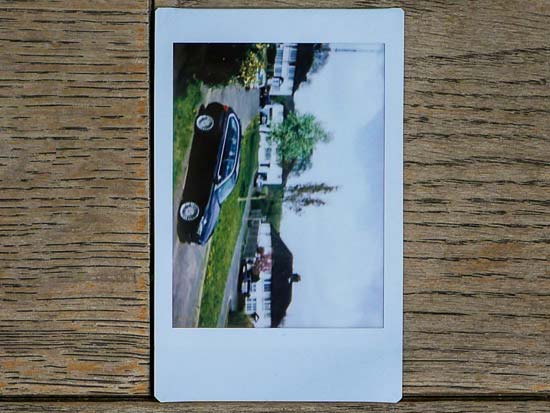 Product Images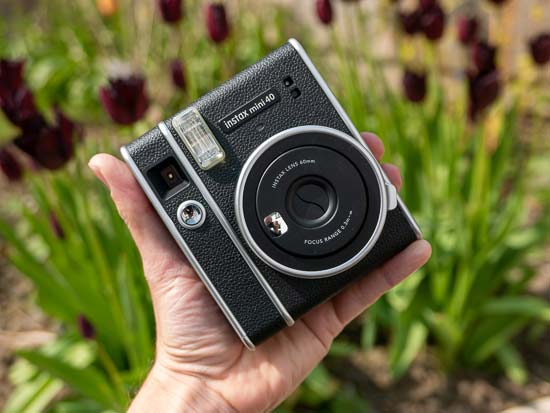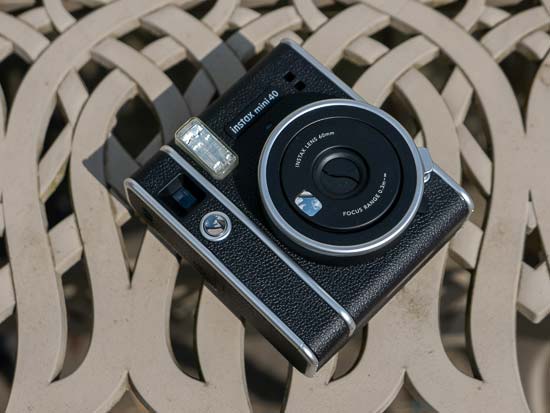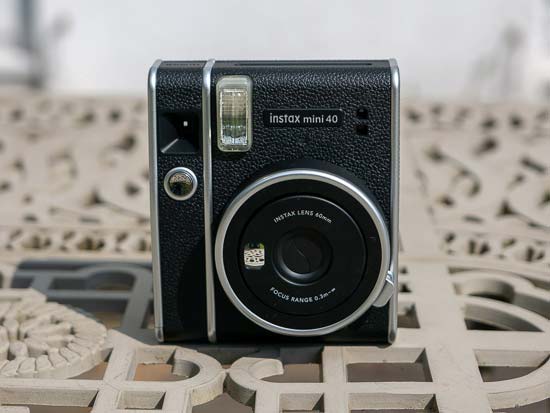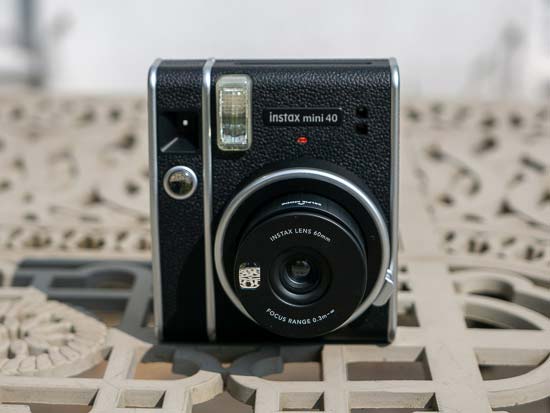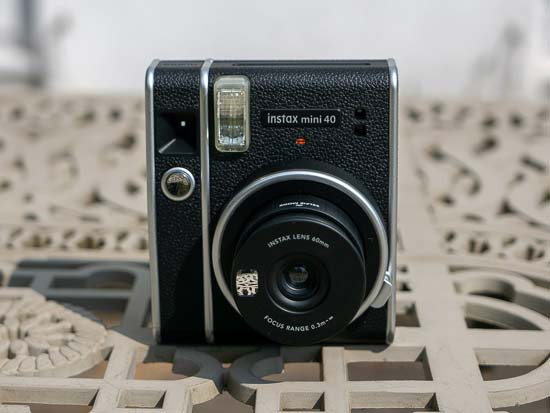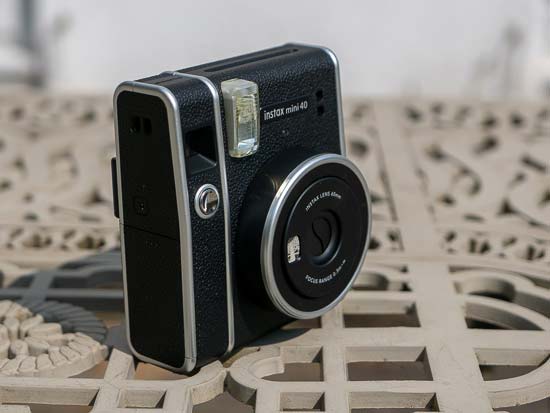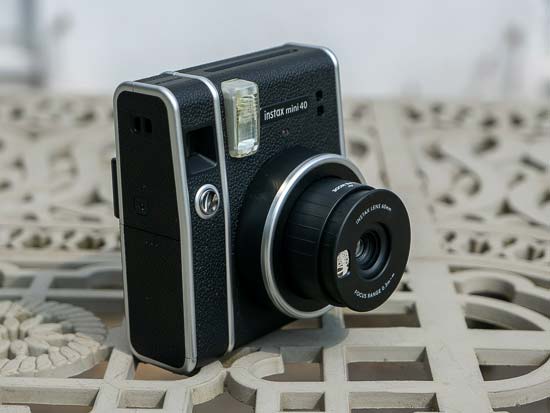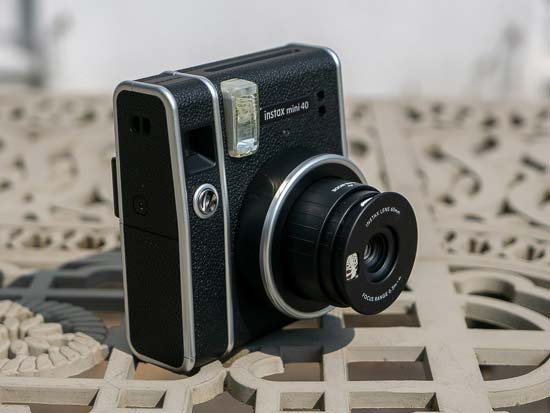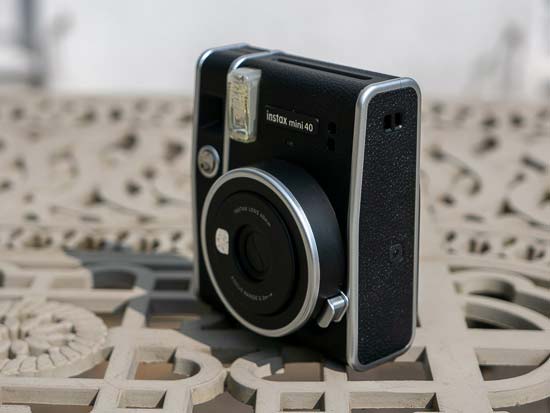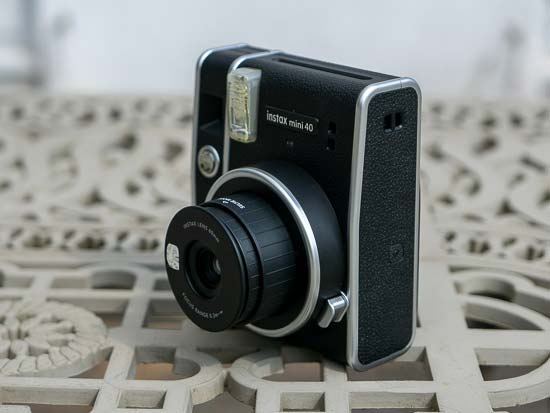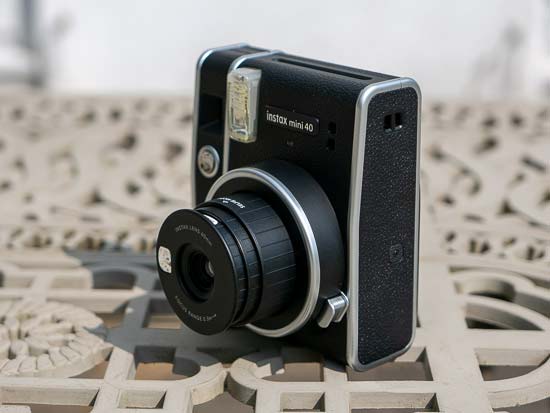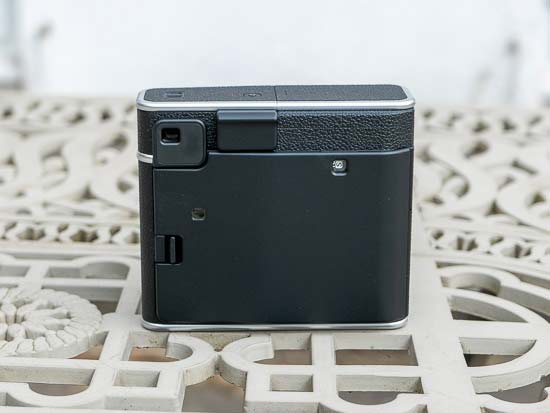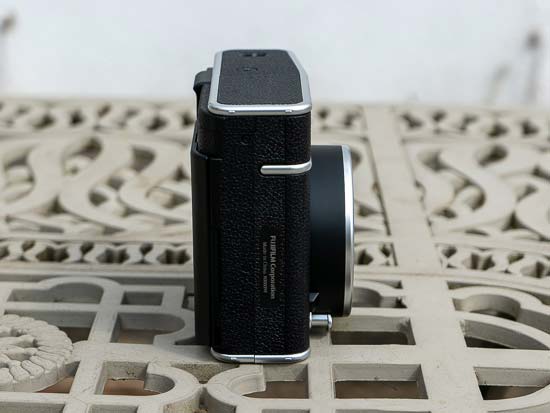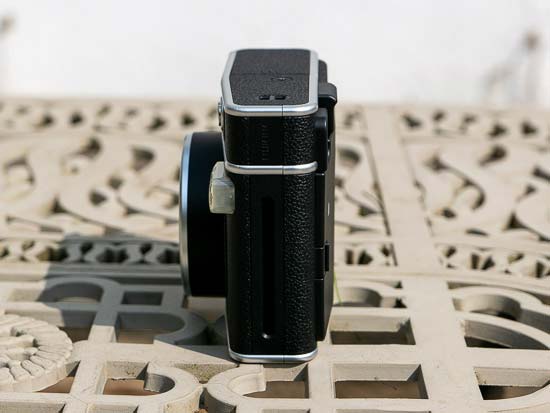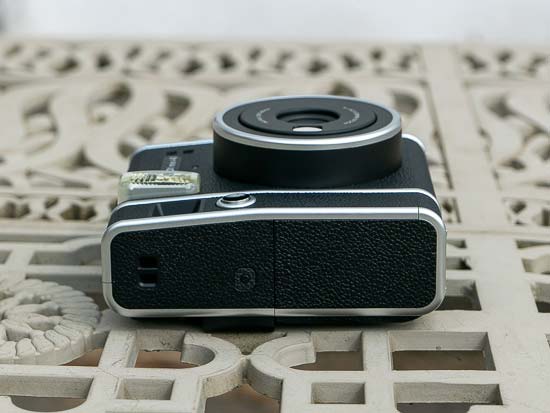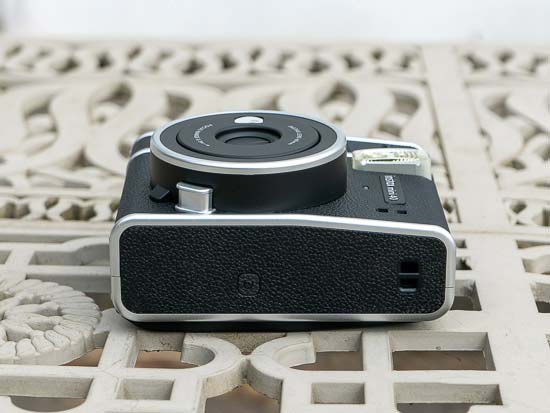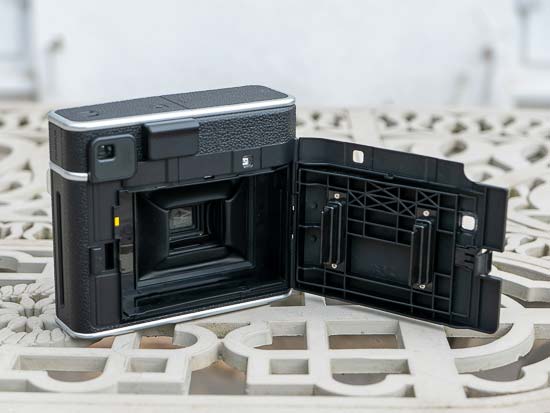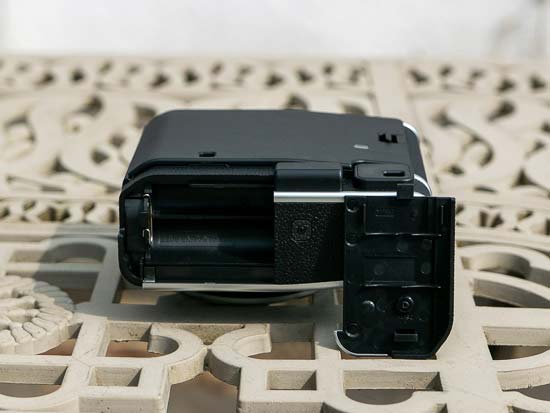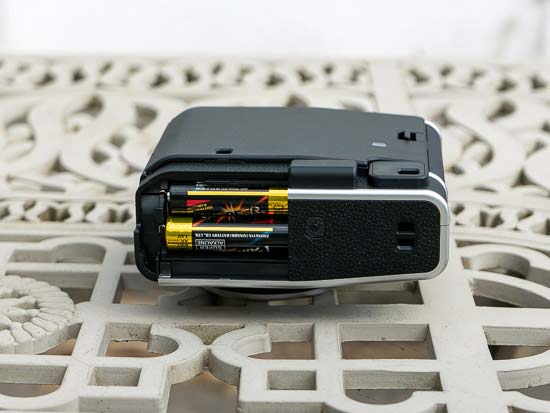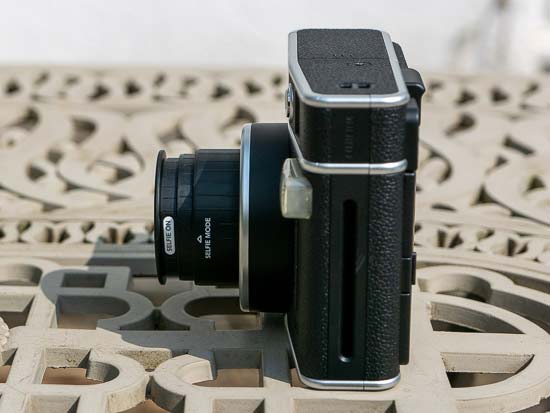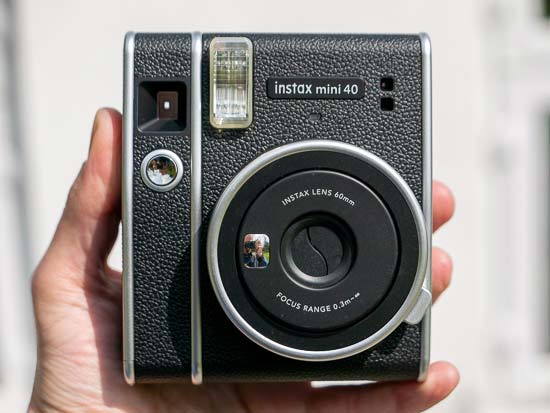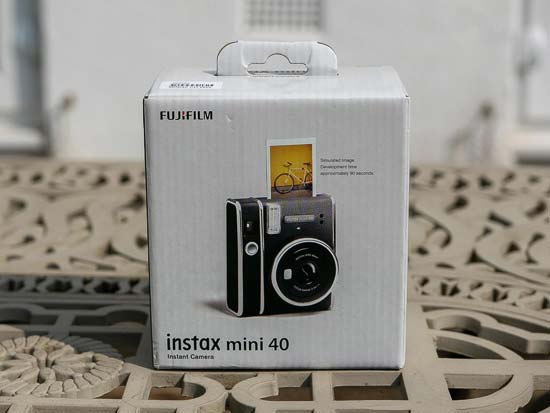 Conclusion
As a more vintage, classic-looking alternative to the cuter, toy-like Mini 11, the new Mini 40 is a budget-level instant film camera that hits most of the right notes.
Other than its appearance, though, the Mini 40 is virtually identical to the Mini 11 – it offers exactly the same functionality and features, and with a similarly positioned control layout, it also works in the same way too.
The only real improvement from an ease-of-use point of view is the new textured surface on the Mini 40. Although it's a plastic imitation rather than a true leatherette, it does make the camera feel more secure in your hand than the slippery smooth surface of the Mini 11.
On the other hand, the Mini 11 is £20 / $20 or 23% cheaper than the Mini 40 – that's quite a lot extra to pay for a different appearance and slightly better grip.
Fujifilm could have further justified that rather big hike in price by improving some of the things that we didn't like about the Mini 11, most notably the exposure range not being suitable in bright light which results in blown-out highlights, and the continued lack of a tripod mount.
A price-tag of $99 / £89 also moves the Mini 40 much closer to the Instax Square SQ1, which as the name suggests uses Instax Square film and only costs £$20 more than the Mini 40. If you can still find one, one of our favourite Instax cameras, the Instax Square SQ6, is priced at around £$130.
So compared to the Mini 11 it doesn't really offer anything new and it costs quite a lot more, but we suspect that the retro look and feel of the Mini 40 alone will be enough to persuade people who were put off by the toy-like appearance of the Mini 11 to join the Instax family. And to be blunt, that's probably exactly what Fujifilm were aiming for…
Ratings (out of 5)
Design
4
Features
3.5
Ease-of-use
4.5
Image quality
3.5
Value for money
4
Main Rivals
Listed below are some of the rivals of the Fujifilm Instax Mini 40.
The Instax Mini 11 is Fujifilm's new entry-point into the exciting world of instant film photography. Now featuring auto exposure and a built-in 'selfie' lens setting, is this the best instant camera for beginners? Read our in-depth Fujifilm Instax Mini 11 review to find out…
The new Fujifilm Instax Mini LiPlay pairs a digital camera with an Instax mini printer to enable you to take photos and make instant prints. It also offers the ability to record sound clips for the first time on an Instax. Read our in-depth Fujifilm Instax Mini LiPlay review, complete with downloadable sample images, to find out if this is the best ever Instax device…
The Fujifilm Instax Square SQ1 is the latest instant camera to use the square Instax film format. Simpler to use and more stylish than the SQ6, is this the best square-format instant camera on the market? Find out now by reading our Instax SQ1 review…
The Fujifilm Instax Square SQ10 is a new hybrid instant camera that blends the digital and analog together, capturing 3.7 megapixel images and printing out 62mm square prints, all from the same device. Does it offer the best of both worlds? Read our Fujifilm Instax Square SQ10 review to find out…
The Fujifilm Instax Square SQ20 is a hybrid instant camera that takes digital pictures and makes instant prints. Does it offer the best of both the digital and analog worlds? Read our in-depth Fujifilm Instax Square SQ20 review to find out…
The Instax Square SQ6 is Fujifilm's first ever camera to use the square Instax film format. Is it better than its main rival, the Lomo'Instant Square? Find out now by reading our Instax Square SQ6 review…
The brand new Leica Sofort is the German manufacturer's first ever instant film camera. Entering a market dominated by Fujifilm, the Sofort (German for "instant") can take both colour and black & white pictures, and features a small mirror for easier selfies. Read the World's first Leica Sofort review now to find out what it offers…
The new Lomo Instant Wide uses Fuji Instax Wide film, which is twice as wide as Instax Mini film. The Lomo Instant Wide offers advanced features like three different shooting modes,a fully programmatic shutter, a built-in flash, and unlimited multiple exposures. Read our Lomo Instant Wide review now…
As its name suggests, the new Lomo'Instant Automat Glass is a fully automatic instant camera with a glass lens. Read our Lomo'Instant Automat Glass review now to find out it delivers the best image quality from an instant film camera …
The new Lomo'Instant Automat is a fully automatic instant camera that promises to take perfectly lit mini shots, anytime. Does it succeed? Find out by reading our Lomo'Instant Automat review now…
The new Lomo'Instant Square is a fully automatic instant camera that's the first ever analog model to use the square Instax film format. You can also use Instax Mini film by changing the camera back, increasing its versatility. Is this the best instant camera on the market? Find out by reading our Lomo'Instant Square review now…
Review Roundup
Reviews of the Fujifilm Instax Mini 40 from around the web.
The INSTAX Mini 40 brings the vintage style of Fujifilm's higher-end instant cameras to a lower price point, making it ideal for anyone who liked the idea of the Mini 11, but didn't get on with its cuter appearance. But be in no doubt the Mini 40 is simply a Mini 11 in a different coat, with both models sharing the exact same quality and features, which means the 40 will over-expose on bright sunny days and is most comfortable shooting people from close range.

Read the full review »
Specifications
Film

FUJIFILM instax mini instant film
Photo Picture Size

62 mm × 46 mm
Lens

2 components, 2 elements, f = 60 mm, 1:12.7
Viewfinder

Real image finder, 0.37×, with target spot
Shooting Range

0.3 m and beyond (use selfie mode for 0.3 m to 0.5 m)
Shutter

Programmed electronic shutter 1/2 to 1/250 sec. Slow synchro for low light
Exposure Control

Automatic, Lv 5.0 to 14.5 (ISO 800)
Film Ejection

Automatic
Film Developing Time

Approx. 90 seconds (varies depending on the ambient temperature)
Flash

Constant firing flash (automatic light adjustment), recycle time: 6.5 seconds or less (when using new batteries), effective flash range: 0.3 to 2.7 m
Power Supply

Two AA-size alkaline batteries (LR6), capacity: approx. 10 instax mini film packs of 10 exposures each
* Manganese batteries cannot be used.
Auto Power Off Time

After 5 minutes
Other

Includes film counter and film pack confirmation window
Dimensions

104 mm × 121 mm × 65 mm
Weight

330 g (without batteries, strap, and film)
Your Comments