'Sometimes," Paul Pogba said, "I don't want to have money any more. I just don't want to play any more. I just want to be with normal people, so they will love me for me – not for the fame, not for the money. Sometimes it's tough." That was Pogba speaking to Al-Jazeera in an interview released on Sunday . A day later, he tested positive for excess non-endogenous testosterone metabolites.
It's just over seven years since Manchester United broke the world transfer record to re-sign Pogba. He was 23, had won four Serie A titles and had been named young player of the tournament at the previous World Cup. Since then, with the very notable exception of winning the 2018 World Cup, it feels like nothing has gone right for him.
Pogba could face a four-year ban if the doping violation is upheld which, given he is 30 and has struggled for some time with knee injuries, would probably mean in effect an end to his career. He awaits the B-sample and still has various avenues of appeal open – as the case of the Atalanta centre-back José Palomino shows, contamination is possible. It feels all too appropriate that the critical test came after a game in which he was an unused substitute.
"Football is very beautiful, but it's cruel," Pogba said. "People can forget you. You can do something great – the next day, you're nobody." He has felt that more than most, although before the forgetting there was a lot of frustration at the sense his extraordinary talent was being wasted.
And he was hugely talented. It's easy to forget now just how good he was at Juventus, first under Antonio Conte and then under Max Allegri, usually operating on the left of a midfield three, whether in a 3-5-2 or a 4-3-1-2. It was the perfect role for him. Alongside Andrea Pirlo and Claudio Marchisio or Arturo Vidal, with Patrice Evra or Kwadwo Asamoah overlapping from wing-back, he had a certain licence, could make the most of his blend of physical and technical attributes.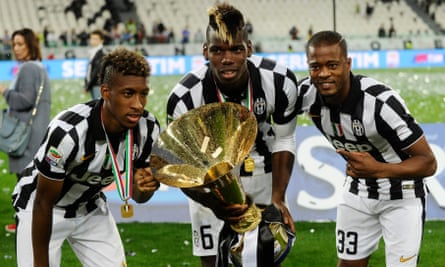 He never had such a well-defined role at United. The problem was that he was almost too gifted, his range of skills too great. Sit him deep and it felt a manager wasn't fully exploiting his creativity. But play him too advanced, as a No 10, and it became apparent that Pogba did not quite have the tight technical ability on the turn to operate in a position where he would often be receiving the ball with his back to goal. There was a sense in which he was a player out-of-time, a box-to-box marauder in the manner of Bryan Robson or Steven Gerrard (who also seemed never quite to fit modern schema). That shuttling role in a midfield three was essentially the only one in which he could use all his abilities.
Didier Deschamps has never had a problem with asking a player to suppress his attacking instincts and used Pogba deep alongside N'Golo Kanté as France won the 2018 World Cup; for a month, with a specific goal, in a system that worked, Pogba retained his discipline and nobody felt too cheated that his role was so restricted. That was perhaps never a plausible long-term solution.
This is not, though, just about a technical glitch. There were warning signs in Pogba's first interview when he returned to United, as he spoke of his ambition being not to win the Premier League or the Champions League but to win the Ballon d'Or. He was never somebody to bother with the usual homilies about wanting what was best for the team. And perhaps he didn't help himself with certain decisions, from off-field ventures to haircuts. If you don't want people to accuse you of being distracted, it's best not to play like you're distracted.
Pogba is, though, far from the only player to have stagnated at Manchester United. As Barney Ronay recently put it, the club had become a "meat-grinder" for talent. And then there were the injuries: a persistent ankle problem in 2019-20, then hamstring problems in 2021 and, after his return to Juventus in 2022, knee surgery and a series of muscular problems. Since the summer of 2019, Pogba has started only 51 league games.
But that wasn't even the biggest issue. In March 2022, a month before he played his final game for United, he was allegedly kidnapped near Paris by masked men bearing M16 assault rifles. They demanded €13m (£11m) in protection money – €1m for each year of his career – and Pogba seemingly tried to pay, only to be blocked by his bank. Four days earlier, Pogba was the victim of a burglary that occurred while his two young children were in the house.
That summer, his elder brother Mathias released a video in which he accused Pogba of having employed a marabout, a west African holy man called Ibrahim who charged €100 an hour, to place a curse on Kylian Mbappé. Pogba later acknowledged he had consulted a marabout, but only for help with his continual injuries. "Money changes people," Pogba said. "It can break up a family. It can create a war."
The doping allegations will play out. Maybe Pogba is guilty, maybe he isn't. Maybe he will be banned, maybe he won't. Whatever the truth, the positive test is another sad moment in Pogba's decline. A player whose only fault seemed to be to have so much ability that he didn't quite fit into modern midfields is facing the collapse of his career. Whoever's fault that is, there is something tragic in it.