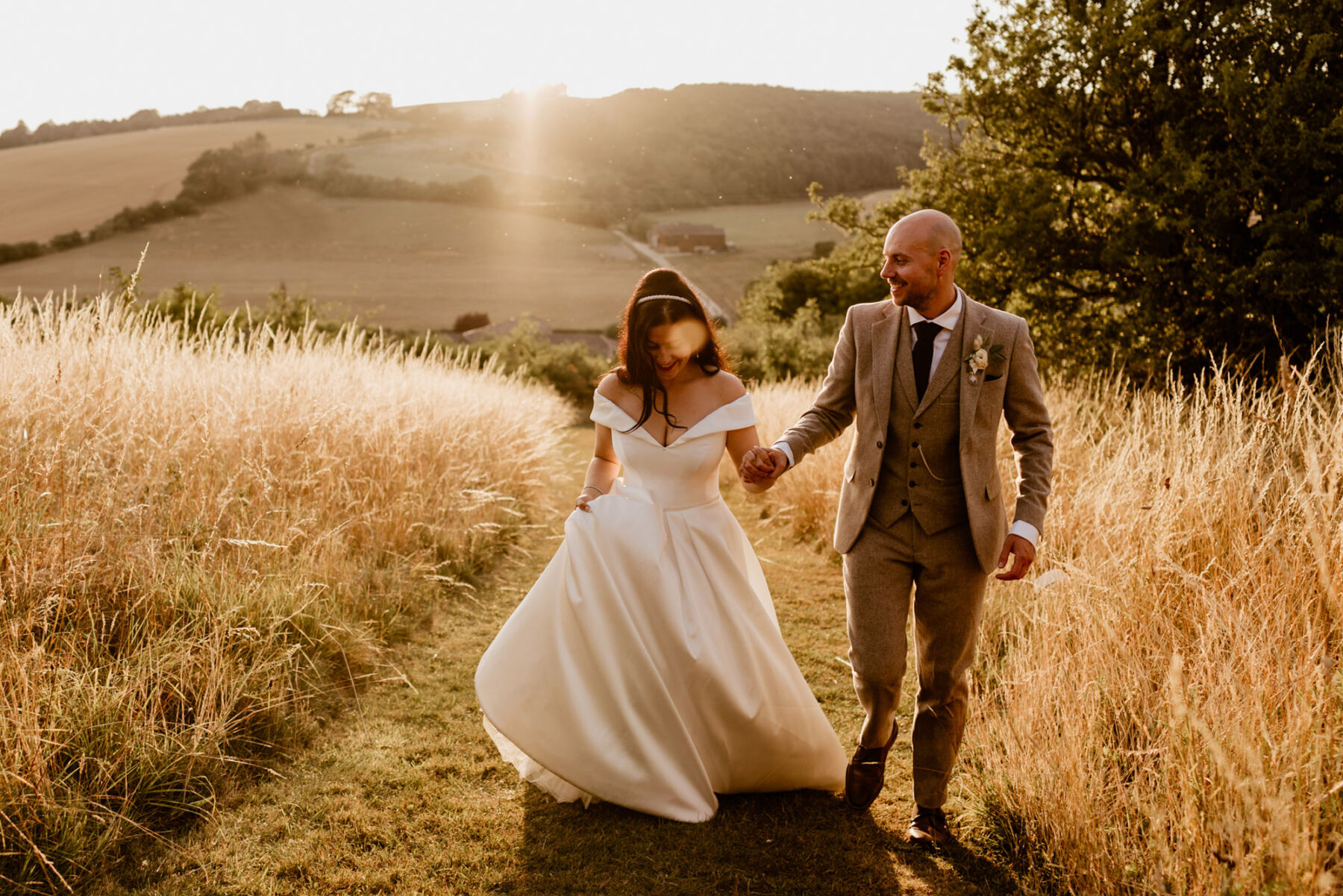 Happy Sunday beautiful people who have made the effort to arrive at this article today! If you're new here, we've been sharing wedding inspiration for 14 years now (officially, as of last month).
We share real weddings throughout the week, accompanied by all the insights and been there perspective from the bride, and we always tend to share an extra special kind of wedding on a Sunday. This is Fernanda and Remy's wedding, which was held at the beautiful, rural idyl of Upwaltham Barns in West Sussex on 6th August this year. The couple were inspired by their memories of taking walks on hazy summer afternoons through the English countryside, being surrounded by wildflowers.
The bride found her Suzanne Neville wedding dress at Miss Bush, one of the best bridal boutiques in the UK, run by one of the best in the business, the simply incomparable Emma Marshall. Emma is a champion of all women – what she doesn't know about transforming any and every bride into a beautiful, confident wedding day vision that oozes class and grace, isn't worth knowing. Fernanda has a lot to say about her boutique experience that supports these thoughts. Please take note of them, dear brides, and absolutely make sure you book an appointment at a brilliant boutique like Miss Bush.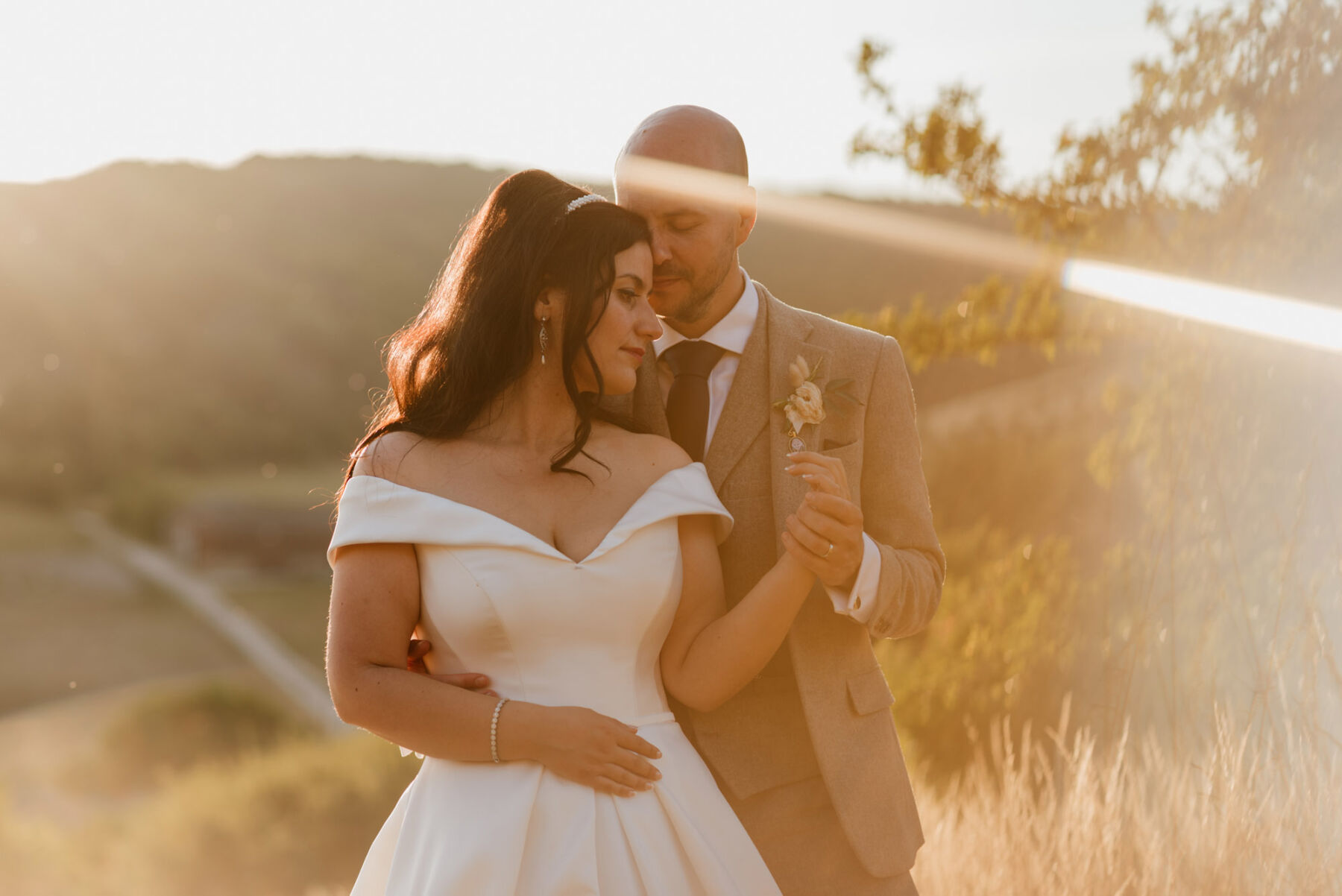 A Suzanne Neville Wedding Dress
Suzanne Neville, bespoke dress via the incredible and amazing Miss Bush bridal boutique. I struggle to find the words to fully describe the phenomenal customer service and artistry that the team at Miss Bush Bridal provide their brides. I was nervous and hesitant about the idea of shopping for dresses (I wasn't even sure if I wanted to wear a dress).
I'm Latin American by heritage and have always had a body shape that doesn't quite fit into British norms. I'm petite (5ft1), but curvy. I was so nervous that there wouldn't be any suitable options for me or that I would be uncomfortable in my dress.
I asked to have my appointment with Emma Marshall, the Managing Director of Miss Bush. In my experience, Emma is a fashion and couture powerhouse. She's got the true eye and instinct of an artisan designer. She is understanding, supportive, generous, highly principled and knows what looks and feels stunning and romantic. The Bride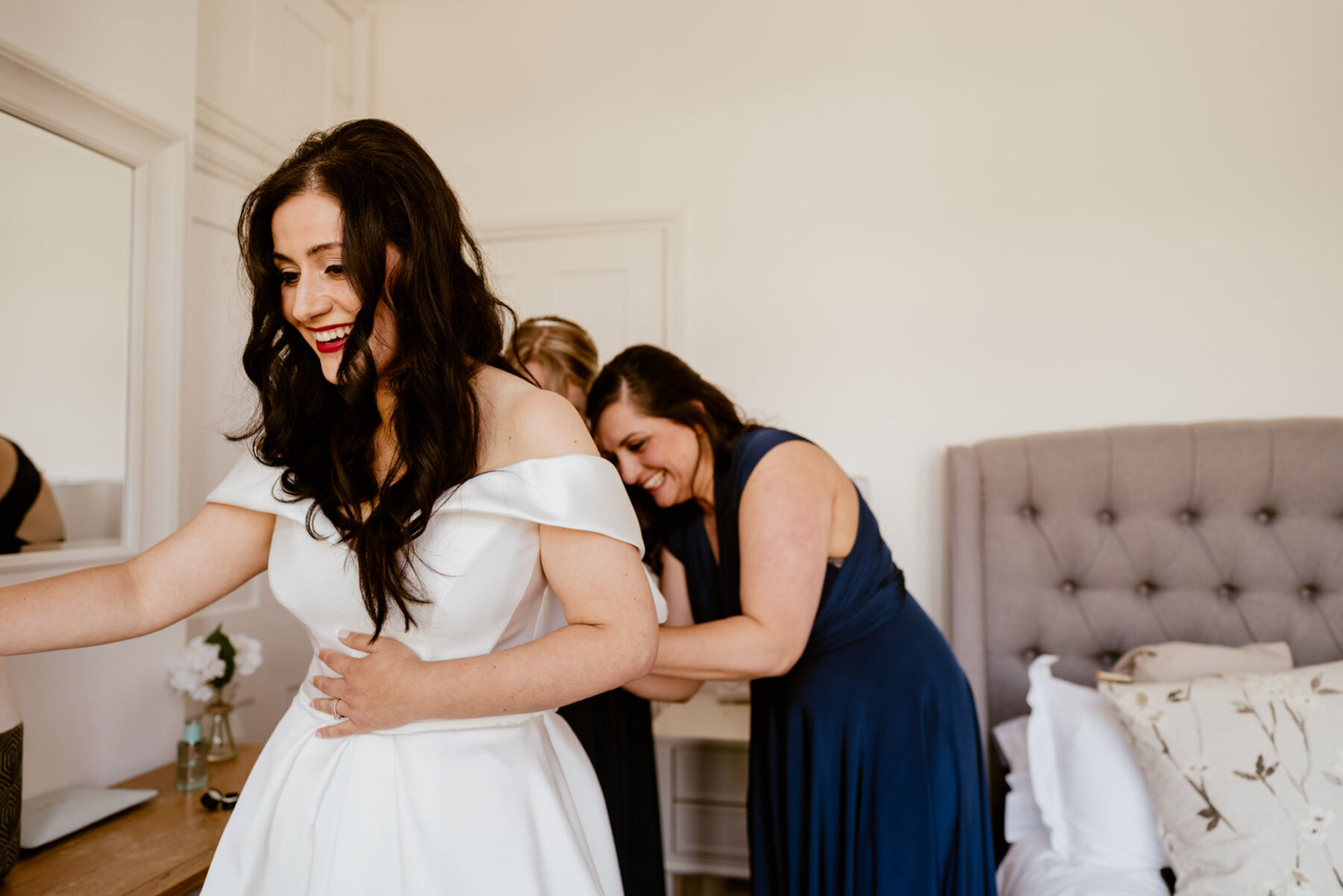 I had shortlisted a few dresses for my appointment, but after arriving and talking with Emma she quickly brought out more options for me. Her ideas suited and fitted me wonderfully. When I wasn't quite sure on a final choice, Emma arranged for me to return a few weeks later and meet Suzanne Neville the designer in person. Suzanne designed a completely bespoke dress for me with Emma's ideas also incorporated in. I was blown away by this level of support from both of them.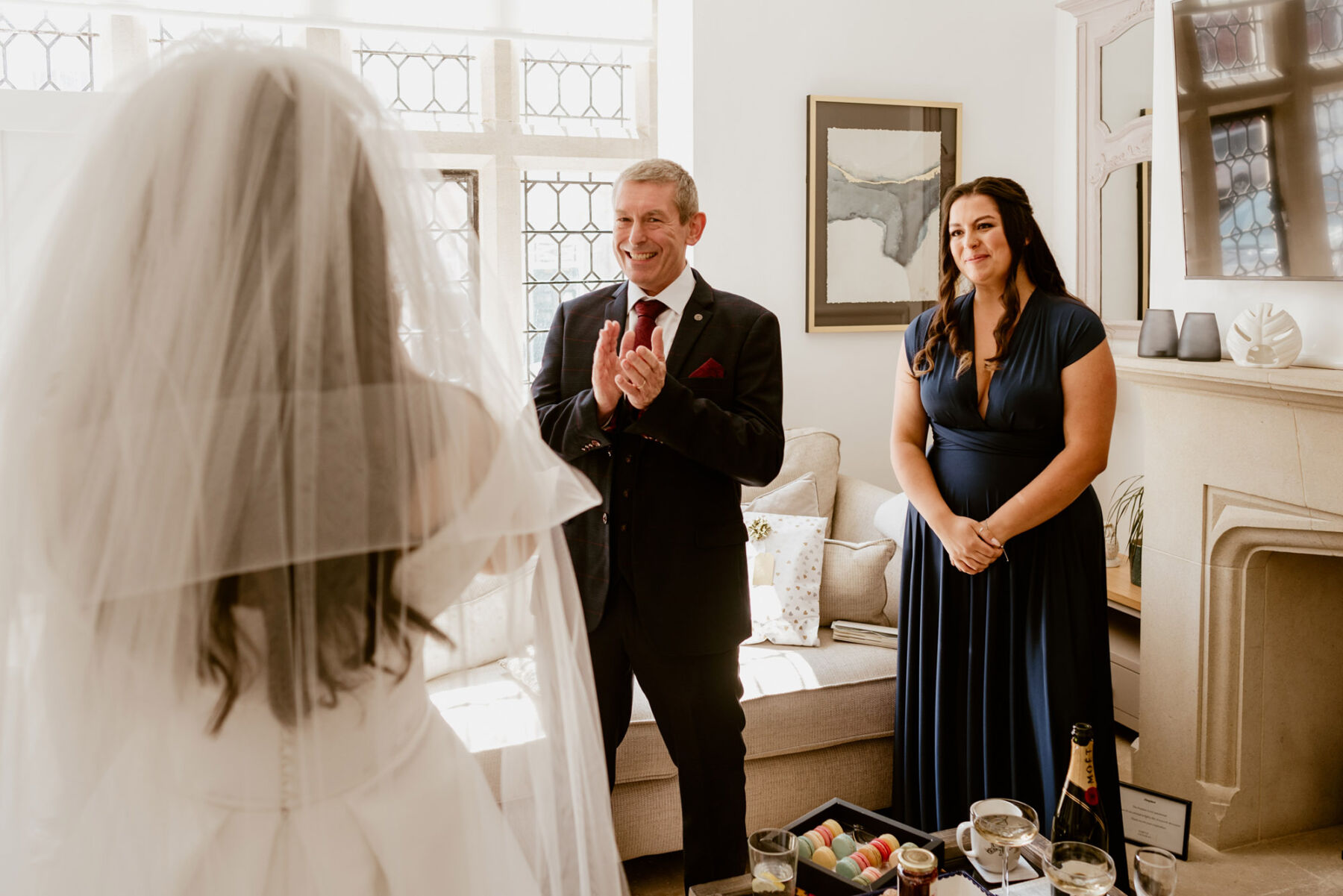 I honestly can't think of it without getting teary with gratitude. Jo my seamstress was then put in charge of making sure my dress made by Suzanne's team fitted me perfectly. Jo's commitment to adjusting my dress was outstanding. She spent weeks making tweaks after tweaks on my dress. I miss my appointments with her. She is a technical expert and at the very top of her profession.
I want Emma, Suzanne, Jo and the whole team to know that they brought real happiness to me and I thank them from the bottom of my heart.
I consider myself very lucky to have been a Miss Bush Bride. My advice if you visit is to trust Emma and her team. You will come out feeling and looking your very best.
Shoes, Veil & Accessories
My veil was 1950s inspired and also from Miss Bush. It was long and had 3 layers(!!) to add lots of volume. My inspiration was Priscilla Presley on her wedding day.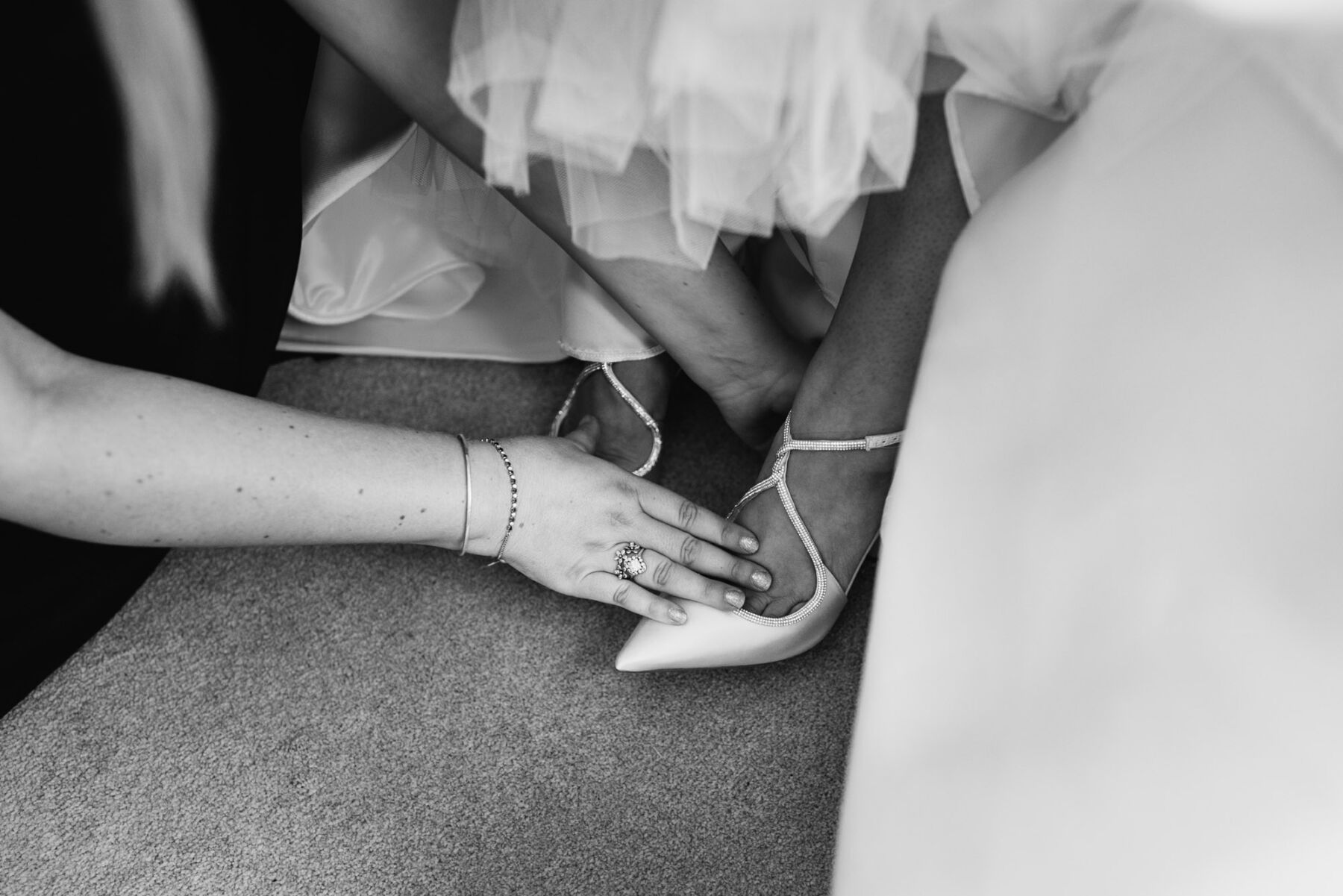 My shoes were Dune and I wore a pearl head hand for the reception onwards. My perfume was by Tiffany and Co. My something old was drop pearl earrings I already had and my something borrowed was my mother's silver bracelet.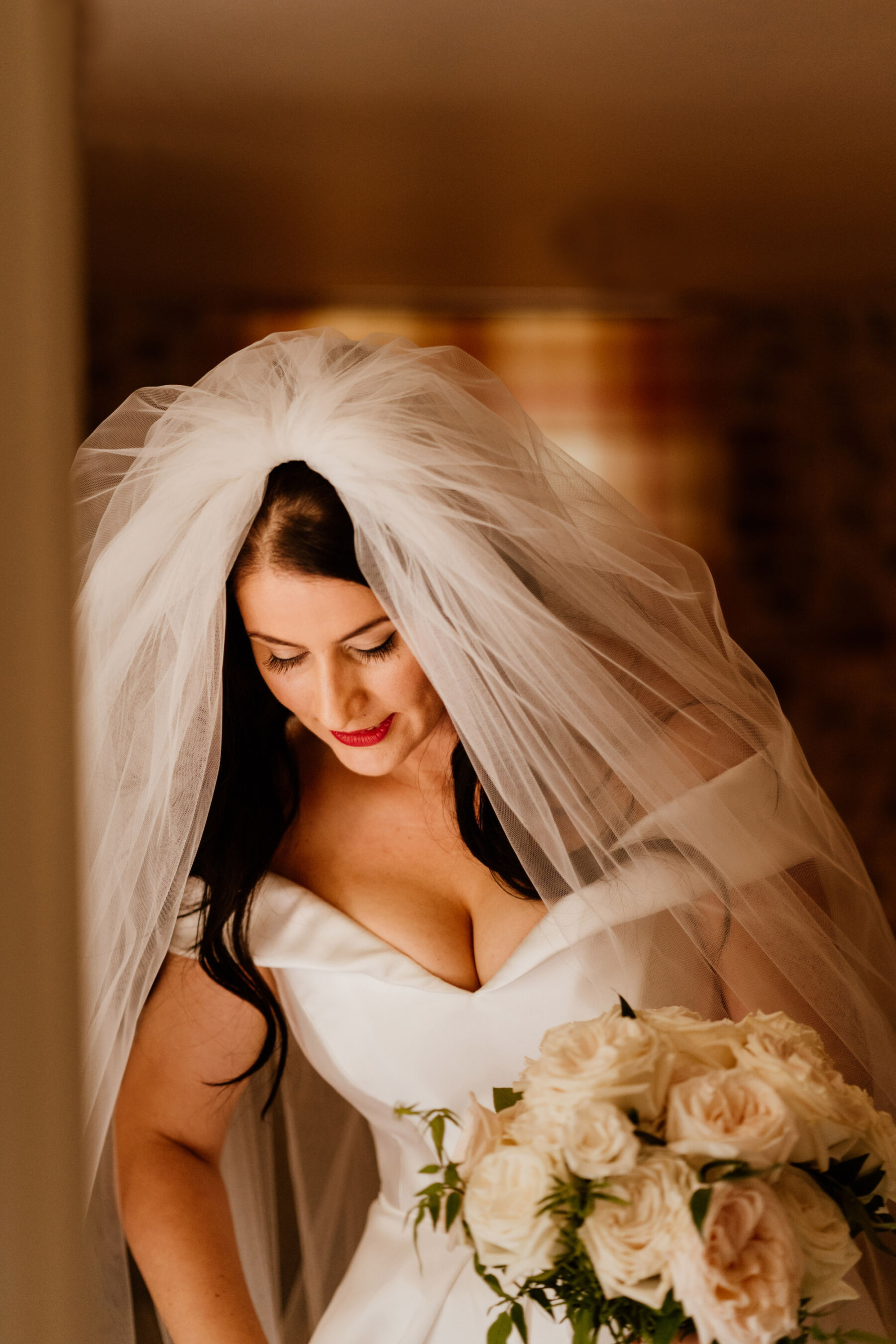 Emma at Miss Bush recommended Carolanne Armstrong, and I thank my lucky stars that she did. Carolanne fully embraced my love of vintage fashion and I had so much fun when she created a very voluptuous 1950s hair style for the day. My make-up was also perfection! I can't describe how thrilled I was with my final look because of her.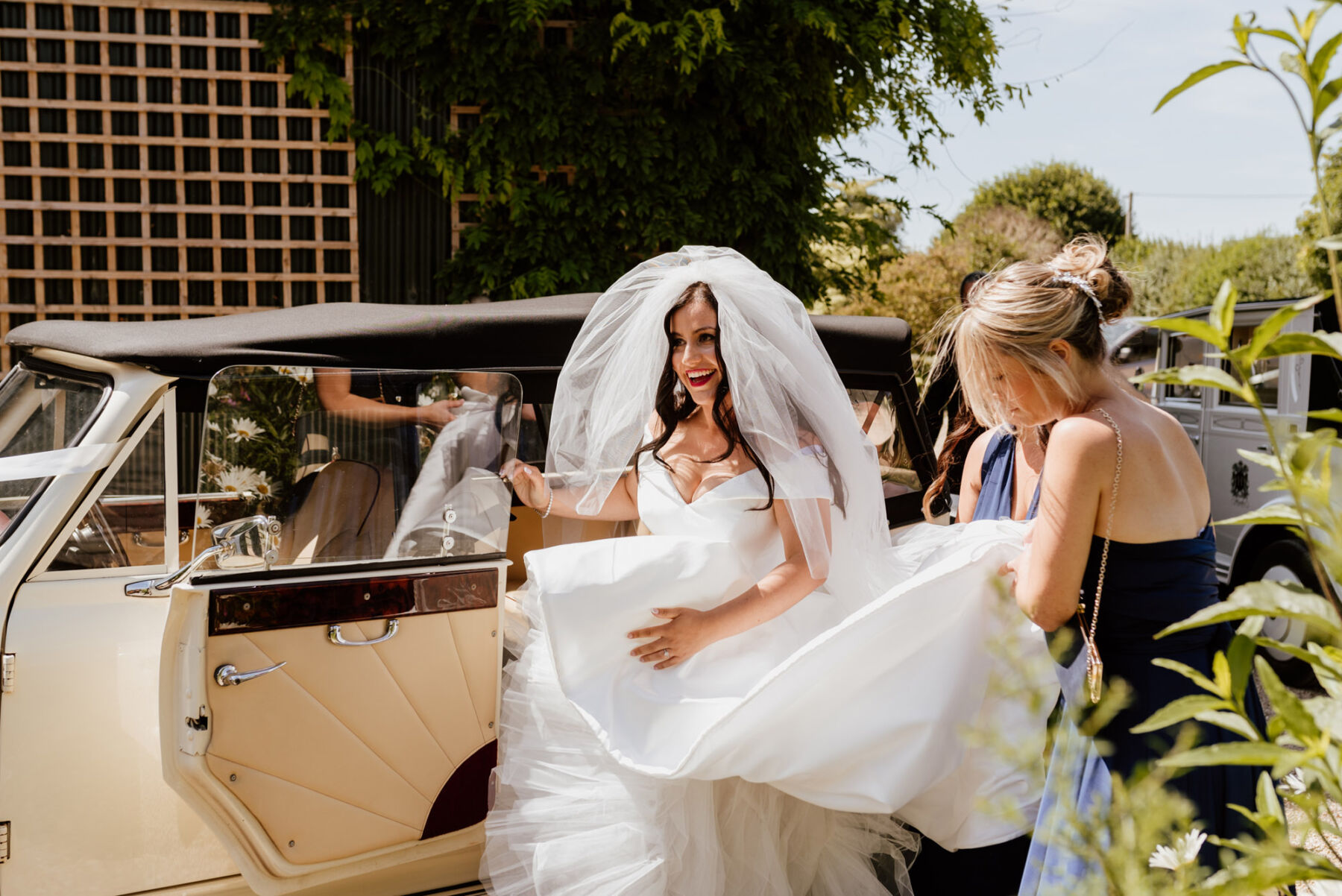 Upwaltham Barns
We visited Upwaltham Barns during an open day on a February morning and we immediately knew this was the venue we were looking for. Remy and I felt really strongly that we wanted our guests to feel comfortable and at home during the wedding. We also wanted a venue that was beautiful and rural.
The barns sit sweetly on rolling hills and the grounds are filled to the brim with beautiful flowers which are lovely cared for and nurtured. The barns have been exquisitely restored and have lots of different areas for guests to enjoy.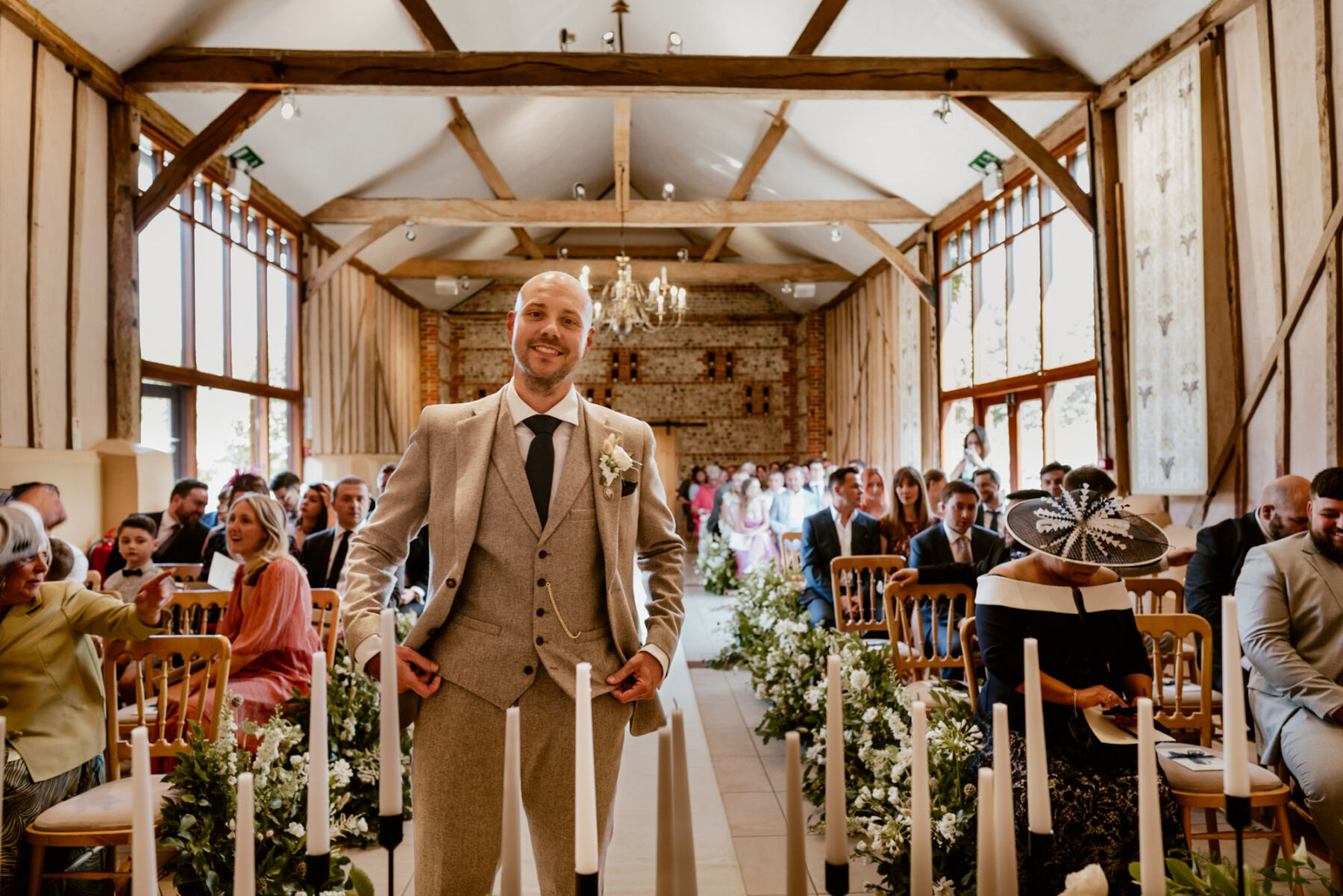 We really liked that there are two separate barns (one for the ceremony and one for the reception), a very well stocked charming bar, a firepit and Moroccan nook area, plus an open courtyard with a very smart seating area for guests.
Most importantly though this is a lovely family run business. Having visited lots of venues we genuinely felt welcome when visiting the barns.
Mad Lilies our florist also took care of the ceremony and reception designs.
A Barn Wedding Ceremony
I had 2 flower girls, and 4 Bridesmaids walk down the aisle. My Dad walked me down the aisle. I walked down to the 'Theme- From "Emma"' by Rachel Portman. This is the soundtrack song from the movie based on Jane Austen's novel Emma. I chose this song as its based-on Surrey where Remy and I met.
Our rings were from Cry For The Moon in Guildford.
They are one a few independent jewels with 50 years of experience. They made our rings for us and we were able to personalise them as we wanted. It was wonderful to be in such trusted and expert hands.
Shakespeare Sonner 116: Let me knot to the marriage of true minds.
This sonnet is about the commitment and the strength of love. We liked it because it acknowledges the difficulties that we can experience in life and makes a case that love does not change with age, looks or time. True love is a fixed mark that can take on storms if it needs to.
Photographer
We first heard about Sharron Gibson when she was shortlisted as one of the best wedding photographers in the Southeast of England. As soon as we saw her photography, we leapt at the chance to have her with us on the day. Her photography is intimate, interesting and focuses on capturing the often-missed moments that make a wedding day personally important and memorable.
One of my favourite photos is of me and Remy admiring our wedding cake. That one photo captured a wonderful, calm and private moment for me and Remy.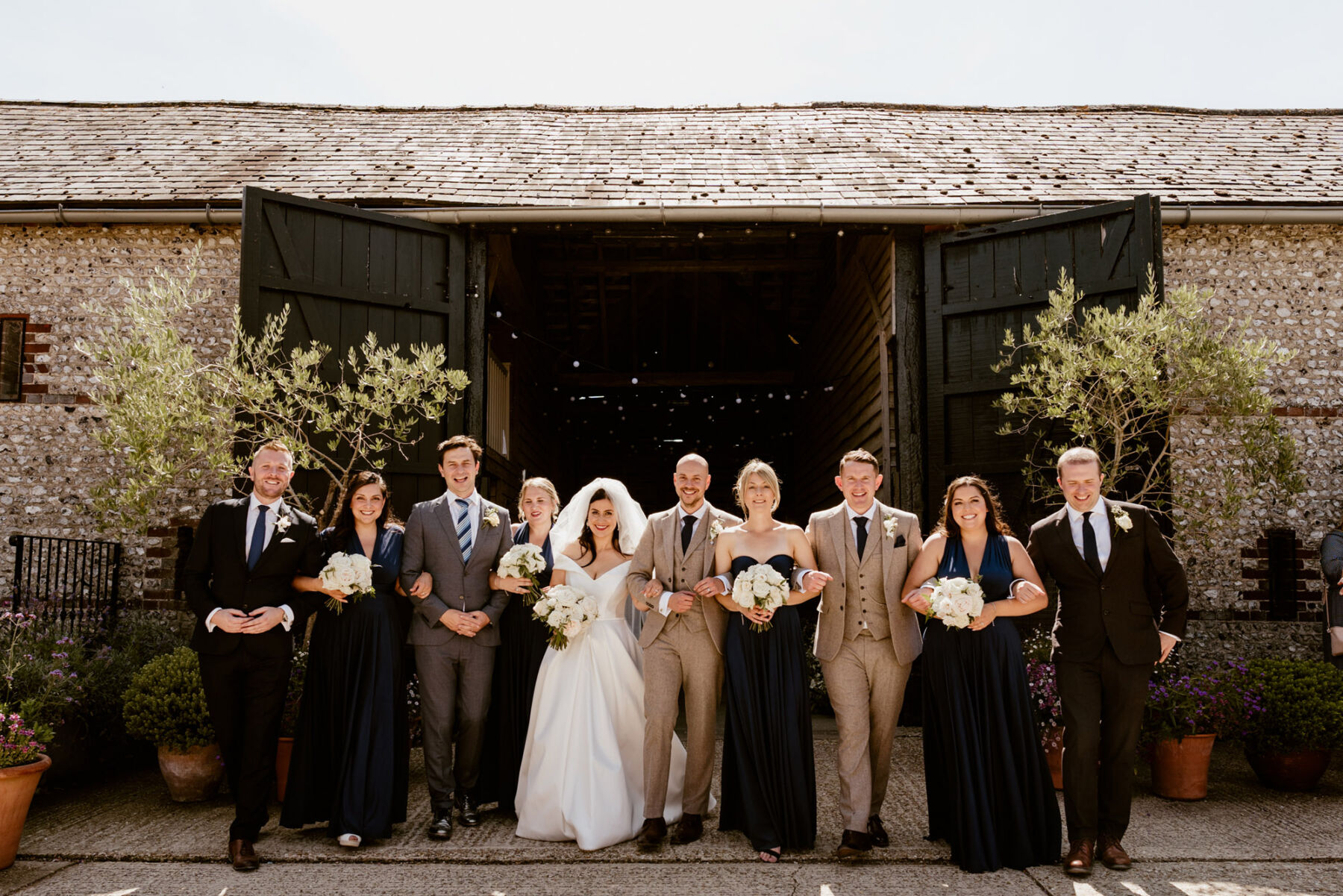 That is just one photo out of hundreds of intimate moments Sharron captured for us to enjoy for the rest of our lives. We were thrilled also that Sharron was able to invite Lucy to work with her capture the day. They were so supportive and patient. It felt as though we had close friends helping us on the day.
We can not recommend Sharron highly enough, her photography is breathtaking and our family and friends have been deeply moved of the memories she has so creatively captured for us. She is a true photographic artist and we are very lucky to have her take us as clients.
Florist
We saw a Mad Lilies installation in Ripley and fell in love with the sheer beauty and level of detail of their displays. Ali and her team were simply unbelievable and so much fun. The team took every detail of our ideas and created astonishing displays for us.
Our theme for the ceremony was wildflowers and for the reception a Nordic inspired jewel colour pallet display. Everyone was taken aback by the flowers.
How They Met
Remy and I met at work. On my first day, he took the time to walk me to the lift when I was leaving. He was funny, kind, tall, handsome, and full of life. I knew while waiting for that lift to arrive that something significant had happened in my life. He became my closest friend before becoming much more a year later.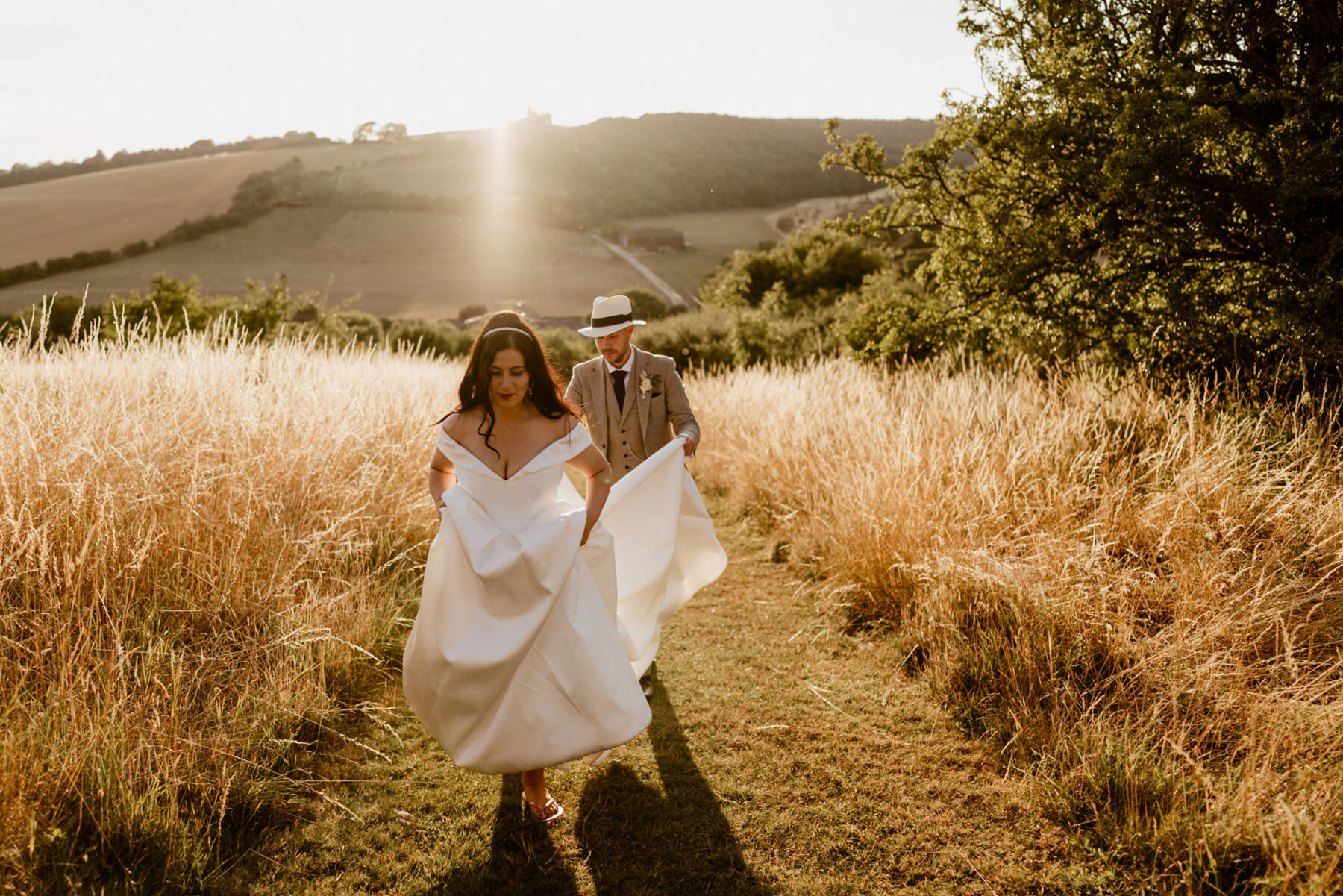 Six years, 1 tiny dog and many trips later we got engaged in France on Christmas Eve (my favourite day of the year) and finally got married in August 2022. We'd been together for 9 years by that point, but on that day I still felt the feelings I had on the very first day of meeting him.
We had a bit of a mishap with Remy's original supplier, but we were thrilled to find a wonderful light grey tweed suit by Next for the day. I surprised Remy with a lapel broach which had a portrait of his grandmother whom we loved very much. He also wore an antique gold pocket watch.
The Inspiration
When we were friends, Remy and I spent most of our time taking country walks, sitting in warm pubs and laughing in the Surrey Hills. Our happiest and most meaningful memories are in sunny hazy summer afternoons surrounded by wildflowers in the countryside. We wanted something that reflected and celebrated that.
We consider ourselves so lucky that we found suppliers that understood that and went above and beyond to make it a reality. Mad Liles filled our ceremony with wild white flowers and foliage. It felt as though I got married in my own personal secret garden.
Our wedding was originally planned to take place in September 2021.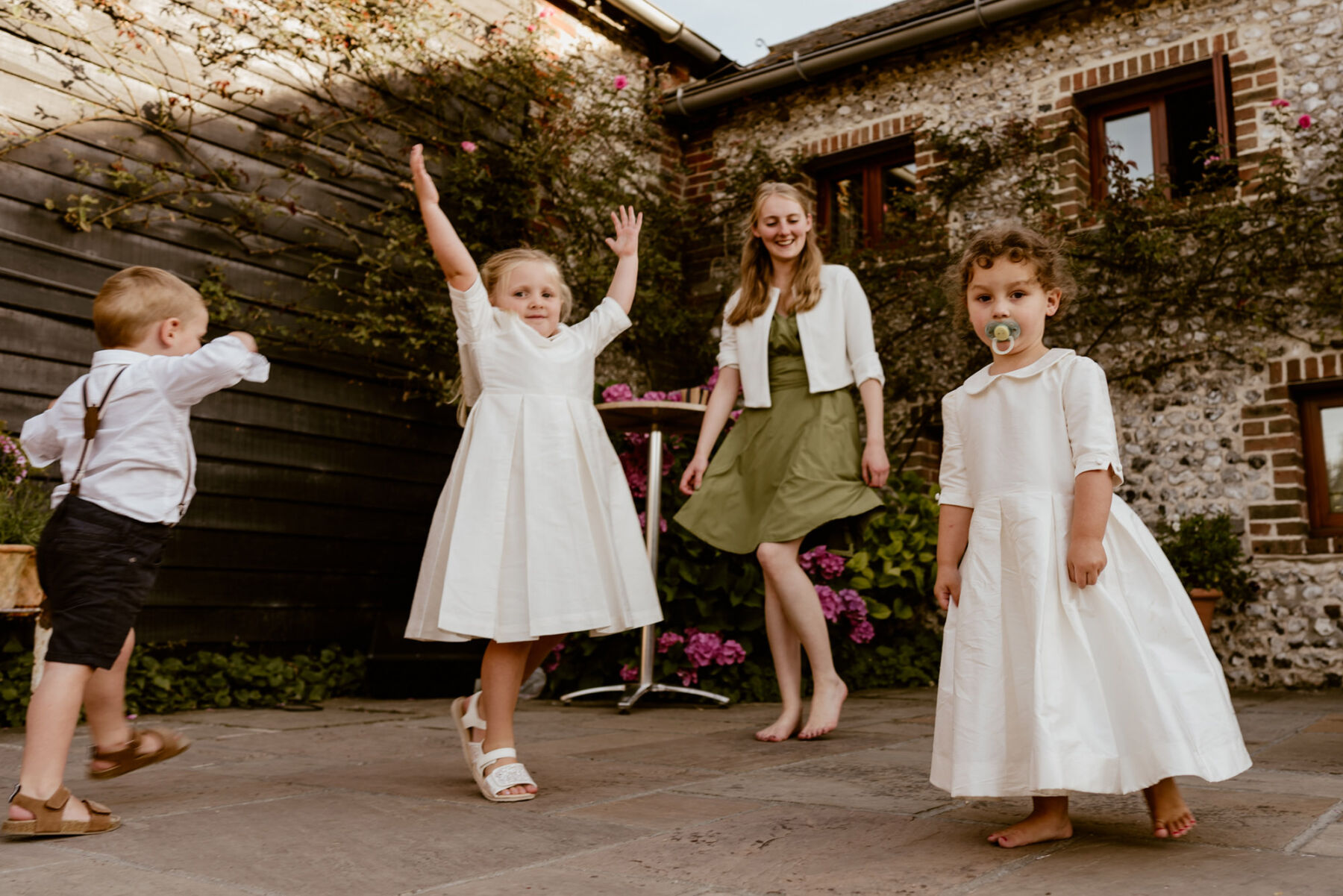 As part of my job, I took responsibility for setting up and running Guildford's Covid-19 asymptomatic test site.
It was a very intense time but we felt strongly that it was very important to help the local community to do this. We made the decision in January of that year to postpone our wedding by just under 12 months to give us the time and head space to focus on the wedding fully once things settled down. All our suppliers were amazing and so supportive.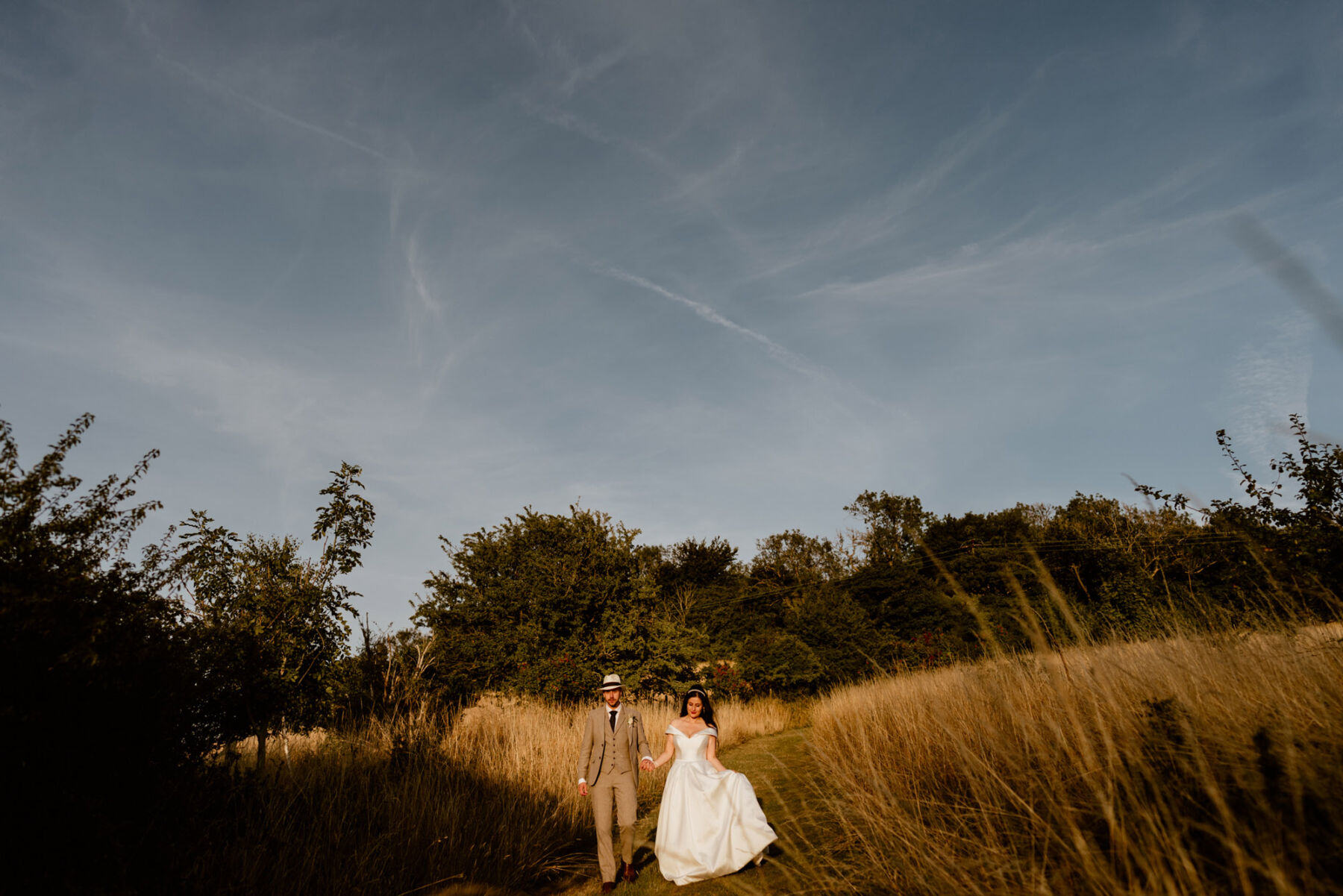 Reception
The Ceremony barn looked so romantic, large cream flower displays lined the isle and the ceremony table had a huge number of tapered candles sitting on a waterfall of flowers. The dinner table display was so vibrant and stunning. Plumb colours jumped out of the displays and Ali picked navy tapered candles to match the bridesmaid dresses.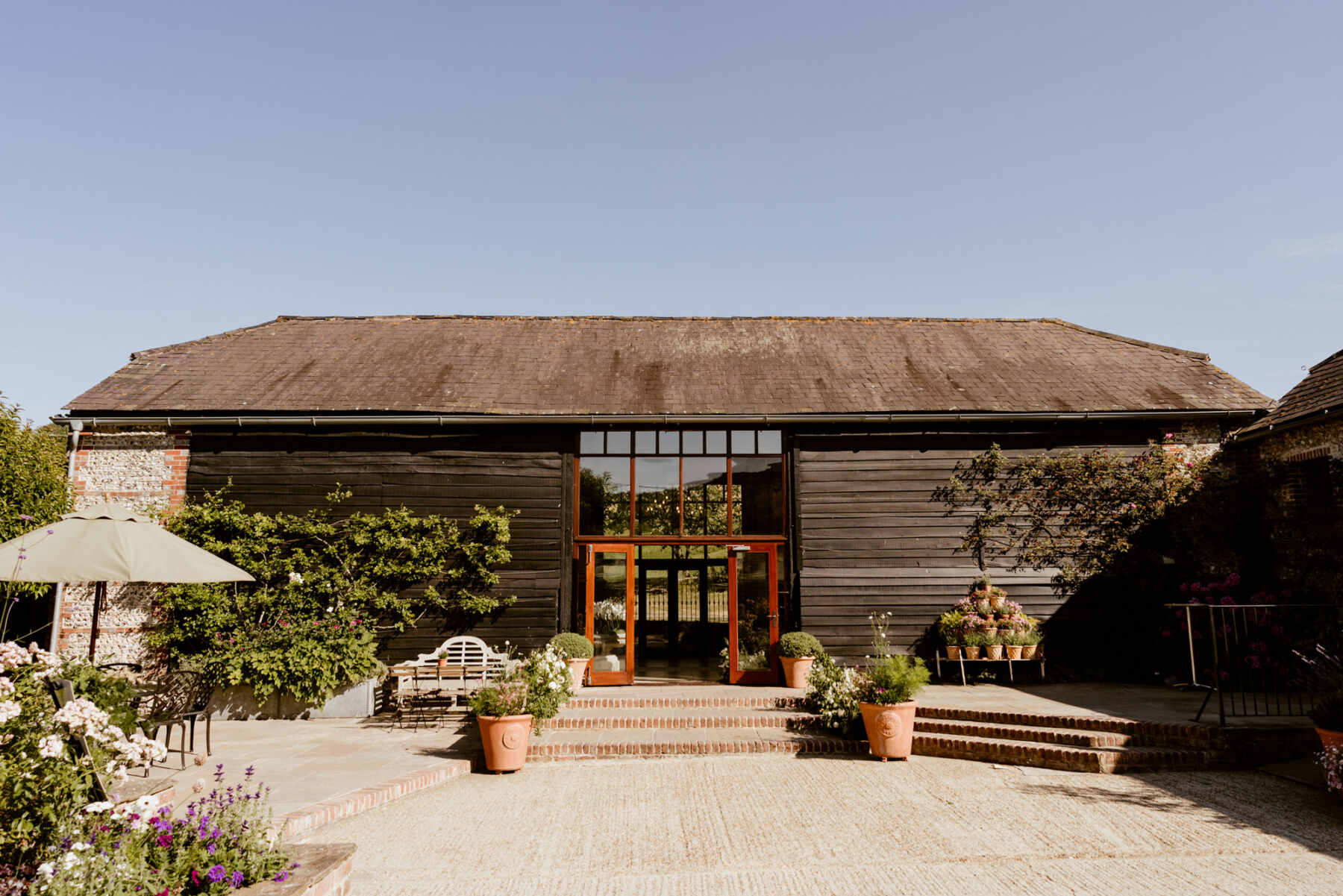 Gemma of Tartuffi Cakes made the most incredible cake for it. It was a four tier marble effect cake, with handmade sugar flowers. Gemma spent weeks handmaking the flowers for us, the result was incredible. I still also drool at the memory of the flavours. We had chocolate Ganache for two layers and Strawberry Marc de Champagne for the rest.
We based our favours of a Scandinavian tradition of 7 biscuits (Remy and I currently live between the UK and Scandinavia) using supplier Nibbles2Nosh. During the 1900's a host was considered stingy if they had fewer that 7 varieties of biscuits to give their guests and too proud if they gave them more than 7 varieties. I made each guest a box of 8 varieties of Scandinavian style biscuits.
I drew and designed our seating plan, table names and welcome signs. They were based on special places Remy and I have visited.
Evening & Dancing
Our first dance was a traditional Chilean 'Cueca' – this is the national dance of Chile in South America where I was born. All our guests were given traditional handkerchiefs to wave while we danced and everyone ran on the dance floor once we'd finished.
Words of Wedded Wisdom
I think there's a lot of pressure to achieve a specific type of 'perfect' wedding day. Organising a large event is hard enough, the fact that it is an emotionally significant day makes it more challenging.
All you can do is your best, do what you can to plan ahead and accept the support of anyone who offers. Be open to being flexible and to letting some things go when you need to.
Remember why you've decided to organise a wedding day. There are no wrong decisions if you are planning a day focused on celebrating love with people who genuinely care about you.