To be the leading man in slightly smaller productions, or to be an understudy for the elite? It's not the most significant consequence of the financial stratification of modern football but what the division of the game into superclubs and the rest has done is make that decision far more urgent for promising young players. Which is why, quite apart from anything else, the domestic cup competitions matter. It's hardly the romance of old, the epic tales of knockout glory that thrilled previous eras, but the FA Cup offers a stage on which the next generation can test themselves.
But there are supporting casts and supporting casts. Manchester City, in the 15th year of the Abu Dhabi project, boosted not merely by the extent of the resources that have been invested but the intelligence with which that money has been spent, can look to their bench and call upon a World Cup winner who has started only three league games this season.
Other than converting a penalty, Julián Álvarez had a fairly quiet game but there is little doubt about his talent. His time will come and the only reason he remains in the shadows is that the player casting that shadow is Erling Haaland. Perhaps that could eventually become an issue, but regular substitute appearances and a World Cup win represent a decent enough first season in Europe.
Sérgio Gómez, brought in from Anderlecht in the summer, is another who demonstrates the acuity of City's recruitment. The Spanish left-back is 22 and is yet to start a Premier League game, although he has made four Champions League and one Carabao Cup start, but he was arguably the best player in the pitch in the first half, playing a key role in the early buildup to the third City goal.
Cole Palmer may sound as though he's made up of cast-off Carltons, but he doesn't play like it. Rather his slow emergence – eight sub appearances in the Premier League and three in the Champions League, plus a start in the Champions League and two in the Carabao Cup – is one to terrify the rest of the league. City have the wealth and the expertise, but they also have a richly productive academy. Football rarely runs entirely smoothly, and the eventual departure of Pep Guardiola will inevitably cause disruption, but the sense at the moment is of a dynasty that could endure for years and years.
The link up of Gómez and Palmer with Phil Foden, himself apparently relegated to understudy since he returned from the World Cup, was a window into just how well-drilled this City is. Again and again the Chelsea right-back Trevoh Chalobah was isolated, not through any real fault of his own but because Chelsea's system simply couldn't compete with City's.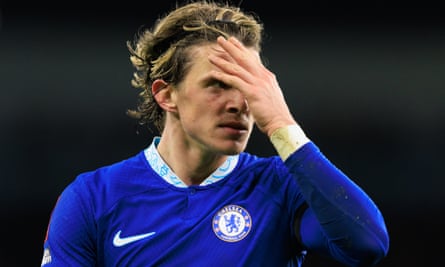 There had perhaps been a thought before kick-off that this was a fine opportunity for Conor Gallagher, whose energy after coming off the bench had helped Chelsea put City under pressure late in Thursday's league meeting between the sides, but he was sooner reduced to chasing haplessly as the ball was worked around him. He did it gamely enough but, not for the first time, it was hard to see quite how he fits into this Chelsea side.
As midfields have tended to be broken into two bands over the past couple of decades, Gallagher's sort of player – Steven Gerrard and Paul Pogba might fall into a similar category – has found it hard to adapt. In the 80s they'd have been box-to-box dynamos, but that style has fallen out of fashion at elite level, in part because the physical demands are probably too great. Is Gallagher disciplined enough to sit deep? Is he technically good enough to play as an attacking midfielder? He falls awkwardly between two stools. Perhaps he can function on the outside of a midfield three, but not when there is as much defensive work to be done as there was here.
But to be critical of an individual in this Chelsea side – other perhaps than Kai Havertz, who looked disaffected from the off, was fortunate to get away with a late challenge on Rodri and then gave away a stupid penalty – is probably unfair. It's not just that they have 10 players out injured, and that Thiago Silva, their best player this season, was understandably rested, it's that, for all the money they've spent, recent recruitment has been shambolic.
Lewis Hall impressed against Chesterfield in the Cup last year but has only ever made one Premier League start. Bashir Humphreys was making his first senior appearance. Omari Hutchinson's debut came off the bench on Thursday. City's back-ups are young stars who have been slowly blooded over the past few months and a World Cup winner. If this looked at times like men against boys, there is a reason. Not all supporting casts are built the same.