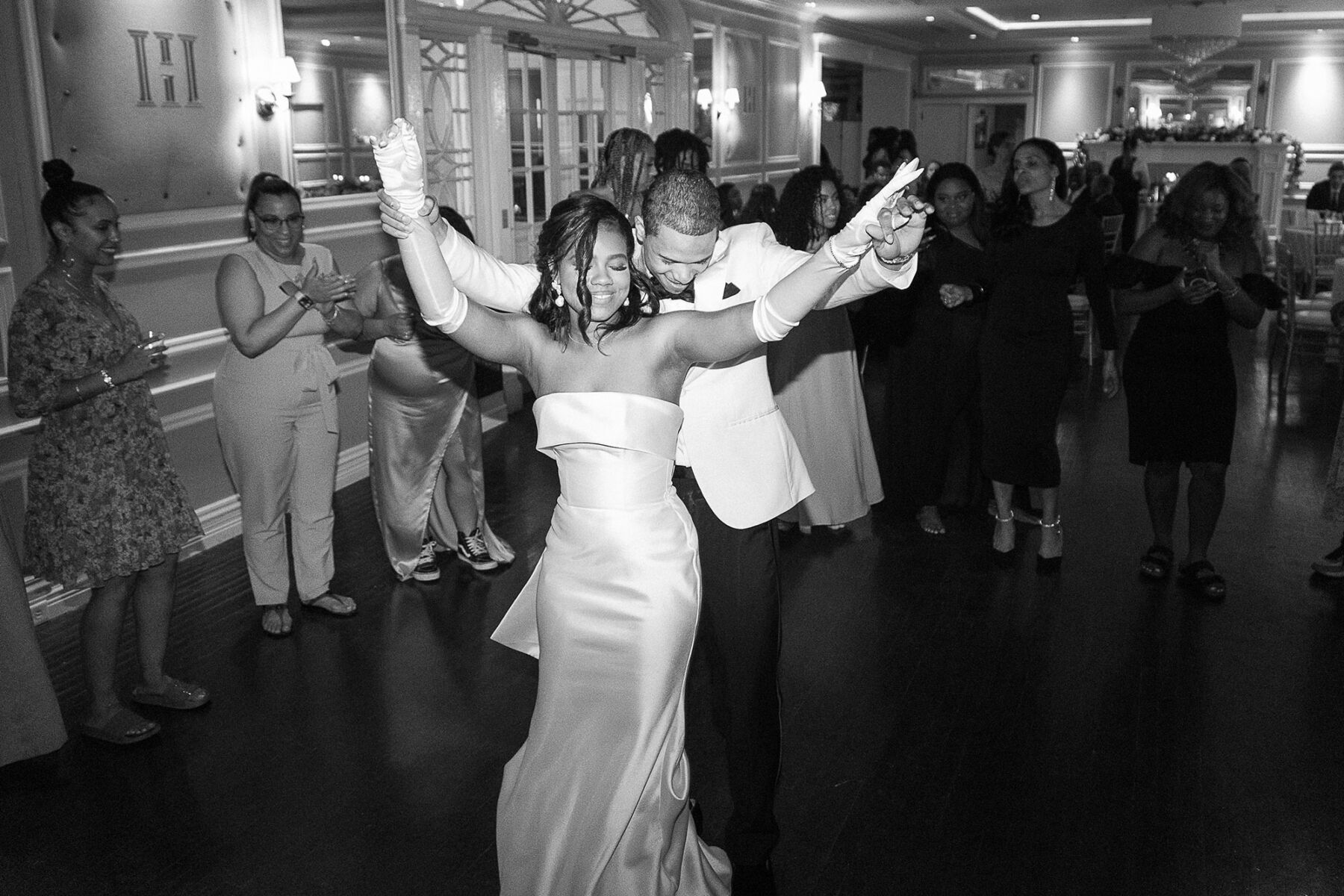 Brittney and Anthony's classy city wedding took place in May 2022, at Briarcliff Manor in New York – chosen by the couple for it's timeless and elegant appeal.
The couple hired Alicia of ILE Events for assistance in planning their simple, elegant and beautifully intimate wedding. Brittney wore a gorgeous, off the shoulder modern bridal gown by Ukrainian bridal fashion designer, Eva Lendel.
These gorgeous images were captured by Loreto Caceres Photography.
An Eva Lendel Wedding Dress
My wedding dress was by Eva Lendel, from Angel Rivera Atelier, and my shopping experience was a dream!
I'm typically pretty indecisive so it was a shock to both me and my mom that I picked my dress in one visit.
Christina from Angel Rivera Atelier was phenomenal. She picked other dresses based on my likes (simple, elegant, no sequins or lace). She helped me narrow down based on my feelings – how do you feel in this dress? As we narrowed it down, she let me retry the top picks again to refresh my memory and compare.
I picked my gown from photos and when I tried it on, it immediately felt like 'the one' – still shocked that the photo I picked lived up to my expectations. When Christina picked the perfect veil to try on with it, it made everything so real! My mom said "oh my God. You look like a real bride!"
I saw my Eva Lendel gown on Instagram and wanted to try it on. As soon as I stepped into it, I knew it was the one. I've never been so decisive in my life. I picked my gown in one appointment. I knew I wanted simple, but elegant. The gown is all satin but so striking and beautiful despite no embellishments – it is exactly the simple but WOW that I wanted.
How They Met & A Beautiful First Look
We met on a Thursday, by chance, at Marquee nightclub. We each had friends present and just happened to be in the same section. We exchanged numbers and haven't stopped talking since.
Engagement surprise was foiled by me multiple times. Anthony tried taking me to restaurants and tried surprising me at the Brooklyn Promenade during one of my walks with my German shepherd Chance, but I somehow always managed to intervene or decline (thanks to my COVID crazies).
Anthony eventually proposed at 7am when I was in my pyjamas – talk about being caught totally off guard!
Jumping The Broom
My dad walked my down the aisle. My bride ceremony song was I Didn't Mean to Fall in Love by Snoh Aalegra. The opening instrumental just gave me "bride," and the lyrics were so fitting.
We were married by Reverend Roxy. The ceremony by Rev Roxy was incredible and so fitting of our relationship – even my flower girl teared up.
We jumped the broom! My mom was very pleased with this. Quite awkwardly, after jumping, we just stood there not knowing we were meant to exit. Everyone laughed and those are the moments that just made the ceremony feel so organic and intimate.
We didn't write our own vows, but Reverend Roxy wrote the most phenomenal ceremony. It included how we met (on a Thursday, and our ceremony GO FIGURE, was a Thursday), and talked about my German shepherd Chance's accident. It was so special, even my flower girl cried. A special moment was the silence for our loved ones who have passed, but were there in spirit.
My bridesmaids completely turned their entrance into a choreographed dance battle, and the groomsmen were left in shock (as was I).
Photography
I found our photographer,  Loreto Caceres Photography, on Instagram. Her photos gave me all the feels. I knew I wanted a photographer that captured emotions and moments, and her portfolio did that for me.
As someone who is awkward in front of the camera, Loreto made everything so easy. She is laid back, but amazingly confident in her craft. Nothing felt unnatural. She definitely caught the true essence of our relationship – meaning, my endless sarcastic facial expressions – while also capturing the moments I didn't know we had! I had no idea we looked at each other with so much love LOL. I would recommend Loreto in a heartbeat – any event for the remainder of my life, I want it captured by Loreto Caceres.
Inspired by Old Black Hollywood Glamour
I wanted our wedding to feel intimate, elegant and simple. I have always been very inspired by old Black Hollywood glam – the lines of dresses, the elegance, poise and lines of gowns – this is what I hoped to achieve on wedding day.
Our flowers were by Pralique Weddings. The low profile flower settings and candles were perfect and helped create the romantic glam look I was going for.
Our first dance was to 'If This World Were Mine', by Luther Vandross.
Words of Wedded Wisdom
Needless to say, nothing goes 100% as planned, but I can say it went the way it was supposed to. I wish I could have slowed it down to be more present.
Plan ahead for extra time – things WILL go wrong, no matter how much you plan ahead. The buffer in your schedule is a lifesaver. Know that your guests will see your wedding the way you imagined it, even if things seem to be going "wrong" behind the scenes.
BREATHE. Prioritise what YOU want as a couple, not the needs of expectations of others.