Erling Haaland is a phenomenon. It's not just that he has scored 22 goals already this season, plus a further five goals in the Champions League. It's the sense he offers of being unstoppable: almost unbeatable for pace, almost impossible to knock off the ball and with a clinical eye for goal as well.
His phlegmatic, almost flippant, personality makes him more terrifying. He jokes about the secret target he has set himself for this season. He is not some driven self-improver: he scores goals in record-breaking numbers seemingly because he finds it funny. He plays football like the early developer in year eight and as such finds the game almost laughably easy. In the history of the sport there has been only a tiny handful of forwards who have combined such physical and technical prowess.
There was Bernabé Ferreyra, the Argentinian dubbed the Mortar of Rufino for the power of his shot. When River Plate signed him from Tigre for £23,000 in 1932, it was the first time the world transfer record was held by a club from outside Britain. There was the Brazilian Ronaldo, who ticked along at a goal a game even in the relatively defensive 90s before knee injuries hit his explosive acceleration. And there was Eduard Streltsov.
Streltsov now is best known as the brilliant young Torpedo Moscow striker who was arrested on the eve of the 1958 World Cup, convicted of rape and jailed for six years before returning to win the league. His time in the gulag, and the various attempts to clear his name, understandably dominate discussion of him but his career also throws up revealing tactical issues.
At Dynamo Kyiv the following decade, Viktor Maslov would in effect invent modern notions of pressing. His ideas had not quite reached that point when he was reappointed at Torpedo in 1957, but he was already thinking of the team as an integrated unit, aware of how a player's actions in one part of the pitch could have profound tactical implications elsewhere.
He acknowledged Streltsov's immense talent but he never seemed quite as in awe of him as others were. In part that was probably because he recognised early how dangerous his wild streak could be, and seems on occasion to have lost patience with his star in the difficult months between Olympic success in 1956 and the player's arrest. But it's also possible to trace tactical doubts and it was only after Streltsov had been jailed that Maslov led Torpedo to their first league title in 1960.
When Streltsov returned from the gulag, he was a different sort of player. His pace had gone and he would drop deeper. A forward who had been defined by his power began to talk about preferring shots that rolled slowly over the line to those that crashed into the net. Physically diminished, he had to learn a new way to play and to an extent he did, well enough to help Torpedo to their second Soviet title in 1965.
But the game had changed and he could not change sufficiently to accommodate himself to this new world of systems and responsibility. Streltsov won individual awards because he still did eye-catching things (and because of the power of the narrative of the player who had returned from the gulag to resume his career) but he clearly frustrated Nikolai Morozov, part of the great Torpedo tradition of thoughtful and innovative managers who had given him his debut as a 16-year-old in 1954 and returned to the club in 1967. Notably, as national manager, Morozov made no attempt to have Streltsov cleared to play at the 1966 World Cup.
Which is a roundabout way of saying that since football became a game of systems in the 60s, even players of profound individual gifts, physical and technical, can be detrimental to a system-based team.
Ronaldo did not win a national league title until 2002. Ruud van Nistelrooy scored roughly two goals every three games over five seasons for Manchester United, but won just one championship in that time. Late-era Cristiano Ronaldo was top-scorer in three seasons at Juventus and one at United while making the team worse.
There is a sense Haaland's goals may be slowing down, although such statements are relative: with anybody else, would the 333 minutes between his goals against Everton and Tottenham have been spoken of as a drought? He remains on course to obliterate the Premier League goalscoring record for a season.
Yet City as a whole, halfway through the season, have scored 50 goals and conceded 20; over the whole of last season they totalled 99 and 26. The addition of Haaland, the great goalscorer, has barely changed their goals per game scored stats, while apparently having an adverse effect on goals conceded.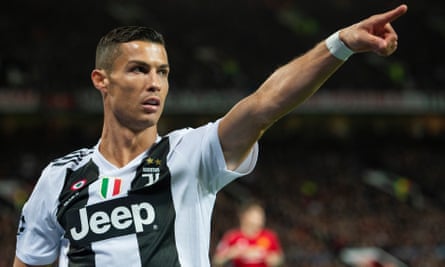 And it's not just that. Haaland had 20 touches against Manchester United last Sunday. When City beat United at Old Trafford last season, no City player had fewer than 71. Pep Guardiola's football has always been about control through possession. Haaland demands direct early passes that run contrary to Guardiola's inclination to build slowly to set up a base to counter a potential counter, and his lack of involvement in general play means in effect trying to establish that characteristic stifling domination of the ball with a man fewer.
There was a moment during the second half in last Saturday's derby when, with play stopped, Guardiola, encroaching on to the pitch, screamed at Haaland, apparently gesticulating at him to drop deeper. Haaland's body language suggested a teenager being told to tidy his bedroom, although there were a couple of occasions when he fell back and, in the manner of Harry Kane, spun to play passes to players advancing outside him.
Which is not to say Haaland cannot be a success at City. A tension between two opposing visions can be creative. Indeed, it may be that his incisiveness gives City the edge in the sort of European tie they habitually lose. But there is a tendency in football to over-emphasise the role of the goalscorer. Just because a striker is prolific, just because he is obviously a great player, does not mean he is making the team better.