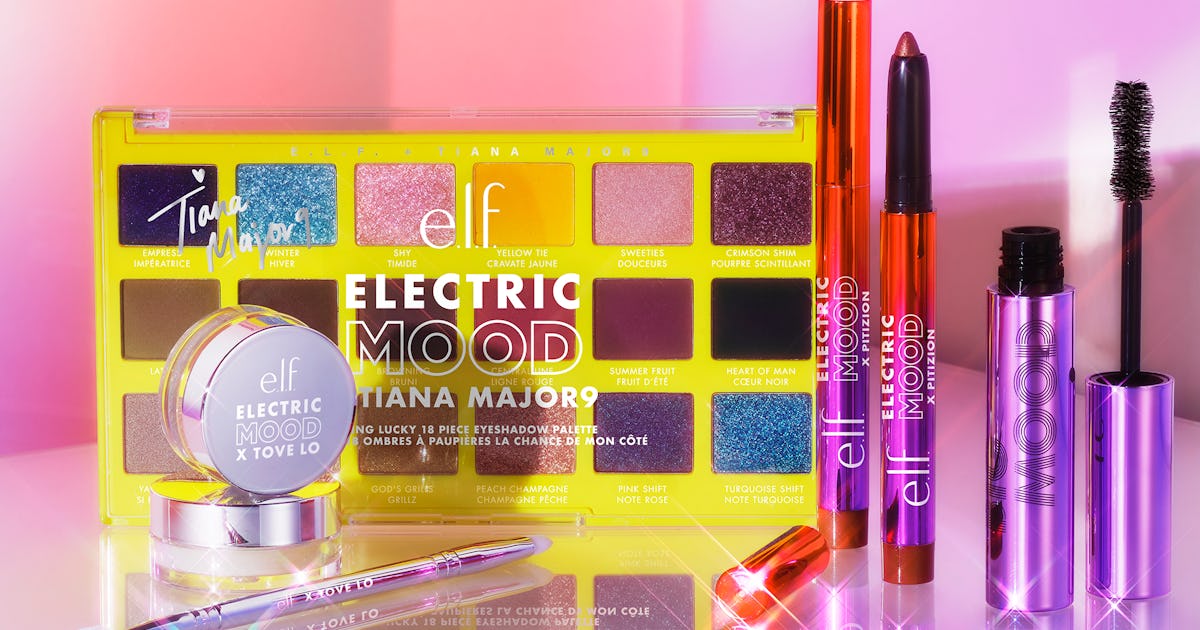 If you're itching for a summer filled with vibrant makeup, expressive fashion, and generally whatever is the opposite of the quiet, interior year we've had, you're going to love this news: e.l.f. Cosmetics just launched its latest limited-edition collection, Electric Mood. It's a glittering, pigmented wonderland created with music artists Tove Lo, Tiana Major9, and Pitizion. And the talented winners from Beautyscape 2020 — Karol Rodriguez, Michael Brooks, and Emily Anne Carden — got to be part of the ride.
Before we introduce you to your new favorite products from the lineup, here's a refresher on what Beautyscape 2020 — The Remix was all about. For its fifth year, e.l.f. partnered with Universal Music Group for Brands for a music-meets-makeup take on the annual contest. To enter, makeup enthusiasts had to create a beauty look inspired by music and post it to Instagram. Three winners were then chosen to collaborate with Tove Lo, Tiana Major9, and Pitizion on a makeup collection that would actually be sold in stores and to receive a cash prize of $10,000. Mentees from Girls Inc also got to participate in and learn from the experience.
And boy, does the collection deliver. Electric Mood has three distinct sections, one created by each music artist. Tove Lo, who was paired with Karol Rodriguez, took on the mantra "gritty is pretty" for a selection of glassy, gilttery, otherworldly products. There's the Disco Glitz Brow & Eye Kit — a silver glitter paste for the face and body. The Glassy Skin Balm gives you that just-off-a-photoshoot sheen. And the Hydrating Balm adds a sheer wash of lip color packed with moisturizing jojoba oil.
Tiana Major9 (teamed with Michael Brooks) dreamt up pieces that can be mixed and matched for painterly blends of color and texture: "I hope you create nothing but art and magic with this collection!" The Feeling Lucky Eyeshadow Palette contains 18 creamy, high-pigment colors in matte, shimmer, and metallic finishes; the Lip Duo is a gloss-and-pencil kit formulated with coconut oil and shea butter; and the Illuminating Elixir face serum makes you look hydrated and naturally dewy.
For Pitizion, who worked with Emily Anne Carden, the look was sun-kissed and bold. Create it with the Sheer Stick, a rich yet lightweight cherry lipstick; the Shadow Crayon Duo, a pair of blendable eye shadows; and the De La Sol Cream Face Quad, a blush, bronzer, and highlighter quad that creates a radiant finish.
Finally, reaching across the whole collection is the Big Mood Mascara, which uses an hourglass-shaped brush for volume, lift, and length, and the Electric Mood Brush (and sponge!) Set, which contains all the tools you need to apply each Electric Mood product flawlessly.
Shop the collection today, and get ready to remember what it feels like to feel good.
All images: Courtesy of e.l.f. Cosmetics