DxO has announced the version 1.5 update of the AI-powered RAW processor software PureRAW. The company says the update uses "smart technology" to fix the seven problems that affect all RAW files: demosaicing, denoising, moiré, distortion, chromatic aberrations, unwanted vignetting, and a lack of sharpness.
The company says this update — which is free for existing users of DxO PureRAW — adds new editing options for improved sharpness and distortion correction, new configuration options for exporting, processing, notifications, and magnification, as well as added support for eight new cameras and eighteen new lenses. The new cameras and lenses supported include Nikon, Pentax, DJI, Panasonic, Sony, Olympus and more, with a full list of supported cameras and lenses available to peruse on the company's website.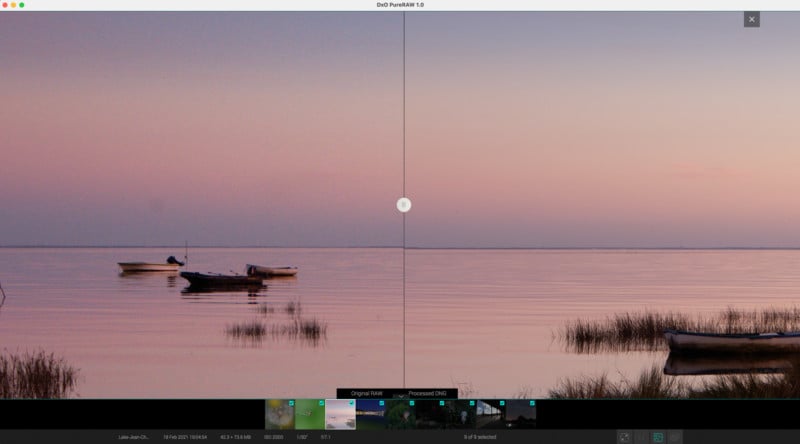 DxO says using PureRAW before sending your files to apps like Adobe Lightroom, Photoshop, or Capture One will demosaic and automatically remove digital noise, chromatic aberration, distortion, and vignetting and ensure an optimized RAW file to start editing with and leaving users with the ability to create more precise edits and therefore find more creative freedom.
The update includes fixes for lens defect and distortion corrections with sharpness fixes as well, and DxO claims with this improvement, users can process photos taken with fish-eye lenses or even scenes that require moderate sharpness.
"Following the successful launch of DxO PureRAW, customers sometimes wanted to be able to 'disengage' some of the automatic edits," explains Jean-Marc Alexia, VP Marketing and Strategy. "With this new version, we are offering them this flexibility."
DxO PureRAW from DxO Labs on Vimeo.
Additionally, PureRAW 1.5 now makes selecting export directories easier by saving recent or favorite destinations automatically. The application will also allow for greater magnification of the RAW files so users can better judge the quality of the image before moving on to the next steps and it will inform users of the size (volume) of data generated and the time required to process the files based on the number of images they have selected.
DxO PureRAW 1.5 is available to purchase for Windows and macOS from the DxO website for $129. Existing users of DxO PureRAW 1.0, 1.1, and 1.2 can get the 1.5 update for free. Additionally, a free 30-day trial version is also available for anyone interested in testing out the applications capabilities.