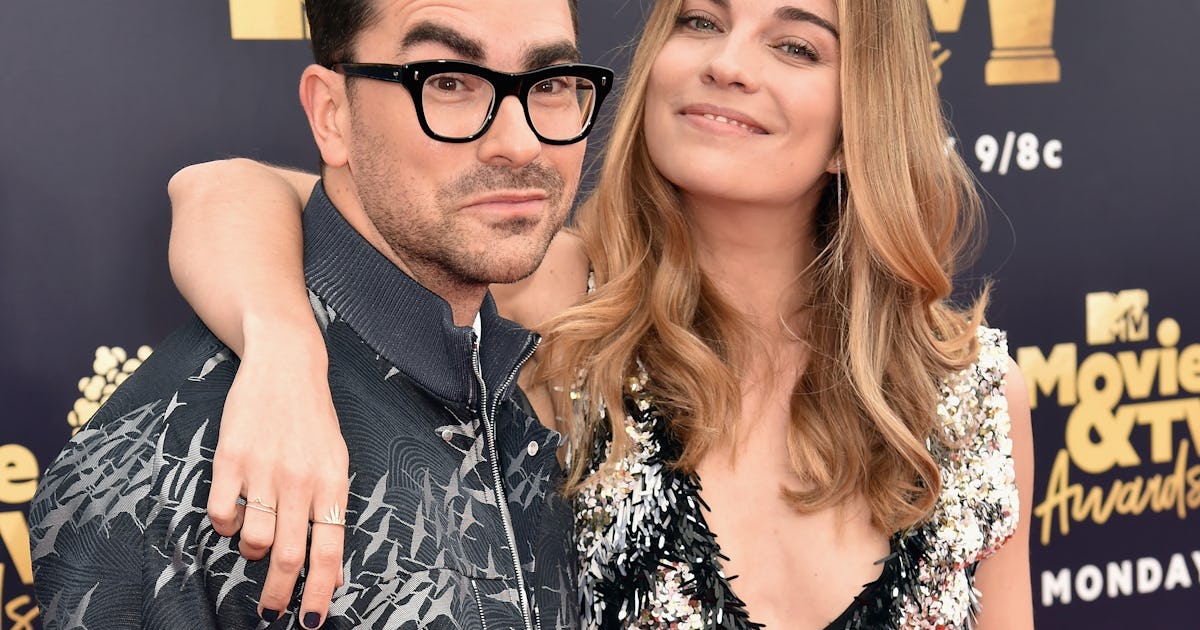 David and Alexis Rose are family forever. To mark the debut of Annie Murphy's new show, Kevin Can F**k Himself, Dan Levy shared a supportive message for his onscreen "lil sis" that will make Schitt's Creek fans' hearts so full. Yes, it's simply the best.
Levy posted a throwback photo with Murphy on Instagram on Sunday, June 13. "Lil sis has a big new show premiering today and I'm very proud of her," he wrote in the caption. He also encouraged fans to watch the upcoming series, adding, "Go watch @annefrances shine in #kevincanfhimself on AMC+!"
Murphy, who was a fan favorite on Schitt's Creek for playing the hilarious socialite Alexis, is taking on a different kind of role in Kevin Can F**k Himself. The show follows Allison, a housewife on a single-camera sitcom, complete with a canned audience laugh track, stuck with her insufferable husband, Kevin. Allison initially seems to play along with the sitcom's sexist jokes, smiling and cooking dinner, but then the show will flip those tropes as the character fantasizes about killing Kevin and starts to take control of her narrative.
In February, Murphy joked during a TCA Panel that Schitt's Creek fans would be surprised to see her in the Kevin Can F**k Himself character's drab outfits after years of Alexis' over-the-top bohemian looks, per Variety. She quipped that viewers can expect to mostly see her new character "in a pair of frumpish, hard-to-slip-on maroon winter boots."
Schitt's Creek, which aired its final episode after six seasons in April 2020, developed a cult following for years before it became a breakout hit on Netflix. Levy, who co-created the show, built a close-knit cast that included his own father, Eugene Levy, and comedy icon Catherine O'Hara, as well as relative newcomers Murphy, Emily Hampshire, and Noah Reid. The Schitt's Creek cast swept the 2020 Emmy Awards, with O'Hara, Murphy, Eugene Levy, and Dan Levy all taking home awards.
Dan Levy thanked his co-stars in his acceptance speech, crediting the "six-year master class" led by "the two brilliant comedic minds" that were his father and O'Hara for the show's success. He said the two actors "led by example, led without ego, and led with excitement" and the "effect of that was felt by everybody." He also gave a shoutout to Murphy in the speech, thanking her for her work on the show and saying, "I would not be up here if it were not for you being my better half."
Kevin Can F**k Himself premieres on Sunday, June 13 on AMC+ at 9 p.m.