According to a report in 9To5Mac, a new WhatsApp third-party chat feature has been spotted in the app's code. This makes sense as companies rush to comply with a new European law on messaging interoperability, which Apple is currently fighting. Apple's issue is that iMessage would become subject to antitrust law, arguing that it doesn't have enough users in Europe to fall under the parameters of the new law. 
According to the WhatsApp beta info page, you can now see a new screen titled "Third-party Chats" within the latest beta of WhatsApp. According to the page, WhatsApp Beta version 2.23.19.8 is working to meet compliance with the new EU regulations by developing chat interoperability support; the new capability should be available in a future update. 
What is interoperability messaging?
The European Union's reasoning behind its new set of regulations is to create a situation where messaging works across multiple platforms (Google Messenger, iMessage, WhatsApp, Facebook messages) to keep people connected regardless of which devices or operating system their chosen devices use. I thought WhatsApp already does that, but what do I know? I just used my iPhone to send a message to my Android phone and then rolled my eyes.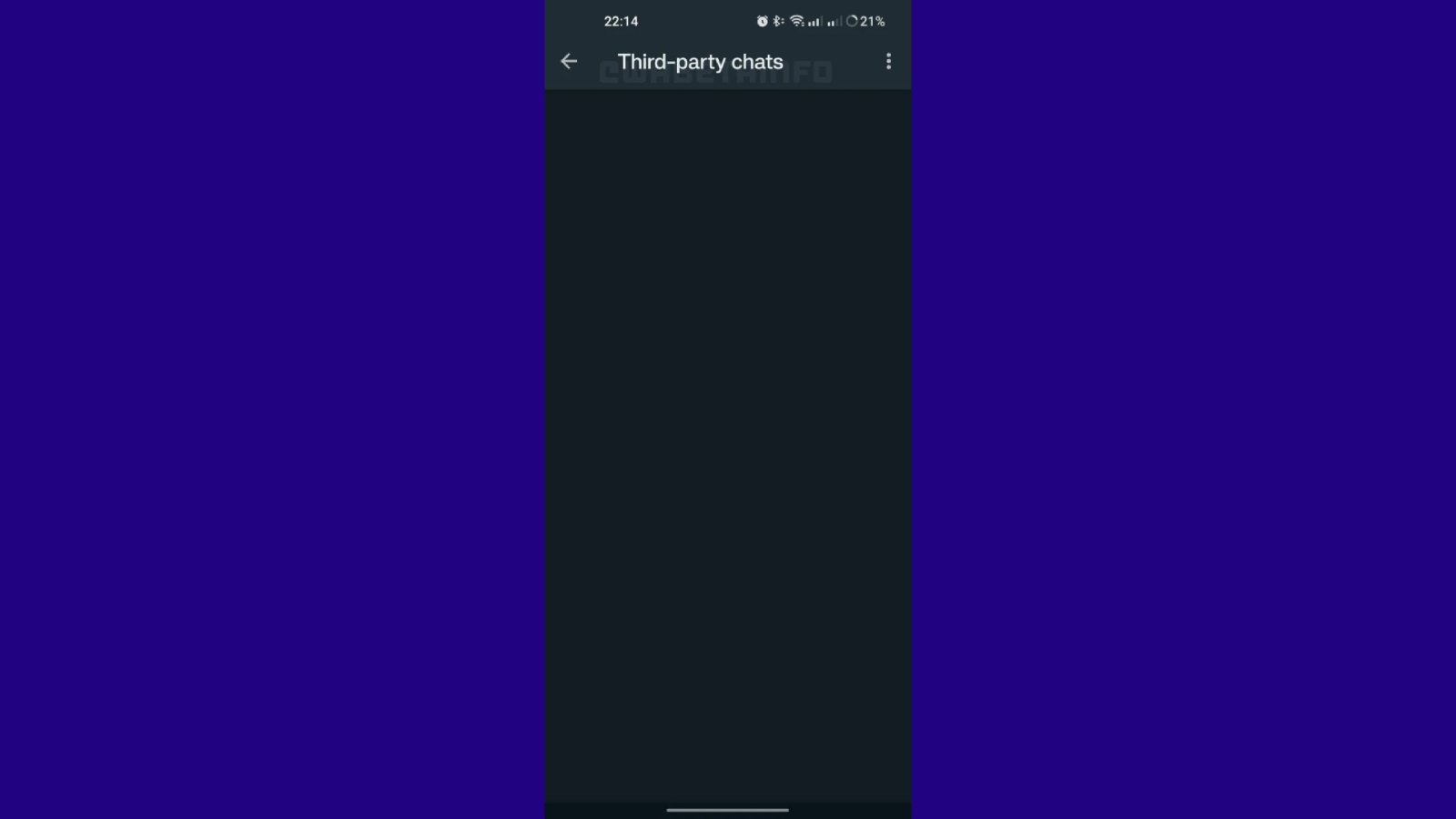 As you can see in the image, the WhatsApp team is diligently working on the new dedicated window that will allow for cross-platform messaging and come into compliance with the EU's new edict. 
The EU created the Digital Markets Act (DMA) specifically to push tech monopolies to create a more cohesive messaging system that allows start-up messaging apps to have an equitable opportunity within the ecosystem.
EU overreach? 
I hate to say this, but the new EU law seems to be aimed directly at Apple and its refusal to join Google's push for RCS messaging across platforms, which Apple has playfully rejected. 
Although the EU's DMA initiative sounds like it's meant to ensure that family and friends can message across platforms. Which may be a great idea with consumers in mind. However, It feels like an overreach on the EU's part, which has become par for the course these past several months as the governing body has been picking fights with Apple, and other tech companies.
Even Britain, with its dramatic "girl bye" exit from the EU, has recently been trying to reign in Apple. I hate to sound like an Apple stan, I'm not, but if Apple doesn't want to join the EU's messaging club, they should have the freedom of choice to not. 
In the past six months, member countries in the EU have banned Chromebooks and are now embroiled in several court battles with Apple. The new iPhone 15 lineup drops tomorrow with a USB-C port, thanks to the EU, which, bravo, I am happy that Apple has joined the rest of the world in 2023, but again, it feels like tampering. 
That's enough from me, I will go back to cross-platform messaging from my iPhone to my Android phone on WhatsApp, Sigh.