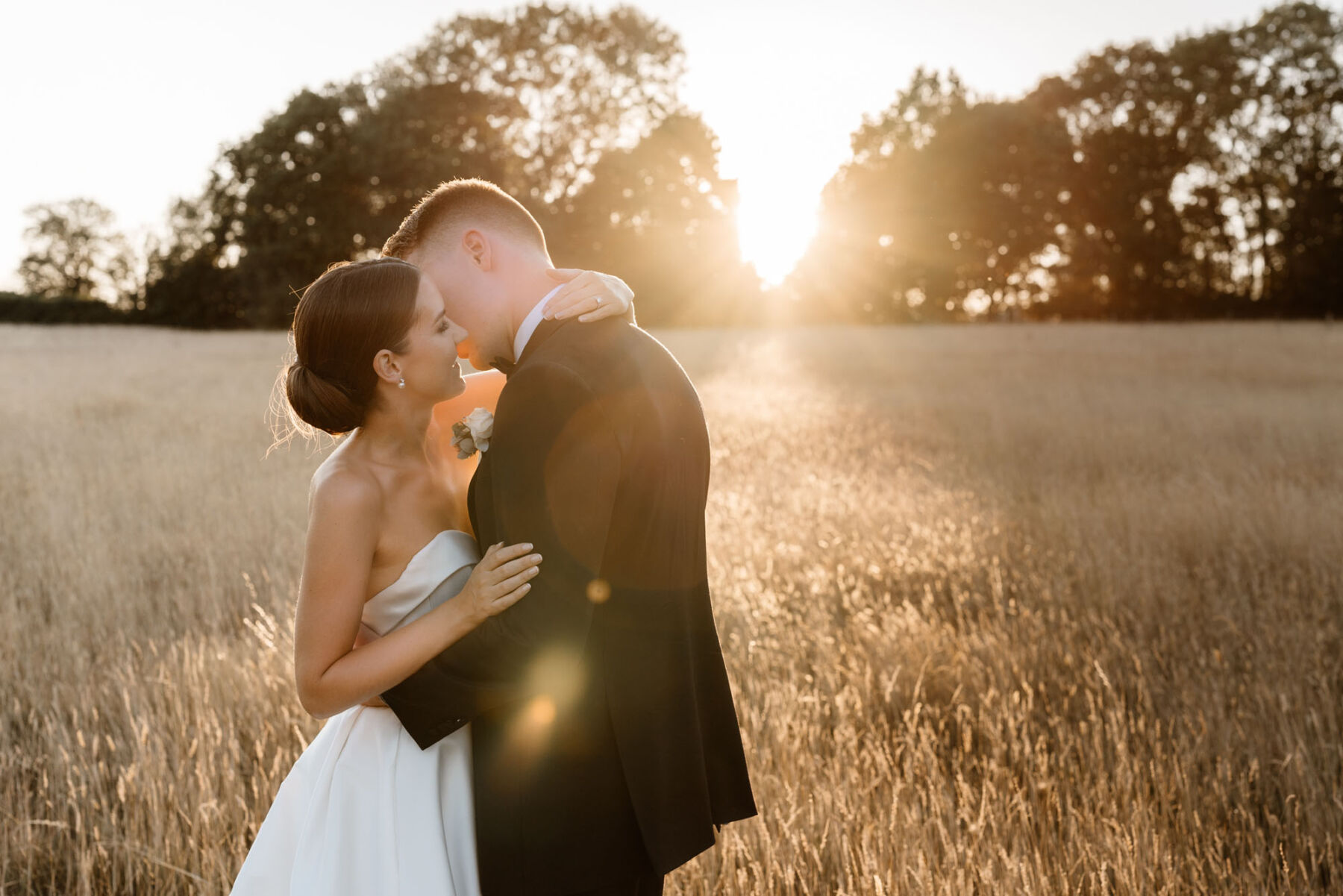 Emily and Mathew tied the knot on 12th August 2022 in Hampshire. Their gorgeous Silchester Farm wedding took place on a glorious sunny day, following an elegant ceremony that was held at Saint Mary the Virgin Church.
The couple planned a classy and elegant wedding full of neutral tones. The bridesmaids wore white and the bride carried a white bouquet. She also wore an incredibly special dress, a bespoke design by Suzanne Neville – you can enjoy lots more weddings featuring Suzanne Neville brides here on Love My Dress.
Silchester Farm, a Hampshire Wedding Venue
Local to us in the beautiful village of Silchester. We viewed five venues on one day. Silchester Farm was one of the last we viewed and fell in love with it. We loved the thought that had gone into the venue and the interior.
We loved that we would have exclusive use of the whole venue and that all our wedding party and family could stay at the venue the night of the wedding. The venue felt rustic but also high end.
Emmy London Wedding Shoes
I  always knew I wanted a double veil and wanted to wear it over my face when I walked down the aisle I also wore a tiara.
My perfume was Creed 'Love in White' and I wore my Grandma's beautiful engagement ring on my right ring finger as my something borrowed and her pearl earrings as my something new. Grandma's pearl earrings were also my something old and her engagement ring was my something borrowed.
My shoes were by Emmy London – they were personalised with initials, birthstones and our wedding date.
A Bespoke Suzanne Neville Wedding Dress
I wore a bespoke dress by Suzanne Neville from Anna Bridal. I was torn between two dresses, so Suzanne blended them to create a beautiful bespoke gown and named it 'Emily'. It arrived complete with a custom label sewn into the bodice and a hand-drawn design).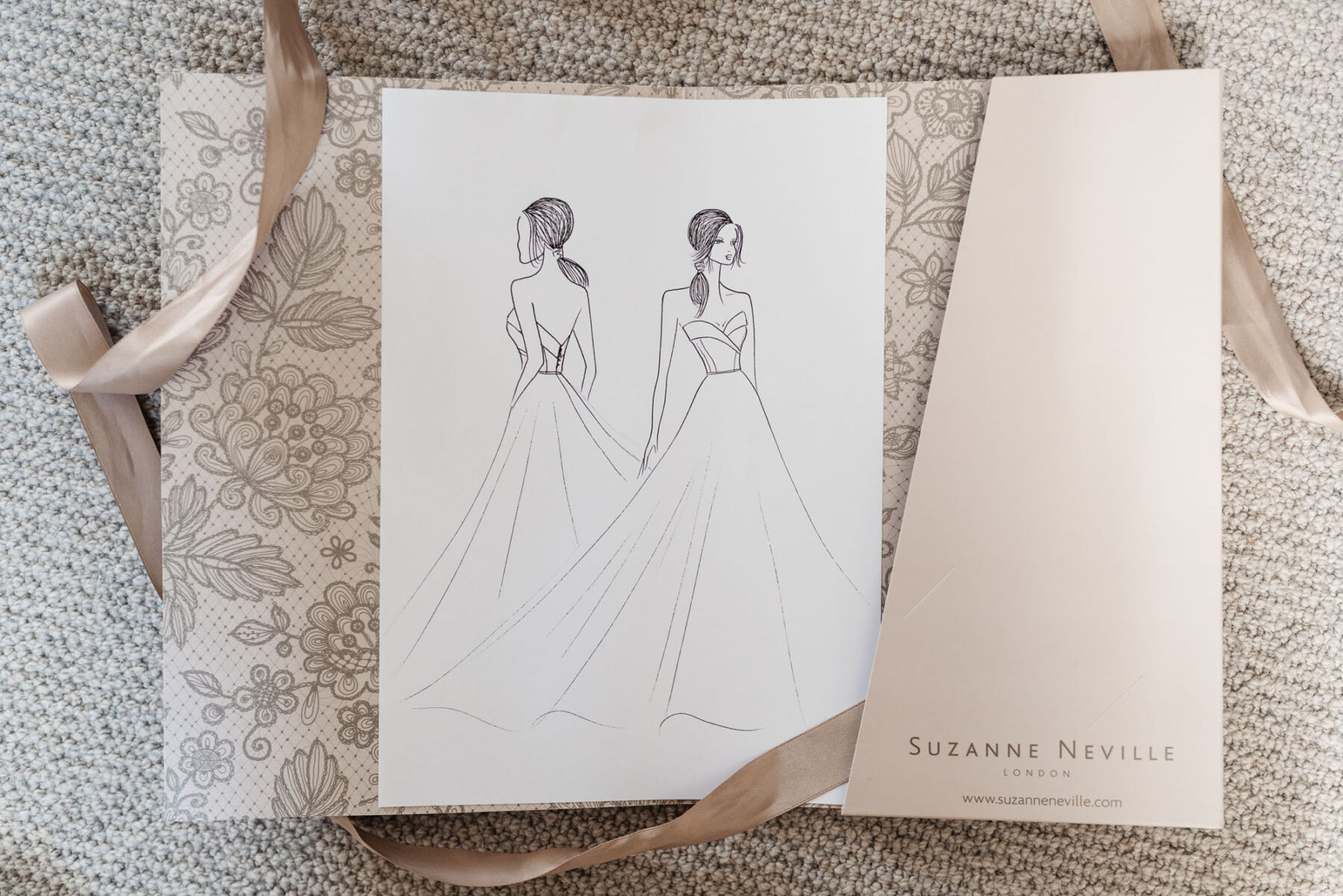 I absolutely loved my wedding dress journey! I loved every style of dress I tried on, but absolutely fell in love with the simplistic, classic and timeless style of Susan Neville.
My experience at Anna Bridal was magical. I took my Mum, Sister and Mother-in-Law with me the first time I visited, and it was just a lovely day out. The ladies in the shop were fantastic from start to finish and the boutique itself is stunning.
The boutique was actually an hour and half away from where I lived so every time I would visit (my and sister in tow) we made a day out of it – which was lovely.
I would totally recommend researching the wedding dress designers you like the style of before selecting the boutiques you visit. Find the boutiques that stock the wedding dress designers you want to try.
I was and still am completely in love with my wedding dress. It was a bespoke Susanne Neville dress (I fell in love with different elements from two Susanne Neville dresses so combined them with small additions) I added buttons down the back on the dress – all the way down.
I loved how classic and timeless my dress was, with the tailored element as the top. I felt like a princess all day.
Ceremony
My brother Matt walked me down the aisle to my Grandma's favourite song, Perry Como And I Love You So.
We had a traditional Christian church service. With two hymns and we used traditional church vows. We loved the word in these.
Mathew's Dad spoke during the ceremony at the church. He did a reading with a beautiful introduction to the reading – an extract from the Bible, 1 Corinthians 13:1-8, talking around the context of it and why it was so important to us.
My engagement ring and our wedding bands came from Taylor and Hart. Matt worked with Taylor and Hart to create Emily's bespoke engagement ring. Matt chose Taylor and Hart because you could build and design the ring yourself.
Photography
Right from our initial enquiry, dealing with Chloë of Chloë Caldwell Photography was a dream! We had our first meeting with Chloë before we booked and instantly felt at ease knowing that not only were her photos incredible but she was just soo lovely to deal with. We instantly knew she would be fantastic to have around on our wedding day!
We were looking for a photographer with a bright, romantic style a Chloë's photos were just that and more.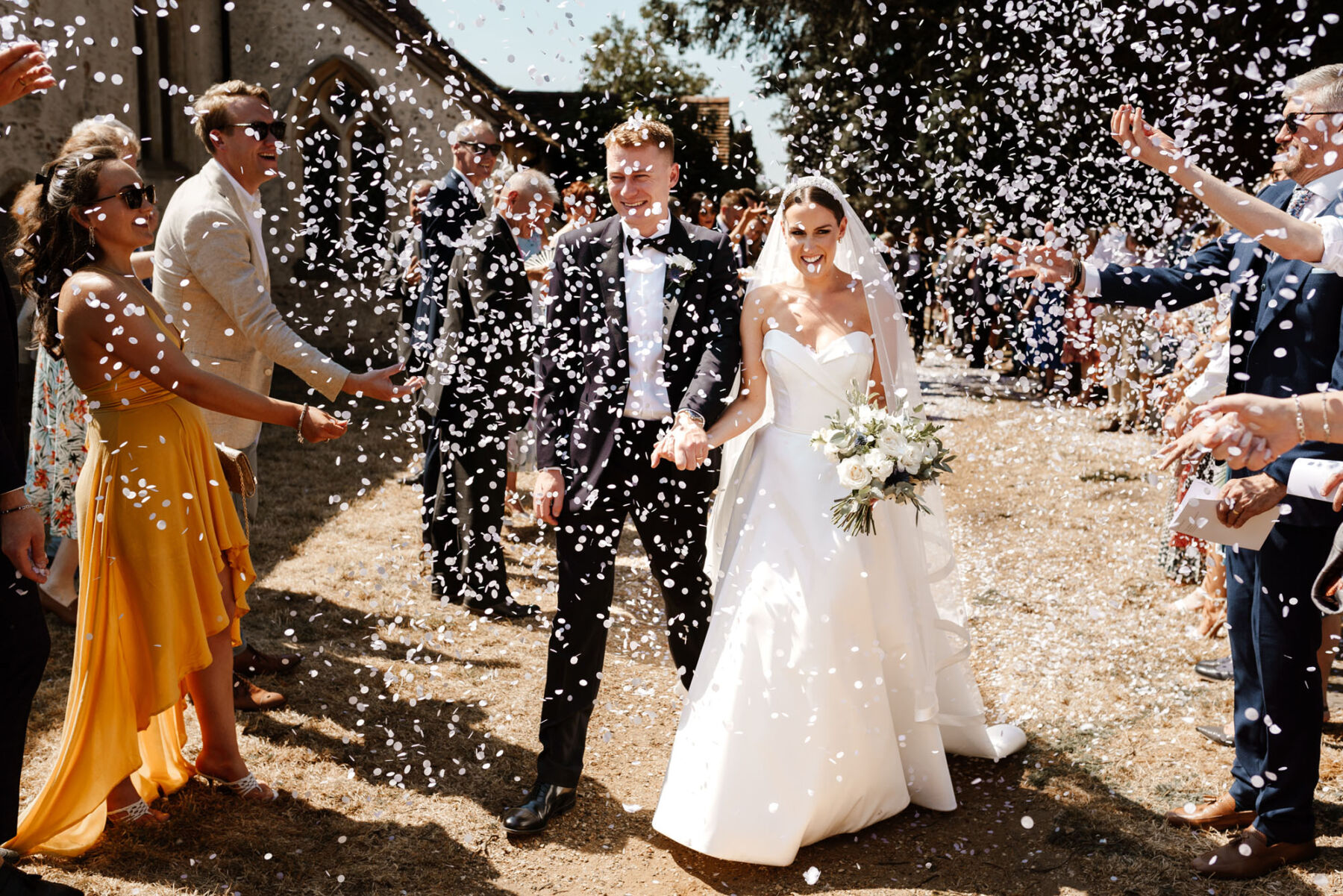 A Beautiful Wedding Film
We were obsessed with Movement Media's work, and they came highly recommended to us! We had so many people telling us they either regretted not getting a video of their wedding or how pleased they were that they did – so we knew a videographer was a must!
Matt at movement media was incredible to deal with right from the beginning of the process and his work is just incredible! Matt and Alex are just both such lovely guys and a pleasure to have around on the day.
How They Met
We went to secondary school together! We had known each other over 10 years before we got together at the age 23. We got engaged in May 2021 after being together six years and living together for nearly 5 years (2 and a half year in Canary Wharf, London and 3 at our home in Hampshire).
Reception
Silchester Farm was amazingly decorated – think Soho farm house vibes – without any extras needed but we added flowers to the cow shed barn to bring it life even more. Our cake was created by Katie B Cakesmith.
We had a classic white iced cake, with pearl details added (to match my earrings). Our catering was provided by Goose & Berry.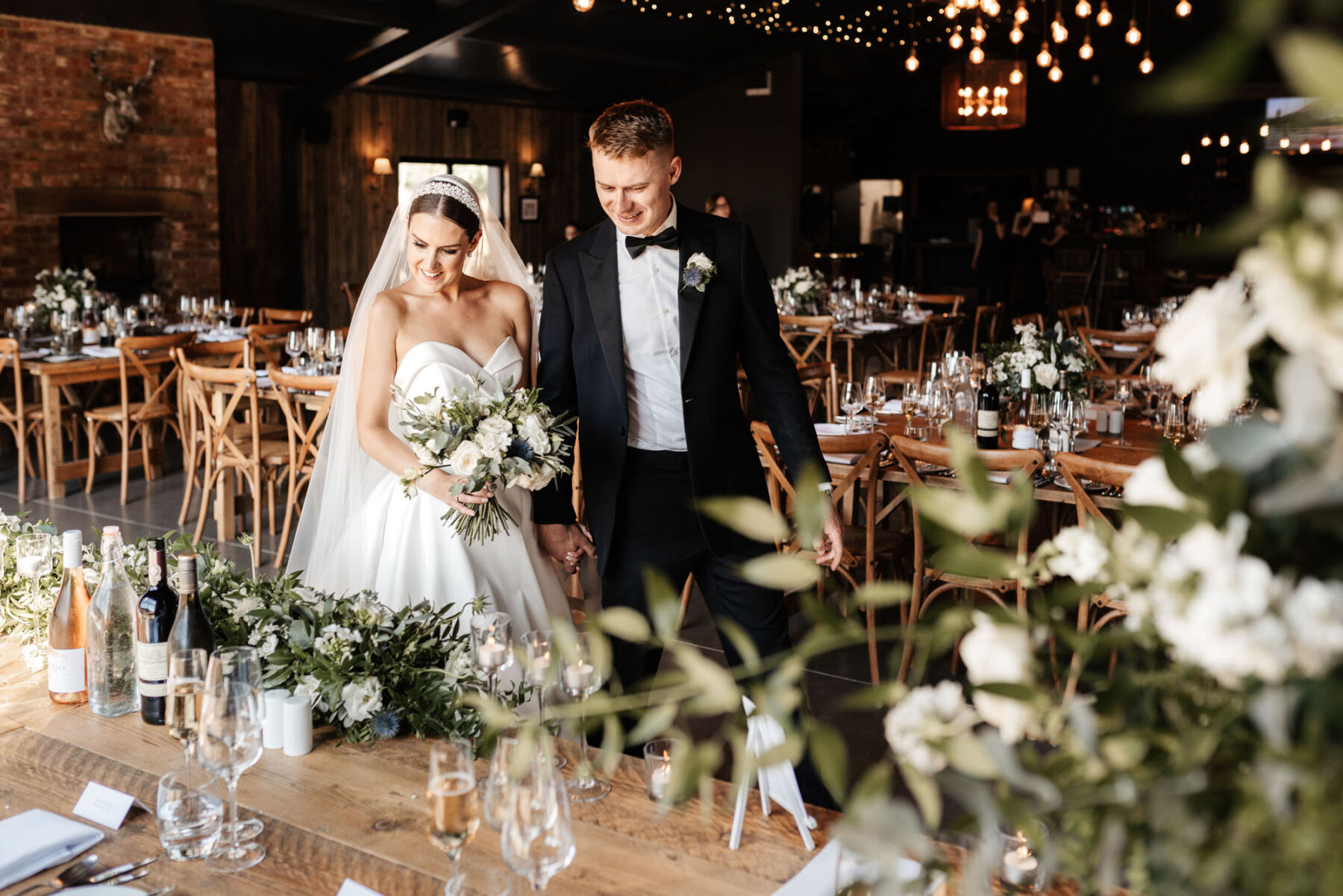 We loved the classic simplistic wedding vibe. We were inspired by royal weddings such and Princess Kate and Prince Williams and loved the bridal style of Grace Kelly.
We loved the contrast between a classic church ceremony and rustic farmhouse style venue for the reception and also want to replicate this with the dresses and suits for the bride, groom and wedding party. It was actually my mums ideas to have bridesmaids in white – I loved it!
Favourite Moments
It would be impossible to pick one moment. Here are some of our faves; Walking down the aisle and seeing each for the first time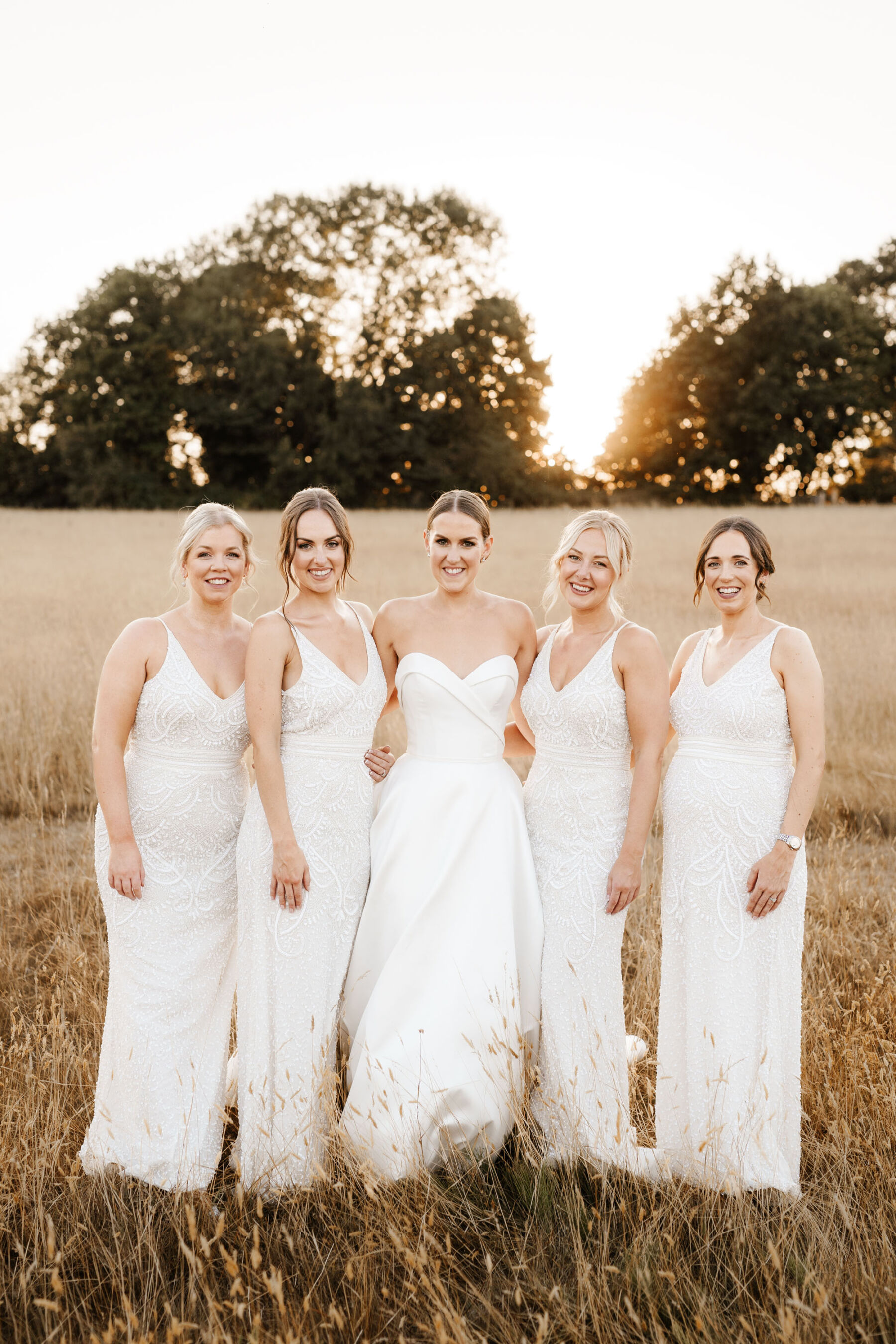 The car journey together on the way to the venue from the Church (just me and Matt together for the first time as a married couple drinking champaign and catching up). We loved having all our favourite people in one place at the same time celebrating together!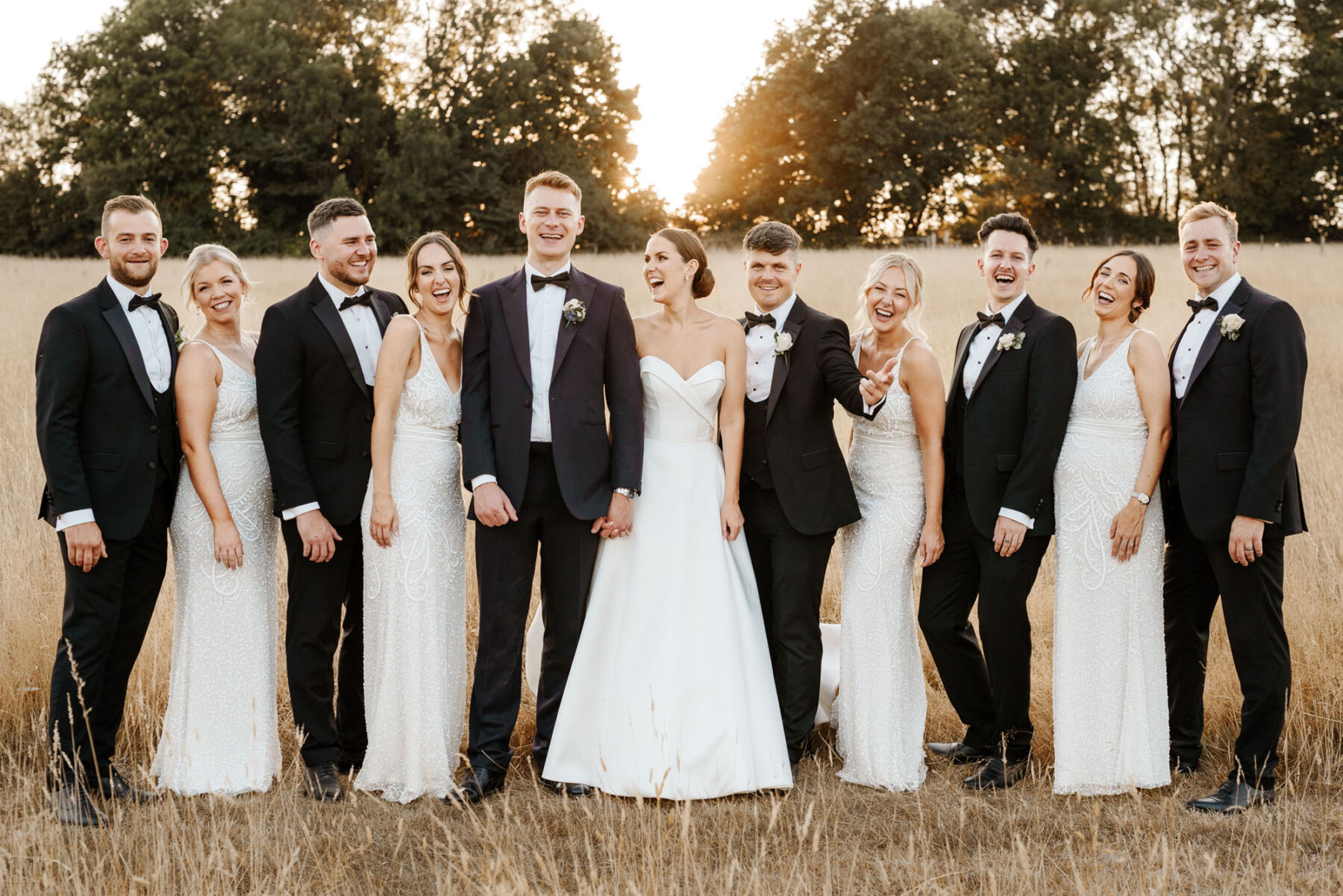 Entering the wedding breakfast space together 10 mins before all our guests to look at the room and take a moment to reflect
And the sunshine – it was during a British heatwave and was actually 35 degrees on the day – thank goodness for last minute handhold fans from amazon.
Words of Wedded Wisdom
We decided against wedding favours after lots of advice stating how a lot of the time they go to waste or get left on the tables at the end of the day so opted for personalised sketches for each guest by the amazing Sketched by Siena.
I tried to make sure we had planned everything as far in advance as we could so we could really enjoy the weeks leading up to the wedding as much as possible without getting stressed – would highly recommend this.
We wanted to make sure our friends and family felt completely involved in the wedding planning process – this made it all even more exciting. Every wedding event was an excuse for a get together.
The little things you might stress about in the lead up, don't even matter on the day. The important things our having fun with your new husband/ wide and celebrating with your nearest and dearest.
As stressful as it may seem at the time try to enjoy every moment of the planning process – you only get to do it once!
We loved everything single minute of the day and don't regret any of our choices/ wouldn't have done anything differently! On the day the most important part is enjoying the time with your new husband/ wife and celebrating with your friend and family – everything else is a bonus.