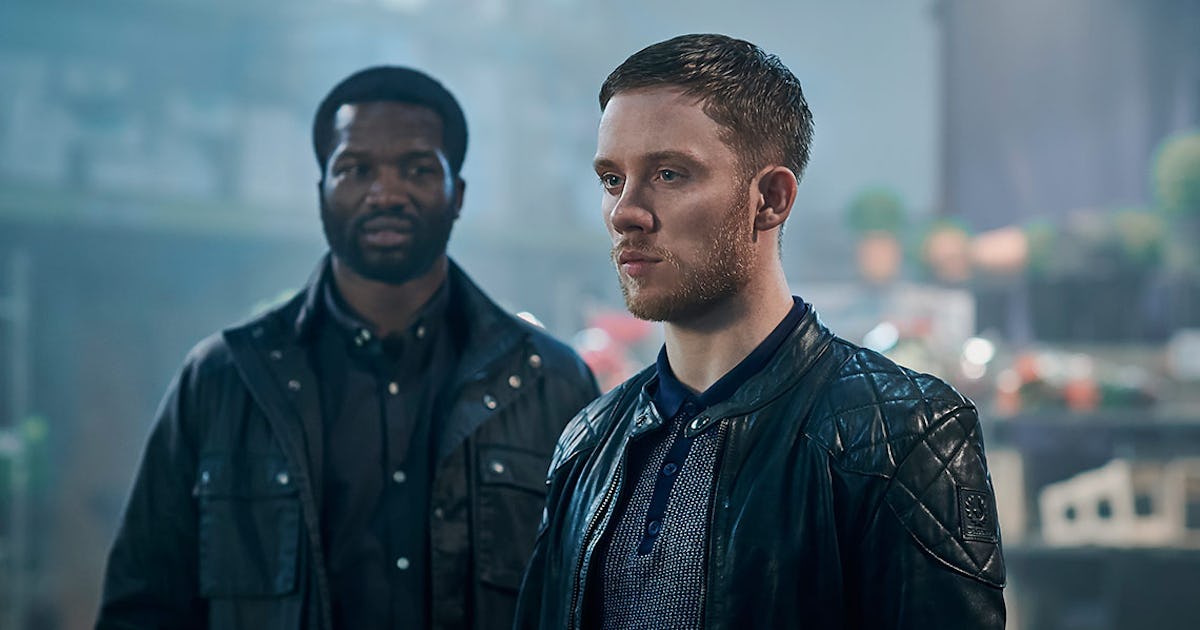 Set in London's fictional criminal underworld with lots, and lots of gruesome scenes, Sky Atlantic's Gang Of London commanded over 2.23 million viewers when it was released back in 2020 — and anticipation for the second series has been at an all time high. After more than a year's wait, Sky has announced that filming for the follow-up series is now underway and will pick up "one year after the tumultuous events of series one" and the "collapse of the Wallace empire." With questions mounting on whether actor Joe Cole, who played Sean Wallace, the son of a murdered Kingpin, will return to the role in the upcoming series, here's everything you need to know about Gangs Of London, season 2.
When Will Gangs Of London Season 2 Air?
Understandably, season one viewers are eager to know when Gangs Of London, season 2 will air, Sky has confirmed that there's some time still to wait, as the new series, co-created by filmmaker Gareth Evans and Matt Flannery, will be released to Sky Atlantic in 2022.
Who Stars In Gangs Of London Season 2?
Along with the new series announcement, Sky has also revealed a new cast lineup joining the multi-talented ensemble from series one. The Bafta-nominated Sope Dirisu is reprising his role as formerly undercover police officer Elliot Finch, however, Sky One has yet to confirm whether Joe Cole will be returning as Sean Wallace after series one's explosive cliffhanger.
There's certainly no word from Joe Cole either; on the actor's Instagram page, he shared a BTS snap of his latest project The IPCRESS File but no sign of GOL. Although, his latest Insta-snaps does see Cole galavanting around London, so here's hoping.
Meanwhile, Michelle Fairley, Brian Vernel, Pippa Bennett-Warner, Lucian Msamati, Paapa Essiedu, Valene Kane, Orli Shuk, Narges Rashidi, and Asif Raza are all said to be returning.
As for the new cast members, they include The Spy's Waleed Zuaiter and French rapper Jasmine Armando in her first TV role. Salem Kali (Un Prophete, Dealer), Aymen Hamdouchi (SAS: Red Notice, Criminal: UK) and Fady El-Sayed (Baghdad Central, A Private War) have also been announced.
What's The Plot For Gangs Of London Season 2?
Naturally, the new series will pick off after the chaos of the first season, where, spoiler alert, "The Investors" are outed as mob-boss murderers, Sean Wallace was staring down the barrel of a gun and shot in the face, and viewers were left not knowing whether the gangster had survived (the gruesome scene made it seemed very unlikely, but who knows?).
To satisfy eager fans, Sky One has revealed some details of the new series ahead (while remaining tight-lipped about the fate of Sean Wallace) and says Gangs Of London season 2 will "chart London's map and soul being redrawn."
"Since the collapse of the Wallace Dumani empire, order is lacking, and the energy and chaos of a gold rush threaten the city with gangland anarchy," it continues.
"The Investors are viewing the city as a place of ruin and decide enough is enough. Licensing a new gang to restore stability, drama instead ensues. These brutal enforcers bring a new kind of authority, coldly designed to terrorise the other gangs into submission. Anyone doing business in the city must now go through them, and our gangs must decide where their loyalties lie if they are to survive. Who will win the battle for the soul of London?"
It appears whatever happens next will be just as bloody as the first season.