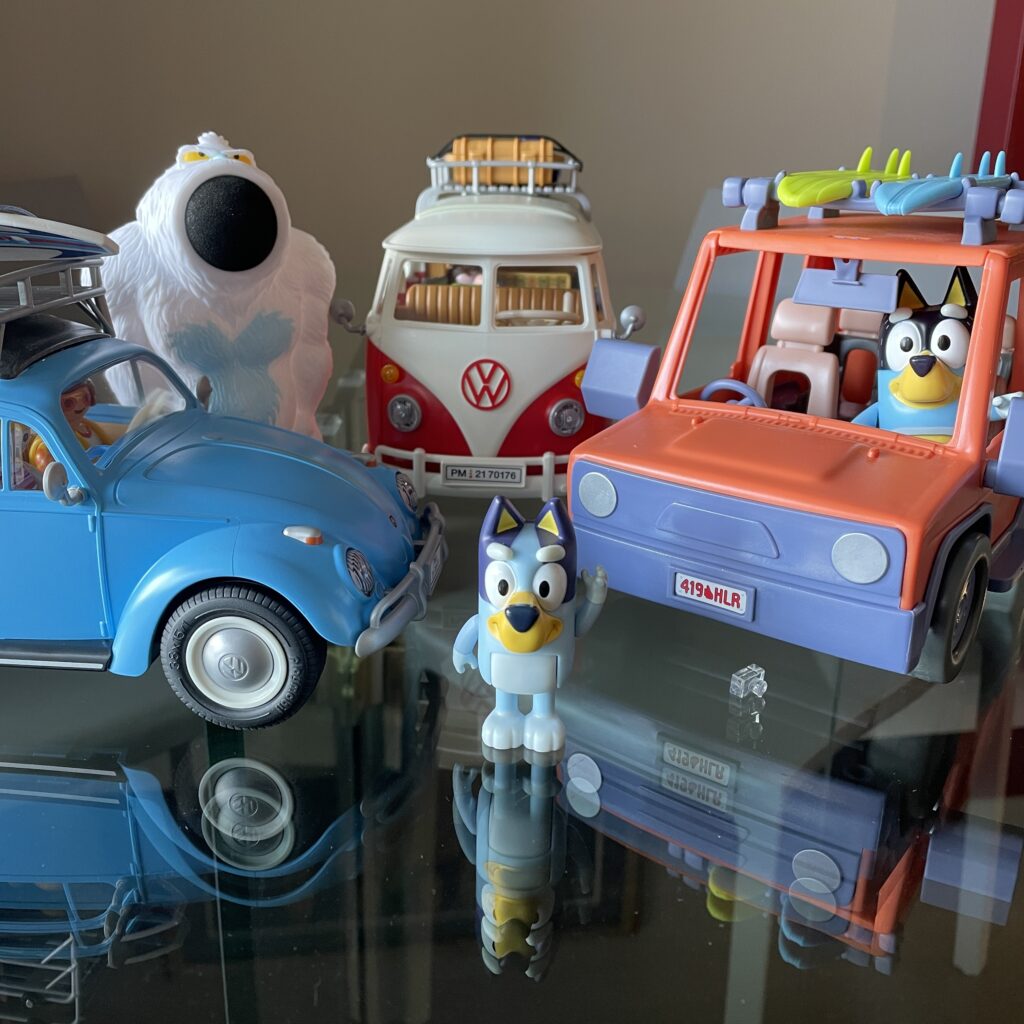 For those who live in areas where winter still has its grip on the weather, cabin fever is nothing new. The excitement of the holidays has probably worn off. It's not possible to go outside and run around, and tensions may be running high.
Those are common every year, but as we find ourselves in the tenth month of COVID-19 and winter only halfway through, kids may feel cabin fever a little more intensely this year. Add to that the potential for more lockdowns increasing, concerns about a new strain of virus, and stress inducing news, this isn't your usual winter.
We also know that play has always been a great way to reduce stress, increase communication, and make getting through the challenges of this time easier for everyone. As we've talked to parents, teachers and professionals, we've gathered some ideas for ways to cope with the weeks ahead:
Don't Be Surprised. Accumulated stress can cause kids to act out. Emotions may be a little bit more intense because kids often don't know what to do with that excess anxiety—and the energy that produces. As parents and caregivers, try to understand what's going on, and not take it too seriously. Encourage active play to give all that energy a focus.
Look Forward. Talk about the future when we'll have vaccines and vacations again. This can focus attention on the fact that this will pass—a concept that's tough for kids around 4-7 to grasp. The youngest kids don't really have a sense of time, but for kids 4-to-7 or so, planning what you might want to do can be very calming. You might even take an imaginary trip somewhere together.
Learn a Skill. This is a time to learn a musical instrument, research an interesting topic or even become a magician. Look at the current situation as giving kids the gift of time to spend on something that interests them—and that might not be as easy when the schedule is packed.
Be Creative. Writing, drawing, building, classic play with action figures and more are all outlets for personal expression, and that can help kids contextualize and process the experiences they're having in this time.
Use Your Imagination. Imagination is a powerful tool for play,  but it's also great for dealing with stress. Picture something you can do in the future. Or imagine yourself on a beach. Make up stories. Or, whatever. There's a reason that serious athletes use visualization techniques as part of their practice because they help them prepare for when they compete in the real world. That can work just the same for kids and families in the middle of all of this. It's also a helpful change of focus and something that can be done solo or as a shared activity.
Model A Good Attitude…But Tell the Truth. Kids will imitate what they see their parents do. They also are amazing at picking up on cues, such as your own anxieties or stresses. So, while it's certainly beneficial to try to maintain a positive outlook, it's important that you share that things may be difficult for you, too. It's a fine line between upsetting and worrying kids and letting them know that everyone is facing an unusual time right now.
Providing immersive experiences is a very positive way to deal with cabin fever. We all know that as kids (or even us grownups) become focused on a project or an activity, we have less time to worry about other things.
Certainly a lesson I learned from my mother, who was also a middle school teacher, was that asking kids to solve their own problems is very beneficial. That fosters creative thinking, and engagement in the process.
This may be a tough time, but, making sure we can play our way through it, is a valuable tool for all of us.
Here are some play ideas that may inspire you: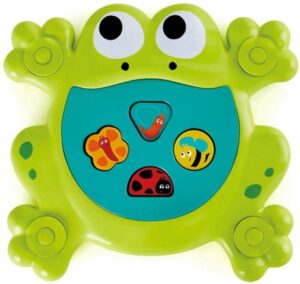 Feed Me Bath Frog from Hape
Ages 18 months and up.
$21.99
Where to Buy
When kids are stressed out, even the most routine thing—like bath time—can become a challenge or a contest of wills.  It's easy to forget that when you're stressed out, kids pick up on that, and being fussy is one of the few ways they can express their feelings. Changing the focus can help, and this engaging toy may be just what you need to help. The friendly frog will float or stick to a smooth surface with suction cups. Depending on the age, the play will go from random exploration to more intentional actions. That level of interaction can make bath time much more peaceful. Here's another tip: Keep that toy for bath time play only so your child will look forward to getting into the tub.

Handy Grabs from Hog Wild
Ages 4 and up.
$9.98 (Currently on sale)
Where to Buy
This has been one of the most unexpected hits of the past year. It's somewhat useful for getting things from high cabinets, but it's also great for creating fun, distanced play. Because it extends the arm and changes balance, we can think of all kinds of different games we could create, and we're sure you can, too.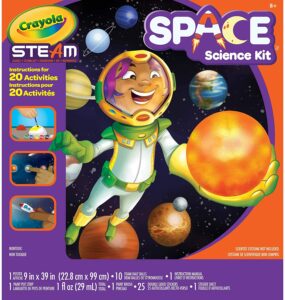 Solar System Science Kit from Crayola
Ages 7-10
$19.99
Where to Buy
Learn about the solar system as you build your own model of it with this kit. Is there anything more outdoors than outer space? All kidding aside, knowledge and discovery are a great way to keep kids exploring and learning. One of the reasons we like this kit is that it balances learning with hands-on creativity. Everything mounts on a poster that can be displayed easily. With planets in the news recently, this is especially timely.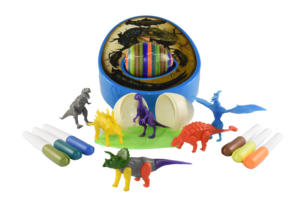 Dinomazing Egg Decorating Kit from My Buddy My Pal
Age 3 and up.
Ages 7 and up.
$24.99
Where to Buy
We continue to see how much kids respond to this toy. From spinning the eggs to collecting the dinos, the combination of an arts-and-crafts activity and a classic play pattern really is appealing. Plus, you can buy refill eggs to build out your paleontological population.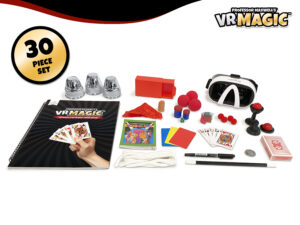 Professor Maxwell's VR Magic Set from Abacus Brands
Ages 8 and up.
$49.99
Where to Buy
Many kids love magic and being able to do magic tricks. Professional magicians like Ryan Oakes started on their path when they were given a magic set as kids. This is the best starter kit we've found yet because it allows kids to learn in various ways. The 64-page book has 35 tricks to master. AR helps with the learning, and the VR feature in the app shows tricks in performance. We especially like this because of the focus and practice required, which is both entertaining and absorbing. It's a great way to complement other types of activities. And who knows? You may have a budding performer in your home!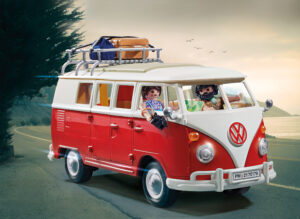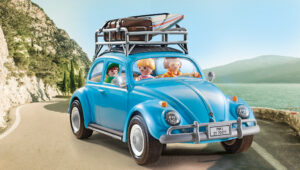 Volkswagen Camping Bus & Volkswagen Beetle from Playmobil
Ages 5 years and up.
Bus $49.99, Beetle $39.99
Where to Buy
These iconic vehicles are design for imaginative play. When kids can't get out on the road, the next best thing is an imaginative trip. Great for inter-generational play, these can inspire kids to look ahead to a time when they're able to be out in the world again freely, and keep the focus on the future. That can be a really healthy way to deal with feelings that come with cabin fever. These are great for collectors, too. Of course, this kind of play can happen with any vehicles, but these are especially cool as international classic for going on three generations. Everyone plays!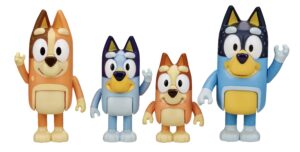 Bluey Figures from Moose Toys
Ages 4 and up.
$14.99
Where to Buy
Bluey is a popular Australian animated show that can be seen on streaming platforms in the U.S. It's the story of a young Blue Heeler dog, Bluey, who lives with her parents and baby sister Bingo. Moose has an entire line of toys to let kids bring these to life in their play. We love this series for its warm, family feel, and since kids are spending so much time at home with their families, it's natural that their play reflects that. The positive messages, stay-at-home dad, innocent adventures, and an awesome look, all make it no surprise that this series and the toys are such huge hits.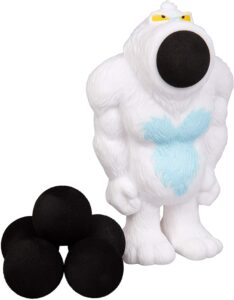 Yeti Poppers from Hog Wild
Ages 4 and up.
$15.99
Where to Buy
Nothing changes the mood like a good laugh. These collectible characters shoot foam balls when you squeeze them. Create games. Be silly. They encourage active, laugh-filled play. With a good press, the balls can shoot as far as 20 feet. These are another great way to work out a little stress through physical play.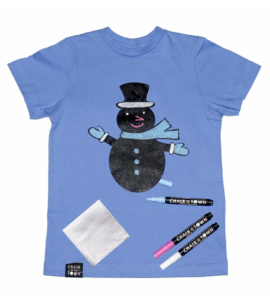 Snowman Chalkboard Shirt from Chalk of the Town
Ages 3 and up.
$26.95
Where to Buy
When you're in the midst of cabin fever, change is good. So, how about a shirt you can change every day if you want? The Chalk of the Town Chalkboard Shirts lets you design, draw and customize to fit the day or your mood. We like the high quality shirts, but the fun is in drawing with the liquid chalk markers. Then wipe off or toss in the washing machine to start all over again.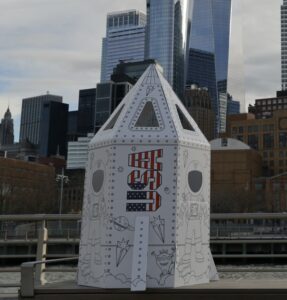 Color-in Rocket from Cardboard Magic
Ages 3 and up.
$60.00
Where to Buy
Be prepared for your fantastic flights (make-believe) in this cardboard playset. Completely eco-friendly, the rocket stands 58-inches tall when assembled, and there's room inside for two space adventurers. The white cardboard is easy to decorate in any way you choose, so it's a combination of crafting and playset that kids will love. This is just one of the outstanding products from this start-up company formed during the pandemic. We also like the Food Truck, Castles, and many more. These are easy to set-up, super sturdy and classic, open-ended, imaginative play that will keep kids engaged for hours. (Plus, you probably only get one refrigerator box to play with per childhood, so this takes that concept and makes it so much more fun!)
The important thing to remember, is that as stressful as this time is, it will pass. Kids will be able to catch up on school work, and they'll reconnect with friends. Even in the challenging days of winter, when all of us remember that better times are ahead, we can muster up what it takes to make it through. Oh, and bookmark this post. As we find new ideas to help along the way, we'll add them here.
DISCLOSURE: PURCHASE LINKS ARE TO PLACES THAT HAD IN-STOCK AVAILABILITY AT THE TIME OF PUBLICATION. THE TOY GUY DOES NOT RECEIVE ANY COMMISSION OR FEES IF YOU PURCHASE THROUGH THOSE LINKS. PRICES LISTED HERE ARE MANUFACTURER'S SUGGESTED RETAIL PRICES. IN SOME CASES, PRICES MAY VARY.