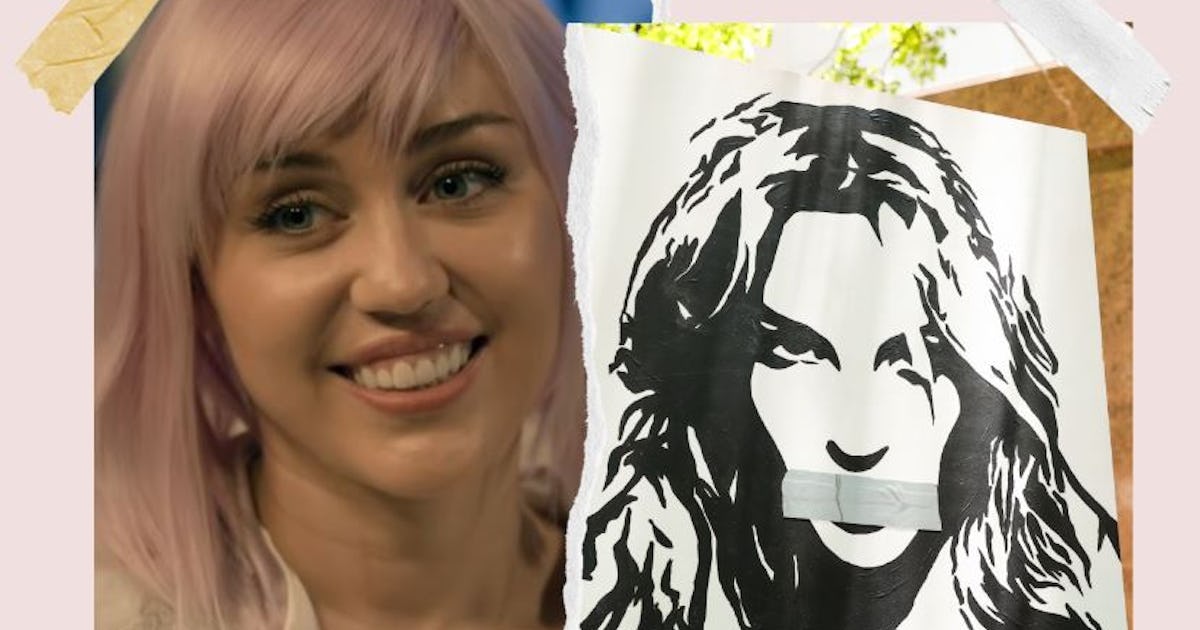 Miley Cyrus' 2019 Black Mirror episode has entered the #FreeBritney chat — or reentered, as the case may be. After Britney Spears' powerful testimony in her June 23 conservatorship hearing, many fans are taking another look at Season 5's "Rachel, Jack and Ashley Too," an episode that centered on the fictional pop star Ashley O. With the storyline aligning with what Spears shared in court in some uncomfortable ways, they have many questions and opinions surrounding the origins of the episode and just how much the real princess of pop inspired it.
As Ashley O, Cyrus portrayed a famed singer whose public image was all about positivity and empowerment but who had almost no control of her own life. Her aunt Catherine dictated her career, pigeonholing her in pop despite her being drawn to rock. Though Ashley tried to exert her independence, Catherine monitored and drugged Ashley, to the point that the pop star ended up in a coma. The story got even more disturbing when Catherine continued to profit off Ashley by using her brain waves to create new songs and getting a hologram to appear in her place.
For Spears fans, that hit too close to home. The singer called her controversial conservatorship "abusive" in her testimony and also described having a lack of control over her medications and work schedule. That led fans to call out the similarities to Ashley O's story on Twitter, with some noting that they'd always seen it and others having just gotten there.
But was the episode actually supposed to provide commentary on Spears' situation? Well, yes and no. While it does thoroughly illustrate how celebrities can be commodified and controlled, it's not purely a #FreeBritney metaphor. Spears is just one of the storyline's many inspirations.
Black Mirror creator Charlie Brooker has explained that he was interested in the intersection between celebrity and technology. Speaking to Entertainment Weekly in June 2019, Brooker said that he had been "discussing the rise of holographic versions of artists — Prince and Whitney Houston and Amy Winehouse." He found it "extremely ghoulish" that people who have "been chewed up by the fame industry" would be brought back. That, combined with the rise of virtual assistants, sparked the idea, "and it sort of spun out from there," Brooker added.
Meanwhile, Cyrus told the Guardian that same month that her own experiences as a pop musician helped "craft the episode." "There is a part of Ashley O that is not a character. … There's huge similarities with what we see in pop music today," she said. The following year, she further discussed her Black Mirror gig with Variety, telling the outlet that she related to Ashley O's desire to explore another genre, because that's where she was after Hannah Montana. "Without my parents I bet my life would've been more similar to the Ashley O story," she said.
As far as stars who have "been chewed up by the fame industry," there are countless examples. While Brooker and Cyrus only named a few, TMZ later reported that its sources had also specifically cited Christina Aguilera as well as, yes, Spears. (Notably absent from the list was Halsey, who tweeted about having an "existential crisis" after fans suggested she was Ashley O.) At the time, Spears' conservatorship remained in the public eye, with Cyrus having already proven to be very clearly in favor of the #FreeBritney movement. In May 2019, a month before the release of her Black Mirror episode, she performed her 2009 hit "Party in the U.S.A.," and added, "Free Britney!" after singing the lyrics, "And a Britney song was on…"
Even if Ashley O wasn't intended to be an exact stand-in for Spears, at the very least, she and her storyline have spotlighted huge concerns that overlap with the #FreeBritney movement.