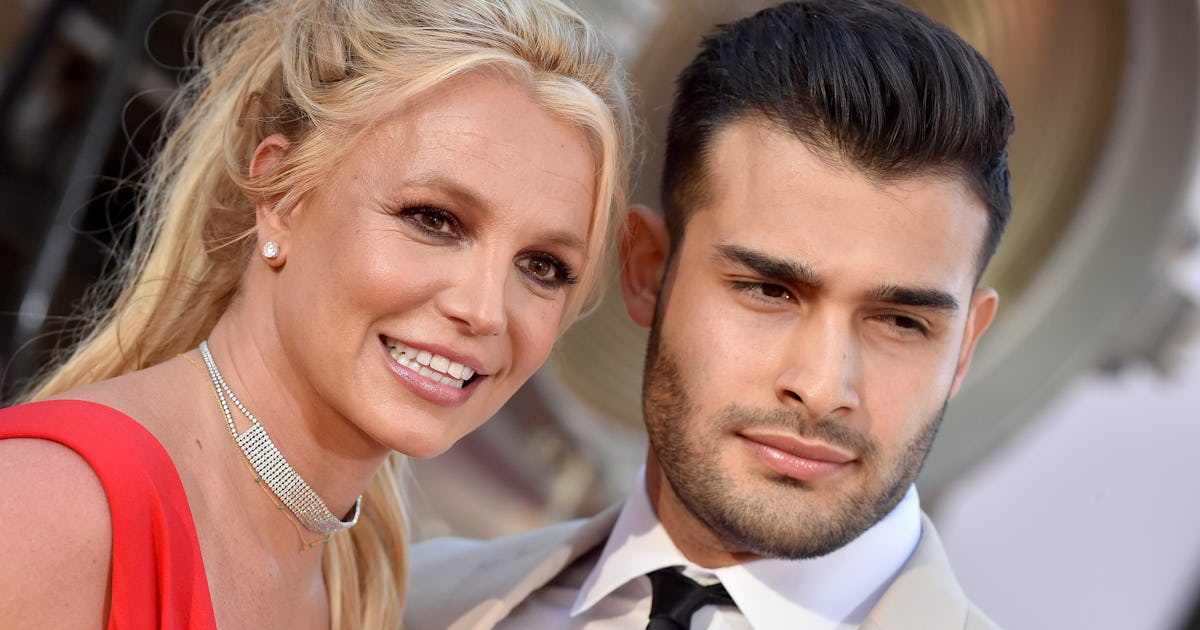 During Britney Spears' June 23 court conservatorship hearing, the singer shared a revealing account of her life under the system in which her father, Jamie Spears, exercises control over every area of her life. "Not only did my family not do a goddamn thing," she said, per the court transcript via Variety, "my dad was all for it. Anything that happened to me had to be approved by my dad … he loved the control to hurt his own daughter 100,000 percent. He loved it." As part of her statement, Spears also revealed some of the harrowing details of her conservatorship — including the fact that she wears an IUD her team "won't let" her remove to prevent her from having another child — and said she is "traumatized" and "depressed," crying every day about her situation. Spears would like to end her conservatorship "without having to be evaluated," she added.
The statement marked a rare firsthand addition to the #FreeBritney discourse, and Spears is ready to make these details known. She stated, "And I would honestly like to sue my family, to be totally honest with you. I also would like to be able to share my story with the world, and what they did to me, instead of it being a hush-hush secret to benefit all of them."
Naturally, Spears' fans and fellow celebrities alike had much to say in support of the singer. Her own circle chimed in, too. Though her family's comments were brief, some provided a glimpse at the dynamic between Spears and the people closest to her case, who the singer said have "lived off my conservatorship for 13 years." Here is everything Spears' family and loved ones have said about her statement.
What Did Jamie Lynn Spears Say About Britney's Conservatorship?
Spears' younger sister, Jamie Lynn, shared videos to her Instagram story on the day of the hearing, in which she can be seen spending time with her daughter and a woman who appears to be Lynne Spears, Britney and Jamie Lynn's mother. Though Jamie Lynn didn't address the conservatorship directly, she did turn off comments on her recent posts after users criticized her role in Spears' case.
Jamie Lynn previously spoke up about her sister's conservatorship in 2020 amidst the #FreeBritney movement. "If you deal with mental illness or care for someone dealing with mental illness," she wrote last July, "then you know how important it is to respect the situation with privacy for the person, and the family trying to protect their loved ones, no matter how it appears to the public."
In August 2020, Jamie Lynn was named as the trustee of Spears' trust and is now positioned to inherit the totality of Spears' fortune upon her death, "including all accused and undistributed and unrealized income." According to Us Weekly, the change was put into motion in 2018, approved by Spears' then co-conservators (her father and Andrew Wallet), and made public last year after Jamie Lynn signed the document.
What Did Britney's Boyfriend Say About Her Hearing?
Spears' boyfriend, Sam Asghari, was also active on Instagram on the day of the singer's hearing — but his message was much clearer, opting to sport a "Free Britney" T-shirt on his Story. The post also featured a lion emoji, and he posted a photo of a lion on his story later, seeming to hint at Spears' powerful statement. "Your lioness did amazing today," one user commented.
Asghari was referenced during Spears' statement. "I'd like for my boyfriend to be able to drive me in his car … I would like to progressively move forward, and I want to have the real deal," she said. "I want to be able to get married and have a baby."
What Did Britney's Father Say In Response To Her Statement?
According to The Hollywood Reporter, Jamie Spears had only a brief comment to share after a recess and his daughter's statement. Via a lawyer, Jamie expressed that he was "sorry to hear she's suffering and in so much pain" and that he "misses his daughter very much."
In 2020, Jamie told the New York Post that #FreeBritney advocates were "conspiracy theorists [who] don't know anything," calling the whole movement a "joke."
How Did Britney's Mother Respond To Her Hearing?
As reported by Us Weekly, Lynne Spears' attorney Gladstone Jones said she was a "very concerned mother" following her daughter's statement. And according to a Vulture report, Jones relayed Lynne's sentiments via a statement that read: "Today is the day while the world watches while we listen to Ms. Spears, that we put in place a plan. That is her mother's request, that we not leave the court without having a plan."
Per reports on the transcript, Spears cited Lynne as a contributing factor in her conservatorship struggle. "She made me feel like my dad does," the singer said, "very similar her behavior and my dad, but just a different dynamic."
Have Britney's Kids Responded To Her Conservatorship Situation?
Though Spears' two sons generally stay out of the public sphere, her son Jayden did voice support for his mom (and criticism of his grandfather) during an Instagram Live in 2020, as reported by Refinery29. Today, that account is private. Her children have not responded to her June 23 statements.
This article was originally published on