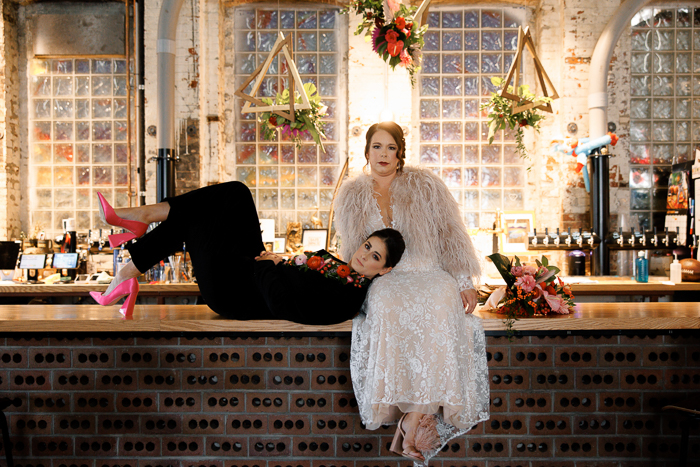 We've found the best places to buy amazing bridal accessories online because we understand that when you're planning a wedding, it's easy to forget some of those important finishing touches. That's why we're here to do the shopping for you and gather a list of the best places to purchase bridal accessories online. Whether you're the bride, a reliable bridesmaid, or just someone who loves a bit of sparkle, get ready for some serious online shopping.
Picture this: You, in your coziest spot, browsing through pages filled with tiaras, veils, necklaces, and more bling than you can imagine, all from the comfort of your own home. No rush, no crowds, just you and your screen, on the hunt for that special something to make your wedding day even more fabulous. Whether you're into classic elegance or trendy boho vibes, here are our favorite spots to buy bridal accessories online. 
Best Places to Buy Bridal Accessories Online
Etsy
If you're on the hunt for bridal accessories that are as unique as you are, Etsy is the place to be. It's like a giant treasure chest filled with handcrafted gems, from custom-made veils to personalized jewelry and even hand-painted shoes. Brides who crave those one-of-a-kind pieces that reflect their style often turn to Etsy for its endless selection of artisanal goodies.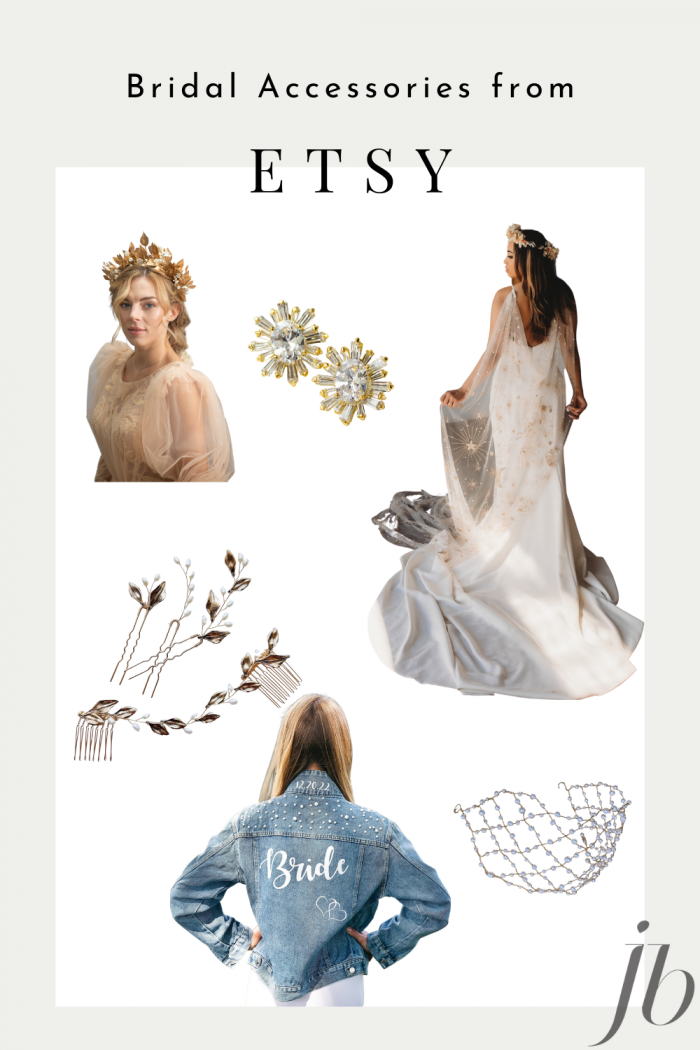 1. Golden Wedding Hair Crown with Pearls 2. Wedding Stud Earrings 3. Gold Glitter Star and Pearl Cape Veil 4. Vintage Dark Bronze Hair Vine 5. Custom Bridal Denim Jacket with Pearls 6. Pearl Beaded Hair Net
Anthropologie
Picture this: bridal accessories that blend elegance with a touch of bohemian magic. Anthropologie's collection is all about those whimsical, romantic, and dreamy designs. Imagine delicate flower-adorned headpieces and vintage-inspired jewelry that add a sprinkle of enchantment to your wedding look.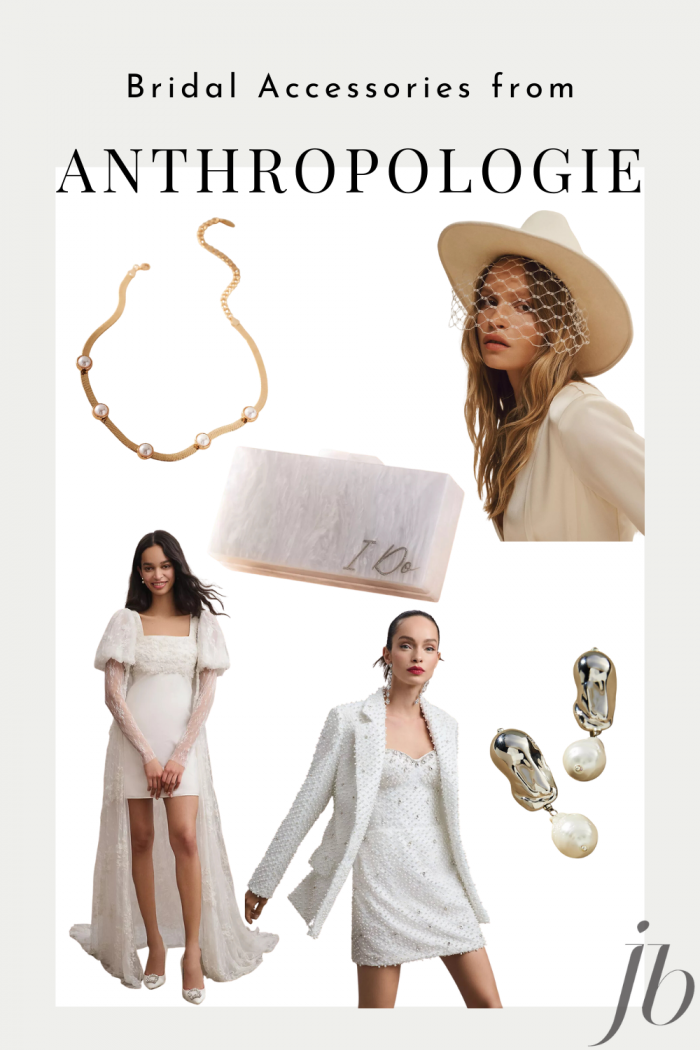 1. Ettika Pearl Dotted Snake Chain Necklace 2. Rae of Light I Do Acrylic Bag 3. Monrowe Bridal Cowboy Hat with Birdcage Veil 4. BHLDN Meadow Bridal Cape 5. Morphine Fashion Hypnotized Pearl-Embellished Bridal Blazer 6. Abstract Pearl Drop Earrings
Lulus
Who says you can't be stylish without breaking the bank? Lulus is your budget-friendly buddy for chic bridal accessories. They've got a range that covers everything from timeless classics to trendy, up-to-the-minute options. You'll love Lulus for keeping you stylish and savvy without maxing out your wedding budget.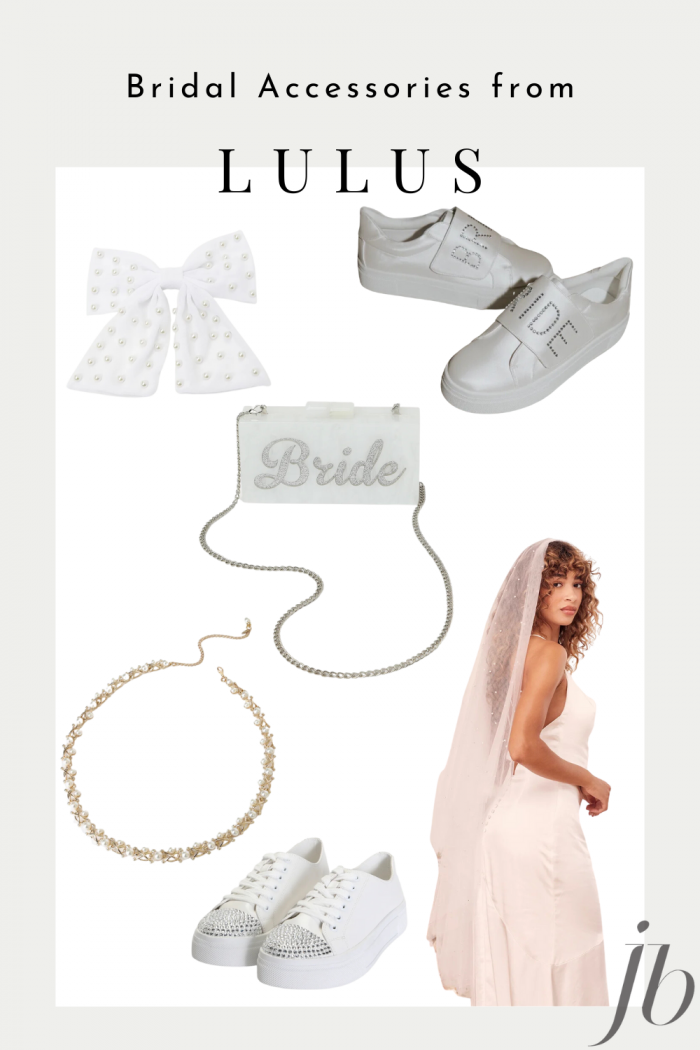 1. Darling Essence White Pearl Bow Hair Clip 2. Bride Effect White and Silver Glitter Acrylic Box Clutch 3. Bride2Be White Rhinestone Sneakers 4. Treasure Your Love Gold and Pearl Chain Belt 5. Glitzzy White Rhinestone Platform Sneakers 6. Forever Promise White Tulle Pearl Veil
ELOQUII
For plus-size brides who want to rock their bridal look with confidence, ELOQUII is here to make it happen. Their collection is all about stylish, plus-size-friendly accessories, from sleek belts to elegant boleros. ELOQUII ensures every bride feels like the radiant star they are on their special day.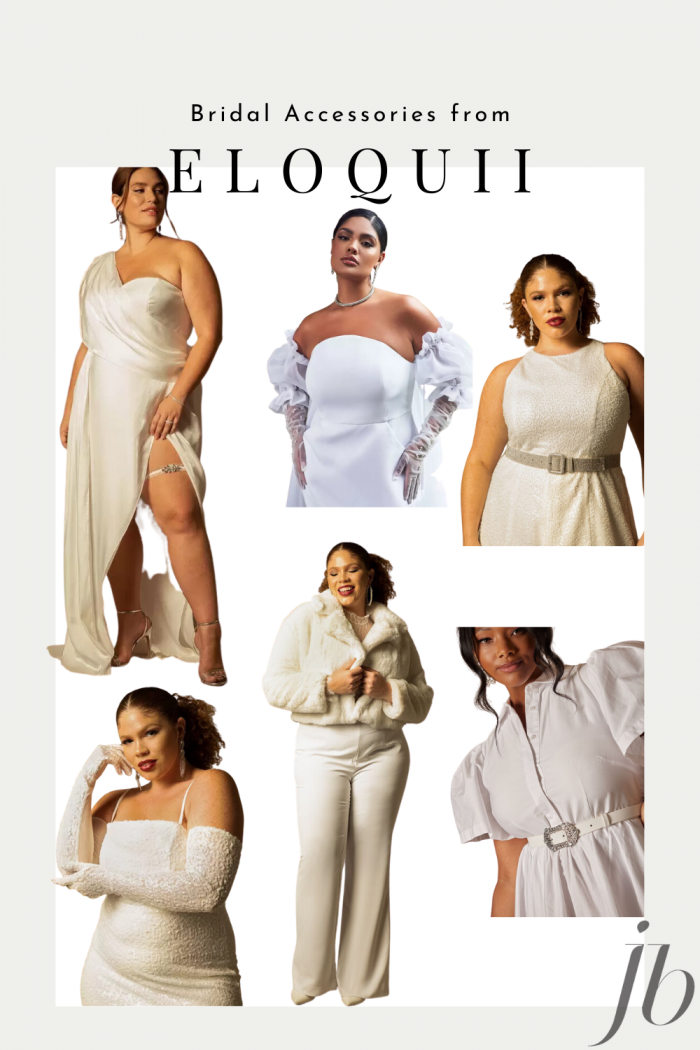 1. Embellished Garter 2. Pearl Embellished Tulle Gloves 3. Crystal Belt 4. Sequin Gloves 5. Faux Fur Jacket 6. Bridal by ELOQUII Stone Buckle Faux Leather Belt
Revolve
Ready to make a fashion statement on your wedding day? Revolve has your back with designer bridal accessories that scream sophistication and glamor. It's all about top-notch brands and fashion-forward designs that'll have you shining like a star.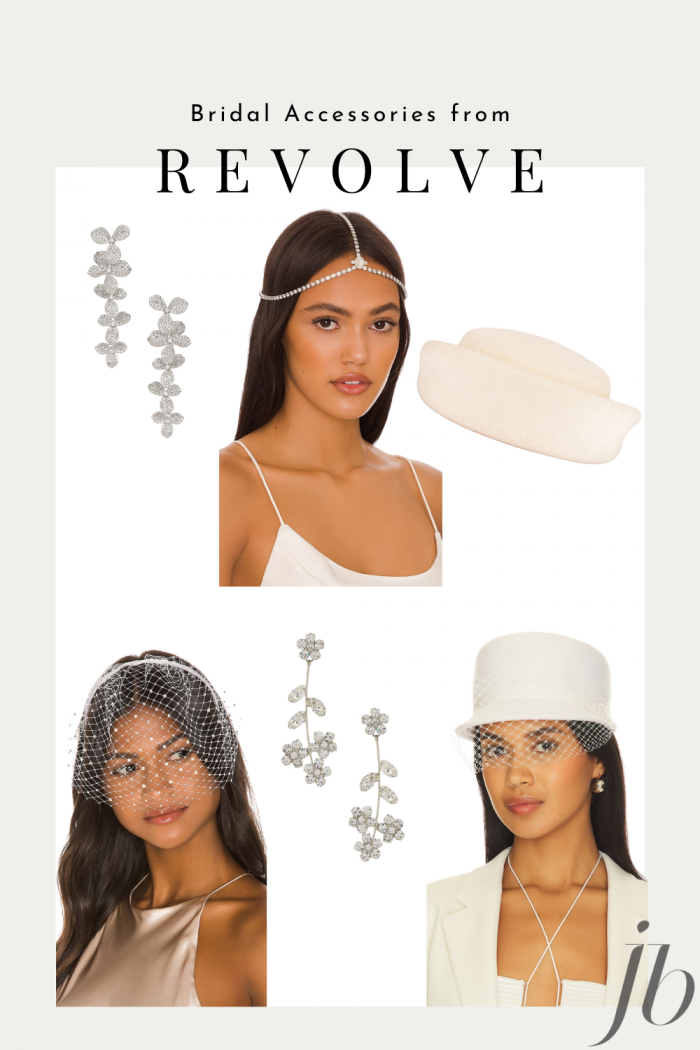 1. Lilliana Earring 2. Alice Diadem  3. Laura Hat 4. Halsey Veil 5. Violet Dangle Earrings 6. Estella Hat
Amazon
When it comes to convenience and variety, Amazon's got your back. It's like a virtual shopping mall for bridal accessories, from the basics to those unique, eye-catching finds. Plus, with customer reviews and ratings, you've got all the guidance you need to pick accessories that perfect your wedding look.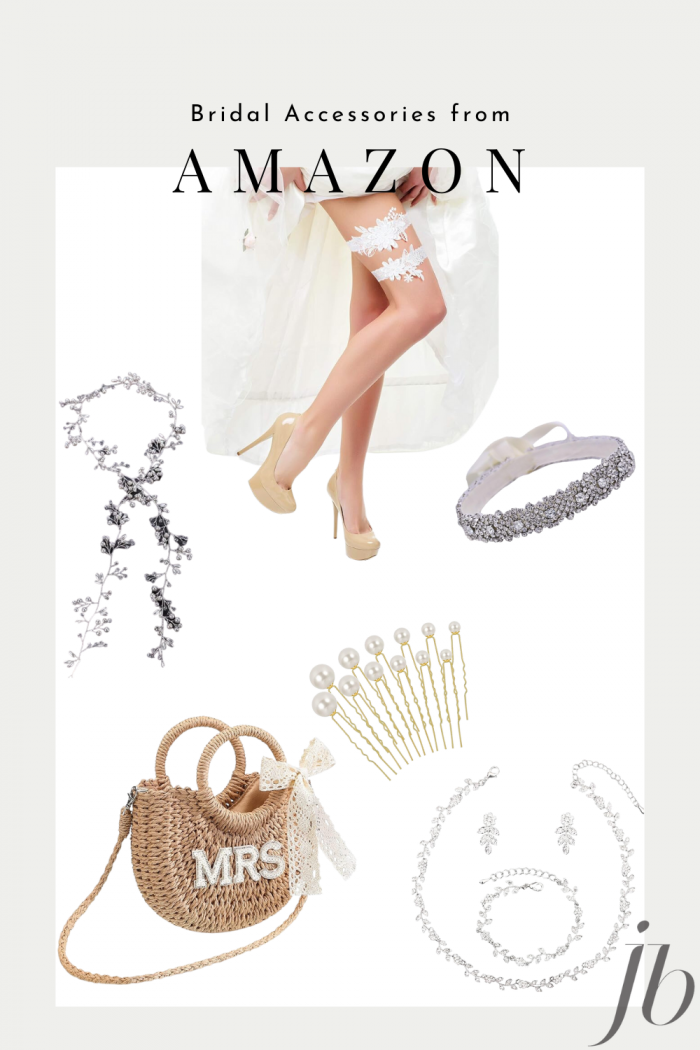 1. Pearl and Crystal Beads Bridal Hair Vine 2. Daisy Lace Bridal Garter 3. Crystal Thin Wedding Belt 4. Bride Straw Purse Hand Woven Bag 5. Pearl Hair Pins 6.  Crystal Bridal Jewelry Set
Net-a-Porter
If you dream of luxury on your big day, Net-a-Porter is your ultimate destination. It's a world of designer bridal accessories that radiate elegance and opulence. From stunning headpieces to lavish jewelry, Net-a-Porter allows you to elevate your wedding look to the highest level of luxury.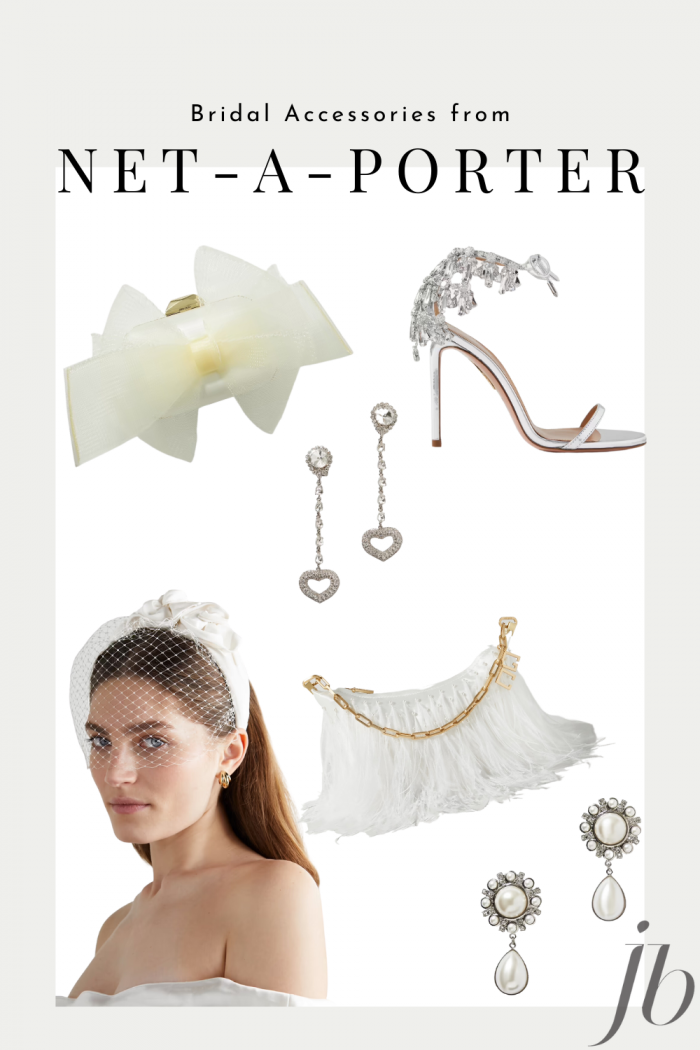 1. JIMMY CHOO Micro Cloud bow-embellished satin clutch 2. ALESSANDRA RICH Silver-tone crystal clip earrings 3. JENNIFER BEHR + NET SUSTAIN Tripled Rosette mesh-trimmed silk-faille headband 4. ALESSANDRA RICH Silver-tone, faux pearl and crystal clip earrings 5. AQUAZZURA Moonwalk 105 crystal-embellished metallic leather sandals 6. CULT GAIA Faux pearl and feather-embellished satin shoulder bag
Now that you've had a blast shopping for your fabulous bridal accessories online, it's time to turn the spotlight on the groom. But don't worry, we've got you covered. After finding the perfect bridal accessories, why not explore our list of places to buy wedding suits and tuxedos for grooms online, followed by our favorite groom accessories? Your big day is all about looking your best together, so why not make it a joint fashion adventure!