The best laptop docking stations will turn your laptop into a portable powerhouse — whether you're constantly on the move or always leave it at home, you'll want to make the most of your laptop when it's sitting on your desk, especially if you don't have enough ports. With a laptop docking station, you can attach your system to multiple monitors and a wide variety of peripherals with extra USB ports. 
Depending on your needs, you can find cheap laptop docking stations that will output to dual HD monitors over a standard USB, or more expensive docking stations that support USB Type-C and 4K monitors that will work not only with your current laptop but also your next one.
Not quite sure if you need a docking station? You can take a look at our ports guide and Thunderbolt 3 explainer to learn about all of the ports out there and which ones you'll want. For ports you know you need, check out our best USB Type-C hubs and best USB Type-C accessories and cables. Even better, adding these docking stations found below will make some of the best laptops under $500 even more worth it.
What are the best laptop docking stations?
When it comes to the best laptop docking station money can buy, you'll want to go for the Plugable USB-C Triple Display Dock, as not only can dish out support for a 4K monitor, but it can also support up to three monitors and can charge USB Type-C laptops. Plugable is your go-to choice for a Thunderbolt 3 laptop docking station, too, as it powers up to two 4K monitors while also charging and throws in extra USB 3.0 ports for good measure — all at a solid price.
However, if you're sporting a Thunderbolt 4 laptop like the Dell XPS 13 9310, keep an eye out for the Kensington SD5700T Thunderbolt 4 Dock. It even topped our list of best docking stations for Dell XPS laptops.
Now that a majority of us are working from an at-home office, setting up a neat workstation can be tricky. The Humanscale M/Connect 2 will tidy up any mess and has the right ports for 4K output and USB Type-C charging. Using an iPad as your main device for work? Kensington's StudioDock iPad docking station will help you out with that.
Docking stations are getting more 4K support this year, with Lenovo launching two new docking stations, the Universal USB C Smart Dock and Thunderbolt Smart Dock, that can support up to four 4K monitors. In fact, its Thunderbolt Smart Dock will be able to support 8K output. Stay tuned for those reviews…
The best laptop docking stations you can buy today
Using the Plugable USB-C Triple Display Dock (UD-ULTCD) feels a bit like living in the future. It works with all of the newest standards, including USB Type-C for charging and external displays, along with support for a 4K monitor. 
It's oriented in a vertical position, so you can't keep the dock under your laptop or monitors, but its performance and support for three displays simultaneously makes the Triple Display Dock our top choice.
See our full Plugable USB-C Triple Display Dock review.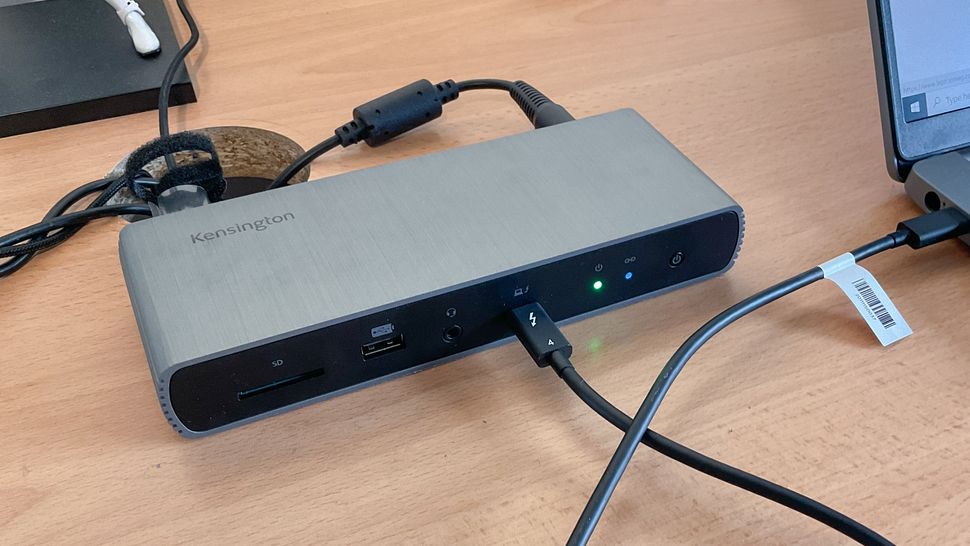 The Kensington SD5700T Thunderbolt 4 Dock is made for ultrabooks like the Dell XPS 13 9310. Not only does it vastly expand the number of ports and slots on one of the best laptops on the market, but it gives it the 90W power and additional perks the notebook requires.
While there are still those who may not have monitors or peripherals with Thunderbolt 4, 3, or USB-C connectivity, many devices will soon make having a Thunderbolt 4 port the standard. Thunderbolt 4 connectivity is here to stay, and the SD5700T makes for a fantastic portable companion that will future-proof your setup for years to come. 
See our full Kensington SD5700T Thunderbolt 4 docking station review
Considering Plugable's other offerings, we weren't surprised that its Thunderbolt 3 Docking Station is excellent. It's the best we've tested so far, with a reasonable price, the ability to be used both vertically and horizontally and a DisplayPort to HDMI adapter in the box. It charges a laptop while powering up to two 4K displays or a single 5K monitor and has a few extra USB 3.0 ports for legacy peripherals.
Kensington's SD4100v USB 3.0 Dual 4K Docking Station will be handy for laptops with USB-A ports — so, just about every laptop apart from modern ultra-slim systems. It has a useful number of USB-A ports that let you plug in any peripheral t, and its dual 4K monitor support works like a charm. While its non-removable stand is annoying, it sits firmly on any desk, and the long 3m USB-B to USB-A host meant I could put it out of sight.
If you simply desire plenty of USB-A ports and some extra displays to use with your laptop, the SD4100v USB 3.0 Dual 4K Docking Station does a fine job.
See our full Kensington SD4100v USB 3.0 Dual 4K Docking Station review
Never have any of them looked as good or accommodated as many pieces of equipment as the Corsair TBT100 Thunderbolt 3 Dock. Its premium design screams office, but it'll look just as good manning a gaming station. Plus, it's got a plethora of ports just waiting to connect several monitors, a couple of headsets and a laptop. 
However, at $259, the TBT100 has a steep entry price which might give many home office workers and gamers pause. But if you can look past the price, the Corsair TBT100 Thunderbolt 3 Dock is an essential piece of tech.
See our full Corsair TBT100 Thunderbolt 3 Dock review  
They say you get what you pay for, but Plugable's UD-3900 gives you a lot of performance for under $100. It supplies full-HD support to two monitors, and has all the ports that the vast majority of users need. If you don't have a 4K monitor on your desk or a USB Type-C port on your laptop, this will support everything you have today at a low price.
See our full Plugable UD-3900 Dual Display Universal Docking Station review.
The StudioDock is a unique docking station. Technically, it's an overpriced dock for those who don't have an iPad Pro or 4th-gen iPad Air. If you do though, along with an iPhone, AirPods and Apple Watch, this turns into the best docking station for an Apple ecosystem/desktop setup. It even has the Apple aesthetic for good measure.
It doesn't have the most ports, but there are enough to create an iPad-centric workspace thanks to its Qi wireless charging stations. It could certainly be used as a replacement desktop setup thanks to Apple's millions of apps optimized for iPadOS, keyboard and mouse support, along with the StudioDock's USB-A/USB-C ports and SD card reader. The StudioDock is a fantastic addition to the iPad for those willing to spend a pretty penny on a hub for your Apple ecosystem. 
See our full Kensington StudioDock iPad docking station review
The Humanscale M/Connect 2 is something you're more likely to see in your office than your home, although those two are more likely to be one in the same these days. It's a full-scale ergonomic solution with USB Type-C for charging (and a USB Type-A adapter, if you're not ready for the new standard just yet) and supports dual 4K monitors.
Its clamp design allows you to keep the majority of your cables under your desk, allowing for a neat workspace. It starts around $300, though you'll have to pay more for a monitor arm to attach to it.
See our full Humanscale M/Connect 2 review
The one downside to a dock is that it takes up space on your desk, but Targus' DV1K-4K docking station is easy to tuck away. The small, well-built dock is designed to fit under your laptop, sporting a nonslip surface to keep your system from sliding down. 
The dock is also small enough to fit under your monitors if you prefer. The DV1K-4K supports one 4K monitor and has a ton of USB 3.0 ports, making it a strong choice for power users.
See our full Targus Universal DV1K-4K Docking Station review
Most businesses have USB 3.0 laptops but will want something with USB Type-C for the future. Look no further than Dell's new D6000 universal dock, which has a built-in adapter to easily switch between the standards, so you can connect it to just about any laptop. It can go up to 5K on a single screen or handle up to three 4K screens over USB Type-C.
See our full Dell D6000 Universal Dock review
The Kensington SD2000P is a solid overall docking station if you need something portable and small, but being small comes at a price, as the dock is only able to power up to one 4K monitor at a time at 30-Hz. Despite that, it has a decent number of ports and it can charge a laptop while also powering a 4K monitor. So, if you only have one 4K monitor, you can't go wrong with this docking station. 
There are two USB Type-C ports, two USB 3.1 ports, an RJ-45 Ethernet port, an HDMI port, a DisplayPort++, and a Kensington lock slot. The underside also allows the mounting of any 75mm or 100mm VESA compatible external display.
The Linedock Docking Station is specifically designed for the 13-inch MacBook Air and MacBook Pro, and while it's still compatible with other laptops (even those with different sizes), you won't get that perfect fit. 
It comes with three USB 3.1 ports, three USB Type-C ports, an HDMI 2.0 port, a Mini DisplayPort, and an SD Card Slot. It also offers a 20,000 mAh battery pack inside of it that you can use to charge a variety of devices including your laptop. On top of all that, you can configure the Linedock with an SSD (256GB or 1TB) that you can use an external drive.